Big Brother 13 Live Feeds Can be watched on your iPhone and Android Mobile devices sign up -> Watch Big Brother 13 on Your iPhone or Android Phone
3:06pm Rachel and Porsche Porsche is eating watermellon with salt on it says it taste delicious. Porsche asks her if they have figured out if they can get the votes. Rachel says not yet (They start to whisper Rachel mentions something about Adam and Prosche says something about Jeff being pissed.
Rachel: "I wish she would of put up Jeff" .. Shelly comes in from outside..
Rachel: "What did Lawon say to your"
Porsche: "I can't tell you it's part of the dance"
Rachel: "Ummm what do you mean tell me"
Porsche: "It's not game talk it's about the bachelor party tonight.. I can tell you if you really want to know"
(I think Porsche is going to do a dance for the "bachelor party" lawon is doing the music)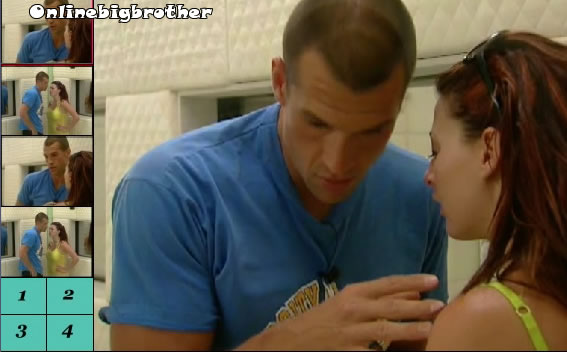 3:10 havenots rachel and Brendon Rachel is freaking out about Porsche she thinks that she cannot be trusted. Brendon urges her to take a deep breadth and think about things clearly. Rachel explains her reasons. When they were all outside lawon went to porsche and they wishepred for awhile on the hammock, when rachel got close to them they were silent. Rachel: "I don't think I can trust Porsche… Who can I trust in this game".. Rachel adds that she asked Porsche what did lawon say to her outside… and POrsche answered it was about the dance tonight lawon wanted to know the song.. rachel: "Oh oh really you think i'm stupid" rachel points out that Prosche did her thing that she does after she comes up with a "cleaver" answer. Brendon tells her to relax they will find out who she can trust in time. Rachel is super worried that Porsche is flipping on her and she thought that was her closest allies.
3:17pm JJ Jeff tells Jordan that he has just talked to rachel and she said that she going after dani, "If she wants a war i'm going to give her a war". Jeff adds that it appears Rachel is not going to team up with Dani and will stick with them. Jordan: "That is good as long as she doesn't go with dani". Jeff brings up that they can let rachel win the HOH and fight her battles they don't need to get involved. They start talking about dental work…….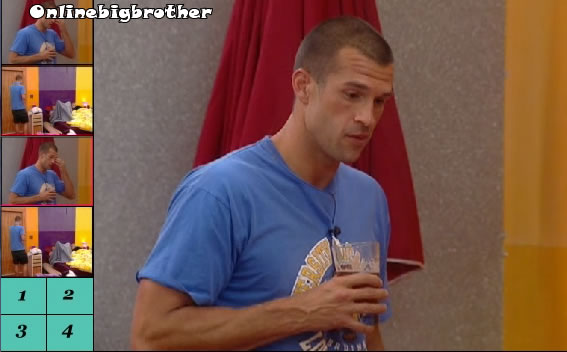 3:32pm Brendon joins them
If you like this site and want to help us keep it running please consider donating, Your donations go directly to paying the server and bandwidth fees. Onlinebigbrother.com Donate Link
Brendon says that Rachel is getting vibes that maybe Porsche and Lawon are a team.
Jeff: "what kind of team is that"
brendon: "it's not a team its a joke"
brendon: "Lawon and Kalia together is something you need to keep in your mind… if I end up going"
Brendon: "Lawon is with Kalia 100% you can probabaly throw dani in there to and they probabaly have something going with Porsche"
Jordan mentions that Kalia has said that Porsche has been hanging around the HOH alot lately.
Brendon thinks that is becuase Kalia is jealous the HOH is her room right now.. "at least until theres another HOH then she'll move to them"
brendon says he's going to slam Kalia hard in his eviction speech…
brendon gets called into the DR..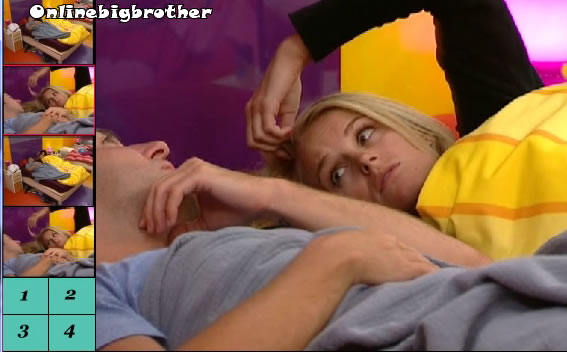 Jeff asks Jordan if she thinks that's true about Lawon and Porsche. Jordan doesn't know she's been talking to Kalia trying to figure out where the house is but hasn't learnt much. Jordan thinks Porsche was hanging out in the HOH because she was scared of getting backdoored. Jordan: "I think it's lawon + Kalia + Dani maybe Porsche she's a floater so I dunno." (Whats up with these people and their hatred for floaters… FLOATERS FTW YO) Jeff asks her if she has Lawon's vote. Jordan is pretty confident she does.. They are both a bit nervous about the situation becuase they don't know what is going on with these so called "Floaters"
Jeff changes his mind says they have nothing to worry about Kalia is spinless and will only do what Dani wants her to do and if dani wanted to hurt JJ she would of put Jeff up. Jeff counts the votes, Kalia + Jeff +Shelly + Adam they have enough votes. Jordan wonders why Brendon did it. Jeff says he wants to be the hero but in order for him to come out as a hero he's gotta go home. Jordan is worried that Rachel is going to go nuts in the house.. Jeff thinks she will for the first couple weeks.. if she lasts that long.
4:00pm Random Backyard Talk all 4 cams
4:10pm Team Bacon, Lawon and Porsche practicing for the dance tonight.. (In rachel's mind they are plotting to kill her)
Share it YO!!
Tweet