Big Brother 13 Live Feeds Can be watched on your iPhone and Android Mobile devices sign up -> Watch Big Brother 13 on Your iPhone or Android Phone
4:20pm BR backyard 420yo!
brendon is saying that Jeff ins't going to honor his deal with dani but he isn't going to win HOH unless he needs to safe himself or jordan. Rachel: "Do you think if we had backdoored Jeff she(dani) would of been loyal to us"
Brendon thinks she would of been.. Rachel wonders who Dani would of put up if she won HOH this week and we had backdoored jeff. Brendon thinks she would of put of Shelly and POrsche up this week. Rachel: "I don't think so she would of put us up she the wicked witch of the HOH". They start talking about votes.. they think they can talk to Adam and Porsche to confirm they will vote to keep Brendon.. rachel is still worred about Prosche and Lawon having an alliance. Brendon is really not worried at all about Lawon.
Porsche joins them tells them they had their first rehearsal for the bachelor party in the purple room, She tells Rachel that she needs to cheer up she was saved from eviction today. Rachel says she's sad because her fiancee is on the block and they will be apart for the summer. Brendon mentions they were just talking about if brendon has the votes or not to stay. Prosche says her and adam are probabaly pretty nervous right now becuase if Shelly doesn't go ahead and vote to save Brendon then JEff will be PISSED at them on thursday. Porsche really doesn't think they can trust what Shelly will do. (What you don't trust the straight shooter) Porsche doesn't understand why people would not vote out Jordan she's won 1/2 a million already.
Brendon says he'll talk to shelly tomorrow morning during their coffee and they can maybe work something out. Rachel says Adam and Shelly have to know that if they keep brendon in the game then BR will protect them for at least 3 weeks. Brendon adds that JEff isn't going to try hard in the game.. his targets are lawon, dani and Kalia he won't even think about Porsche, adam and Shelly.
Brendon: "you can't bully votes but we can offer them a good deal"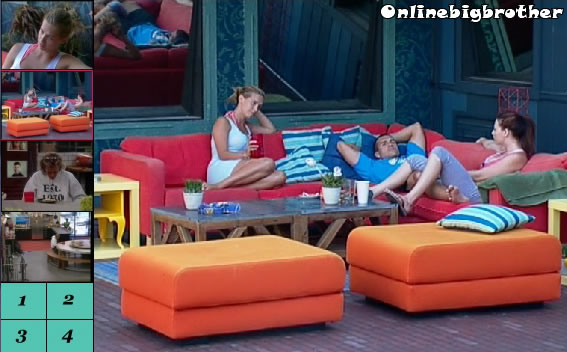 Porsche says she still thinks if they all vote out Jeff that he will be mad at them. Brendon isn't worried about Jeff winning comps becuase if brendon stays in the house he can beat Jeff in everything. Porsche points out that it's annoying that Jeff isn't even worried that Jordan is on the block. She's sure jeff has cut some deal with Dani. The chance that JJ has a deal with Dani scares Porsche, Brendon advises her not to worry so much Jeff just wanted to save himself this week. They think they can use the fact that JJ is dealing with Dani to convince Shelly and Adam to vote to keep BRendon. (There is no way on earth that Shelly will vote out Jordan NO WAY I will eat my keyboard if she does)
Brendon says the simple fact that Jeff isn't up on the block shows somehting is up with them this week but next week it'll be a different story. Rachel says that the Adam's and Shelly are going to get picked off these next couple weeks Porsche is safe. Brendon adds that they need to take out Kalia and Lawon if its a HOH knock out comp. He suggests they take Kalia out first.
rachel asks why Kalia first?
brendon: "Lawon is a idiot.. I really know he is"
Porsche: "How can you say that you don't know"
Brendon: "HE'S A IDIOT" brendon adds they really don't need to worry about Lawon winning anything.
Porsche says she only thinks shelly or Kalia will put her up. Rachel disagrees she says a lot of people in the house would put Porsche up. Porsche asks like who. Rachel doesn't want to say.
Rachel thinks that Dani is worst than Britney what Dani did to Rachel was unforgettable.. they will never be friends. Rachel: "I won't talk to dani for the rest of the summer"
Brendon adds that Dani is too prideful and stubborn to admit she made the biggest mistake in BB history. POrsche says that Dani told her that you all planned to evict her this week. Brendon: "You know who wanted to get rid of you.. It was lawon and Kalia" . brendon says kalia will only vote out the people "Whoever did not treat her differently for being black.. because that is a rampant problem around her"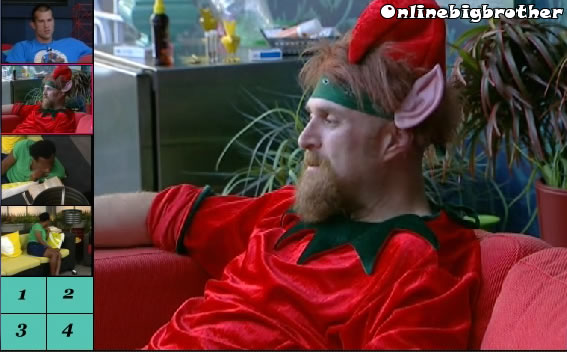 5:00pm Adam joins them They start working Team BAcon for his vote (Shit is going to go crazy in the BB house BR have already starting working people for votes yo)
They briefly talk about how the players last year were perceived by the fans. adam gives them his opinion about the houseguests. Mentions that People felt really bad for brit after she was sent packing by the brigade. brendon says it was karma that brits house burnt down because she was such a evil person. They throw some digs at her for dumping her fiancee and moving..
They tell Adam that they are not going to tell him who to vote for he has to play his own game and make his own moves. Brendon isn't going to throw Jeff under the bus only give his option and the benefits of keeping him in the house. Brendon thinks that Adam should really think about the benefits of keeping brendon in the game over Jrodan. brendon points out that with BR int he house they will win the Next HOH up nobody will care about Jordan going home in 2 weeks. Brnedon adds that he;s going home because they stood up for Jeff and didn't backdoor him last week. Rachel points out that Jrodan has already won 500K and Jeff has done 3 CBS shows now. brendon brings up that he's not hinding his targets it'll be Kalia, Dani and Lawon, "You all know I will win the HOH comps and the POVs to take those player out". Adam understands what they are saying. rachel chimes in says it all comes down to one thing keeping brendon in the house keep adam safe because everyone will be targeting Jordan. Adam says the thing that makes it hard is noth JJ and BR are great people, Brendon agrees. Brenodn says that JJ hae a deal with dani so if Jeff wins HOH next week guess who he's putting up.. Adam and Porsche. Brendon: "Jeff's Been bullying you all throughout this game and throwing you under the buss" Adam: "He's been putting things in perceptive lets just say.." Brendon keeps on sayign he's not going to be throwing Jeff/Jordan under the bus but he says it like this, "I'm not going to throw Jordan under the bus… All I know is I don't have 1/2 million dollars" .. They start talking about twists being in the game. Adam mentions that if they were going to bring someone back then it will be this week or next week. Brendon points out that a lot of pepole made deals with dani and if you didn't then you're the target. HE is sure Jeff made a deal. Adam understands that dani is building a army to protect her next week. Brendon: "You know Dani Only won HOH because She's Short".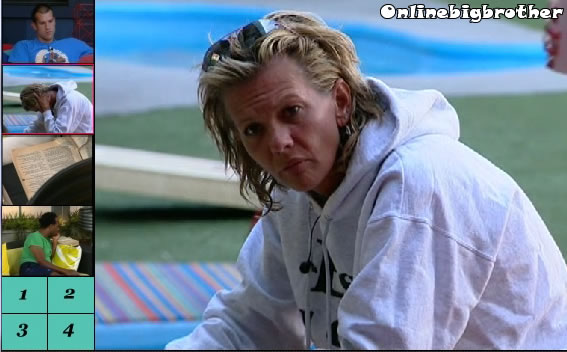 Shelly joins them. they start talking about final 4 final 3. Shelly says if she's in the final 3 with BR then she'll throw them the game and let the kids just starting out have the money. Brendon tells them to not stop fighting anything can happen in the Big Brother House. She asks them how many votes are needed.. Racehl says 4 . Shelly counts that they ahve enough, Shelly, Adam, Rachel and POrsche. Brendon tells Shelly that JEff has a deal with Dani, Rachel asks if Shelly will vote for Brendon. Shelly, shelly says she hasn't figured it out yet. Adam brings up that Dani is a smart girl but she makes stupid game decisions. rachel says she acts like she's 16, Shelly says Kalia acts like she's 10.
5:38pm Adam and Shelly they briefly talk about their solid 4 being JJ + Shelly + Adam. Shelly wants the Newbies to win in the end, Adam would just like to see a pair of older players make it. Both agree that Brendon made good points but they were not good enough given the strength of the position they are in.
5:46pm Backyard Dani and Adam Dani is asking him that Jordan is really worried because she's seen rachel and brendon dancing around happy and they might have a deal made to save brendon. Adam says that BR are trying very hard. Adam: "as a gamer there is pros and cons but for my game there is more cons". Dani can understand the Pros for him and that is why she came to talk to him she thinks given how strong brendon is in the house and the fact that BR are a Pair it's really a good move to get him out. Adam Agrees says BR are trying hard but "It's Not Working". Dani wants to be able to tell Jordan not to worry does can she do that. Adam says unless there is a big change in the house like a twist or someone unforeseen he's not going to be changing his mind.
5:55pm Outdoor lockdown
Share it YO!!
Tweet