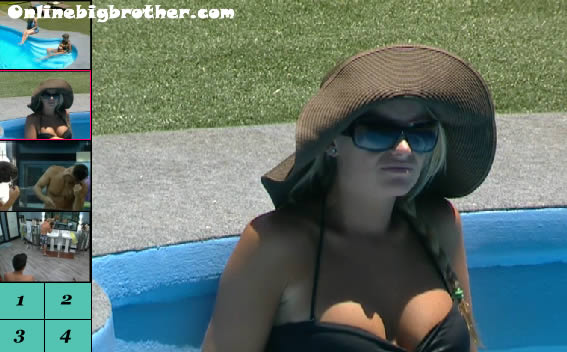 12:25pm Pool Jordan and Rachel Jordan and Rachel are both worried if Dani wins the HOH. Jordan thinks they would Put up JJ, Rachel doesn't she explains that they will put up 2 pawns and try to back door one of the guys. Jordan mentions how Jeff can't even be in the same room as Dani. Rachel explains to Jordan that this week they wanted to get Jeff backdoored and last week they wanted JJ to backdoor Brendon. (Rachel frames everything in BRJJ Vs. the house). Both are SHOCKED that Dani is flipping and it's only week 3. Rachel says it would of been smarter to have waited a week or until she got the HOH. Rachel is worried that Dani is trying to get Por on her side, "If dani wins HOH she'll probably backdoor one of the guys". Jordan agrees, She thinks that Danis plan was to backdoor jeff then convince Jordan to go with them against BR. Jordan wonders why they would try this so early… (as much as we loathe rachel her game knowledge is way ahead of Jordans and it's hilarious to watch) Rachel is feeling confident about the HOH because it'll be Rachel, Brendon, Jeff, Jrodan and Shelly Vs the rest of them. Rachel doesn't really see anyone but dani and Maybe Adam winning a comps she wants Dom gone then all they need to do is prevent Dani from winning the HOH.
Rachel says the POV is either going to be an endurance or a knockout. Rachel: "A knock out is to show a split and to show your cards". She also thinks they can trust Adam for the next week but after that he's gotta go. Jordan: "YA YA YA YA Jeff was saying He's gotta go".
Rachel doesn't understand what happened to Kalia because last week she was Jordan's best friend. Jordan says that she hasn't been talking much to Kalia lately so Jordan thinks Kalia is getting a bit paranoid.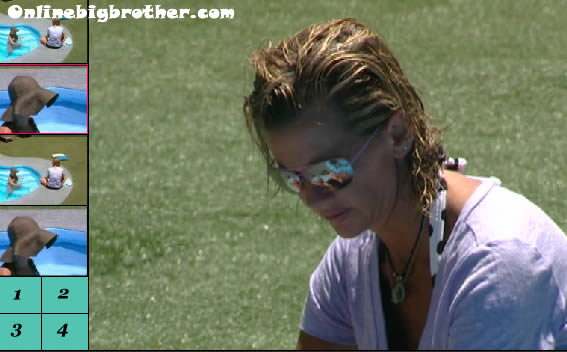 12:59pm Pool Shelly and Jordan Their talking about "the other side" (Yes apparently its newbs+Dani Vs. JJBR+Shelly now) Shelly says that the newbs are still coming to talk to her yet she's not committing to anything, "I think it's kinda strange". Jordan says maybe because shelly is like their mom. They start bringing up Por and how ODD she is. Jordan thinks it's because she's had a hard life, shelly agrees. Shelly adds that Porsche is trying to get Dom to sleep in her bed, Jordan: "Really" Shelly says that Por has a crush on Dom.
Porsche joins them… chit chat ..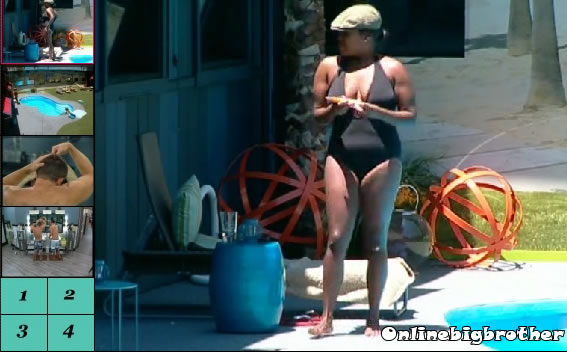 Kalia Joins them.. lawon in the hammock danni suntanning. Tells Jordan that she's gaining a lot of weight lately especially since she's off the slop. Kalia has gained 8lbs in the last few days and she doesn't have the energy to exercise. They all start chating about resorts and hotels..
1:10pm Shots from around the house..
1:33pm Houseguests playing around in the sun nothing but chit chat to pass the time.
1:40pm Dom, Brendon and Rachel Bathroom Their asking Dom if he wants to talk later tonight about the POV. Dom gets excited says he wants to talk about the POV and Life in general. (Dom has been messing with his hair afor over a hour) Rachel starts to shave Brendon's head they all talk about the POV comp.
Share it YO!!
Tweet