Get the BB13 live feeds on your Android and iOS devices. Sign-up for the 3 Day Free Trial
POV Players Picked!
Rachel, Brendon, Porsche, Jeff, Dani, Adam
Lawon is the host
9:40am – 10am When the feeds come back, Rachel is dancing in the kitchen. Porsche is also dancing in the kitchen and then she high fives Adam. Adam says that he is worried they will make him play in Elf suit. Shelly says that she really thought she would have got picked. Shelly tells Porsche that she hasn't gotten to play in a long time so she deserves it. They are talking about how Kalia went off after the names were picked saying that big brother is rigged. Shelly says that its almost 10am …so maybe it's at 12pm. They say maybe. Brendon heads into the candy room and talks with Jeff. They tell each other good luck ..game on! Brendon goes to leave and Jeff tells him to get some sleep in. Brendon says that he got his in last night ..and then leaves. Shelly and Brendon are talking in the kitchen Brendon says that he wouldn't be in this position if he had kept quiet. Shelly says you are damned if you do and damned if you don't. Shelly says that she thinks its going to be prizes today.. a phone call from home, a trip, a tv, … Rachel says it won't be prizes they don't do back to back prize competitions. Jeff doesn't think so either… They start talking about how Lawon is floating through this game.
See What They Can't Show You On TV! SUPERPASS – 3 DAY Trial!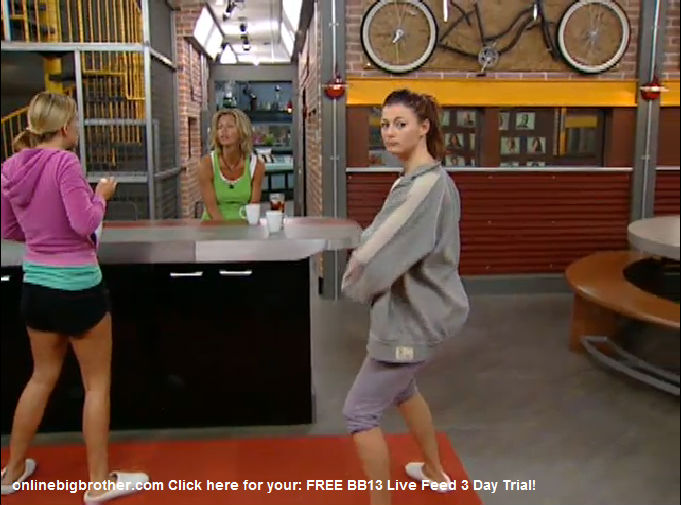 10:15am – 10:45am The outlets are blown in the kitchen so the take the coffee maker and plug it in the bathroom and put the microwave in the lounge room. They soon find out that the microwave doesn't work in there either. They talk about how the fridge doesn't work either. Shelly puts her ear up to the backyard and Big Brother says stop that. Brendon asks Adam if he is excited to play. Adam says yeah its always better to play than watch. Brendon, Adam, Porsche, and Rachel are in the kitchen. They notice the some of the light going out too. Rachel says while some of you think its a power outage .. maybe its part of the competition. Brendon says no, they wouldn't do that. Brendon says that its a power supply problem ..they cant control it ..they can only turn it on or off. They wonder if the POV competition will be delayed until the power problem is fixed. They joke that the world could be falling apart and they have no idea. Porsche asks when do they tell us what to wear? Rachel says they come on right before and tell us.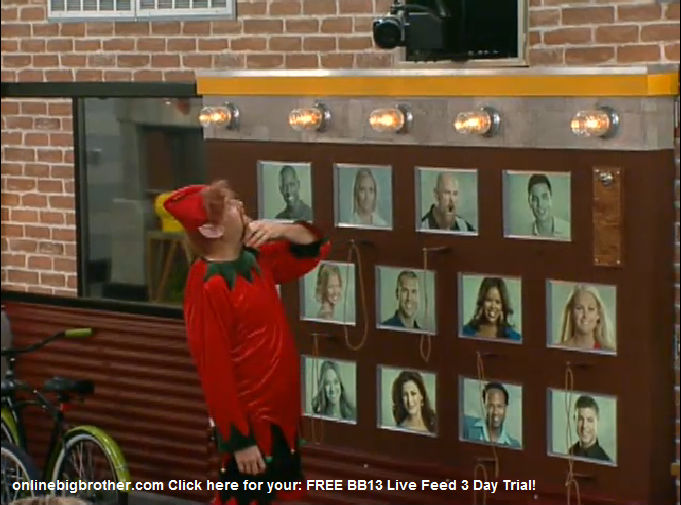 11am Brendon and Jeff are in the lounge room talking about how Jeff wont use the POV if he wins it. They talk about how if he Dani would threaten him saying go ahead use it …and Jordan would go up. Brendon says that he doesn't trust that Jeff would do anything with it. Brendon says that Kalia and Lawon would want you here more than me ..because they know I would destroy them in anything. They talk about how Kalia blames everything on Lawon. Brendon tells Rachel that Kalia was telling Shelly that she isn't treated the same in the house because she is black. Brendon says that she acts entitled …and she probably grew up with more than you or I or anyone else. Brendon and Rachel talk about how they stood up for Jeff and Jordan and now we're getting BLANK for it. Brendon says that they should have just kept their mouths shut when Dani told them to back door Jeff. They talk about how Dani wants it to look like it was all her plan and that no one was on her side. Brendon and Rachel talk about how they should have done Survivor. Brendon tells her that she couldn't do Survivor. Rachel says yes she could ..I can rough it! Rachel says that she doesn't understand why Dani doesn't want to work with them …why wouldn't you want to work with competitors? Brendon says because we were the ones that caught her in a lie.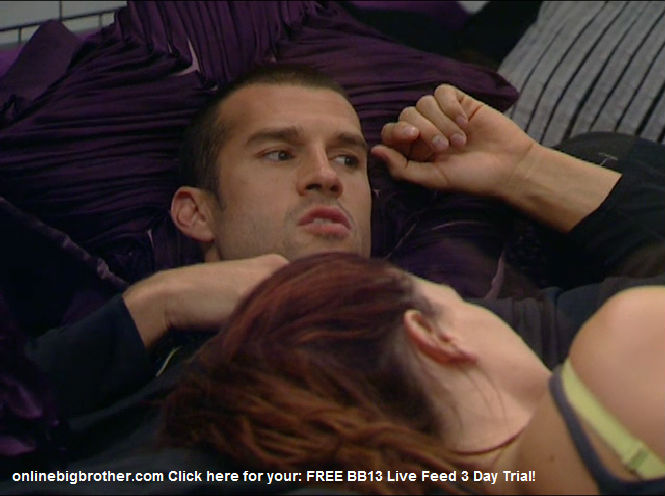 24/7 UNCENSORED Big Brother 13 Live Feeds!
Click here for your: FREE 3 Day TRIAL!
11am – 11:10am Brendon says that it was disgusting to see Kalia with her muffin top sticking her gut out in that competition. Brendon says that she can't win competitions. They talk about how Dani and Kalia will both think the game is rigged if we win the POV. Brendon asks do you think Kalia or Dani are on your side? Rachel says no. Brendon says well BLANK them. Brendon says that we took away her guy and thats why she put us up… she thinks like a 13 year old ..there is no way she will win this game. They talk about how if Dick was still in the game they would have kept him a lot longer than her. Brendon says that by putting us up she started a war with everyone. Brendon then says that he wants to relax and stop talking game… They start talking about how Jeff doesn't respect Jordan.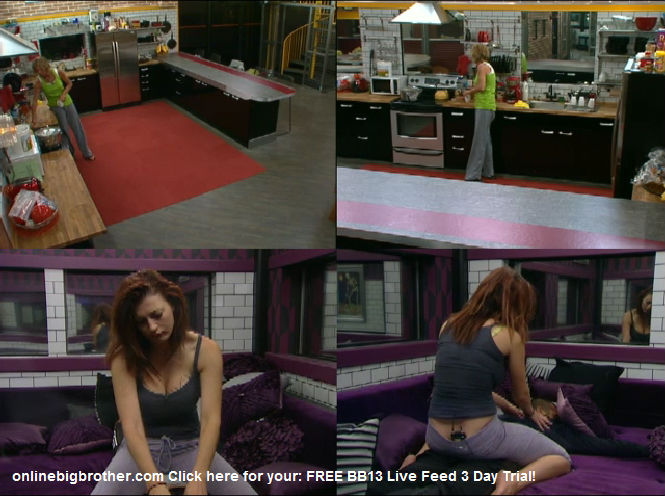 11:15am – 11:50am Rachel is giving Brendon a massage in the lounge room. Dani comes out of the diary room and talks to Shelly in the kitchen. Jeff gets called to the diary room. Dani says that after that fight Jeff got called to the diary room 8 times in 6hours. Shelly and Dani both think its strange. Dani says that she has never heard of someone being called that many times. Jeff comes out into the kitchen to get a drink. Shelly tells him that they like you! ..they call you a lot. Jeff says no they don't. Jeff then heads into the diary room. Rachel comes into the kitchen and Shelly and her talk about how everyone sleeps all the time and how Shelly doesn't. Big Brother tells the Brendon that he is not allowed to sleep unless in the havenot room. Brendon goes into the bathroom where Rachel is taking a shower. Rachel tells him to take a shower next to her. Brendon screams I will take a shower when I win my Power of Veto! Brendon then goes and sits down at the kitchen counter. Shelly tells Brendon that she would bet money on him winning. Shelly then tells Brendon that Jeff gets called into the diary room a lot.. ..do you think that means something? Brendon says no. Most of the houseguests are sleeping or resting waiting for the POV to start. Brendon and Shelly talk about his schooling and then he gets called to the diary room. Big Brother then cuts the live feeds to the we'll be right back screen.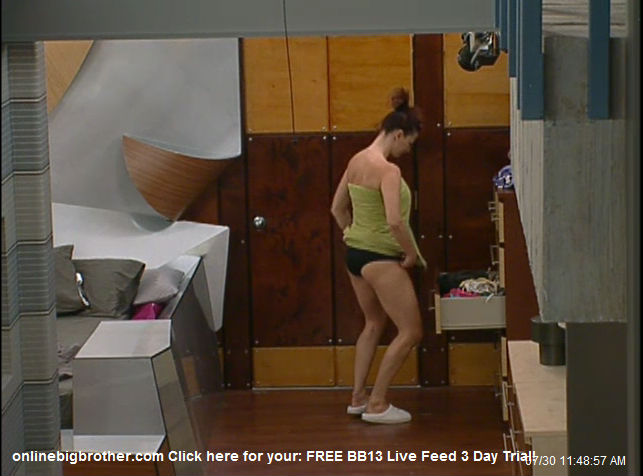 TRY the Live Feeds for FREE! Click here for your: SUPERPASS – 3 DAY Trial!
11:50am – 12:40pm Jeff, Brendon, Shelly and Adam are in the kitchen talking about random stuff, while the others rest. They talk about other season and about Ragan being the second saboteur and that all he did was put a note under a pillow. They then talk about how Annie was the first saboteur and they evicted her the first week. Jeff starts asking Rachel about what the jury house is like because she was the first one in there. Jeff says that when he got into the jury house ..he was only in there for a week and that he just goofed around and watched movies. Porsche joins them out in the kitchen. The houseguests are getting restless and want the POV to start already. Rachel and Porsche are stretching in the kitchen.
12:40pm Kalia and Dani are up in the HOH room talking. Dani says that she thinks Jeff is going to go hard for the POV because he doesn't want them to win it and use it. Kalia says that Jeff says that Porsche would use the POV and that he says it would be stupid for her to use it because it would put a target on her back. Dani tells Kalia that she is paranoid and that she needs to relax …that they have to wait till they play for the POV and see what happens. Kalia says oh I know I am just telling you everything. Dani says that they will wait and see what happens and that she will already have a speech ready if they win it. Kalia says that she thinks everyone in the house is stupid. Right then Big Brother cuts the live feeds to the TRIVIA screen. The POV competition is happening NOW!!!!!!!!!!!!
See What They Can't Show You On TV! SUPERPASS – 3 DAY Trial!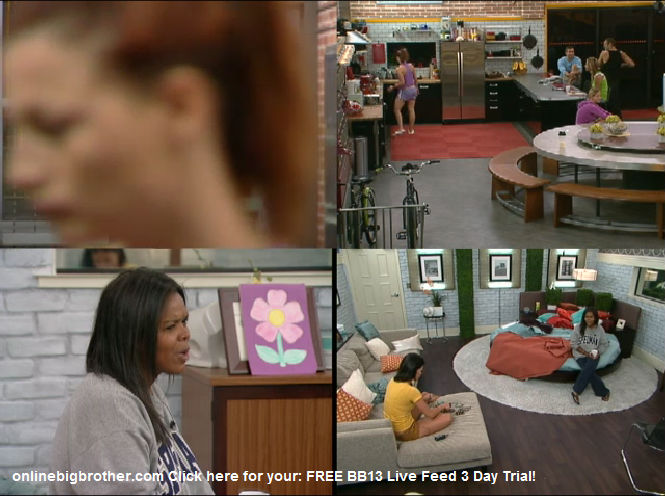 1:40pm Still TRIVIA…
2:45pm The live feeds are still showing the TRIVIA screen..
If you like this site and want to help us keep it running please consider donating, Your donations go directly to paying the server and bandwidth fees. Donate Link
Big Brother 13 Spoilers POLL CAST your VOTE!

Big Brother 13 Live Feed Image Gallery
Follow: @BigBspoilers and @Dawgsbigbrother on Twitter for recent crazed out spoilers. Theres also our Facebook page.
Share it YO!!
Tweet