Get the BB13 live feeds on your Android and iOS devices. Sign-up for the 3 Day Free Trial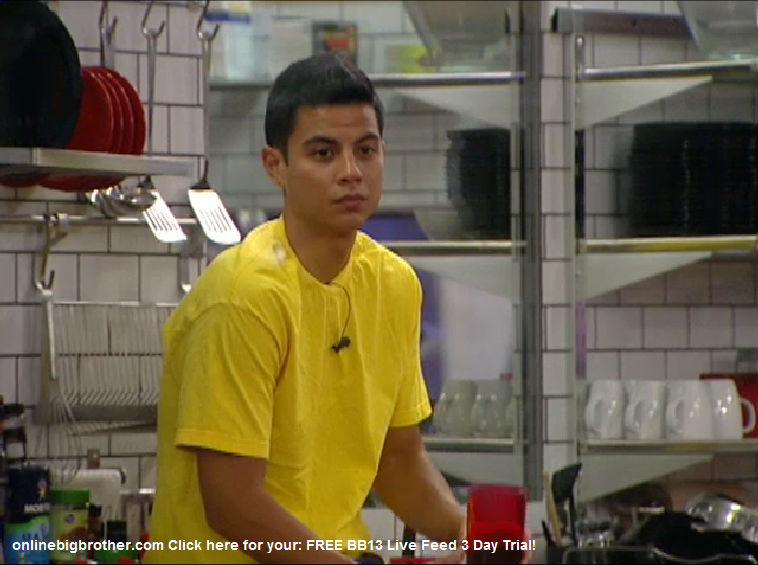 12:55pm When the live feeds come back from TRIVIA, Jeff and Adam are putting the plants back on the kitchen table. Dominic is sitting on the kitchen counter not saying a word. Jeff is making lunch. Dani comes out of the bathroom in her bathing suit. Dani heads out into the backyard and Shelly asks her if she is shocked that the POV didn't get used. Dani says no …that she would be shocked if it did get used. Shelly says that Kalia was really scared that it was going to get used.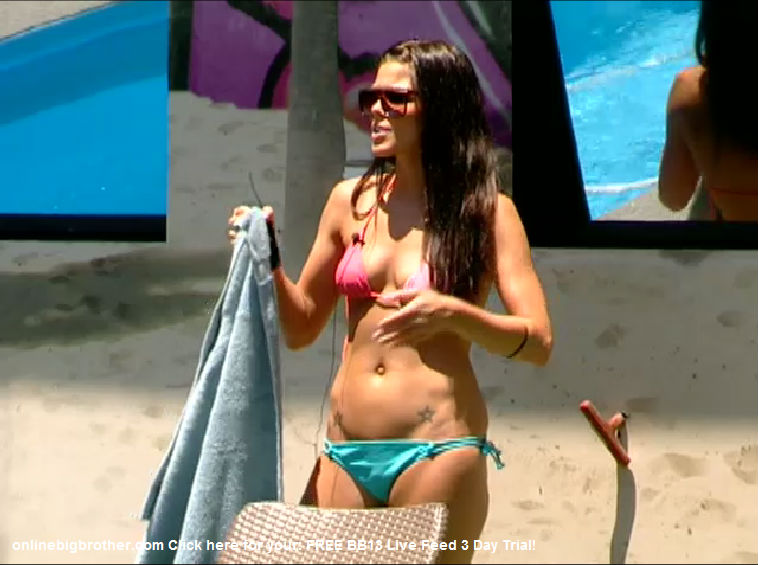 Porsche is up in the HOH room talking to Rachel and Brendon. Porchse tells Rachel and Brendon that she told dani she was okay with Brendon and Rachel getting money for their wedding. Rachel and Brendon tell Porsche that they and Jeff/Jordan have her back. Porcshe ask if Dominic is the target? Brendon tells her he's not sure. Rachel ask her who does she think. Porsche says Dominic. They tell Porsche that if one of them goes home they would be happy for the other to have Porsche as an ally for them to work with. Brendon starts questioning when Dani started talking game with her. Porsche say not until the other night when they slept in the same bed. Brendon starts telling Porsche that Dani has been acting really weird and that they are worried about her and not trusting her. Brendon is calling Porsche a sweet girl and wants to give her the "heads up" about whats coming in the game. Porsche saying she knows not to trust Dominic and has her guard up with Daniele. Brendon says he goes with his gut instinct and something is fishy with Daniele these past few days.
1pm – 1:15pm Jeff is in the kitchen talking to Dominic … Jeff tells Dominic that he BLANK up in the game and that he is probably going home. Dominic asks how did I BLANK up? Jeff says I don't know you tell me!!! Dominic asks please tell me what I did! Jeff tells him again ..you tell me! They decide to take their conversation to the lounge room. Dominic says that he doesn't know where this is coming from. Jeff tells Dominic that he better tell him what he wants to hear in the first minute. Dominic asks if this about the talk of back dooring Jeff and Jordan. Dominic says that he never said that. Jeff says well then who said it?! Dominic says that he heard it being thrown out there. Jeff says well if we were cool why wouldn't you come and talk to me and tell me. Dominic says I am on the block why would I go around saying that I'm going after you. Jeff says why don't we get everyone together and talk about this. Dominic says okay lets do that! Jeff asks why it took Dominic up until an hour before the POV to come talk to him. Dominic says that he already had been told by Jeff that he had his vote …so why would he come to him and ask him for his vote. Jeff says that people are acting weird …that he can't be in the room with some people for more than a minute before they run out. Dominic says okay fine I will be a man and tell you what you want to hear. Jeff says that he is going to get who he needs to together and then they will talk. Dominic asks why not every body? Jeff says because I will get who I need and thats that…. Dominic asks why …and then says okay ..I have nothing to hide …lets do it. Jeff and Dominic agree to get together again and talk things out with the others.
FLASHBACK – Don't miss all the drama!
Superpass – 3 Day FREE Trial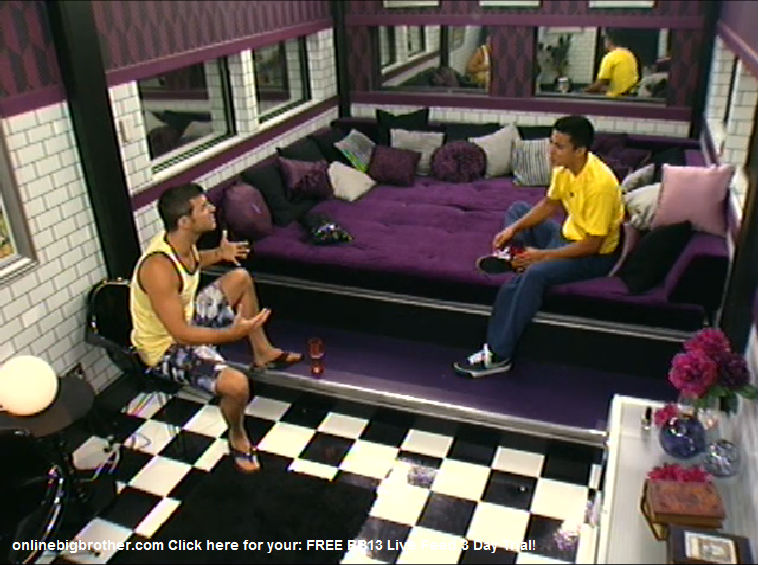 Jeff, Jordan and Brendon are in the kitchen talking about Jeff calling out Dominic. Jeff tells them the conversation. Jordan is telling Jeff to call them out. Brendon says lets call a house meeting and start throwing people under the bus. Jordan says do it! Brendon says but it will draw lines in the sand then. Brendon asks Jeff if there were fireworks. Jeff says he just wants someone to tell him what he wants to hear, that he already knows what's up and wants them to tell the truth. Jeff talking about people running out of the room every time he comes in. Bren jokes that they should get everyone together and make them swear on the bible. Jeff says that then people will be going to hell.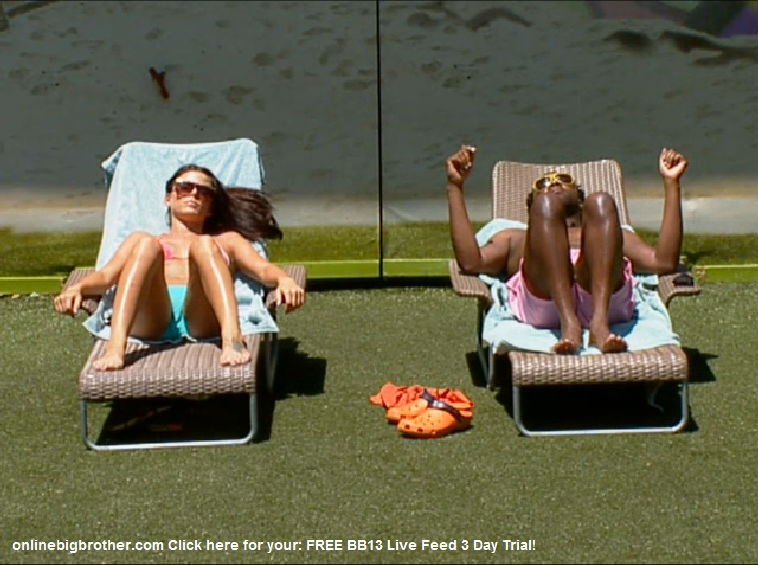 TRY the Live Feeds for FREE!
Click here for your: SUPERPASS – 3 DAY Trial!
1:30pm – 1:40pm Adam heads up to the HOH room to talk to Brendon and Rachel. Adam says that he is getting sick of people talking BLANK. Adam tells them that Dani was asking if if she could flip everything and keep him here… and they he says that he heard she was going around telling everyone to get rid of me. Adam says and Kalia and Lawon are here doing nothing. They talk about how Dani is playing the game like a Dr. Will of this game. Brendon says that he is nervous that Dani will convince people into what she wants to do. Brendon says that they decided not to use the POV and that Dani was up here telling them that they had to get rid of Adam. Brendon says that Dominic was up here cutting deals with everyone. Brendon says that he doesn't know if they trust Dominic or Dani. Brendon says that we need to get the manipulators out of the game! …and we need people that will get people like Dani out. Adam says that he would definitely be able to do that. Brendon says that Dani tried to pit Jeff and Jordan against them …and that they almost fell for it.. Brendon says that Dani will be sitting at the end in the final 2 saying that she manipulated everyone to do what she wanted to get to the finals. Brendon says that she will get the votes too …because she played everyone and didn't get any blood on her hands. Brendon says he has to trust that Adam will do what he says. Brendon says that if it gets to final six with Brendon/Rachel, Jeff/Jordan, Shelly/Adam it will be game on… Brendon says that he will be damned if floaters win this game. Brendon says that Adam surprised them with his performance in the POV competition. Brendon saying he wants someone in this game who tries. Brendon says that Dani has gone around and fed everyone a spoon full of BLANK ..and some people down there are dumb enough to eat it and swallow it …and have a BLANK eating grin on their face. Adam agrees and says that he thought the same thing …he says that he wanted to say something to them about Dani but that he didn't know where they stood.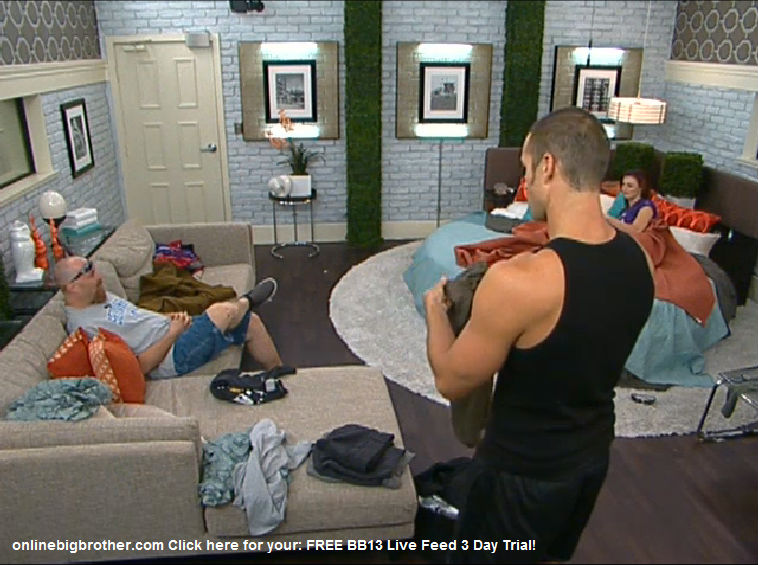 Big Brother 13 Spoilers POLL CAST your VOTE!
BB13 Live Feed Screen Captures , These are being updated every 10 minutes all 4 Cams 24/7
Follow: @BigBspoilers and @Dawgsbigbrother on Twitter for recent crazed out spoilers. Theres also our Facebook page.
If you like this site and want to help us keep it running please consider donating, Your donations go directly to paying the server and bandwidth fees. Donate Link
Share it YO!!
Tweet