Get the BB13 live feeds on your Android and iOS devices. Sign-up for the 3 Day Free Trial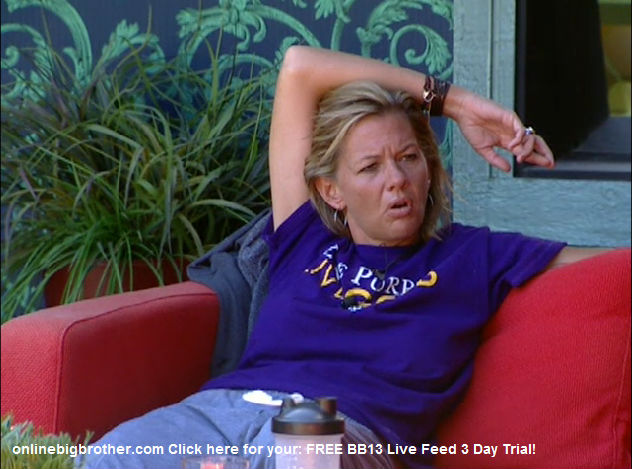 If you like this site and want to help us keep it running please consider donating, Your donations go directly to paying the server and bandwidth fees. Donate Link
10:35am – 11am Brendon tells Shelly to see what she can find out and that he will have a long conversation with Jeff tonight to see where he is at. Brendon says that he thinks they have had enough game talk for this morning. He says that he likes being about to talk in the morning when no one is out here. Brendon says that he hates it when Lawon is five feet away listening. Shelly goes inside. Brendon tells Rachel that he thinks they made some good arguments to Shelly and that they shouldn't keep pressing her. Rachel talks about not liking milk and tells Brendon that it gives her bad gas. Brendon gives her a disgusted look. Shelly comes back out and Rachel says that she really respects her game and that Brendon and I really trust you and I will respect whatever decision you make. Shelly says thank you .. and says that she trust that they would take her to final 2.
TRY the Live Feeds for FREE!
Click here for your: SUPERPASS – 3 DAY Trial!
They continue talking about how no one would win against Jordan and how most wouldn't even put her up. Brendon tells Shelly that to get information from Jeff and Jordan it would be better to talk to Jordan ..because she can't keep a lid on things. Shelly asks if Jordan goes home then what happens. Brendon tells her that Porsche will come back to their side, and Jeff would be burned by Dani because she put her up …so he would be leaning back to being with us. Shelly says that it could be 6 – 3 then for us. Brendon and Rachel say yes! They talk about how Jeff won't want to win HOH because he won't want to sour his deal with Dani or to go against us. Brendon and Rachel tell Shelly that they would give her the HOH and that way she would get some sanity and be able to see her daughter. Shelly says that she is scared but that she thinks they are really on to something. Shelly asks ..so you wouldn't put me up? Brendon says no… you are the only person in this game that we trust and hasn't back stabbed us. Brendon says that they trust her more than anyone ..even more than Jeff and Jordan .. especially seeing as how they've made a deal with Dani.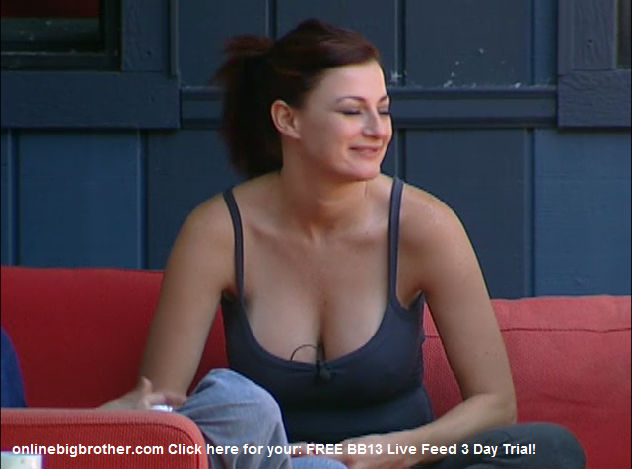 11:20am Shelly says that they are 100% right …and that this would be the best game move. Shelly says that she knows that no one would win against Jordan in the end. Shelly says that she is just afraid of Jeff's temper. Brendon and Rachel talk about how Rachel will work on getting Porsche to vote for Brendon to stay. Shelly says that she will work on Adam. Rachel talks about how Jeff can't stand Porsche and that they will need to use that to get her to vote Jordan out. Brendon says that he just doesn't understand how they aren't campaigning and its one day before the live eviction. Rachel says that Jeff got mad at Dominic of not campaigning. Brendon says that maybe the biggest game move is to vote out Jordan and keep me in here! Shelly says that she is personally conflicted with them and Jeff and Jordan. Brendon asks her if Jeff and Jordan would even take Shelly to the final 2. Shelly says that she doesn't know. They talk about how Jordan had been on the block 4 times and never went home during her season and never had to win the POV during her season. Brendon says that Jordan is like the golden cow.. golden calf. Shelly says that she is in a hard spot because she made a deal with Jeff, Jordan, Brendon and Rachel …so either way she is going against someone. They talk about how Jordan 100% new she was going on the block because that morning she put makeup on. They says that Dani has 100% guaranteed Jeff and Jordan that she is safe… so if Jordan goes home …Jeff will be most pissed at her. ..Jordan comes out into the backyard and she talks about how Brendon farted last night and she almost died!
24/7 UNCENSORED Big Brother 13 Live Feeds!
Click here for your: FREE 3 Day TRIAL!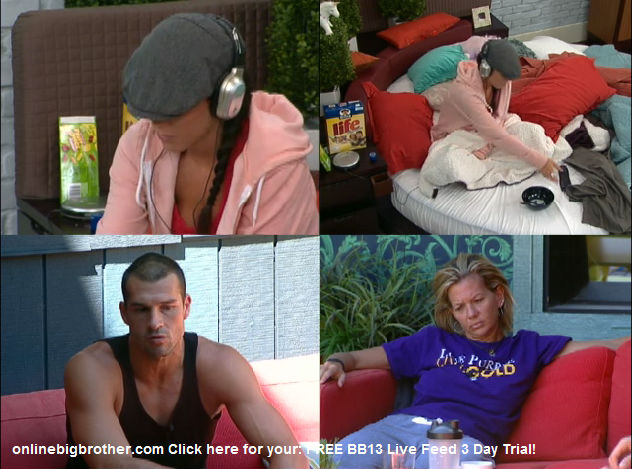 Big Brother 13 Spoilers POLL CAST your VOTE!

Big Brother 13 Live Feed Image Gallery
Follow: @BigBspoilers and @Dawgsbigbrother on Twitter for recent crazed out spoilers. Theres also our Facebook page.
Share it YO!!
Tweet