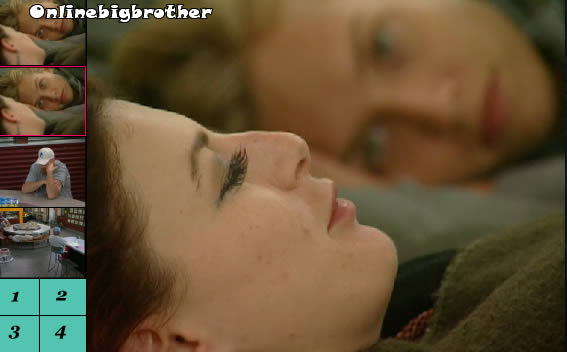 10:51pm Have Nots Porsche and Rachel
Rachel is going to try and convince Daniele to put up Lawon and Kalia
Brendon comes in asks them what they are doing.
Porsche: "We're trying to think better not harder"
Rachel says that she's going to offer Dani 1 week of protection from BRJJ if she puts up Lawon and Kalia. Dani told her to talk after she gets her HOH room. Rachel says she can't stand Kalia so she'll take her out next week when she wins the Head of Household Competition. Porsche is asking if she should go make a deal with Daniele. Brendon thinks she should. Rachel comments that
Brendon says next week Dani is gone she can't play HOH. Brendon: "Everyone on our side has a good shot of beating her next week" Porsche points out that Daniele will understand that she can't piss off everyone in the house so if she take out one of Brendon, Rachel, JEff and Jordan then she's f'ed (Comedy Gold freaking comedy gold). Rachel says that Dani has no followers anymore after what she did to Dom and Jeff.. Brendon: "After what she did to all of us".
Pacer calls Daniele a mental person says she only cares about the game and she "totally discredits Rachel" Rachel says that Dani is trying to do some massive game move that she will be remembered by and that's all she cares about. Brendon: "We still control the votes and we still control who goes home". Brendon: "Kalia is a F-ing loser" Brendon says that he knows that that Dani is scared right because she knows that next week she can't compete for HOH and she's going home. Brendon: "She's going to try and milk this power for all it's worth, she'll want to make a deal with one side"
they all agree that Rachel cannot be seen alone with Daniele because they can't have Jeff and Jordan think that she's trying to make a deal.
Brendon leaves. Porsche starts throwing Shelly under the buss. She says that something is up with Shelly, she's playing both side and Porsche never really knew how deep Shelly was in until today.
Porsche: "Daniele is our biggest threat.. it sucks that I left Shelly up there but I just couldn't hang on any longer" Porsche feels like she could be a target because Shelly is close to Dani and they can all say that Porsche was the person that wouldn't go with keeping Dom in the house. Porsche says that they need to get Close to Jeff and Jordan in case Brendon goes home because if they don't and Brendon leaves they have a very difficult battle ahead.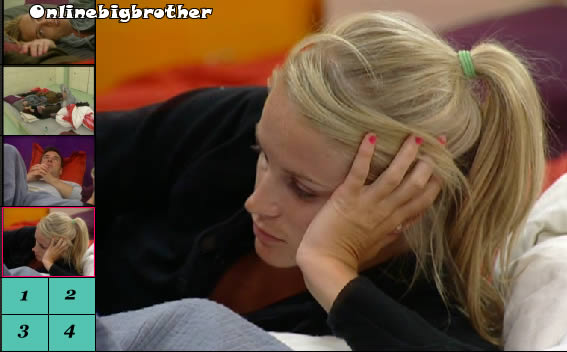 11:00pm Bedroom Jeff and Jordan Jeff is telling her that Daniele's nominations are going to be him and Brendon.
Jeff: "The only problem is I don't know where Adam Stands" He recommends that Jordan go get close to Kalia because he's going to need the votes. Jordan will take it slow she's not going to be kisses any one's butt. Jeff tells her that Jordan shouldn't get down they still have the the POV to play. Jeff wishes he would get some power to help him out. they both agree that BR is going to try and cut a deal with Daniele. Brendon comes in tells them that Dani is going to go to each group and try to cut a deal with them and she'll pick what side gives her the best deal. Jeff thinks he's the target she'll play nice with Brenchel. Brendon: "All we can assume right now is Jordan is not the target" Team Bacon joins in tells them when he wins the Power of Veto (POV) he'll call a meeting and they can all discus who to use it on. Jeff says that Daniele is going to be real nice to Adam cause she'll want a deal to save herself next week. Brendon: "It's a long week ahead of us"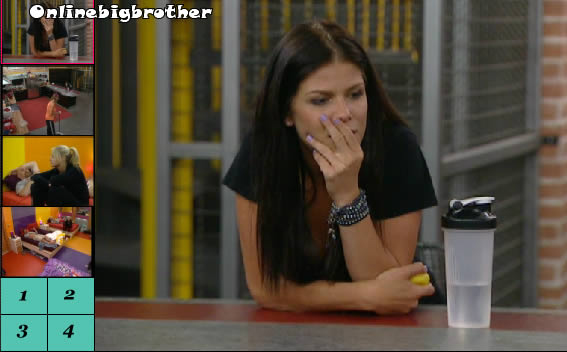 11:24pm Kitchen Shelly and Daniele Daniele says she's really upset that PT (Dominic) is gone. Her and him were good friends in the house. Dani adds that everyone thought they were talking game all the time but she really was just hanging out. Shelly notes that Even when Cassi was around Cassi and Dom didn't talk much Game. Shelly: "You can tell he was VERY popular when he left… They (CBS Big Brother production) probably really wanted him to stay and they were looking at every angle to try"
They starts talking about twists this season. Shelly thinks that one is around the corner. Dani: "considering what is going on in the house right now this could be the time for a twist" Shelly thinks they might bring back one the first 4 evicted maybe have those 4 compete and the winner comes back. Dani thinks it's going to be America votes back a player.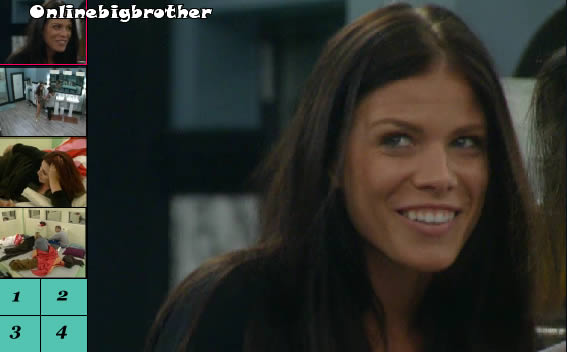 11:40pm Dani and Kalia Dani gives her a run down of her conversation with Rachel and how insane Rachel is. Dani adds that Rachel wants to make a deal with them but she told Rachel that she'll need to talk to her in the HOH room later tonight because there is a couple of options for her right now.
Dani brings up how Rachel is playing the victim again but that they talked about what was said the last few days and are genuinely sorry about it. Dani is going to feel bad about sayign her speech tomorrow but what she plans on sayign has to be said. Dani: "I truly was trying to do what I thought was the best for us but they made the choice to turn on me"
Lawon joins them they all share how sad they are that PT (Dominic) is gone. Lawon points out how ugly it was during the comp when Brendon, Rachel, Jeff, Jordan and Porsche didn't say anything to Dani and Kalia when they were up there but they were shouting out support for Shelly. Lawon: "I feel like we're in high school and it's the popular kids against…" Dani: "the Offbeats"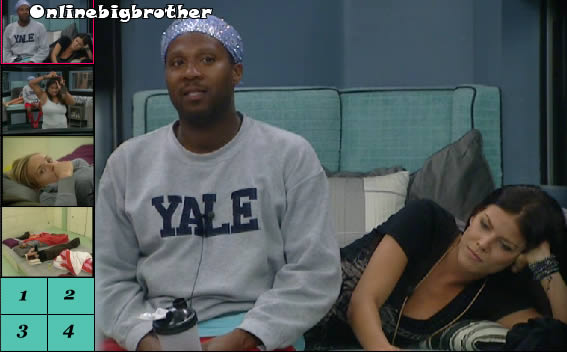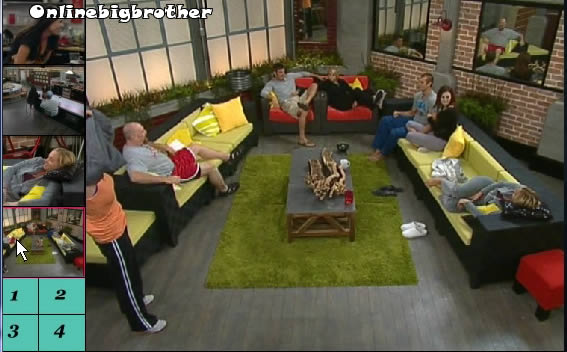 12:29am A divided house, Lawon, Kalia and Dani in the kitchen Everybody else in the living room. Shelly is in the middle playing her awesome but infuriating Shelly game (Shelly's game is tight.. she better look out for Porsche though)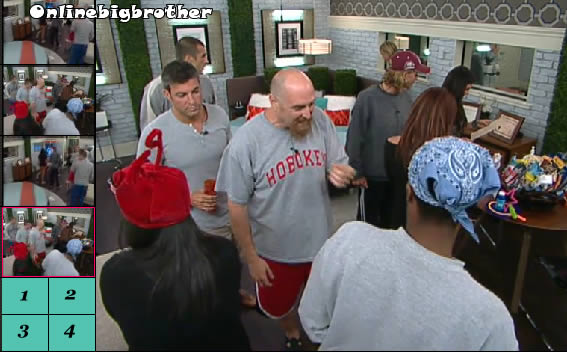 12:35am Dani gets her HOH Room. She wants to read the HOH letter alone. Rachel asks who it's from. Dani says it's her grandmother. (didn't dick get a letter with a secret message sent to him in Big Brother 8) Rachel, Shelly, Lawon and Adam are the only ones talking to her the rest just sit there. Jordan looks the most pissed.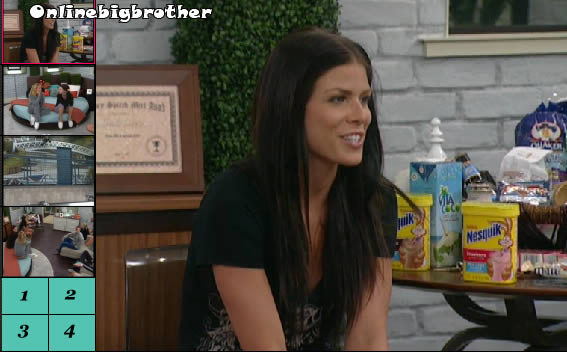 Share it YO!!
Tweet