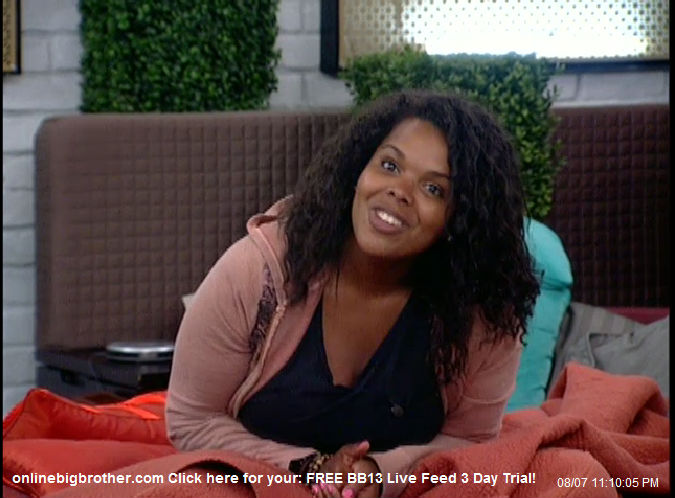 Get the BB13 live feeds on your Android and iOS devices. Sign-up for the 3 Day Free Trial

24/7 UNCENSORED Big Brother 13 Live Feeds!
Click here for your: FREE 3 Day TRIAL!
11pm Dani and Kalia are up in the HOH room talking. Dani mentions that she thinks the POV ceremony will be earlier in the morning tomorrow around 11am or 12pm. Dani says that she wants to talk to Porsche about things. Dani talks about how Porche isn't here mainly to win, just to make friends. Dani says that she is like the Jen from my season …except nicer! Dani says that she wishes PT were here, it'd be so much fun tho and we'd have a really strong competitor, and he would still be here. Kalia says that if she put Porsche up, it would make Jeff and Jordan feel a little bit better. Kalia says that he was like we would talk more if I actually put her up.. are you interested in doing anything with them? I think you said no. Dani says like Jeff said every week changes, and I agree but at the same time, you agree you're in the same place. he has to go at sometime. I don't want him in the final four. I don't know. Kalia says that she doesn't think Jeff can compete. Dani says that if he doesn't play the veto next week, backdoor him he's gone… that's all you need. Do you know what I mean? There is a chance for every single person in this house to slip up and lose …it's how you adapt to that. No matter what there are going to be people in this game who are always bigger targets. At the same time, those people are the people that win this game. The people that aren't doing anything, no one is going to vote for them. You're sitting next to Lawon. Kalia says I win. Dani says even if he does he's playing for second place…. true.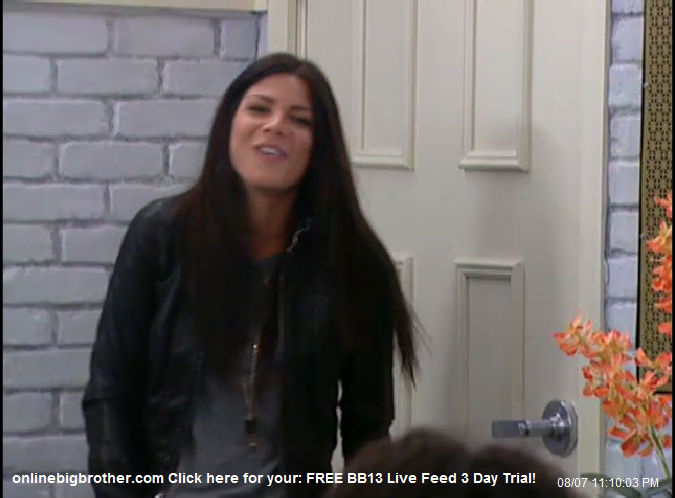 Kalia says I would just hate for myself to go out of the game for something stupid I did that I could have corrected. I want to keep it from blowing up in my face. Dani says but the only blow up is Rachel Kalia talks about how everyone keeps telling her to play her own game, make the moves for yourself, make your own decisions.. Kalia says she's playing for herself, but does a lot for her and Dani together. Dani says she does the same. Kalia says that maybe we'll both be in jury for your birthday. Dani jokingly says shut up. Porche comes up to the HOH room to talk to Kalia and Dani. Porche tells them that she hid some alcohol, and put it in her drawers. Porche says Rachel is being weird and mopey and that she saw her do her 11:11 shout out to brendon. Kalia tells Porche says that they were just discussing what the twist would be. They talk about how the theme of the season, is about a blessing and a curse. Kalia says that she is going to be super annoyed if this HOH is for nothing, and I pissed a bunch of people off…. I should've put up Rachel, and Adam knowing what I know now. Kalia says that she is sincerely worried about Rachel coming back in.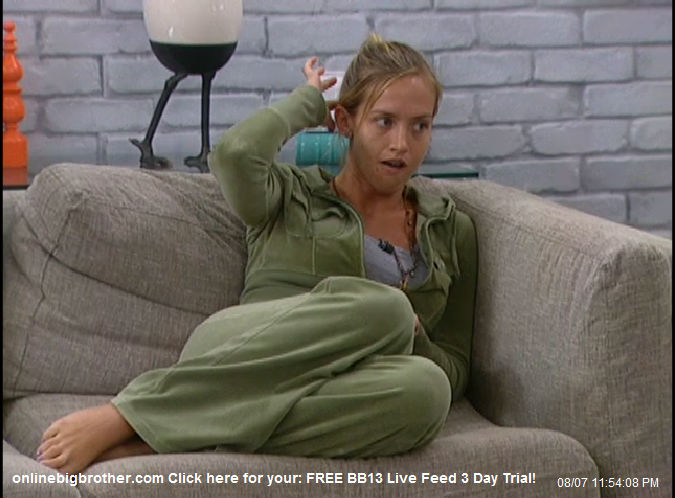 See What They Can't Show You On TV! SUPERPASS – 3 DAY Trial!
12:10am Rachel and Jordan are in the HaveNot room talking. They are talking about Pandora's box an wondering if it will be a part of their season. Jordan says she thinks that Dani might not open it because Rachel might come back in the house. Rachel says that she thinks Dani would open it. Rachel says that Dani's so arrogant, she thinks she can beat me anyways, she thinks she can win this game. Jordan says she used to talk crap about Porsche. Rachel says and now they're best friends, she used to talk crap about Kalia, and now they're best friends. Rachel says that the problem is, that we're playing this game with a bunch of people who never played the game. Rachel says like Kalia …Julie said be careful who you pick and Kalia goes and picks the two strongest players. Rachel says that was the dumbest move ever, she doesn't know what she's doing, and she has Daniele in her ear telling her what to do, because she probably doesn't care and that was like the worst game move for her. Jordan says that she is very straight foward and honest. Jordan says that Kalia acted like she was just going to get picked off, that's the only thing that aggravates me. Rachel says that she thinks the vets are at a disadvantage, because the new people have the numbers. Rachel says that she doesn't know the newbie's strengths and weaknesses. Rachel says that if we were playing an all-stars season, people wouldn't be downplaying their game, but because we've never seen these people play, we're in big trouble, we're at a huge disadvantage… like Adam, almost beating Jeff? Who would have thought that?! Jordan says that she was shocked. Rachel says that we don't know what to expect from these people, these newbies have all the advantages in the world. Rachel says that if we mess up our game, one step, then we get picked off, like Brendon, me, Jeff on the same week… then it would be you. Rachel says that it's just like..the game is hard enough.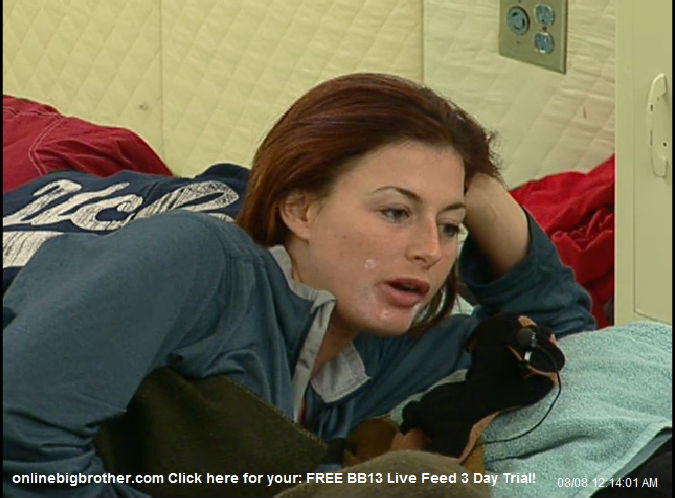 Kalia, Porche, and Daniele in the HOH room, Lawon joins them. They discuss talk about the different possible outcomes this week. Lawon tells them that he will be the pawn if they need him to be. Kalia says that she doesn't feel comfortable with this twist anymore. They repeat what Julie said about the twist "Be careful how you play the game this week, because the next houseguest evicted will have a chance to get back in the game." Kalia says and I'm sending somebody out that could come back, and bite me in the ass.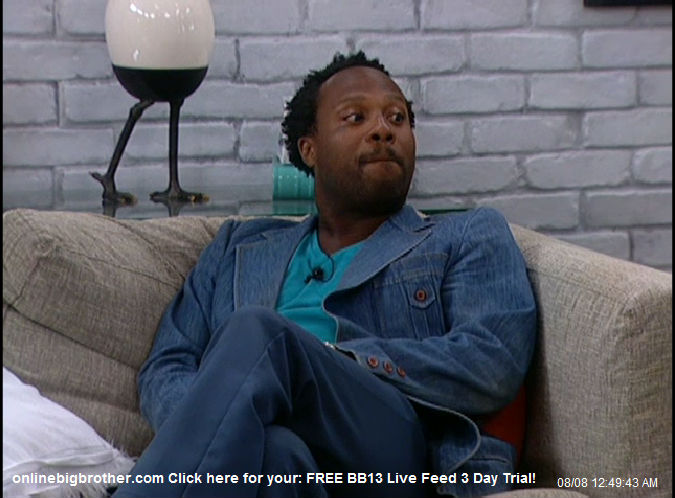 Dani says just put me up, send me home, and then I'll come back. Kalia says that's a BLANK bad idea, what if you don't come back? Dani says then send Lawon home! Lawon says do what you gotta do… I'll come back and beat your ass! I will whoop your ass. Dani says oh my god, your attitude blows! They all laugh. Kalia says that she is worried that Rachel will go home, and leave, come back, the whole HOH was a waste. Lawon says that he will be mad if I sit in that damn Jury House for six weeks but if you feel in your gut that i'll come back, then I don't mind. Kalia says that she doesn't think it's literally going be like you can walk back in the game, I don't think it's going be something as easy as literally, she walks back in, turns around, and walks back in the door. There is always got to be some kind of catch, even for Rachel, I don't think it's going to be that easy, otherwise it's pointless. Lawon says that Rachel might have a better chance leaving if Lawon is put up as a pawn. Kalia doesn't want that, she doesn't feel comfortable. Dani talks about how when she first met Brendon out in LA. Dani talks about how she met him for like five minutes and he left to move his car and ignored her calls and never came back. Dani says don't say that you're going to come back and then just never come back. Dani says that it was just really lame ..they met for five minutes and he was already lying to her. Lawon, Kalia and Dani head downstairs.
TRY the Live Feeds for FREE!
Click here for your: SUPERPASS – 3 DAY Trial!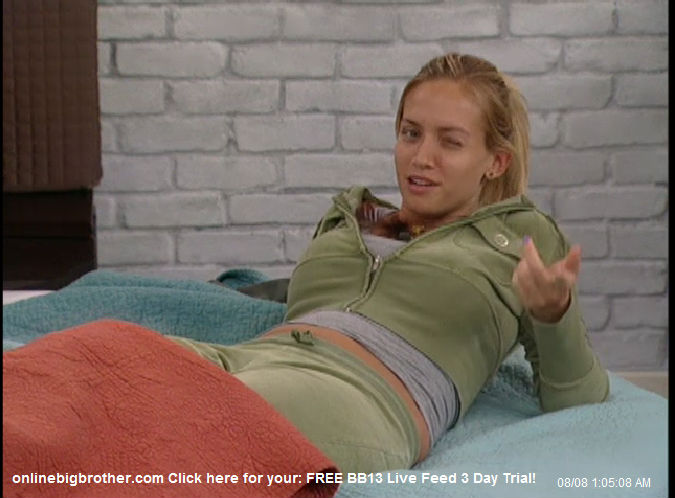 1:30am Kalia heads outside to talk to Shelly. Shelly and Kalia both say that Porsche will be easy to get out if they leave her in the game. Kalia says that Lawon volunteered to go on the block, and Kalia is going to take him up on his offer. Shelly says that no normal human being does that. Kalia says that if Lawon has any piece of brain, I think he is realizing that he doesn't have much of a chance to win. Kalia says that when Lawon volunteered, Dani and I were sitting there like, did that really just happen? Kalia says that she was like UUMMMmm..OKAY! Kalia then heads inside. In the kitchen Kalia, Lawon, Porsche and Dani are talking. Lawon starts talking about him going up as a pawn, or getting evicted and coming back. Lawon tells them that he and Porche were talking about how if in doubt I was to go up, then I could pull the mad roll, and while I'm doing that, I can find out what the other side is talking about. Dani says that you would obviously come back. Lawon says so I'm just thinking, I think she's overanalyzing what it will be. I think it would be a bigger gamble, versus her. They talk about what if Lawon is evicted, and then the blessing twist is that he's automatically HOH. Dani says that she thinks that Big Brother put all of them in the worst spot ever. Lawon says that he thinks he can act mad when he gets nominated and be all like I can't believe you all did that BLANK! Lawon says that he thinks it would be a great risk, regardless of what the twist would be. Dani says that if Julie did say something last minute, we could do a hand single and switch the votes. Lawon says that he thinks that would be a great move on Kalia. Porsche and Dani agree. Dani says that if Rachel did come back, we would all be on her list, or you, Porsche, she's not a big fan of you. Lawon says that he would play the role of course. Pissed. Pissed! Dani says or you can act like you went up as a pawn, and last minute we changed our minds or something.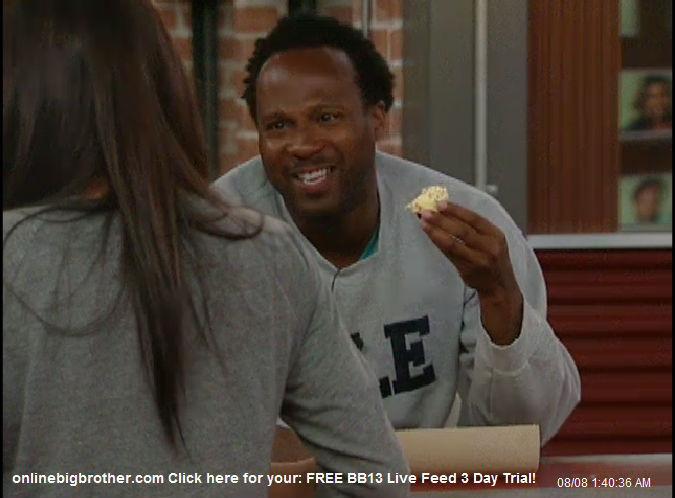 2am – 5am In the backyard Shelly is talking to Adam and making sure that whoever Kalia puts up to replace Jeff, that Adam will vote them out, and keep Rachel. Shelly tells Adam and Jeff about how Kalia said that she maybe putting Lawon up. They talk about how they plan to vote out Lawon or Porsche regardless of who is put up besides rachel. Jeff says that he never expected to play the kinda game he's playing right now. Shelly says that no one in the house suspects that she is with Jeff and Jordan. Jeff says they are all stupid. Jeff says if they can get Dani out of the house next week they will mentally own the newbies, they will tell the newbies to come join them if they want protection and they won't know what to do without Dani. They head inside.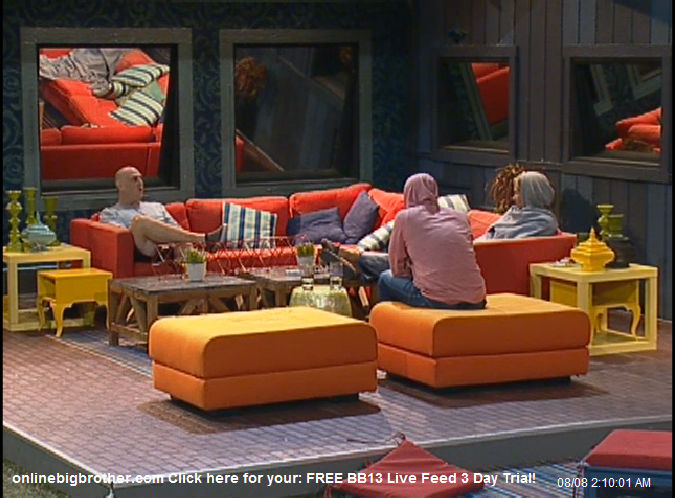 Click here for your: Live Feed 3 DAY Trial!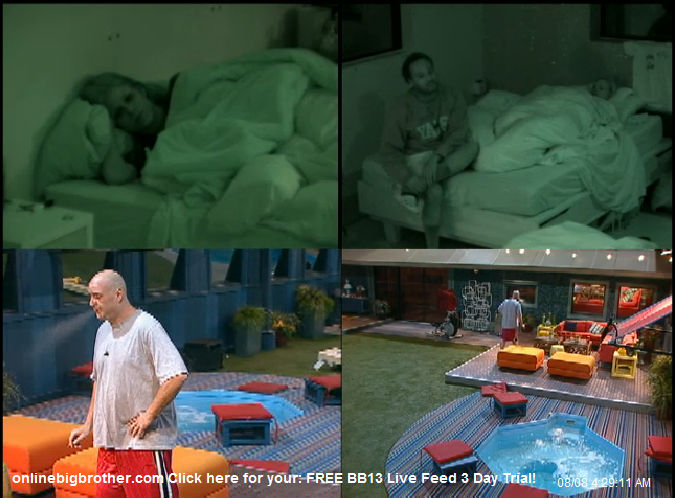 In the bedroom they start playing the guessing game. Adam goes out into the backyard by himself and talks to himself. Adam says that if Lawon puts himself on the block I'll vote him out, you volunteer to go on the block you get voted out. Adam says but if I do that I am in an alliance with the vets, even though they will be the targets and not me, Kalia and Porsche.. Adam says that he is in an alliance with them, and the only people he wanted an alliance with were Dominic and Shelly, but I'll be in the final five but I'm playing the game like Dan did and staying under the radar. Adam head back inside. They all talk about random things and then eventually go to sleep…
6:15am All the houseguests are still sleeping..
8am Still sleeping..
9am Shelly wakes up and grabs a coffee and heads out into the backyard.
9:30am Big Brother wakes up the other houseguests…
If you like this site and want to help us keep it running please consider donating, Your donations go directly to paying the server and bandwidth fees. Donate Link
Big Brother 13 Spoilers POLL CAST your VOTE!

Big Brother 13 Live Feed Image Gallery
Follow: @BigBspoilers and @Dawgsbigbrother on Twitter for recent crazed out spoilers. Theres also our Facebook page.
This is not the official CBS Poll, go to this link https://www.cbs.com/shows/big_brother/americas_vote to vote for a evicted houseguest to have a chance at coming back into the house

Share it YO!!
Tweet