Big Brother 13 Live Feed Image Gallery
9:21pm Shelly cleaning the 2 way mirrors in the bathroom
9:25pm Backyard Adam, Rachel, Kalia, Lawon, Jeff, JOrdan, PT and POrsche talking about meeting celebrities. Kalia starts complaining that they do all this exercising and Porsche goes and makes cookies at night. Jeff says he likes to get them when they are raw.
9:37pm Kalia, Dani, Dom Kalia briefly says she had a weird conversation with shelly a hour ago.. Mentions they talked about how people in this house get made at you for hanging out with certain people. Dom says it feels really awkward being out int he back yard. (they were talking about Colonics when I flipped the cam) .. Kalia leaves.. Dom tells her he wants her to cheer up. Dani starts to cry says she really upset that Dom is leaving and it's all her fault.. He doesn't want her to be sad he only has a day left wants them to be happy. Dani: "you're leaving because of me and that sucks"
9:45pm Havenots lawon and Kalia Lawon says that he's going to be honest to kalia the only chance they got is if they can trust each other. Neither of them have a person to trust. He says whenever someone says something to him he'll tell Kalia so she knows whats going around the house.
kalia says she doesn't think they are in the line of fire but she thinks the other side thinks that the late night group is in an alliance to backdoor jeff. THey both say they never knew about it until the whole thing came out in the open. Lawon: "I'm going to keep on staying up late… cause why stop… why stop it's showing you're guilty". Lawon says that Brendon was trying to tell him that Kalia i talking shit about him. Kalia: "Yo know thats not true" lawon knows he figures there trying to keep Lawon and Kalia fighting.
Lawon: "from this talk on… it's me you boo.. "
Lawon: "Shelly is a f*cking cannonball"
Kalia: "I can't figure out what she's doing"
The both can't figure out her long term strategy and how she thinks she can win. Kalia says she's very convincing Lawon adds Aggressive. Kalia says she had a along talk with Shelly in the backyard and Shelly said so much Kalia just need to take a step back and figure out what she was saying.
Lawon: "She going to put dissension between me and you"
Kalia: "I think she's going to put a lot of dissension between a lot of people .. that's her game."
(Nice seeing these 2 team up finally.. Lawon and Kalia are playing the game.. now can they win a comp and actually do something?)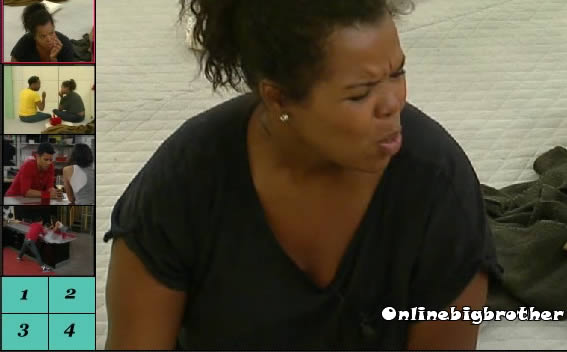 10:20pm Kitchen Dom, Dani, Adam, and Lawon Playing most likely with the pictures on the memory wall.
Adam: most likely to cry while having sex
Kalia: most likely to masturbate on a reality Show
Rachel: most likely to have sex on a reality show
Keith: most likely to be on a dental product bill board
Dani: most likely to have 2 personalities
Shelly: most likely to break a limb
Brendon: most likely to j#rk off on a web cam (I think Adam said this one from the bathroom..BIAM)
Porsche: most likely to j#rk Dom off in his sleep (This was Dani's)
Dick: most likely to end up in jail
Cassi: most likely to never wash her hair
Dom: most likely to be the first part time model that takes a shitty memory wall picture
Jeff: most likely to have the best hair
11:25pm Rachel and Porsche Rachel is saying that she likes Dom hates to see him go. Porsche says it has to be done. Rachel reveals that After Dom goes Dani is the next one out of the house they don't want her to get to Jury. Rachel says that Jeff has the most fans out of all of them and if anything comes to a vote Jeff will win it. (I think Jeff may be losing a lot of fans lately but I could be wrong)
11:30pm Havenots Dom, Dani and Kalia Dom says tomorrow right when he has exhausted all options. He's going to make one final pull for the newbs to rally around him and take out the veterans. Dom : "I'll take them all In a room and explain they should all go for it and take out the veterans" Kalia and dani don't think there's any chance shelly will flip. Dom: "I want to crack Shelly in her old ass face.. " Dani: "Shelly is a liar… " Kalia: "I think she's a liar and sneaky but I also think in her mind she's playing fair"
Dani: "In her mind she's 100% final 6 because they told her that since day 2"
Kalia: "she told me she came to play the game.. she thinks that she'll float to final 6″.."she wants to come play the game like she will never compromise who she is on the outside"
Dani and DOM "Oh my god she's lied a thousand times"
Dom: "She lied to my face that she didn't have any deals with anybody" Kalia says but in her mind that is not a lie. Lawon joins them says Shelly has been telling him not to trust what people saying.. (implying Dani)
Kalia expalins that Shelly was giving her the ultimate pep talk.. "I need to show people that i'm not guarded that I'm a fun people"
Dani: "She talks negative about you all the time…"
Dom: "She hates black people.. They all laugh" (Dom is joking)
Lawon leaves..
Dom asks Kalia if she's talked to Lawon, Kalia says she has talked to him and she does trust him a bit but right now she's worried that he'll flip if it means another week in the house.
Kalia asks dom for information about his meeting in the HOH, Dom says they want me to win HOH and take Dani out. Dom says theres 2 options he's got.. option A keep sucking BRJJ dick's and hope that maybe they'll keep him or option B go 100% against them and rally the newbs. Dom wants to know what they think. Kalia and Dani are not sure they need to think it through. Dom asks what about Porsche, Kalia isn't sure if they can pull her in but there's a possibility but Shelly will be hard to get to.
11:56pm dani said the first time she met Rachel in vegas she told her that she respected her game play but there was one thing that she couldn't understand. All throughout the season she would say she was going to vote for whoever played the best "Game" and Rachel voted for the worst player of the season. "This was her answer.. well right before the live show we all got together and thought that if it was a 3/2 vote it would make for good TV" .. "Whats the point of being here"
DOM: "WOW… "
Dani: "the only reason they made amends with me is because they are scared if I win HOH"
Dom starts to explain his plan more He'll try to get them to understand that they are the sheep being led to the slaughter.. Dom will tell them that he can frame it that Him and dani are the ring leaders which makes them number 1 and number 2 target giving the sheep 2 more weeks of safety. Dani really does not see Shelly flipping becuase in her mind she is part of them and with me gone she moves up to number 5. Kalia says she's had a good conversation with shelly she's in a good place with her. Dani warns her to really watch it with shelly.
(Dom is really trying to figure out a way to fight and survive but dani just doesn't think they can flip shelly)
Share it YO!!
Tweet