Get the BB13 live feeds on your Android and iOS devices. Sign-up for the 3 Day Free Trial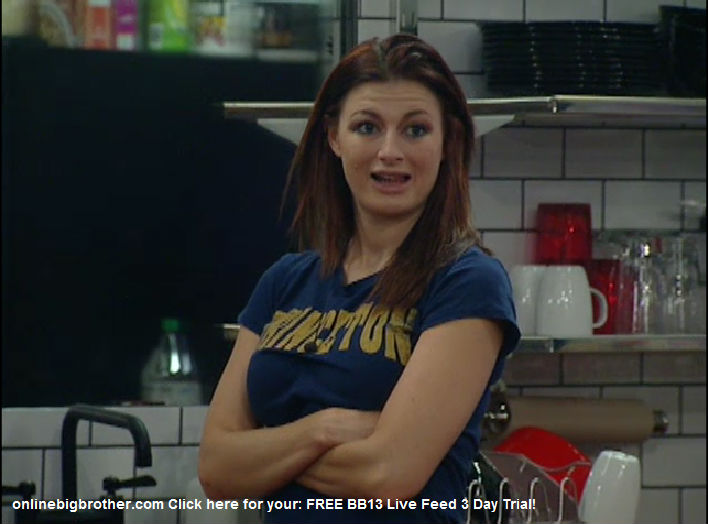 11am -11:25am Brendon and Shelly are talking about how happy birthday, the pledge of allegiance, and the star spangled banner are all copyrighted songs that they can't sing. Shelly, Brendon and Kalia are talking. Kalia is telling them about her twitter and facebook accounts. Big Brother keeps cutting the feeds in and out because Kalia is talking about people she knows and people posting nude photos of themselves on facebook. When the live feeds come back, Brendon heads inside. Rachel is so amazed at how stuff didn't stick to the pans. Shelly says well you need Teflon non stick pans and you can't use metal utensils on them. Rachel talks about how she loves walmart and can't understand why people hate walmart. Right then big brother cuts the live feeds. When the feeds come back, Brendon is asking Shelly about what countries are good to import clothing from. Shelly talks about Mexico, Vietnam and Canada.
See What They Can't Show You On TV! SUPERPASS – 3 DAY Trial!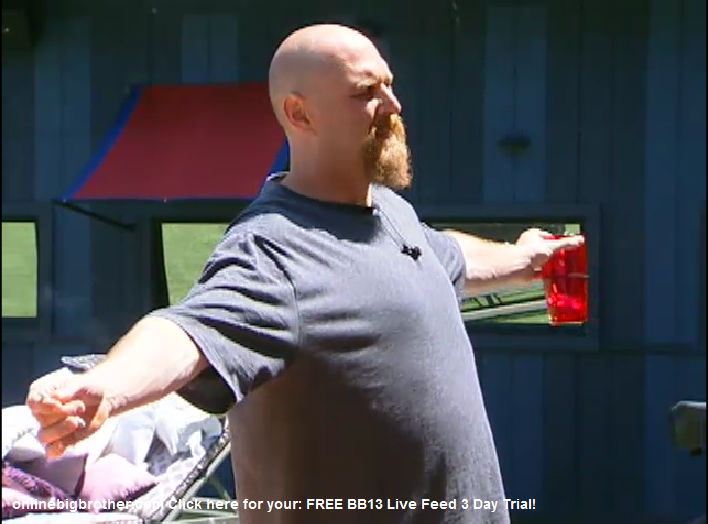 11:30am Brendon heads out to the backyard to get ready to workout and sits down to talk to Shelly. They talk about Kalia and how annoying her stories are and how lazy she is …Shelly says that she is sloth like .. Shelly says that there are some people in this world that are born to whine. Brendon says that he can't wait to evict her. Shelly says that she will complain about the jury house too. Brendon says that he doesn't even want her in the jury house. Adam joins them. Brendon is asking when the other went to bed. Shelly calls them the LNNGTC … the Late Night No Game Talk Crew. Lawon joins them.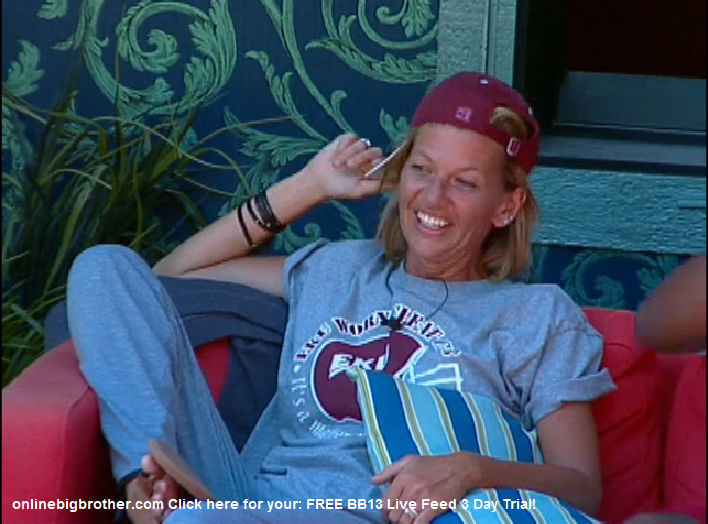 11:35am – 12pm Shelly and Adam head inside. Brendon asks Lawon what they said last night. Lawon says that Dominic was trying to push for me to vote for him. Lawon tells Brendon that just between me and you, I want him gone. Brendon asks what Dani was saying. Lawon says that Dani didn't say anything …she was real quite. Brendon says that doesn't sound like Dani at all. Lawon says yeah, I though they had been talking earlier and thats why she was quiet. Brendon says again that doesn't sound like Dani at all ..that she had nothing to say all night. Brendon asks who Lawon would put up if he was HOH. Lawon says that he would come to Brendon and Rachel right away if he did. Brendon asks but who would you want up? Lawon says Kalia for sure .. I would go straight in to cut the fat out.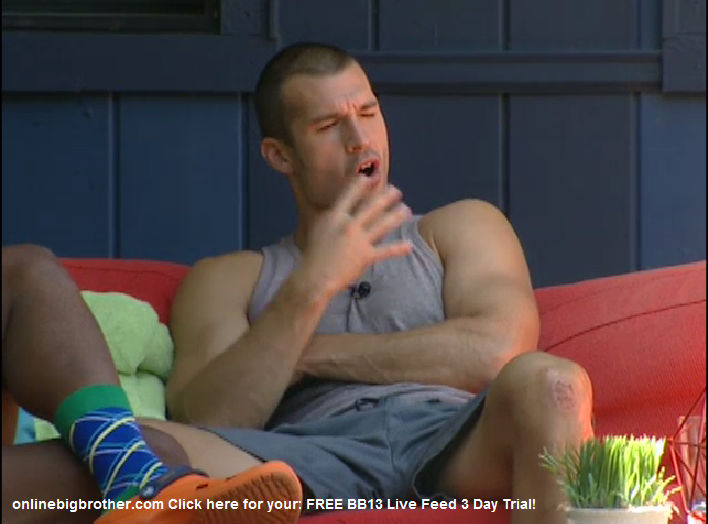 Brendon asks if he heard anyone else say what Kalia had said about him. Lawon says no. Brendon says thats surprising because she was telling everyone. Rachel comes out to lay out in the sun. Lawon keeps talking to Brendon. Lawon says that his goal is to keep listening to Dani and Dominic. Lawon says that he is serious he wants Dominic out. Lawon says that he wants his game to be tight and Brendons to be tighter. Lawon says that he wants Dominic out …and then his partner Kalia out next. Brendon says that he wants Lawon to keep in mind that the vets have won things in this game and the others haven't won anything …just keep that in mind ..we can keep you safe. Brendon says that he is able to trust Lawon more because he hasn't thrown his partner under the bus. Brendon says that they will try and get you to do the dirty work for them and then we'll be after you. Lawon says that Brendon has schooled him since day one ..and he appreciates that. Brendon says that if Lawon wins HOH and doesn't put them up …and doesn't back door them ..then he is cool in his books and he will trust him. Lawon says I know, I know. Adam comes out to join them.
24/7 UNCENSORED Big Brother 13 Live Feeds!
Click here for your: FREE 3 Day TRIAL!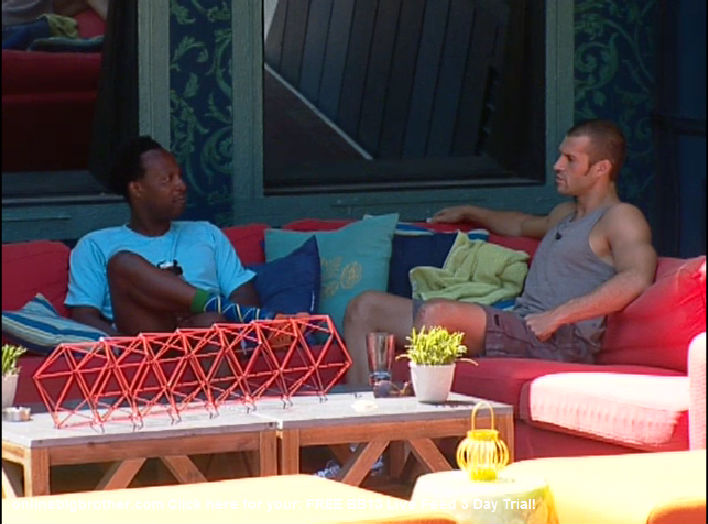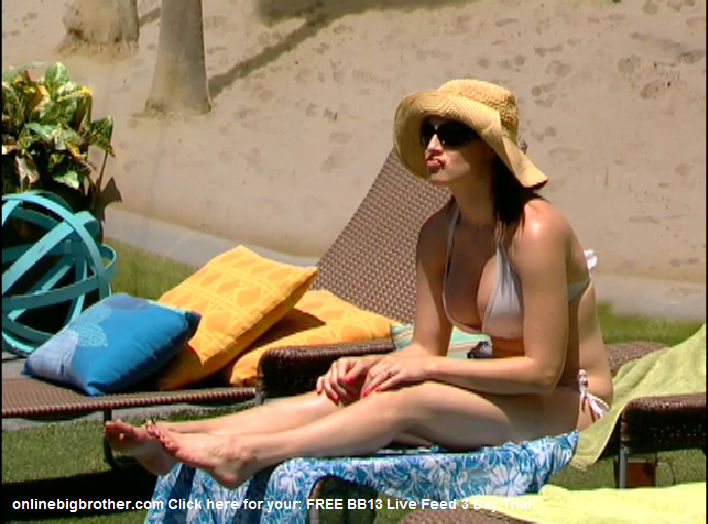 12pm – 12:15pm Adam heads inside to take a nap. Brendon starts getting mad at Rachel asking her if she put sun block on all over. She says she did but Brendon doesn't believe that she could reach everywhere. Brendon rubs lotion on her and then goes to workout. Meanwhile, In the kitchen Porsche and Dominic are talking. Porsche asks him if he thinks he is staying or going? Dominic says that it doesn't look good, but that he is going to talk to some people today. Jeff comes into the kitchen. Dominic yells big Jeff! Dominic complains about sleeping in the havenot room. Jeff asks why Dominic is still sleeping in the havenot room… why not just squeeze in with Dani. Dominic says yeah I don't think I will sleep in there any more. Porsche and Dominic head into the bathroom to get ready for the day. Out in the backyard, Rachel is in the pool, Shelly is laying out suntanning and Brendon is on the elliptical.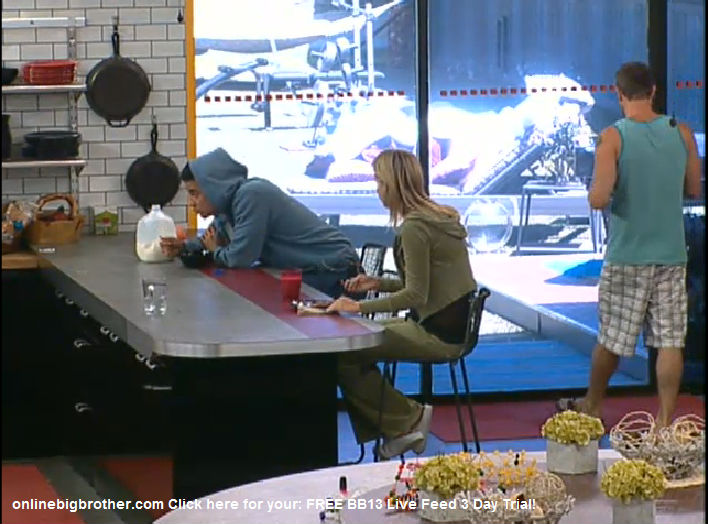 12:20pm – 12:45pm Rachel and Shelly talk about practicing for the endurance competition by standing on ledges or hanging off the stairs. They talk about how it is just mind over matter. Shelly says that she has a huge motivation. Rachel and Shelly talk about how Dominic went from Cassi to Dani. Shelly says that she doesn't understand it he is playing the girl game ..not the game. They talk about how Cassi just liked Dominic as a brother but that Dominic told Shelly that he actually would want to go out with her.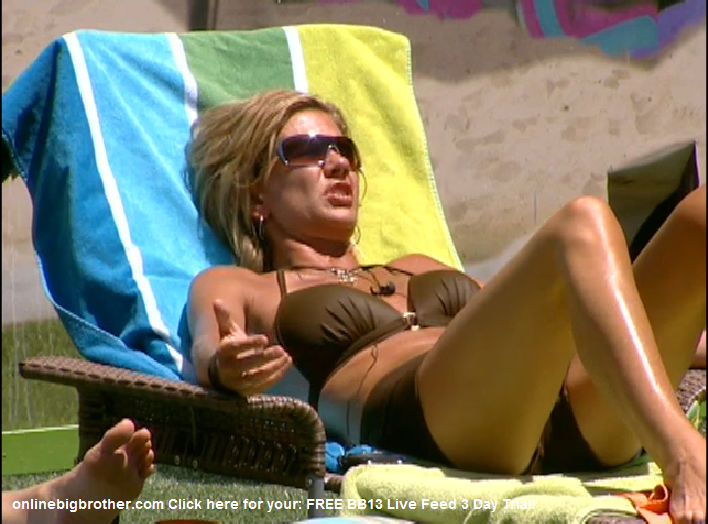 12:55pm Meanwhile inside Dominic climbs in bed with Dani. Dani aske what everyone else is doing. Dominic tells her. Dominic asks Dani how he can put the blame on someone else but not you. Dani says that's what she has been trying to think about. Dani says that she has dead kittens in her mouth. Dominic says so they think its all from me? Dani says I think they think its from me but …they know that it was me but they want to make sure we are still okay just in case I get HOH. Dani says that everyone is scared of her because she won 5 vetos and 2 HOH's. Dani says that Jeff said it was really obvious because I stopped talking… but he was the one that stopped talking to me. Dani says that there is just so much damn paranoia. Kalia comes in and says that she is just really sick of being here. Kalia leaves. Dani and Dominic whisper and talk about how stupid this all is.. Dominic then gets called to the diary room..
Big Brother 13 Spoilers POLL CAST your VOTE!
BB13 Live Feed Screen Captures , These are being updated every 10 minutes all 4 Cams 24/7
Follow: @BigBspoilers and @Dawgsbigbrother on Twitter for recent crazed out spoilers. Theres also our Facebook page.
If you like this site and want to help us keep it running please consider donating, Your donations go directly to paying the server and bandwidth fees. Donate Link
Share it YO!!
Tweet