Get the BB13 live feeds on your Android and iOS devices. Sign-up for the 3 Day Free Trial
See What They Can't Show You On TV! SUPERPASS – 3 DAY Trial!
7:30am – 9am Shelly wakes up, makes coffee, does laundry, cleans the house and then relaxes and has a smoke in the backyard. 9:45am The houseguests slowly start getting up for the day. Adam, Shelly and Brendon are out in the backyard talking. They talk about being woken up to be called into the diary room. Adam says he got called in and didn't bother putting pants on, that he just wore his underwear.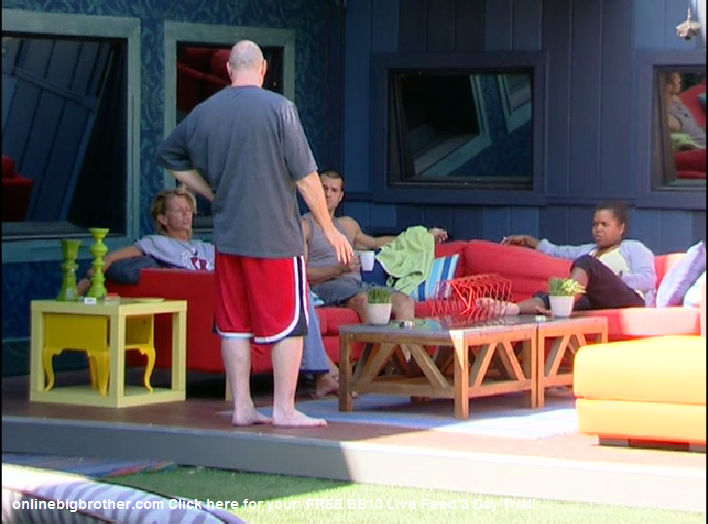 9:50am – 10:30am Brendon, Shelly and Adam are talking in the backyard. Brendon tells them about how Kalia told him that the late night crew never talks game. He says but then she said that they have talked about who was on the block or who they think they might want on the block… Brendon says that she said ..but that's not game talk is it? Adam says that Dani is going around planting a lot of seeds.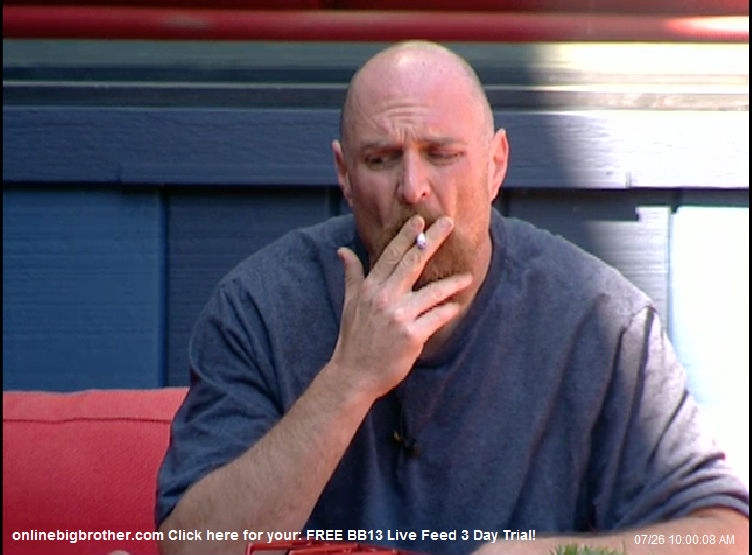 Shelly asks what can Dani keep telling Dominic that she can flip the house over and over again. They talk about how they are sick and tired of Kalia talking about masterbating and private parts. They say they want to puke every time they hear her talk about that stuff. Shelly says that Dani doesn't want to admit it but that Dani has a crush on Dominic. Brendon says that Dani is so dumb.. she is going around threatening them on about back dooring Jeff. Shelly says Dominic says what he needs to say and then runs and tells Dani. Shelly says that Dominic is playing the girls more than he is playing the game. Shelly say that Dani is lost without Dick here. Shelly asks does Dani really not think that Brendon and Rachel will talk to Jeff and Jordan about the shit that she has been telling each other about the other pair? Brendon tells Shelly about how Dani told Rachel that everyone in the house hates her. Shelly says that is so rude to say and not true. Shelly says that Dani says all the houseguests are scared of her. Brendon says that Dani is insecure and an egomaniac. Shelly says that she loves that the four vets put Dani up against a wall. Jeff tells Brendon that if he wins HOH next week proves he is best Big Brother player. Brendon says come Thursday he is going to destroy Dani. Brendon says that Dani thinks she is an unbeatable player. Shelly says that she has been writing things with pool chalk for upcoming competitions. They talk about how this Thursday nights competition might be a knockout competition. Kalia comes out into the backyard. Brendon heads inside the house.

TRY the Live Feeds for FREE!
Click here for your: SUPERPASS – 3 DAY Trial!
10:40am – 10:50am Shelly and Rachel are cleaning the lounge room pillows. Brendon starts helping them and then starts hitting Rachel with the pillows. Meanwhile, Adam is in the kitchen making breakfast. Shelly and Rachel go inside and start making slop pancakes.. Lawon is in the bathroom getting ready..
Big Brother 13 Spoilers POLL CAST your VOTE!
BB13 Live Feed Screen Captures , These are being updated every 10 minutes all 4 Cams 24/7
Follow: @BigBspoilers and @Dawgsbigbrother on Twitter for recent crazed out spoilers. Theres also our Facebook page.
If you like this site and want to help us keep it running please consider donating, Your donations go directly to paying the server and bandwidth fees. Donate Link
Share it YO!!
Tweet