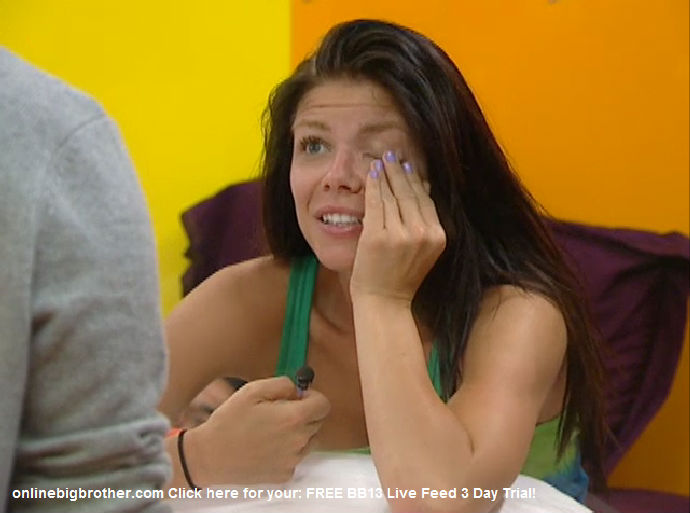 1pm – 1:15pm Dominic comes back from the diary room. Dani tells Dominic that his attitude blows. Dominic says that his her attitude stinks more than her horrid breath. Dominic asks did you really think they would back door Jeff and Jordan. Dominic tells Dani to get Jeff out first. Dani says that now she thinks Jeff isn't playing to win, but just playing to get to the jury house. Dani says that if she does go against them and they all four end up in jury there's no way she can win, because it will be four to three. Dani says even if she takes one of them out, the other three will be after her all the time and she'll have to win everything. Dominic tells her to get Shelly out then. Dani says that the four will be playing they'll win… and then says this is so stupid. Dani says that they were on board to get rid of Jeff and then the next day they weren't. Dominic says lets talk about where you are going to take me out to dinner. Dani says OMG! Dani talks about wanting to plant hairs in Kalia's drawer. Dominic says yeah. Dani says she thinks the easiest way to get Kalia to walk out is to put a bunch of Rachels hairs in her bed. Dani says I think anyone would walk out after that though. Dani teases Dominic about how he can hang out with Cassi now ..and that all he did was follow her around while she was here. Dominic says no I didn't. Dani says yes you did watch the tape. Dominic says I would really still be here if it wasn't for you. Dani says he probably would have won the veto. Dominic says so really you have done nothing for me. Dani says shut up. Dominic says his best move would be to go with Porsche. Dominic says maybe if I can convince Porsche that I am really in love with her. Dominic says that it would be so hard to do it though… he could until she opens her mouth. Dani tells Dominic that Brendon hates Porsche. Dominic jokes that he just wants to hang out with Dani so that he can have some good times before he throws her under the bus… Dani tells him to go back to his bed.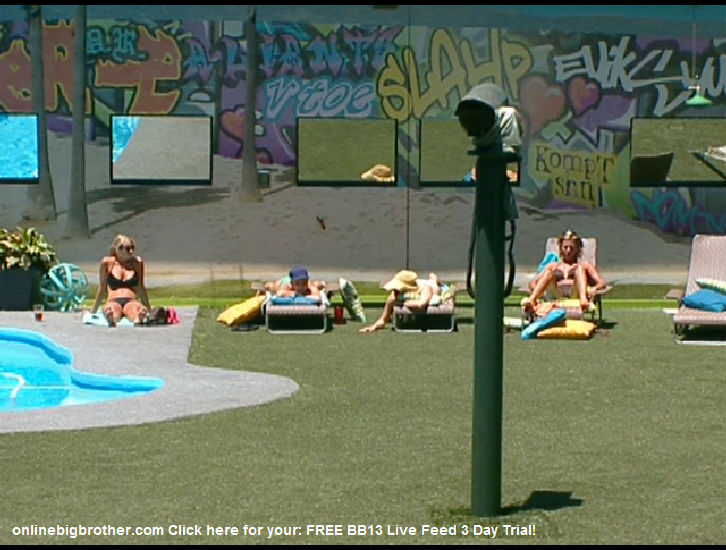 1:20pm All four cameras switch to Porsche and Rachel talking out in the backyard. Porsche talks about how her dad was pushing for her to be on the show for so long and that he thinks it will catapult her career. Big Brother then cuts the live feeds. Porsche is talking about how she wishes she could just go live somewhere else for awhile. Porsche comments how cheap CBS is with Big Brother. She points out the no name groceries Rachel tells her she should be happy with what CBS provides them. Porsche starts to agree.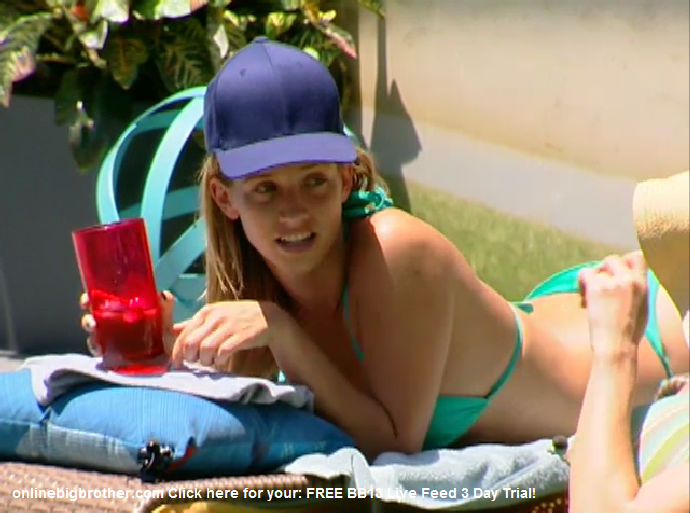 1:35pm Kalia, Dominic, and Dani are in the candy room. Kalia and Dani are talking. Dani talks about how they don't like her and they don't trust her. Dani tells Kalia all about the conversation she had with Jeff, Jordan, Brendon and Rachel last night. Dani says that she told them that obviously she isn't going to try and keep Dominic now because it will make her a target. Dani says that they said that just because someone is trying to make out with you ..doesn't mean you can trust them. They end the conversation and Dani goes to the bathroom to get ready for the day.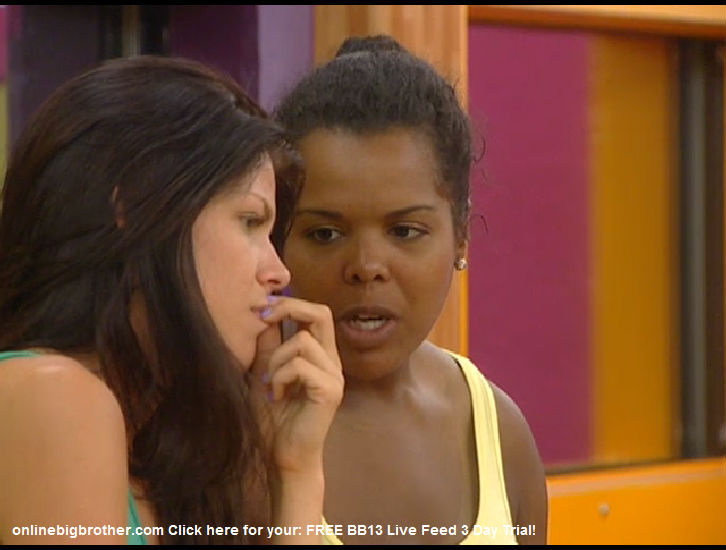 1:40pm Adam and Dominic are in the kitchen making and eating lunch. Dominic is joking around in the kitchen talking about Dani, whos in the bathroom. Dominic talks about how good his pool game was last night. Adam agrees and says that he didn't even want to talk to him ..thinking it would mess him up. Dani comes through the kitchen. Adam tells her that she looks like angels came down and touched her. Dani says eww! Dominic says lets play who will be friends longer after this game. The cameras switch to Jeff and Kalia in the candy room. Kalia is complaining AGAIN about how much she hates being in the house. (BLANK leave then! Walk out the door, no one is holding you there! I swear whoever cast her needs to be fired! There are so many people that would kill to be in the house and you complain day in day out!!) Jeff tells her to go listen to the cd in the HOH room it takes you away from the house for a bit. Jeff leaves and says get comfortable ..cuz you're gonna be here for a bit.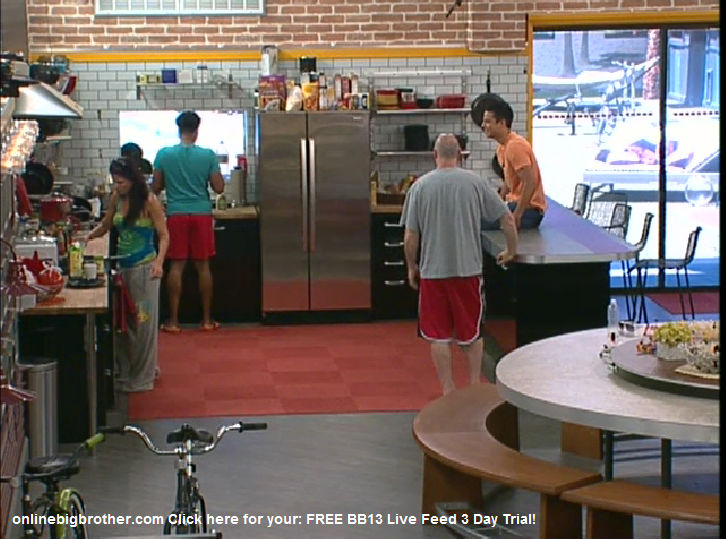 2pm Dani, Lawon, Adam, and Dominic are in the kitchen. Dani and Dominic are joking around he jokes that she is only 5'2″ and that he's giving her an extra 2″. Adam says that not the only time he gives you 2 inches! They all laugh and say burn. Dominic asks who has shown the most private parts so far? Adam says Kalia! Dominic says ding! They talk about how Keith showed his ass to Dani and Porsche. Dominic, Lawon and Dani are in the kitchen talking and joking around about random stuff. They joke around that Dominic looks just like Wilmer Valderrama from that 70's show. Dominic says no he doesn't. Lawon says you should like that ..he gets around in Hollywood! Kalia comes into the kitchen and continues to complain about how she would rather be at home. (Kalia is saying all of this in front of Adam and Dominic who are on the block for eviction.)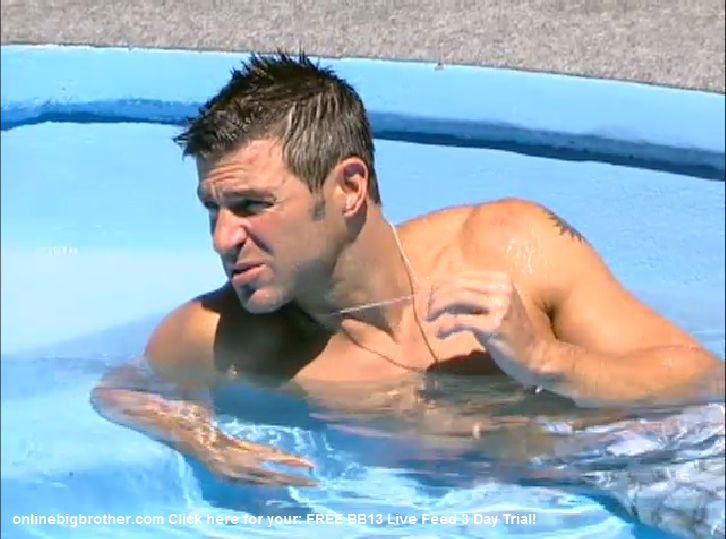 2:25pm – 2:50pm Jeff is telling Brendon that he wants to have a talk with Adam later because he is sure their little talk with Dani is probably being used against them. Jordan talks about how Jeff seems really irritated today. Jeff says that he didn't mean to take it out on her …that he just needs to get through this next week. Jordan says that she feels like whenever one of them goes inside, another one comes out. Jeff says yeah, ..that he is positive that they sent Lawon out here to spy on them. Shelly comes out and lays down on the lounger. Jeff tells her that they will tell her all about the conversation with Dani last night. Shelly says Okay ..cool! Dani comes out soon after. Porsche comes out and says that they are all doing Disney Trivia in the kitchen. Brendon asks if Rachel is winning. Porsche says no …Dominic is. Porsche asks Brendon what kind of shorts he swims in? Brendon says the speedos that are longer. Jeff asks what like the boy shorts that girls where? Brendon says yeah. Jeff laughs at him…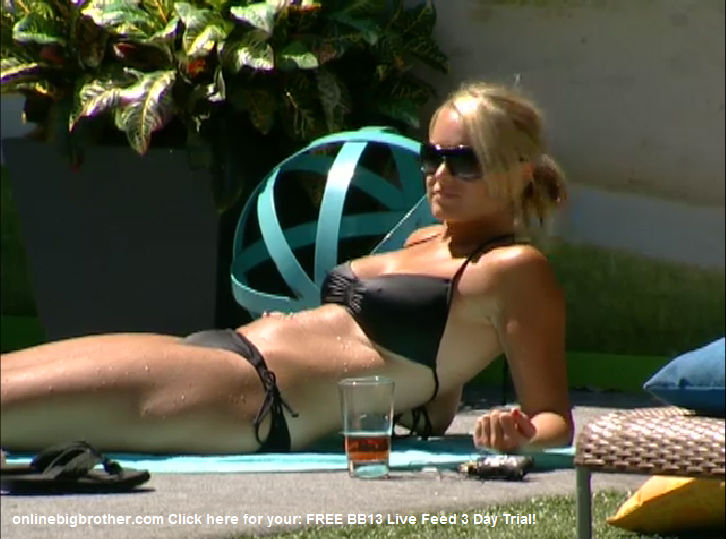 Big Brother 13 Spoilers POLL CAST your VOTE!
BB13 Live Feed Screen Captures , These are being updated every 10 minutes all 4 Cams 24/7
Follow: @BigBspoilers and @Dawgsbigbrother on Twitter for recent crazed out spoilers. Theres also our Facebook page.
If you like this site and want to help us keep it running please consider donating, Your donations go directly to paying the server and bandwidth fees. Donate Link
Share it YO!!
Tweet