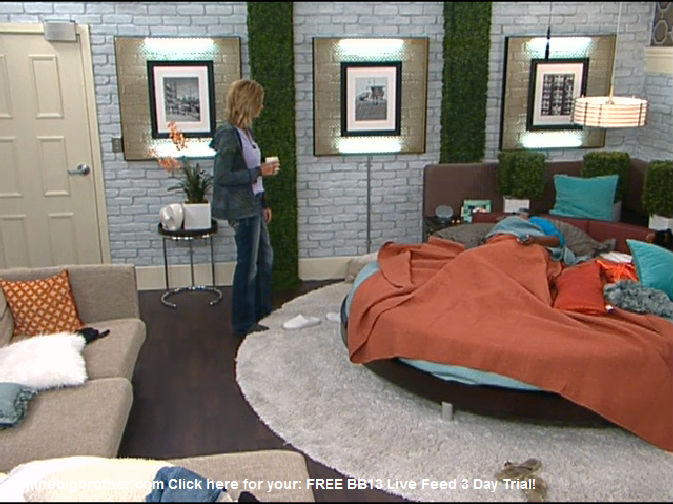 Get the BB13 live feeds on your Android and iOS devices. Sign-up for the 3 Day Free Trial
12pm Shelly goes up to the HOH room and tells Kalia that Lawon is outside acting all mad about being put up …and that he says that he never volunteered to go up. Shelly asks Kalia if Lawon actually volunteered because he's downstairs acting enraged. Kalia says what?! Kalia tells Shelly that Lawon volunteered to go up. He was the one telling her that she had to do what she had to do… Shelly says well he is not acting like that now …you should see him outside right now it's hilarious! Shelly says thank you for not putting me up. Shelly leaves and Kalia goes back to sleep. Rachel then goes up to the HOH room to talk to Kalia. Rachel says that she doesn't really know what's going on, but that she thinks she understands what Kalia is trying to do. Rachel thanks Kalia. Rachel gives Kalia a hug and then leaves.
Sign-up for your: Live Feed 3 DAY Trial!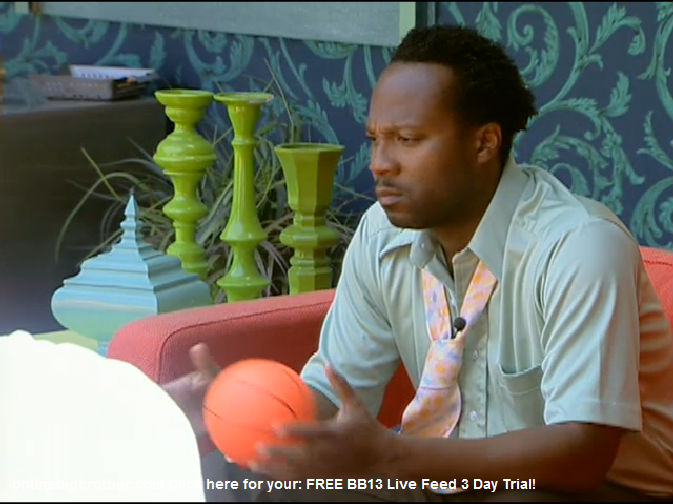 In the backyard, Jeff asks Lawon if he had any idea? Lawon says that he had no idea. Jeff says well why don't you go talk to her? Lawon says that he will he just needs to calm down. Adam says that he though he was going up. Jeff says that he thought Adam was going up too. Lawon says that he was 99% positive Adam was going up too. Shelly tells Lawon that Kalia is asleep now. Lawon says I bet she is …that just gives me more time to think about what to say. Shelly says I want to be there. Jeff says I don't!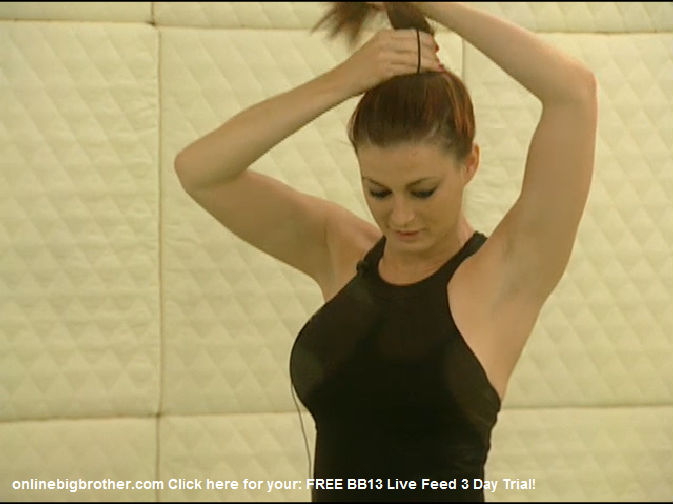 12:10pm In the havenot room, Rachel and Jordan are talking. Jordan says that if Kalia really wanted to get you out she would have put up me or Jeff. They talk about how Lawon actually volunteered. They talk about how there needs to be some kind of motive behind it. Rachel says that they probably did it so that they don't make another enemy, so that they keep me at bay and if Lawon goes and comes back then he can't be mad because he volunteered. They talk about Porsche. Rachel says that Porsche isn't safe if she wins HoH. Rachel says that she is not stupid, when I needed a friend, guess who was there? Jordan! ..not Porsche.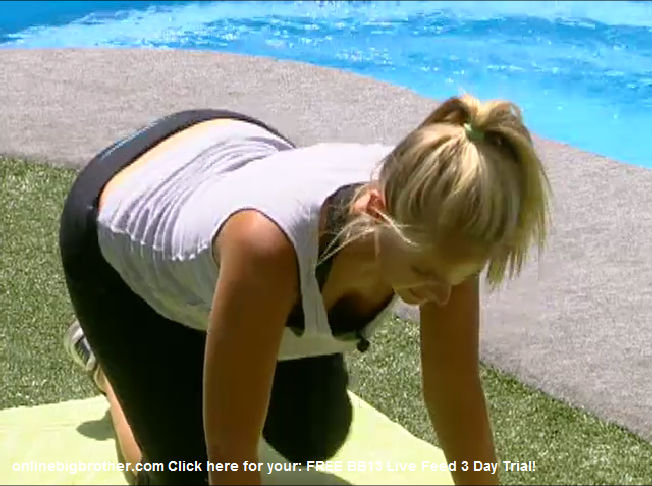 Jordan and Rachel are talking in the backyard while they get ready to workout. Jordan says that she heard he volunteered and that all he cares about is getting into the jury house. Rachel says that she doesn't believe that. Over on the couches, Shelly is still questioning Lawon. Shelly keeps saying that she just doesn't get it. Lawon says that he is still going to be nice… he isn't going to go around banging pots and pans.. Lawon says like my grandma always told me theres a calm before the storm. Meanwhile, Jordan and Rachel continue to workout and talk .. Jordan says that Lawon is definitely going home. Rachel says yeah. Meanwhile, Jeff is cooking catfish on the BBQ. Rachel heads inside to eat. In the kitchen, Adam, Rachel and Porsche are making and eating lunch as they talk about when you get married and the groom takes the garter belt off the bride and puts it on the girl that catches it.
FLASHBACK – Don't miss all the drama!
Superpass – 3 Day FREE Trial
1pm – 1:25pm Rachel and Lawon are in the kitchen talking. Lawon says that he doesn't think he is coming back if he goes home. Rachel says that's the twist …if I go home I guarantee I am coming back. Lawon says that maybe I need to start thinking like that too… Cuz if I come back this BITCH IS BRINGING IT! Rachel asks Lawon if he volunteered to go up as the pawn because that is what she has heard. Lawon says no …that is not in my character! Lawon says that he would not volunteer to go up. Lawon says he would have at least liked to have been told that he is going up. Lawon heads out into the backyard. Jeff starts talking to Lawon and then says you go other things on your mind don't you? Lawon says yeah ..I wasn't answering you was I …They laugh. Lawon heads inside to change. Lawon is talking to Kalia. Kalia asks Lawon why is he telling everyone that he didn't know he was going up. Kalia tells Lawon that everyone thinks that he is faking it. Lawon says that he is just trying to calm things down. Kalia tells Lawon that he should tell people that he had a feeling that he might go up but that he didn't really know. Kalia then goes to talk to Porsche… Kalia tells Porsche that she told Shelly that Lawon knew he was going up, that they talked about it. Porsche says that Lawon is going around telling people that he never knew he was going up. Porsche says that she asked Rachel if she wanted her to vote for her to stay. Porsche says that Rachel said yeah why wouldn't you vote for me to stay?! Kalia leaves the candy room grabs some food and heads up to the HOH room.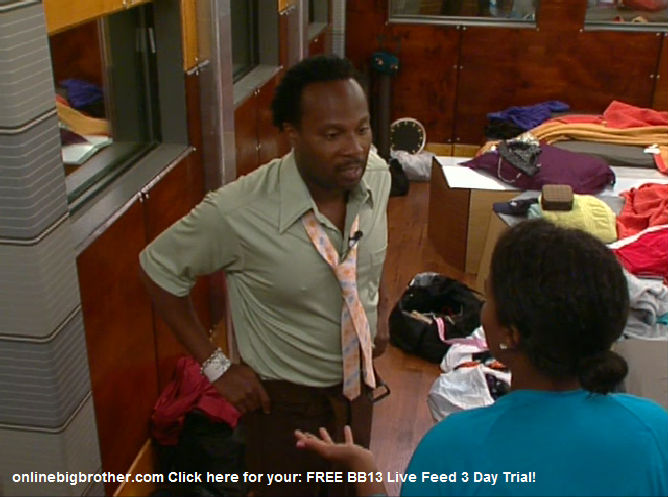 1:25pm – 1:35pm Kalia says that she doesn't know what Lawon did right after …but he went out there and was super pissed and acting like he didn't know he was going to go up. Kalia says that she just talked to Lawon and told him to relax and that he needs to tell people that he and Kalia talked a few days ago … and that you were just confused and worried about being put on the block. Kalia tells Dani that Shelly told her that Lawon is being really weird and that its totally obvious that he is acting. Kalia says that then Rachel came up and was all happy and thanking her. Dani and Kalia agree that they need to convince Rachel that she is done and gone. Dani says that we talked to Lawon. Kalia says thats what Lawon does …he get amped and geeked out and shoots himself in the foot. Dani says the only thing about waiting till thursday to make a deal with Rachel is that what if someone else makes a deal with her first… then we get screwed out of it. The only reason we need to wait is so that she doesn't have time to tell anyone else about it. Kalia says that she doesn't get why Shelly wants to get Porsche out so bad. They talk about how everyone was shocked that Kalia put up Lawon.
TRY the Live Feeds for FREE!
Click here for your: SUPERPASS – 3 DAY Trial!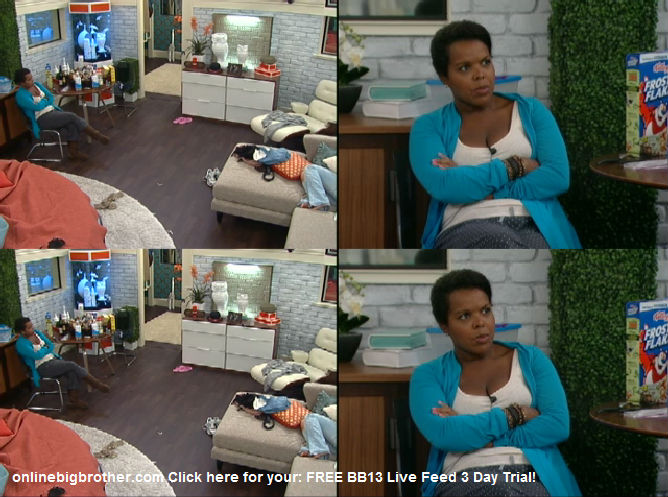 If you like this site and want to help us keep it running please consider donating, Your donations go directly to paying the server and bandwidth fees. Donate Link
Big Brother 13 Spoilers POLL CAST your VOTE!

Big Brother 13 Live Feed Image Gallery
Follow: @BigBspoilers and @Dawgsbigbrother on Twitter for recent crazed out spoilers. Theres also our Facebook page.
This is not the official CBS Poll, go to this link https://www.cbs.com/shows/big_brother/americas_vote to vote for a evicted houseguest to have a chance at coming back into the house


Share it YO!!
Tweet