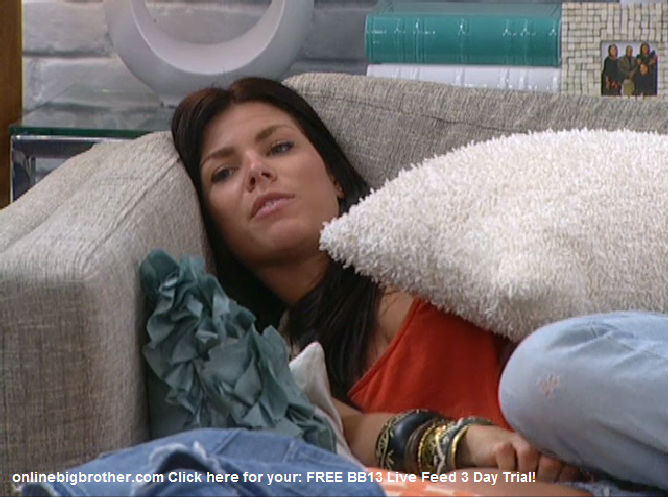 24/7 UNCENSORED Big Brother 13 Live Feeds!
Click here for your: FREE 3 Day TRIAL!
Get the BB13 live feeds on your Android and iOS devices. Sign-up for the 3 Day Free Trial

1:40pm Kalia and Dani continue to talk about the nominations. Dani tell Kalia that if anyone asks she just needs to tell them that she was tired of making enemies and that Lawon was the only one that was okay with going up. They talk about making a deal with Rachel. Dani says that she is worried that Rachel will tell Jeff and Jordan …then she will tell Shelly …its just better if no one knows. They talk about how its interesting that Rachel thinks she has Shelly. Dani says that she thinks that Rachel just thinks Shelly is on the fence and that it would be easier to push her over. Dani says that we need to figure out when to tell everyone that we are keeping Rachel. Kalia says that Porsche already knows… They discuss how no one can know about the deal they have to keep Rachel. They talk about how they will say that they are keeping Rachel because this week someone is coming back and they can't take the risk of her being mad at them. Dani says that we need to make them feel benefited because we are the ones benefiting. Kalia says how do I convince Shelly to vote out Lawon when she hates Rachel.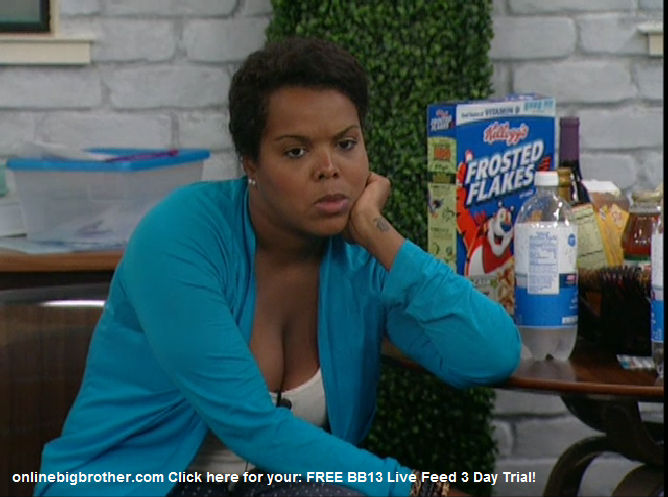 Dani says that everyone is going to try and cop a deal with Rachel if they know she is staying for sure. Kalia and Dani discuss how they will tell people they are keeping Rachel. They say that they will make a deal with Rachel first and tell her that if she talks to anyone …they will call a house meeting and tell everyone she is a liar …it won't be hard to convince everyone ..since no one trusts her… and she will get voted out. Kalia asks what kind of deals could other people make with her anyways. Kalia says that everyone now thinks that by not putting up Jordan or Adam …they know we have a deal to keep Rachel. Dani heads down stairs to sleep and tells Kalia that if anyone comes up to talk to her …just fake that you're sleeping.. Dani heads down to the candy room to sleep.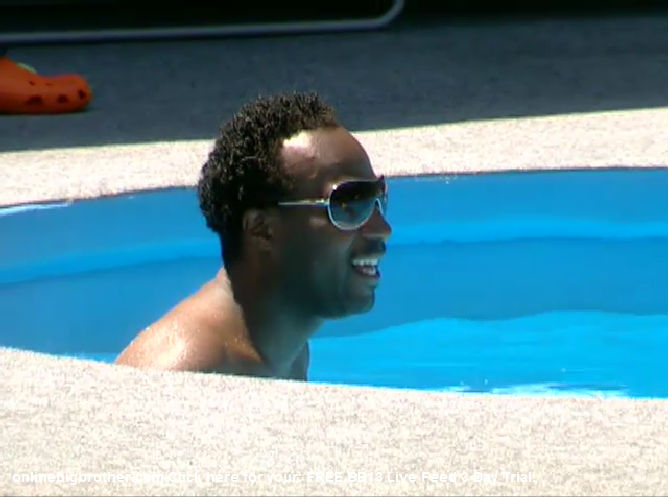 2pm – 2:50pm Shelly, Adam, Jeff and Lawon are talking about the missing items in the house. Shelly says that she is convinced that someone is making money on the things they haven't found and that's not right …we need to find that stuff.. it has to be here somewhere! Shelly asks Lawon if he hid the stuff… you wouldn't lie to a mother would you?! Lawon says nope! I learned a lesson to day ..don't play with emotions …sometimes you have to though.. Lawon starts talking about how he is good now … that he just got really nervous about being on the block. Shelly and Lawon are relaxing in and by the pool. Adam is in the hot tub. Jordan joins them in the backyard. Shelly starts talking about the guy she goes to for tailored suits. Shelly talks about everywhere she flies for work. Shelly talks about how her company once paid $10,000 for her to fly to China because it was last minute. Jordan and Jeff talk about the amazing race… Jeff says that Jordan ran up to the counter telling them they needed two tickets to China. Jeff says that they needed tickets for Chile .. Jeff says it was our first leg …yeah we're gonna do great! They all laugh. They continue to talk about the amazing race. Jeff says that they took their clocks out of their room and that they had to wake themselves up or they would start without them. They continue to talk about Amazing Race and Big Brother. The conversation changes to talking about sports and other random things…
Sign-up for your: Live Feed 3 DAY Trial!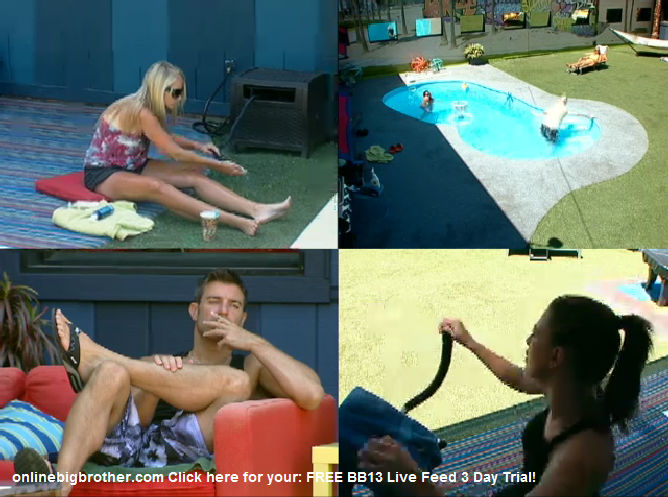 2:55pm – 3pm Jordan and Adam talk about how Lawon is surprised he went up but that he really volunteered. Adam wonders if he just really wanted more air time and so that's why he volunteered. Rachel joins them in the backyard and the conversation ends. Adam heads inside to take a nap. Jordan, Rachel and Shelly are doing their laundry. Inside Adam and Jeff talk about how they don't understand what the benefit was for Lawon to volunteer to go up. Adam says its a strange world! Jeff tells Adam that they (Dani & Kalia) just BLANK themselves. Adam says oh well. Jeff says have a good one! Out in the backyard, Rachel, Lawon and Shelly are relaxing. Jeff and Jordan are making something to eat in the kitchen.
If you like this site and want to help us keep it running please consider donating, Your donations go directly to paying the server and bandwidth fees. Donate Link
Big Brother 13 Spoilers POLL CAST your VOTE!

Big Brother 13 Live Feed Image Gallery
Follow: @BigBspoilers and @Dawgsbigbrother on Twitter for recent crazed out spoilers. Theres also our Facebook page.
This is not the official CBS Poll, go to this link https://www.cbs.com/shows/big_brother/americas_vote to vote for a evicted houseguest to have a chance at coming back into the house

Share it YO!!
Tweet