24/7 UNCENSORED Big Brother 13 Live Feeds!
Click here for your: FREE 3 Day TRIAL!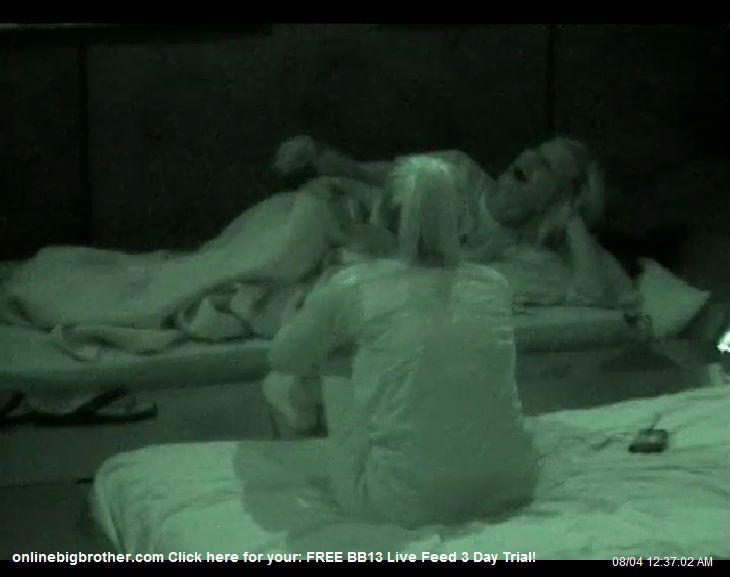 Get the BB13 live feeds on your Android and iOS devices. Sign-up for the 3 Day Free Trial
12:35am Out in the backyard Jordan and Shelly are talking in the bedroom. Jordan and Shelly are talking about what Rachel told Jordan in the bedroom. Jordan says that Rachel says that she thinks that Jordan is unaware of what Brendon and Rachel have been saying. Shelly tells Jordon how she's been talking to Adam and telling him that after next HOH, Lawon will go up. Shelly says that Adam says that he is not with it and says that Lawon is his friend. Shelly says that she tried to tell Adam that there is no reason to be loyal to Lawon because he lies. Shelly says that Lawon may not even have the job when he gets out. Jordon asks isn't he a lawyer? Shelly says he is some lawyer assistant to an all female law group. Jordon says well she hopes Adam will come around because Lawon needs to go. Shelly and Jordon laugh at how Lawon couldn't follow the events when all of the activity with her and Rachel was going down. They laugh. Jordan says that Rachel told her America hates her and she has no chance of getting America's Player. Jordan says that she told Rachel that she could turn around America's perception. Jordan says that Rachel is mad because she thought all four vets would make it to jury, and it sucks she won't be able to see Brendon for six more weeks. They conversation changes to talking about which game they think will be for the HOH competition tomorrow. They talk about how they think it will either be majority rules, or knockout.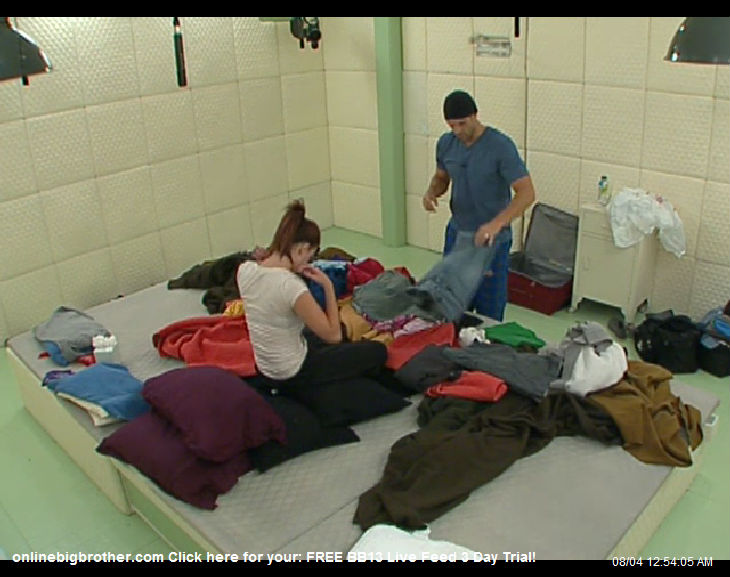 12:50am Rachel and Brendon head to the have-not room. Rachel says well Porsche is with her new best friend. Brendon says surprise, surprise. Rachel tells Brendon about Jordan's pep talk to her, and how Jordan told her not to quit, and not to give up. Rachel tells Brendon that she thinks Jeff doesn't like her. Rachel talks about how this cast is worse than last year, in the fact that everyone either wants to be a model or an actor, Lawon wants to be a TV host, Porche an actress, Kalia an actress, Dominic a model…. They head into the havenot room. Rachel says that she just didn't know Porsche would be best friends with Dani, ..No matter who wins HOH next week, no one's putting Dani up. Brendon says yeah, they're all idiots. Rachel wonders why her and Brendon even came back on Big Brother. Rachel says that no one is going to put Dani up next week and everyone is going to think she's this great game player because she took you out. Brendon says that he took myself out. Brendon is packing his suit case. Rachel says that she doesn't like him packing his clothes. Rachel and Brendon head into the bathroom. Brendon whispers to Rachel and asks her what she and Jordan were talking about. Rachel says that Jordan was trying to convince her that Jeff wouldn't put her up if he had chance nor would Jordan. Rachel tells Brendon that she doesn't believe it though. Brendon asks why, and Rachel says because she knows Jeff doesn't like her. Brendon says that's not true.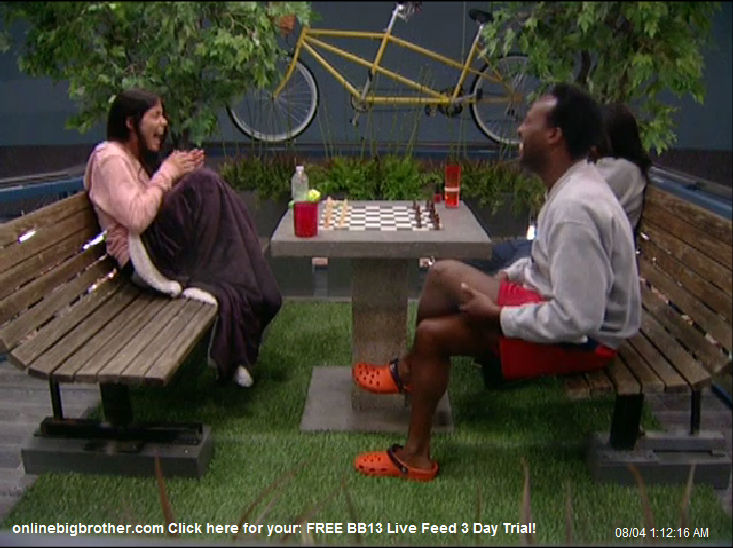 1:10am Dani, Kalia and Lawon are talking about the luxury competition. Dani makes fun of David Hasselhoff for when he said Hey Survivors! ..when he came into the house. Dani says that in her head she was like do you know what show you're on?! They make fun of Porsche for guessing Michael Jackson. Dani says that Porche came up with that idea, because she thought Michael Jackson washed himself with soap. They laugh and say like Michael Jackson would actually come back from the grave to switch lives with someone.
TRY the Live Feeds for FREE!
Click here for your: SUPERPASS – 3 DAY Trial!
Adam, Jeff, Jordan and Shelly are talking. Adam says that he thinks that Rachel regrets not putting up Kalia or LaWon last week and now they are going to make it to the Jury and that Brendon doesn't think either of them have done anything to deserve a place on the Jury. Jordan says that if she won HOH she would put Porsche up and says that she can't trust or read her. Shelly says that Lawon is skating too. Adam says that they should put up Lawon and Kalia and if Dani wins Veto and uses it they can replace one of the nominations with Porsche. They talk about how they think there is another endurance competition is coming next week. Jeff says that it can't be another girl friendly competition. Shelly brings up the rope competitioin Brendon had to do his season and that competition was impossible for girls she says. Adam says that he is bummed that they don't give them enough alcohol to get drunk and Jeff. Jordan and Shelly all agree that they don't want a bunch of crazy and drunk Houseguests. Jeff says that when you get too comfortable in this house it'll be you going next. Jeff says that he thinks Kalia is way too comfortable right now. They all agree that if one of them win HOH they are going to put up Lawon and Kalia because they can't risk assuring Dani a chance to play for Veto. Jordan says Dani has a big ego and that she is very confident. Shelly says that she's a tough cookie. Jordan says that she scares me! Jeff says that Dani never wears her mic because she is too cool for school and now Kalia is starting to do it too. Shelly says that nobody wants a diva, nobody wants a pain in the butt. Jeff says that Kalia is getting under his skin, he has to put on a happy face in front of her. Adam says that he wonders if Rachel will be on her game tomorrow after Brendon leaves. They talk about how they think she will be ready to play. Shelly says that she'll pull Rachel aside after Brendon leaves and before the HOH and tell her to get into the game. Jeff says that he wishes Brendon was staying this week. Jeff says that he wonders how Rachel going to survive in here with her emotions? Shelly says that Rachel will survive but we won't. Shelly says that they will be like Dr. Phil all week with her. Jordan says that they all need to be super nice to Rachel tomorrow to make her feel good and safe. Jeff says that Rachels emotions are killing her!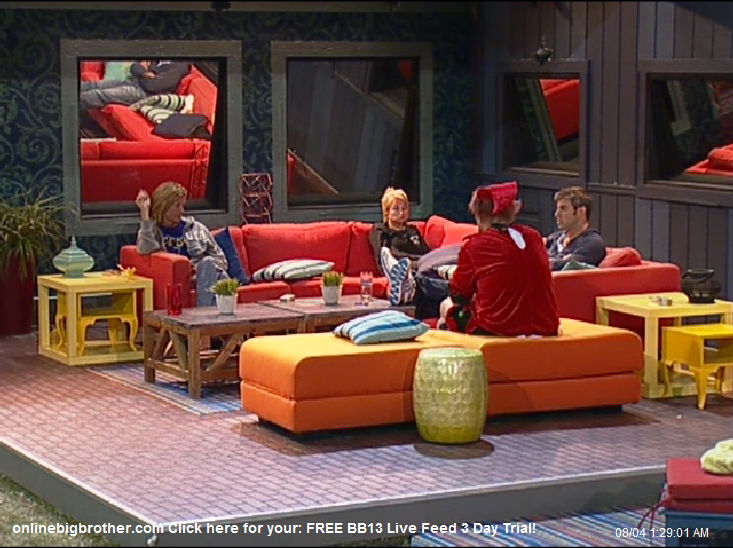 ReWatch everything that you MISS!Flashback – FREE 3 Day TRIAL!
1:30am Jeff says that he thinks Rachel is going to be a wreck tomorrow. Jeff says that we're going to have to live with everything Brendon now. Jordan says that she thinks it will be good for Rachel to have some time away from Brendon. They all agree that Brendon is a cool guy and very patient with Rachel. They agree that Rachel and Brendon are too co-dependent. Shelly says that it isn't fun to be with anybody 24/7! Shelly says that she is going to go to bed so she can be on for tomorrow. Jordan tells Adam that it would be great if him or Shelly could win HOH tomorrow. Jeff says that they have to win, there's so many of us. Jordan asks Adam who Porsche said she'd put up, he's not sure but Jeff says that Porsche said she'd put up Shelly. Jordan heads inside to use the bathroom. Adam thanks Jeff for playing with him and Jeff tells him thank you for sticking with it. Jeff says that he need people to get further in this game. Adam admits that he was snake charmed by Dick in the first days of the game. Jeff says that it would be a totally different game if Dick had stayed. Adam tells Jeff he had a crush on Rachel when he came into the game and that the diary room brought it up recently… Big Brother then cuts the live feeds.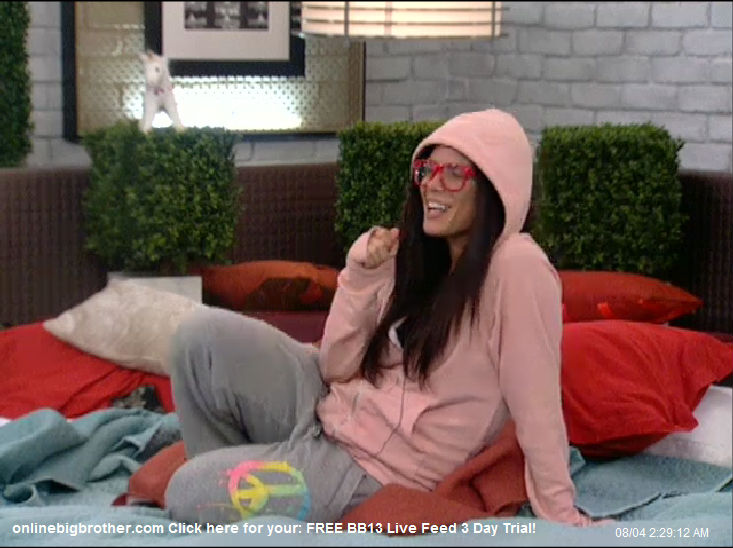 2:15am – 3:35am Kalia, Lawon and Dani are talking about Rachel. Dani says that she thinks Rachel reached an all time low today. Lawon says that she was balling today. Dani says she usually feels bad for Rachel but today she was over it. They agree that she has made her bed now she has to lie in it. Kalia says that Rachel was crying like someone shot her in the throat six times. Kalia says I vote to evict the Neanderthal himself. Dani says she told Rachel that the first week that she was saying Brendon's name wrong, she calls him Brennen. They are amazed that Brendon and Rachel have only know each other for a year and they are already engaged. Dani says that they even broke up for some of the time because of a scandal. Dani tells Lawon he has to win tomorrow. Dani and Kalia both say that Jordan has no shot at winning tomorrow. Kalia asks Lawon who his final four is. Lawon says me, you, Dani and Adam. Kalia says that she doesn't think they should let Adam get to final 4. Lawon says maybe Porsche instead of Adam. Dani heads to the diary room to ask if its okay for them to move things from the house to throw the others off for the HOH competition. Dani comes back her and Kalia start moving things in the house. Dani and Kalia are now moving pots and pans from inside, to the cabinets outside. Kalia and Dani then grab a bunch of books from the fortune room and hide them outside. They also move the occupied sign from the bathroom door. Meanwhile, Jeff, Jordan, Porsche and Adam have been playing the guessing game for a while…. Then they all decide to go to sleep.
See What They Can't Show You On TV! SUPERPASS – 3 DAY Trial!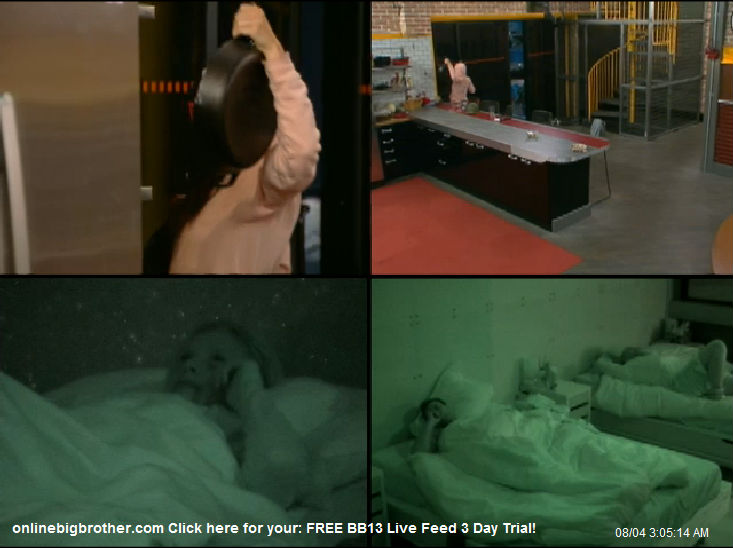 6:15am All the houseguests are still sleeping..
If you like this site and want to help us keep it running please consider donating, Your donations go directly to paying the server and bandwidth fees. Donate Link
Big Brother 13 Spoilers POLL CAST your VOTE!

Big Brother 13 Live Feed Image Gallery
Follow: @BigBspoilers and @Dawgsbigbrother on Twitter for recent crazed out spoilers. Theres also our Facebook page.
Share it YO!!
Tweet