9:30pm JJBR backyard couch talking about dani and how she flipped so early. brendon now claims that he had it figured out that Dani was going to flip several days ago but it wasn't until She got mad at them for telling dom to throw the pov comp that he knew for sure she was flipping. Jeff calls her Anakin sky-walker she gor seduced by the dark side. Rachel tries to defend her says that Dani was just feeling paranoid because nobody was talking game to her. JJ think that's BS they talked game to her all the time. (not true) . brendon: "I can read her like a BLANK book she's not as good as everyone thinks". Jordan brings up that SHelly told them Dani said she dodn't come on this season to see a big brother wedding and to see a couple hang out for 2 months. Brendon: "She's just mean.. she's got a lot of anger built up" Jeff: "It's like she's mature but then childish all at the same time.
10:00pm Backyard couch Kalia, Jeff, Brendon, Adam and Jordan chit chat.. there was some talk by Kalia that women don't like **** s$x because they don't have a p**stat*
10:16pm Jeff, Adam, Jordan, Brendon Jordan brings up that how easy it is for guys to pee they can just "whip it out" any were they want. Jordan brings up a story when she was 12 her dad was playing tennis and a guy at the tennis court was sitting down and his balls were hanging off to the side.. it was really gross.
Adam: "he was hanging brain"
Jordan asks the guys about blue balls, she wants to know if they hurt in the morning, "You know do they hurt unless you take care of them"… they all laugh. Back to playing with the dieing bee on the ground.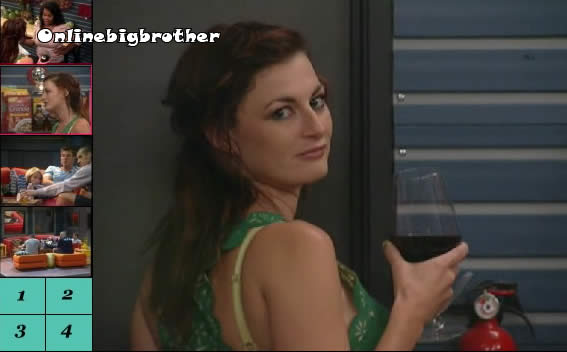 10:25pm Storage Room rachel and KAlia rachel is saying the target is Lawon but that Lawon has been given 3 chances and he blew it, It's time for him to go. Rachel says he was coming after us with Keith, coming after us with Cassi and now trying get us to backdoor jeff. Kalia: "Ohh yeah thats too many chances. in this game." Rachel: "Heaven forbid he wins HOH… Pff like that would happen" They leave the storage room.. Rachel tells Kalia she better stop singing production must be getting pissed.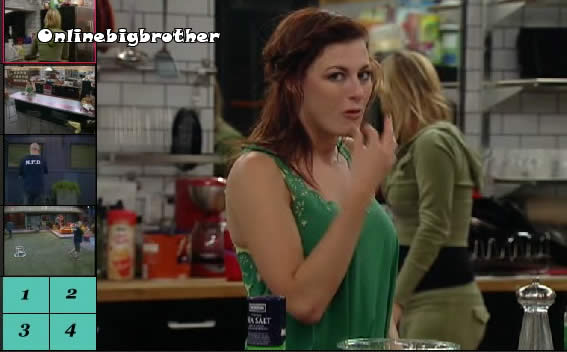 10:42pm Rachel asks Pos whys she's doing the dishes. Por doesn't know why she just is, "I'm outta it tonight.. i dunno if it's the sun or my bikini top is on too tight.. I've just been out of it" Por shares a story about one morning when she drinking the night before she woke up on her period and every time she had a crap she would puke.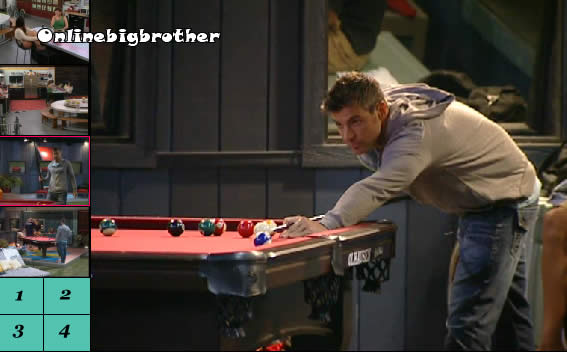 10:49pm Boys playing pool one of either Rrendon, Dom or Jeff said to Adam "Lets go gestapo" Adam: "What the hell why call me gestapo". (Didn't catch the whole conversation)
10:55pm Shelly and Jordan Shelly is saying that the vote looks like it'll be 4 to 4 and rachel will break the tie. She tells Jordan that she found out what Lawon does, "TV attorneys assistant.. he was a file clerk and we worked his way up". Shelly brings up that she overheard Kalia and rachel in the storage room and Kalia was asking who the target was and rachel told her it was Lawon.
11:20pm HOH Rachel and Kalia Kalia doesn't think Lawon even has a job she thinks he's broke. Kalia says that Lawon is planning on taking 3 weeks off after big brother is over to decompress. "What employer would be cool with someone leaving for 3 months then another 3 weeks just to hang out".
11:30pm Dani, Por and Kalia Kalia is taking off her top and dani says "Look Big Brother Online I can see her nipples" Kalia has a shocked look on her face "Oh My God Can you?" They girls joke say they can't.
Check out the BB13 Polls

Share it YO!!
Tweet