Get the BB13 live feeds on your Android and iOS devices. Sign-up for the 3 Day Free Trial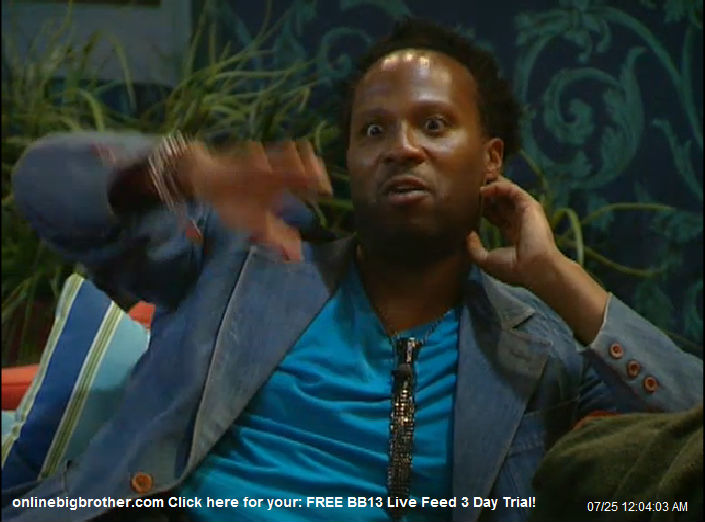 12am Jordan and Lawon are in the backyard talking. Jordan asks Lowan what attracts him to a man more than a woman. Lowan says that it just feels right. Lawon says that right now being with a man is what feels right to him. Lawon says that he isn't going to do what some people do and be with a woman because that is the right thing. Jordan asks Lawon how his family feels about him coming out. Lawon says they are okay with it, but it isn't something they talk about. Lawon says that his grandma already knew and that is who he was more concerned with how she would react because she is southern and religious. Lawon says that he was crying when he told her but she said baby, I already knew that, and I want you to be the best black gay you can be and live your life. Lawon says that the next day he left for college and she died that day. Lawon says that he was happy he was able to tell her before she died. Shelly, Jordan, and Lowan all agree that deep down parents know if their child is gay.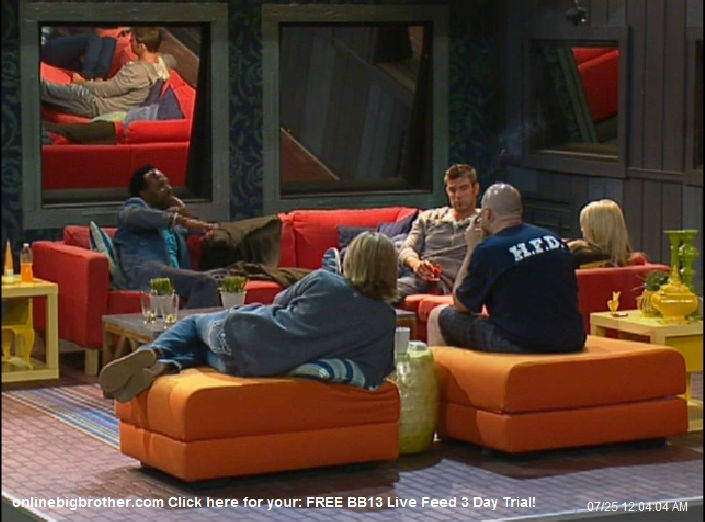 FLASHBACK – Don't miss all the drama!
Superpass – 3 Day FREE Trial
12:15am In the backyard, Adam asks Jeff what is with Dani? Jeff says that he has no idea. Adam says Dani has been weird with him and not straight up, sometimes she says she is with him and other times not. Adam says that actions speak louder than words. Jeff tells him if the veto isn't used, Dani is trying to round up the troops to get Adam out. Adam says that he was suspecting that. Jeff warns Adam not to tell anyone, but he has the votes to keep Adam. Jeff says that Dani is blowing smoke up your ass, but I don't want to talk BLANK about anyone else, just wait and see. Jordan warns Adam and Jeff that Lowan is about to come outside. The game talk ends.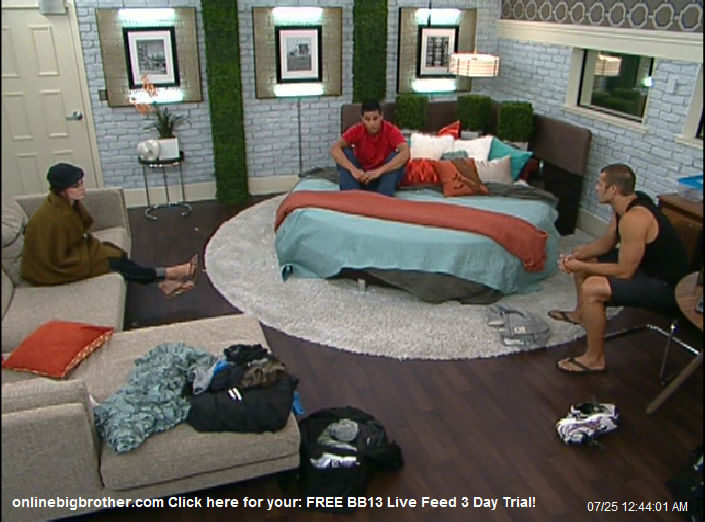 12:45am UP in the HOH room, Brendon, Rachel and Dominic are talking. They tell Dominic that they don't agree with back dooring Jeff this week because they think he is with them at least for a week or two. Dominic says he wants to work with them. Dominic says that he thinks him, Daniele, Rachel, and Brendon will run the house. Dominic says that he is scared about being on the block this week because Jeff wants him out. Brendon starts his rehearsed talk about trying to get Jeff to keep him that he and Jeff planned earlier today. They are trying to get Dani comfortable with them. Dominic says that Shelly is acting sketchy. Dominic says that he has pure allegiance to them and that the second he has a chance he wants to backdoor Jeff. Dominic says that he doesn't know if that's bad for them but the blood wouldn't be on their hands. Brendon plays along and says that would be good. They talk about how Jeff wants Porsche out and that isn't good for any of them. Dominic says he talked to Porsche about working with him and she is on board. Rachel asks who Dominic has lined up to vote for him. Dominic says the only people he has for sure are Dani, Brendon and Rachel. He says Dani is close to Kalia so maybe they can get her. He says not Shelly because "she has been up Jeff and Jordan's ass all week. Brendon asks Dom if Adam stays would he stay with Jeff and Dominic says yes he has a deal with Jeff and Jordan. Rachel asks who is worse, Lowan or Kalia? Dominic says Lowan, but that Kalia would never put Jordan up. Rachel says that she doesn't think Kalia will ever win anything, maybe a POV if she had to.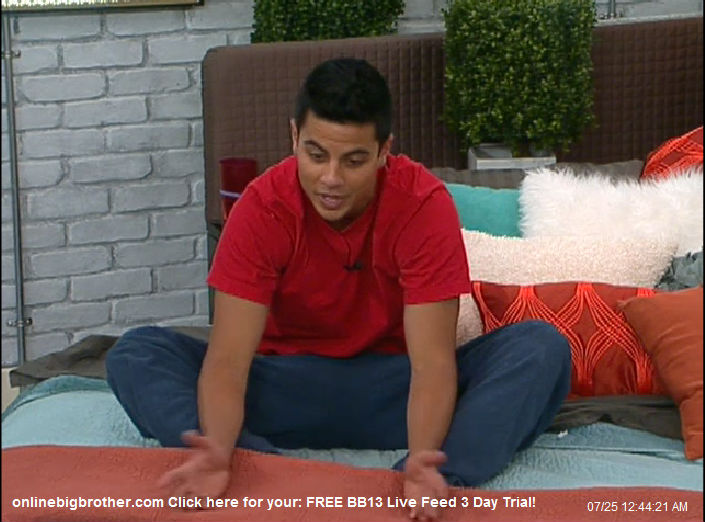 Dominic says that the four of them have everything we need, we have brains, athleticism, youth and we all have connections in the house. Brendon says that leaving Dominic up on the block without knowing we have the votes is a risky situation, we need to make sure Adam is going home. Dominic says that Shelly told him she would put Brendon and Rachel on the block. Dominic says that it's a tough decision because it is a big gamble but it would be worth it if we could get Adam out. Rachel and Brendon reiterate that they don't want to backdoor Jeff yet. They talk about how Dominic can't do it next week either or else they will be target number one. Dominic says he will do it whenever they want him to. Brendon says that even though Jeff has his doubts about you, I still feel like he will come around or go with us. Dominic says he is up for playing as the six of them. Dominic asks why they don't want to backdoor him next week or the week after. Brendon says that they can survive another few weeks out of Jeff even if he won HOH. Brendon says that if Dominic is working with them then Brendon could make sure she was safe. Brendon told Dominic that in talking to Jeff earlier, he wasn't dead set against getting rid of Dominic. Brendon says that he still is not convinced one way or the other to get rid of Adam or Dominic.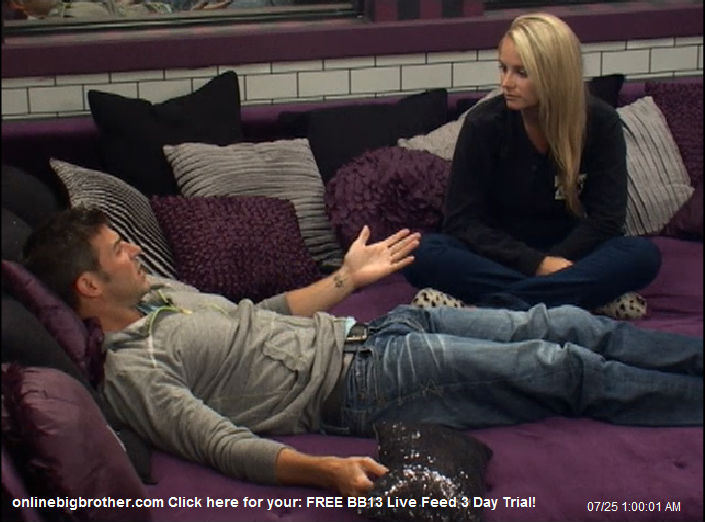 1am Jeff and Jordan and in the lounge room. They are worried that Brendon and Rachel are entertaining whatever Dominic is telling them now. They say that if Dani can flip on them, so could Brendon and Rachel. Jeff says that if they do flip, the reason why they would flip would be because of Rachel. Meanwhile up in the HOH room, Dominic says if they didn't want to go after Jeff yet, Shelly would be target number one. Brendon says that he doesn't want to backdoor Jeff. Dominic says that he don't have a problem with Jeff at all. Dominic says that they could all work together to get to the top six ( J/J, B/R and he and Dani) Rachel says that if Adam has to go, he has to go. Dominic asks Rachel and Brendon if Adam threw the POV like he did. They say no. Dominc says that it was the easiest competition to throw. Brendon says they will wait and see if they are going to use the POV. Brendon says that it all depends on if they have the votes to keep Dominic, and that they don't want to waste an HOH on Lowan. Dominic says that he trusts Rachel and Brendon to get the votes for him.
24/7 UNCENSORED Big Brother 13 Live Feeds!
Click here for your: FREE 3 Day TRIAL!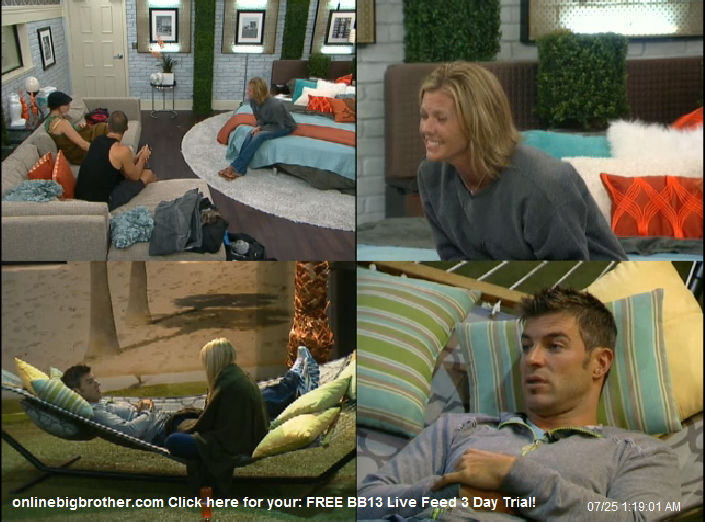 Brendon says that Dani is acting very weird. Dominic says it is just because she doesn't want to lose him. Brendon says that they need her to mend things with Jeff and make it right so he doesn't think they are against him. Dominic wonders if it would help to sit down as the six of them to reassure Jeff. Brendon says that it might, let me feel him out, we still have time. Dominic says everyone in the house is in agreement that putting Rachel and Brendon up and having one leave is bad because the other one would be coming after them. Dominic says right now it looks like Jeff and Jordan are with Shelly and Adam and maybe Kalia. Dominic leaves HOH. Shelly joins them up in the HOH room. Shelly asks for reassurance from Brendon and Rachel asking if they are falling for Dani's game talk. Shelly was worried because Dani has been pressing Shelly to join her and the only reason she wants Brendon and Rachel now is because she thinks she can win in the final two with one of them. Shelly said she played along with Dani but wanted to assure Brendon and Rachel she is with them. Brendon tells her his theory that Dani thinks they would all five make it in tact to final five then the couples would kick her out but Brendon says realistically a couple would get split up before that and then Dani would join the other person from the broken up couple but Dani didn't trust the couples. Shelly says the only reason she was nervous seeing Rachel talk to Dani was because Rachel has questioned Shelly's loyalty and she wants to reassure Rachel of it. Shelly says that Dani has talked to her one time about game and that was today basically strong arming her to join with her and go after Jeff and Jordan. Rachel says she is upset because she likes Dani and is hurt she did this to them. They all agree that Dani is basically threatening them to get Jeff out. Brendon says that he thinks she is this impervious Big Brother player that can win everything but as much as he know that she is a strong competitor and Rachel is a strong competitor, he know that no one can win everything.

1:30am Jeff is up in the HOH room talking to Brendon and Rachel. Jeff says Dani isn't as good as Rachel thinks. She would have been out of her season so soon if it wasn't for her dad saving her from the block. Jeff says that he wants to call her out so bad, but Rachel says wait until we win HOH. Jeff says that if she was so great at this game, she wouldn't be in the mess she is in now. Jeff asks what happened with Dominic. Brendon said he just pretended to play the part. Rachel thinks it isn't Dominic that wants him out, it is all Dani. Brendon says that Dani schooled Dominic on exactly what to say when he came up here because he said everything that they expressed to Dani earlier about worrying about keeping Dominic. Jeff asks if Dani knows that he knows she wants him out. Rachel doesn't know, but think that she does. Rachel says that she BLANK up big time! They want to get her out this week so she goes home and not to jury. Jeff says that Dani is one hundred percent thinking she is going to final two by counting her jury votes. Rachel says that she is probably trying to copy her dad's game a little bit, but the funny thing is, is if he was here I don't think he would be doing this now. Rachel says that she doesn't doubt their ability because between the four of them they have won every competition except one. Jeff makes the valid point that the reason they lost that one was because they were busy attacking each other and not working together. They all didn't know how the game was going because the host of the game who is suppose to keep people players up to date on the leader was Dani and she wasn't talking loud enough. They wonder if that was part of her game if she had already turned then. Jeff says they need to study everything about the HOH and POV competitions for future HOH competitions about the game. Rachel says it could be a knock out competition and that will really show everyone's true colors. Rachel says that she knew Kalia was playing Jordan because she didn't talk to Jordan for two weeks until she was HOH. Brendon says they will not use the POV, they have the votes, and they can sit back and study while everyone else runs around trying to get votes all week.
TRY the Live Feeds for FREE!
Click here for your: SUPERPASS – 3 DAY Trial!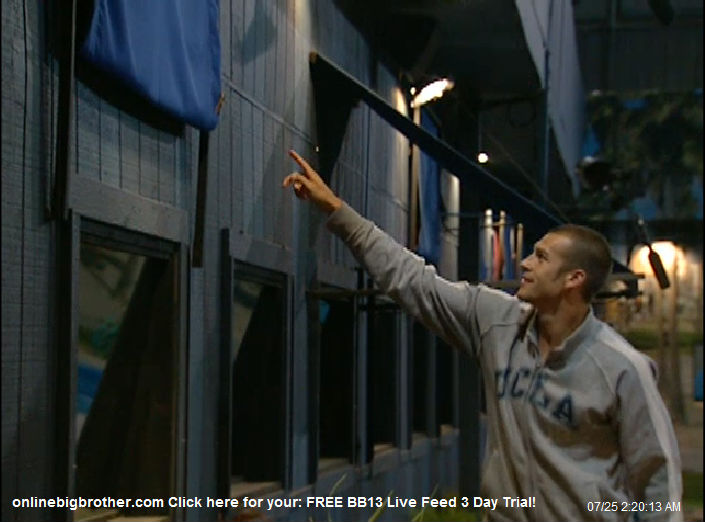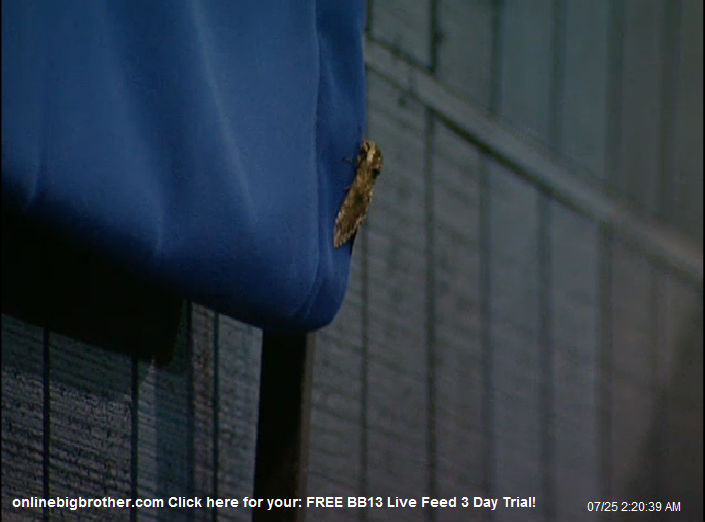 2:10am Brendon, Adam, Shelly, Jordan, and Jeff are in the backyard. Brendon asks what deal Dominic ever brought to Adam. Adam said Dominic told him that they should team up with Dani, and Shelly. Adam says that Dominic told him they will put up Lowan and Kalia and if they win POV, then Jeff and Jordan go up. Lowan comes out and game talk stops. Jeff draws everyone's attention to a big moth. Jeff says it is the size of a bat. Brendon goes to touch it but it hesitant. Brendon touches it and shakes the awning it is on but it won't move. Jeff asks why is the moth so confident? …Because he is the size of a BLANK seagull! Adam gets a decoration to get it but Big Brother says stop that. Brendon gets a pool stick and Big Brother says stop that. Jeff says PETA is going be all over you! Brendon says that it's like a prehistoric creature. Brendon suggests taking it inside to the candy room to scare everyone. Lowan brings Dominic out to see the moth. Jordan has a blanket pulled over her head! Brendon tells Adam they are going to keep him this week, they are going to need him this week. Jeff is scared of it and says that he hates bugs. Dominic asks what is he doing? Jeff says that he is telling you not to BLANK with him. Dominic says that he is like batzilla. Jordan wonders if they sting. Brendon goes to get Rachel. Dominic says that it looks like a bat BLANK a butterfly. Jeff says give him a sandwich! Shelly comes out and she isn't scared of it so she goes and touches it and it flies all over the yard and everyone screams and runs away. Dominic says it's like a dragon flying around.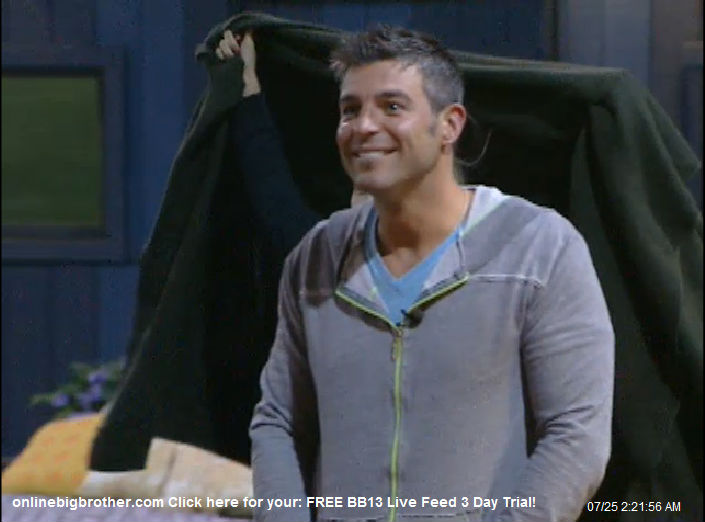 3am Up in the HOH room, Rachel is changing and Brendon gets mad and says that everyone can see her booty. Rachel starts whining that he doesn't think she's hot anymore. Brendon says come on baby, you're beautiful so stop it. Rachel says she has pink dots on her face, her hair is gross and she has her retainer, my nails are chipped.. Brendon tells Rachel that they can beat anybody as long as they want it bad enough! Brendon tells her not to doubt herself. Rachel says that she doesn't doubt herself she just knows Dani is going to give them a run for their money. Brendon says so what if she does they are going to win. Brendon says that making a power move is sending Dominic home! Brendon start farting. Rachel is trying to smell his farts. Brendon tells her to stop trying to smell it! They laugh.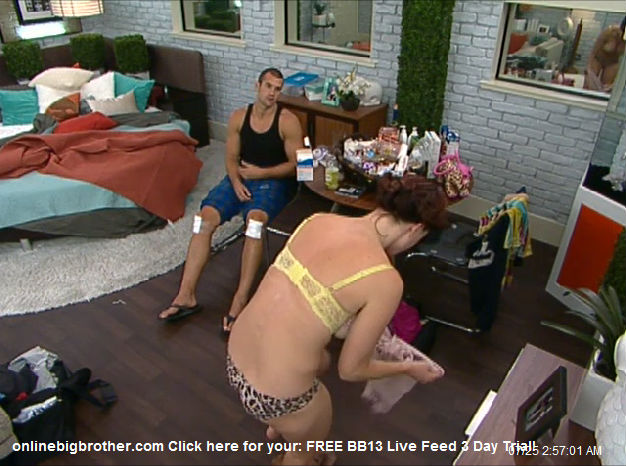 See What They Can't Show You On TV! SUPERPASS – 3 DAY Trial!
4:25am Lawon and Dominic are in the havenot room. Lawon says that he would be the eyes and ears for Dominic after the veto ceremony if the veto isn't used. Lawon tells Dominic play up feelings for Dani and woo Porsche to try to get to Rachel. Dominic says that he wouldn't need to worry that Porsche would be jealous of Dominic's attention to Dani because Porsche knew Dominic would need her vote. Lawon says that feelings might be hurt but Dominic would need to be Rico Suave. Dominic laughed and said he would. Lawon asks what Dominic had talked about with Brendon and Rachel in HOH. Dominic lies and says that it was just something about Dominic having won veto, Dominic and Adam being a strong team needing to be broken up, and asking whether Dominic and Adam would target Brendon and Rachel. Lawon asks about Rachel saying if you're not talking game with us, you're talking about us during her nomination speech. Lawon asks if Dominic talked game with Rachel. Dominic said he does talk game with Rachel, says that it was only when she is HOH, asking who she will target. Dominic tells Lawon that he isn't that close to Dani on a game level. Lawon says Porsche isn't going anywhere anytime soon. Lawon says he plans to win HOH or POV every week and see what deals are offered. Lawon says that he will go crazy if he is put up at veto ceremony. Lawon and Dominic decide to go to sleep..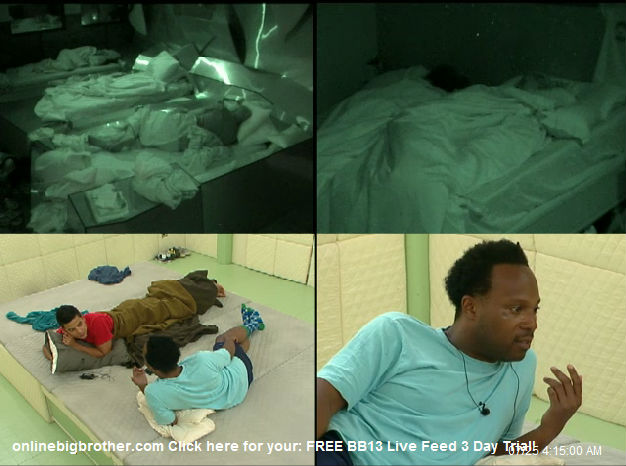 6:25am All the houseguests are still sleeping…
Big Brother 13 Spoilers POLL CAST your VOTE!
BB13 Live Feed Screen Captures , These are being updated every 10 minutes all 4 Cams 24/7
Follow: @BigBspoilers and @Dawgsbigbrother on Twitter for recent crazed out spoilers. Theres also our Facebook page.
If you like this site and want to help us keep it running please consider donating, Your donations go directly to paying the server and bandwidth fees. Donate Link
Share it YO!!
Tweet