7:40pm dani working out and Kalia laying in the hammock Dani is saying that the entire house is terrified to make a move she doesn't think BR will use the POV. Dani proposes it would be hilarious if they can get Brendon to use the POV and put up Lawon. Kalia asks if she should start working that angle. Dani: "yeah for sure". Dani tells Kalia that how the house is right now they can't trust Shelly that Shelly will do whatever JJ tell her to do. Dani doesn't even know why Shelly is in the game she's JJ's slave. dani is pissed that BR will not take her strategy seriously, she thinks it's a joke that BR are walking around like he controls the house, "Rachel got was the first one to jury and brendon lasted a couple more week.. that makes them experts?" Dani says she finds it a bit tacky that Jeff and Brendon go around bullying everybody, "Jordan does jack squat give me a break". Dani: "I just want this week to be over with"
7:45pm Kitchen Jeff, Jordan, Shelly There doing a bit of hating on dani right now. Jeff calls her a BLANK little jealous BLANK. They instruct Shelly to just agree with whatever Dani says and not to worry JJ knows what is going on and shelly is still cool with them. Brendon comes down. JOrdan tells him that Dani said "I'm not here to win money for a big brother wedding and i'm not here to have fun at big brother summer camp with my boyfriend" Jeff calls her a bitch again.
Follow @BigBspoilers and @Dawgsbigbrother on Twitter for recent crazed out spoilers. There is also a Facebook page.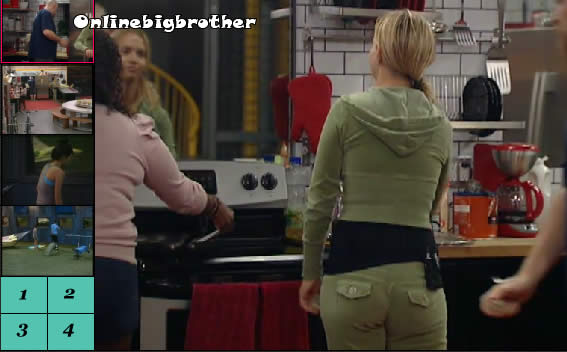 8:10pm Kitchen a bunch of houseguests milling around making food… BLANK really getting tense. porsche seems to be getting bigger.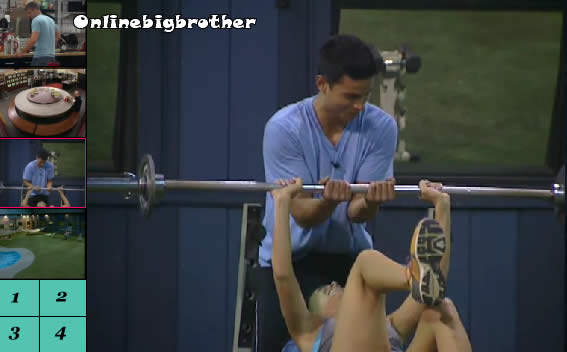 8:23pm Dani and Dom flirting and working out
8:26pm kalia inhales her fajita even though she found it too spicey
8:27pm Adam just finished telling Jeff all about the 21 gun salute and how you only hear 3 gun shots because they are trained to all fire at the same time. Adam doesn't think he would do well in the Military theres too many rules. Jeff: "There big on waking up early and I'm not a early riser", jeff leaves adam alone to finish.
8:25pm Rachel working out no talking working out
8:38pm Dani and Rachel rachel is trying to tell her that Dom doesn't have the votes to stay and she doesn't think Brendon will use the POV. Dani says she's getting 'Royally Pissed… they royally screwed her". Dani points out again that it was Rachel and Brendon that got her to go to Dom and build a friendship with him and she's telling her now that they can trust dom. She feels like now they are all going against her for now reason she was just doing what they wanted her to do. She's not going to be pissed If Lawon or Adam goes but she'll be pissed that Dom goes.
8:48pm Jordan and Rachel Hammock they can't seem to figure out why Dani was making a move so early in the game. Rachel thinks that maybe someone is feeding dani information. Jordan thinks it might be the case, she points out JEff saying early today how it's odd dani would pull the trigger. they all thought Dani was a smart player. Rachel thinks it might just be Dani and Dom feeding off each other. Rachel also believes that it has something to do with Keith and Cassi. Rachel instructs Jordan to make everyone think the plan is to BF Lawon. She thinks that all the newbs except for Shelly are trying to pull something and she wants Lawon to spill his guts. Jordan says that Shelly is inside right now gathering information. Jordan adds that she doesn;t trusts Kalia anymore. rachel doesn't either but notes that Kalia is scared enough to sway right now.
Check out the BB13 Polls

Share it YO!!
Tweet