Get the BB13 live feeds on your Android and iOS devices. Sign-up for the 3 Day Free Trial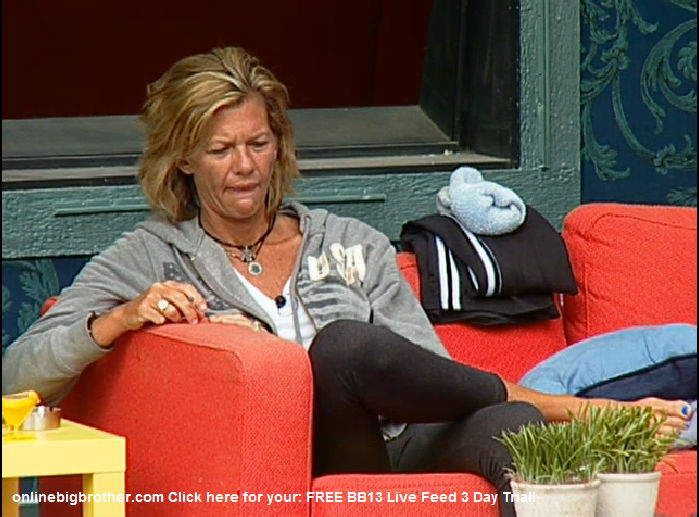 9:10am Big Brother wakes up the houseguests. Jordan, Rachel and Shelly are in the bathroom getting ready for the day. They talk about how they will all be called in to the diary room and how the others are still sleeping because they stayed up all night. Rachel says that she views this like a job and that you have to listen to people. Shelly heads out into the backyard to have a smoke and starts studying the events of the house. Shelly and Lawon are now in the bathroom getting ready. Lawon says that he had to get ready because he was going to be called into the diary room. Shelly says the man of the hour! Go get em! Kalia is now up and in the kitchen, she tells Rachel that she wants to talk to her with Dani. Rachel says okay. Kalia gets called to the diary room. Kalia tells Rachel to keep it between them and not tell anyone else.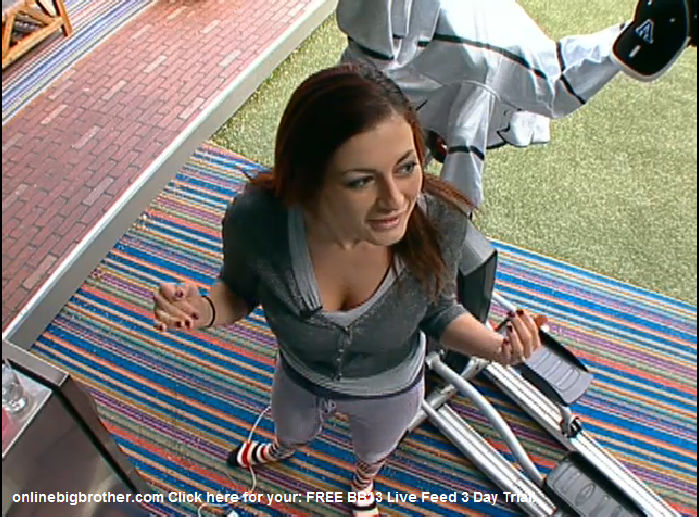 10am Rachel goes out into the backyard where she is all by herself. Rachel goes up to a camera and starts talking to it. She says that she hopes Brendon is listening. Rachel says that if you are listening Brendon .. I am all alone in this house …Jordan has Jeff… and Porsche kind of back stabbed me …she even told me I went crazy. Rachel says that she really needs to align with someone strong. Rachel says that Kalia came up to her and said that she wants to talk to her but that they need to wait for Dani to be there. Rachel says isn't that weird, isn't Kalia her own person? Rachel asks why would I want to work with Kalia and Dani …when all I will be is the third wheel. Rachel says that she is trying really, really hard! She says it is really hard playing the game without you, but I am going to fight really hard .. I know I don't have any more chances so I have to make the right decisions. Rachel says that she loves and misses him.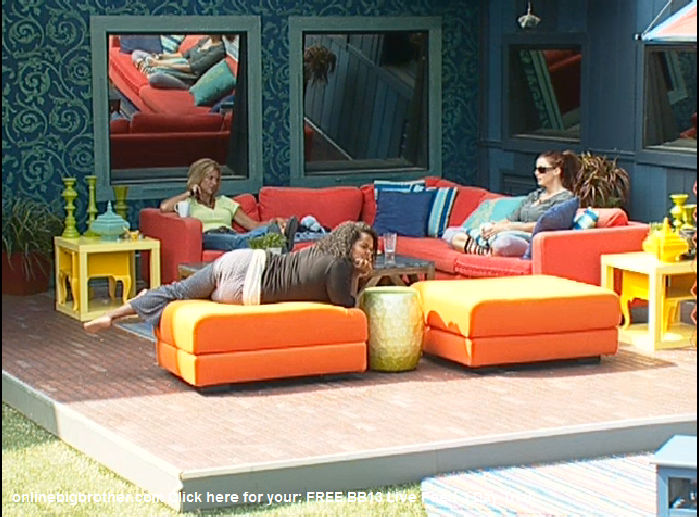 10:10am – 10:40am Shelly, Rachel, and Kalia are out in the backyard talking about random stuff. They talk about how they need games or something in the house to not be so bored. Rachel starts talking about her season. They talk about the missing chess pieces and other items. Kalia is playing dumb pretending she has no idea about where the items are and who did it.
Sign-up for your: Live Feed 3 DAY Trial!
If you like this site and want to help us keep it running please consider donating, Your donations go directly to paying the server and bandwidth fees. Donate Link
Big Brother 13 Spoilers POLL CAST your VOTE!

Big Brother 13 Live Feed Image Gallery
Follow: @BigBspoilers and @Dawgsbigbrother on Twitter for recent crazed out spoilers. Theres also our Facebook page.
This is not the official CBS Poll, go to this link https://www.cbs.com/shows/big_brother/americas_vote to vote for a evicted houseguest to have a chance at coming back into the house


Share it YO!!
Tweet