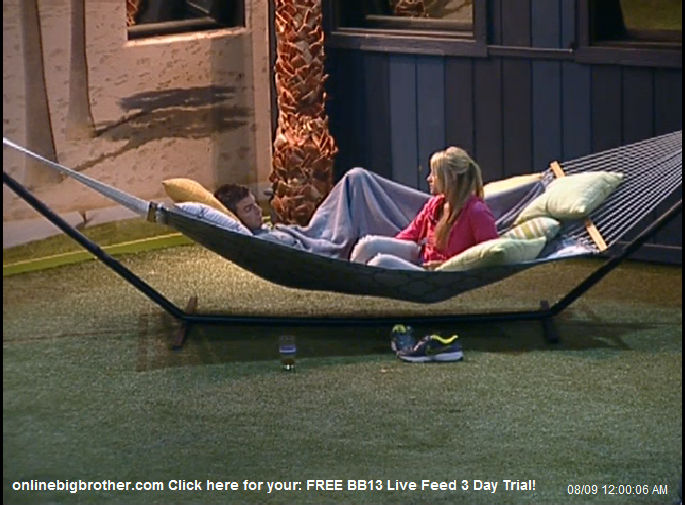 Get the BB13 live feeds on your Android and iOS devices. Sign-up for the 3 Day Free Trial

See What They Can't Show You On TV! SUPERPASS – 3 DAY Trial!
11:50pm – 12:30am Jeff and Jordan are hanging out in the hammock talking. They are trying to figure out why Lawon was nominated. They say that if Kalia wanted Rachel out.. then she should have went with Adam. Jeff and Jordan try to figure out if they are in the jury house and talk about how they are surprised they weren't told yet. They talk about how maybe Julie Chen will tell them this Thursday. Jordan tells Jeff to be calm with Rachel. Jeff says he knows but it is hard to deal with her attitude. They talk about how they think Shelly is with them 100% and that they feel bad about what happened the other day when she was crying. Jeff says that if we could get Dani out I'd feel so much better! Jeff says that if Adam or Porsche win HOH, Dani will be up there trying to influence them. Jeff and Jordan start talking about their weights and about their past season. Jordan asks Jeff, do you think people hate us this year? Do you think we look crabby? Jeff says no! Jordan says that she feel like she bashes a lot. Jeff says I do, maybe it is a little worse this year. Jordan says that she think it is, it's kind of embarrassing how I acted the other day, I was so mean. Jeff asks during the key ceremony? Jordan says it wasn't like I was all like ungrateful. Jeff says well nobody ever talks during that, I don't care that you said it, it's good that you said it. Jordan says that she always knew Jeff was never gonna lie to her or use her or turn his back on her. Jordan says that everyone in this house even new people have doubt towards each other. I think that's something good that we had, we were just BFF's and I could talk to you and tell you whatever. Jeff says that he wishes they could do that with everyone. Meanwhile, Dani and Kalia are talking. Dani says that she wishes she could just punch Lawon in the face… like seriously!! Kalia and Dani talk about Lawon. Kalia says that she doesn't know what he's doing. It's also really making me mad. Dani says that he is getting on my nerves, I'm already moody and then he's been mean to me on top of it, it's really annoying. Dani tells Kalia that she is going to throw this weeks HOH competition to Shelly or Porsche.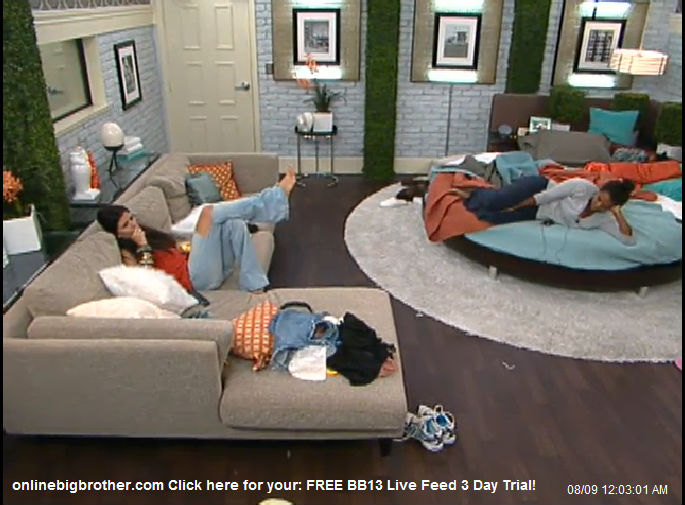 1:50am Adam, Jeff, Rachel and Shelly are sitting on the backyard couches talking about Lawon. Jeff says that he thinks that because they were all being so positive about this week, that someone was coming back into the game.. that is why Lawon volunteered to go up. Shelly says that she thinks that Lawon wants to get voted out so he can get a pay cheque. They talk about what they think the twist will be like. Rachel says that Lawon denies knowing about going up because he doesn't want them to know he volunteered. Rachel says that she told Kalia that there was a 100% chance if she left that she'd come back. Shelly asks if that means Lawon will come back and Rachel said she doesn't think it's a 100%. Shelly says that she wonders why and she says there will be some catch where you have to do something to come back and Lawon hasn't done anything all summer so she thinks he wouldn't have it in him. Rachel asks do you think he's America's Player ..no?! Shelly says that he has not campaigned for a single vote. Shelly says that he's been doing a lot of odd things she doesn't think the others are picking up on. Shelly says that she knows for a fact that Kalia is going to try to make a deal with Rachel. Rachel says that she doesn't think so. Adam says that he thinks Kalia may try to cut a deal with her. Jordan joins them. Rachel says goodnight and heads inside. Shelly says that she thinks it is hilarious that Kalia thinks she has the votes to keep Lawon. Lawon then comes out into the backyard and sits on the couches wearing his face mask.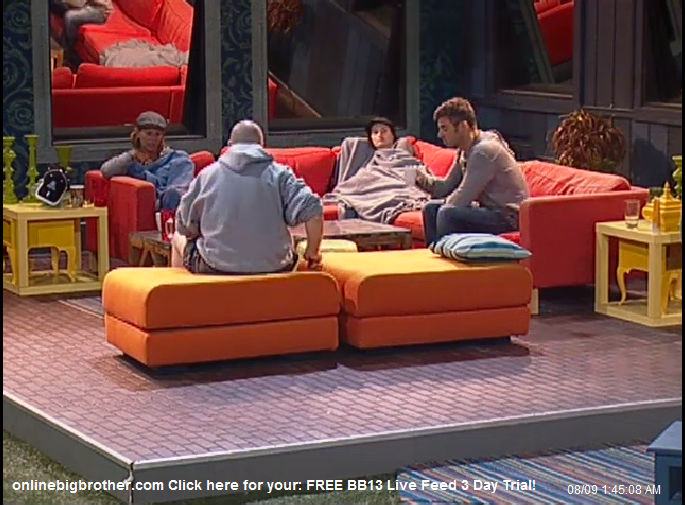 FLASHBACK – Don't miss all the drama!
Superpass – 3 Day FREE Trial
2:15am Jeff, Jordan and Rachel are in the bathroom getting ready for bed. Jeff tells Jordan that Porsche is always looking at him through the fucking mirrors. Jordan says that's because she wants his body! Jordan and Rachel leave the bathroom and go to the havenot room. Rachel asks Jordan how come everyone thinks I'll turn on Shelly and Adam? Jordan says that it just looks so weird that Lawon went up on the block, everyone is shocked because they thought Porsche would go up. Rachel says that she is with her and Jeff till the end. Jordan says that she knows Rachel is loyal. Rachel says that the only two people she trusts in this game are her and Jeff. Jordan says she trusts Rachel. Jordan tells Rachel that Shelly was with Kalia all day yesterday campaigning to save Rachel. Jeff comes into the havenot room. Rachel tells to Jeff that she only trusts the two of them. Jeff says he knows, they're together. Jeff says that we have such an advantage right now that we have to think things out more, talk more. Jeff says that he thinks they need to get a better plan together for the HOHs. Jeff says that if we think things through we could do shit because we have the numbers. They are talk how they didn't have their plan together for the last HOH. Rachel says that she thinks this HOH will be physical one. Jeff says that he thinks it will be a five against two in the HOH unless someone comes back. Rachel says that she is worried about Adam and Porsche hanging out because Adam might not be with them. Jeff and Jordan say that they think Adam is with them. Rachel says that she thinks that Adam is just a big floater. Rachel says that the only way she will feel safe is if one of the three of them win HOH. Rachel says that she has been a target for two fucking weeks.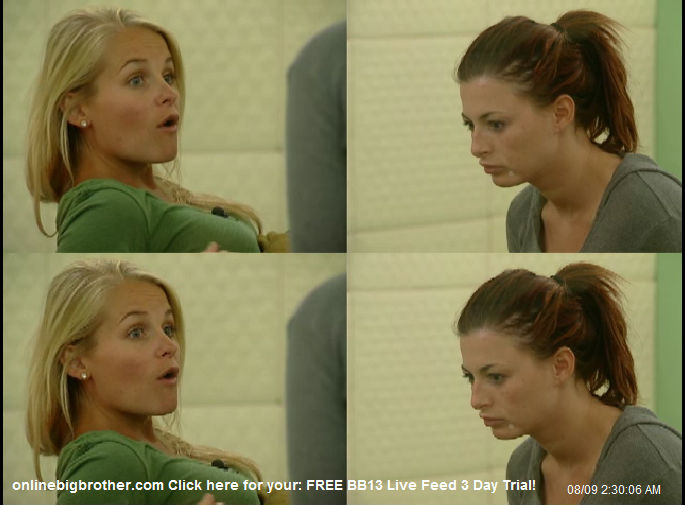 2:30am Kalia and Lawon are in the backyard talking. They talk about how everyone is confused about Lawon going up as a pawn. Lawon says that Dani has been acting weird. Kalia says that Dani is acting weird because she is on her period. Kalia says that everyone was reacting today, they couldn't believe she put up someone from her side. Kalia says that Lawon was the only one who felt comfortable going up. Kalia says that Porsche and Adam didn't want to go up as a pawn and she didn't want to piss anyone off. Kalia says that she was just confused that he was acting angry and surprised that he was going up. Kalia says that Rachel is now walking around acting like she is safe. Kalia tells Lawon that he needs to go back to acting like the old Lawon and drop the whole act he had going on.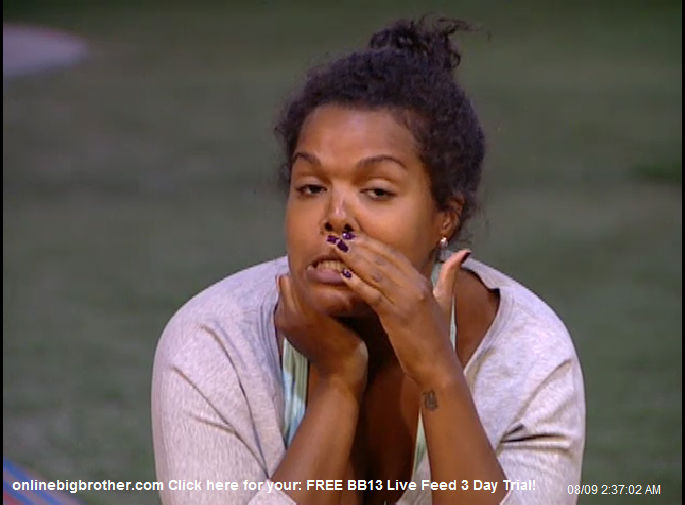 2:50am In the candy bedroom, Adam, Kalia and Dani are talking. Adam asks if they think Big Brother will let him wear the Lawon's afro wig for the live show. They all say that they think he will be allowed to. The conversation changes to talking about 90210, other random stuff and then start playing the guessing game.
Click here for your: Live Feed 3 DAY Trial!
4am Out in the backyard Adam is talking to himself. He talks about Lawon going up as the replacement nominee. Adam says that just back on sunday Lawon was telling Adam that he was going to volunteer to go up and then now he acted all mad and surprised. Adam says that something is up with Lawon. Adam says that there are two Big Brother don'ts… don't use the veto on someone other than yourself, and don't volunteer to go up on the block. Adam says that Lawon would have the votes unless he and Shelly decided to flip but if they did then they would have Jeff and Jordan coming after them. Adam says that he wonders if sending Rachel home would hurt him, and then says that if he keeps Rachel he would probably have her jury vote and even if he and her were final two …he could probably win over her. Adam then heads inside.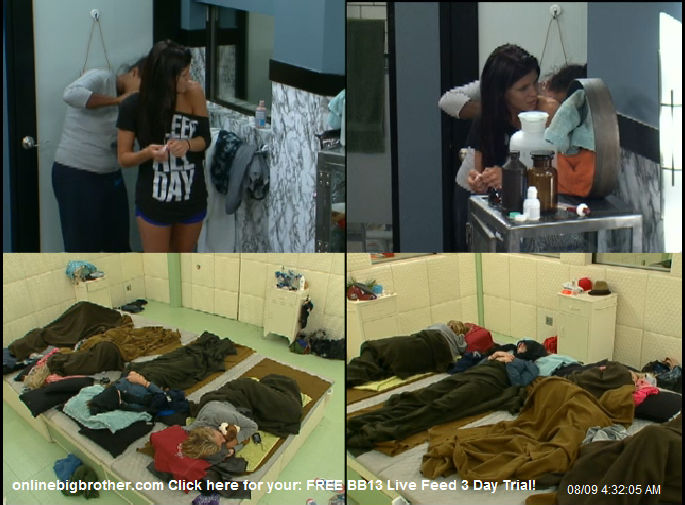 4:30am – 5:40am Kalia and Dani are whispering about Lawon. Dani says that Lawon was pissing her off today. Kalia says that she had a talk with him about that tonight. Dani says that Lawon is a whack-a-do for real!! Kalia says that they have to talk to Rachel tomorrow earlier than later. Kalia says that Shelly told her to tell her what to do and that her and Adam will do what she wants. Dani says she always says that. Dani says that she needs to talk game with Adam. Kalia then heads up to the HOH room. Adam, Dani, adn Porsche continue to talk about this season and other random things..
6am All the houseguests are still sleeping..
If you like this site and want to help us keep it running please consider donating, Your donations go directly to paying the server and bandwidth fees. Donate Link
Big Brother 13 Spoilers POLL CAST your VOTE!

Big Brother 13 Live Feed Image Gallery
Follow: @BigBspoilers and @Dawgsbigbrother on Twitter for recent crazed out spoilers. Theres also our Facebook page.
This is not the official CBS Poll, go to this link https://www.cbs.com/shows/big_brother/americas_vote to vote for a evicted houseguest to have a chance at coming back into the house


Share it YO!!
Tweet