ENTER For Your Chance to Win A Ticket To The BB13 WRAP PARTY!
Click here for how to enter: Big Brother 13 WRAP PARTY Contest!
9:30pm HOH Lawon and Kalia
Lawon is saying that last night was the worst night for him since he's been in this game. He had to go downstairs and share a bed with those people that have said deliberate bad things about him. Kalia says if rachel leaves she's going to go nuts and start attacking. Kalia says "Brendon is a jerk he really is but I think in real life he's probabaly an alright guy he has some redeeming qualities" She adds that the problem with BR is that they play ever game so emotional and so personal…
Kalia is getting pissed that Shelly doesn't believe what she does for a living.. Kalia goes on a 10 minutes rant about what she does for a livign and her upbringing. She labelled her family upper middle class. Lawon explains what Shelly said to her "Lawon what does your partner do… is she a writer I just think there's more to it than that. kalia: "I write a relationship and sex columns, I do freelance for online magazines, my book is in edits. I used to be an actor and now I'm a writer."
Kalia says she feels bad for the first week and getting rid of Keith. She understands why she did it because at that time, there was an alliance of newbies forming and she wasn't part of it so she needed to seek help somewhere else. Kalia wishes there was still people around that would stick up against BR people like Cassi, Dom and Keith, "Now we're stuck with a bunch of spineless jellyfish.. the Adams, Shellys and Porsches".
Kalia is telling Lawon that they both need to fight for HOH on Thursday because they will be big targets if certain people win HOH. Kalia says Worst case scenario would be B or R winning HOH they will put her and Dani up. If JJ win HOH they can work something out whit them. For evictions Kalia says the Worst case scenario is they get BLANK again by the house and the pawn goes home "Jeff or JOrdan go up and Brendon and rachel work deals with the house and the house listens to them like they always do and Jordan goes home.. That would be horrible" Lawon starts getting ready to go downstairs, Kalia tells him he's coming across really distant to some of the other houseguests and he needs to think about letting the everyone know more about him. He's shown everyone he's wacky and fun with he wig and the robe. She thinks that maybe people are getting distracted by all the clothes and are not getting to see him for who he truly is. Lawon understands..
Dani comes in and Kalia starts to cry she tells Dani she Has to Win on Thursday, "I have to win for all of us". Dani explains to her that she has to be strong she understand why Kalia is feeling this way Dani is there for her not everyone is against you let go downstairs and talk with people. Dani: "We're really not in a bad spot Seriously we're not"
If you like this site and want to help us keep it running please consider donating, Your donations go directly to paying the server and bandwidth fees. Donate Link
10:16pm Kitchen Everyone but Kalia is walking around socializing. Jeff is sharing a drinking game story called "Edward fortyhands" it's when you duck tape a 40 to each of your hands and you have to quickly drink on 40 so you can use that arm to help you take a piss. Adam says he's done 100 shots of beer 100 minutes but was only able to get to 76. Jeff says getting to 60 but really hard to get over that you get too bloated.
10:25pm Kalia comes down grabs a giant glass of wine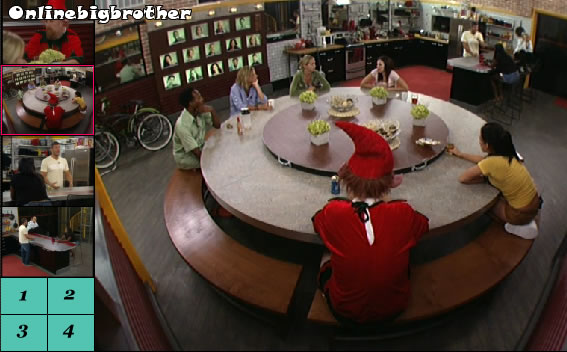 11:00pm Everyone is getting along talking about dirnking and random BLANK.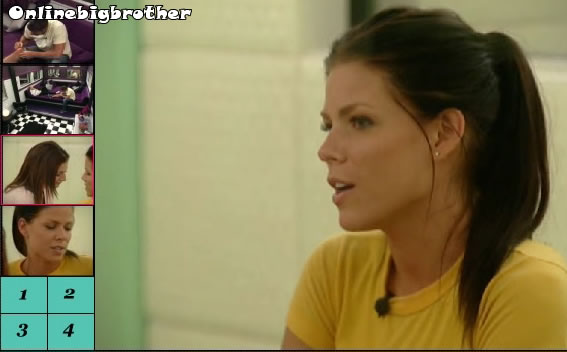 11:05pm Dani and rachel Dani is explaining why she put them up and not to take it personal. Dani tells her it's not personal and she knows that Rachel will still think it is but it's not.
Rachel: "It was stupid to think you could have friends in this game"
Dani: "doesn't agree at all"
Rache: "l it is what it is it's a game… I'm sure you thinking you are making a big game move.".
Rachel says Brendon is going to us the veto on himself so she going to go home, "I get my questions with Julie now… YAAA" Dani explains that her idea to backdoor jeff was to benefit her dom and BR she "truly truly" wanted to group with them and go to the end. Dani says she thought she was close enough to Brendon and rachel tht if she came to them with a big idea that would change the game they would side with her and go for it. Rachel says she felt like Dani betrayed them by turning on their alliance and now she's put them up. Dani again says what they did was choose JJ over her and Dom and then they got nasty with what they said to Dom and her. Dani asks her if Brendon won HOH who would of gone up… it would be her and Kalia.
Rachel: "Now you are getting revenge by tearing my heart out. your making a great game move your going to have great game play" (Rachel being sarcastic, pouty and BLANK)
rachel: "I would totally want to have Kalia as my number one ally .. We want to work with you and you don't want to look past it"
Dani: "I don't want to see you cry I don't want to see Jordan cry… I'm making this choice for my game"
Dani says that she's apologizing from the bottom of her heart.
Dani leaves.. Porsche comes in tells Rachel she is going to be put up with Rachel because Dani is playing this game to be mean. They talk some BLANK about dani, rachel calls her a liar and a nasty women.
11:47pm Purple Room Jeff, Jordan and Rachel Rachel is going on and on about how mean Dani is and how she's telling her it's just a game when she's playing nasty.
Rachel says that dani said "Doesn't it suck that you don't get your interviews with Julie and now you are not going to get to". rachel said back: "Yeah it's going to suck because now i'm going home this week.. Well I guess i'm getting a big interview with Julie this week when I go home HUH!" JJ say they didn't hear it..
Rachel says she's going home for sure. Jordan says she doesn't know that Jeff could be going up. rachel goes on and on about dani being mean etc etc. Jordan: "Did Brendon say he's using it" Rachel: "Yes he's using it.. because he has a better chance of winning" Jeff leaves tells her it's all up in the air. Jordan starts saying that if Brendon stays Brendon will make it in the top 3. Rachel: "No matter what do not trust Dani" Jordan thinks if Rachel stays more people will target her and If Jordan gets knocked out then Jeff and Brendon will make it far. Jordan thinks Brendon will win a lot of prizes if he stay in the game.