ENTER For Your Chance to Win A Ticket To The BB13 WRAP PARTY!
Click here for how to enter: WRAP PARTY Contest!
7:12pm Kitchen Lawon and Kalia Kalia is saying that the money isn't as important anymore, don't get her wrong she REALLY needs the money but they'res more to this game than just that. She really wants to see a few people leave this game before her and that is what she is trying for. Lawon see thigns the same way and once he can see some people go he'll be happy. Kalia adds There is a better chance of things being normal in the house if rachel leaves.. Kalia: "Rachel is so catty"
Jeff comes back from the DR.. Jeff says that he's a worrier and he's worrying for 2 peple. Kalia heads up to HOH to wake Dani up.
7:20pm Kalia and Dani HOH
Kalia says she talked to jeff and Jordan and they are coming up to talk to dani later tonight. She was trying to feel them out and figured a few things out. Kalia adds that Jeff said Brendon isn't using the POV on himself that he's saving rachel but then Jordan interrupted and said that Brendon is saving himself.
Jeff told Kalia that Rachel is being pretty confident that she is staying apparently earlier today Rachel was listing the people on the block she could beat in front of Jordan, Jordan got a bit pissed about it. Kalia adds that Jordan is starting to talk a bit of game with her again.. which is good but she still doesn't know how reliable it is.
Kalai says her biggest worry is who will they put up to ensure that Rachel or Brendon goes home she's trying to figure it out and she doesn't know. Dani: "these people would be the biggest complete morons if they keep one of BRendon and Rachel". Dani is relly worried that she'll get BLANK if Brendon stays he's going to team up with JJ but if rachel stays it's different and they could maybe work with JJ. dani had just woke up and her face is all puffy "My face is disgusting I look like pug dog". Kalia thinks JJ will eventually have to split from BR especially if one of BR are leaving this week because once they are gone JJ are the biggest target. Dani says she's think that they can earn the trust of JJ once one of BR is gone. Kalia points out that brendon and rachel are celebrating in the havenots room, everyone is wondering why. Dani: "they are happy because at least they have a inkling of a chance and worse comes to worse they have the decision of who goes home. Kalia told her that Jeff and Jordan thinks Shelly is really supportive of everybody and if Jordan is up on the block she will not vote against Jordan. Kalia asks why not put up Porsche, it takes a vote away from BR.
Dani: "I'm really scared of getting screwed.. I have a feeling that I have at least shown to JJ that something can be worked out and I know the trust between us has to be earned". Kalia wonders if they can trust Adam.
Dani isn't sure she thinks they can but she's not sure. Kalia counts the votes if they put POrsche on the block they have Kalua, lawon, Jeff and JOrdan.. and it doesn't matter what adam or shelly will be voting.
Dani: "I'm having a clear cut enemy with anybody I put up but I already have a partial enemy with JJ, at least they have a common understanding with them"
They both start questioning what lawon will do if they put Porsche up.. Dani is troubled because last eviction lawon didn't do what he said he was going to do and Porsche told dani that Lawon told her that he was never going to vote for Dom.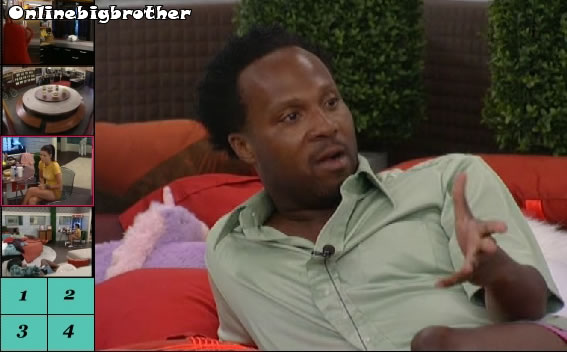 Lawon joins them.
Dani asks him why he is pissed. Lawon: "I wanted to play POV to show you all that he was in this game… everyone has proven themselves but him". Dani asks him what his thoughts are. Lawon: "I'm sketchy what Brendon will do" Feeds cut…. feeds come back.. Dani saying that she's a bit nervous that the 4 of them were super duper close and that she heard that Lawon told porsche that Lawon was never planning to vote to keep PT. Dani says that porsche told her that the reason she never voted for Dom was because Lawon wasn't. Dani adds that she is afraid that if BR stay this week they are going to be gunning on them all. Kalai says they all need to trust each other they are all thats left and they are all each other have.
dani asks him if they can count on his vote this time.
Lawon: "I swear swear swear for real I swear I will vote one of them out" (B or R)
Dani: "They will promise you the world" (BR)
Kalia: "I don't care if they offer you 1/2 their winnings.. the answer is no"
dani: "They promised everything to PT and he's home"
Dani reminds him that he needs to trust them because they have his back 100%, their group of 3 is all they have and Dani is the number one target so there is nothing for lawon to worry about. Kalia says with One of BR gone it won't be as tense anymore people will still be at odds but there won't be that nasty vindictive games play that they've seen from BR. Kalia and dani want him to start picking up his game and gathering information.. he's really important in their game and they need him. Dani: "We want to hear your opinion we need your input".
Lawon: "I have a bad gut feeling about Shelly I just don't trust her"
Dani: "Great we need you to tell use more we are together and you mean a lot to me"
Dani leaves to get a nail file
Kalia: "you are the social game for us.. nobody talks to me or Dani anymore"
Dani comes back.. tells Lawon that he's playing a very safe game he's covering himself very well but he needs to do more. Dani says all they need from Shelly this week is a vote after that it doesn't matter..
Big Brother 13 Live Feeds Can be watched on your iPhone and Android Mobile devices sign up -> Watch Big Brother 13 on Your iPhone or Android Phone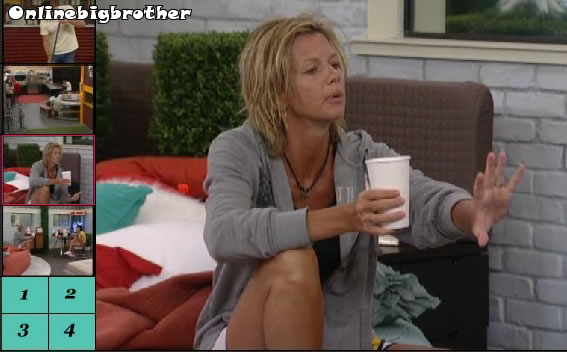 Shelly comes in Kalia and Lawon leaves.
Shelly: "This BLANK with Kalia agrovates me.. she's starting BLANK with me"
Shelly explains that last night at 3 in the morning Kalia pulls her into the purple room and told her that nobody cheered for Kalia and Dani during the HOH comp. Shelly told her that she cheers for everyone during comps and that is how she thinks it should be done. Shelly adds that during todays POV comp when rachel was up on the platform she told Kalia "now is you chance to cheer for someone". after the POV kalia was causing a fuss about this. Shelly is also pissed that kalia is saying that she has an alliance with BR. Shelly: "I'll vote for them out today… tomorrow.. at any point in the game because they gotta go"
Dani says that Kalai is getting super paranoid and she's been trying to get Kalia to calm down. Shelly says she knows for a fact that Brendon is saving himself "FOR A FACT.. Rachel is staying on the block". Shelly wants Dani to know that Dani is way too smart to have Kalia dictate to Dani. Dani: "don't worry I make my own decisions". Dani tells Shelly she's safe this week and she won't be the pawn. Shelly thanks her and leaves.
lawon and Kalia come back Lawon calls Shelly Merry popins.. they chit chat..
8:30pm Purple Room Jordan, Adam and Jeff Jordan is saying she knows she's safe show she is going to tell dani that she will go up against either Brendon or rachel.
Adam says that she will have the votes regardless but thinks If Jeff goes up it might be a little but harder to get all the votes needed especially if he's up against Rachel. Jordan says that brendon is going to use the Veto on himself. Adam and Jeff arent sure they both heard that Brendon is using it to save rachel. Jordan explains that brendon told him earlier today in the purple room that he's saving himself becuase he's sure that Rachel has the votes. (This is what Jordan is pissed about because rachel knows that Jordan or Jeff will go up as the pawn and rachel said this infront of her)
Adam counts the votes to Keep Jordan, "Lawon, Kalia, Jeff and himself that is 4 you are safe". He adds if Jeff goes up it's more dangerous becusae if Jeff goes up against Rachel will start cutting deals with Lawon and Kalia because Jeff is stronger than Rachel.
Jeff asks Adam if they can trust him. Adam: "Dude.. I'm with you guys 100% i am dead serious when you were HOH you showed me more love than BR did … BR wanted me out at first"
Jordan: "They'e (BR) ahve proven they are good competitors they'll wipe us all out" Adam: "Don't worry I'm dead serious i'm with you guys 100%" (adam is playing Porsche he's another JJ minion) Jeff is worried if a pawn goes up it will start rumors that JJ are with Dani and Brendon will start gunning for them.. Jordan adds that is why she will go up she has the votes it's OK. Jeff wodner maybe they can vote Porsche out then.. Jordan: "She's not going to do that" Adam thinks that Dani's mentatlity is getting someone strong out and the only was to ensure that the house votes out B or R is for her to put one of JJ up. Jordan: "we need to split up eventually why not do it now" She thinks if rachel goes they can stil work with brendon but if Brendon goes Rachel will be a emotional wreck and completely uncontrollable. Jordan adds that if Jordan goes up and rachel goes home the only person brendon will be mad at is Dani. Jordan says that dam is a reall cool guy at first she thought he looked mean but he's really nice. Adam claims he's part eval dick part chicke geroge (LOL). jeff leaves
Adam tells jordan hoewmuch he's with the JJ's and he'll vote out Rachel if Jordan goes up they do not have to worry.