9:40pm Adam destroys Brendon in the hotdog contest.. eats 10 hot dogs in 4 minutes and the raw egg in the end.
9:45pm HOH rachel/Dani rachel starts off by saying "Isn't Brendon so much fun". Dani smiles "Your serious this is how you're pitching it to me"…. Rachel says this is how she play Big Brother, it's how she played Big Brother 12 and it'll be like this is she played Big Brother 14.
Rachel asks her what she is going to do if it's a 3/3 split… Rachel thinks that it'll be JJR to evict Shelly and KAP to evict BRendon. Dani says it puts her in a really tough position.. If she wants to keep Brendon she would rather convince Kalia then have to make the decision herself. Rachel wants to go to Kalia and pull her aside and offer her a fianl 4
Dani: "Kalia is going to play with her emotions.. I can talk to her though". Rachel brings up that BRendon will win next weeks HOH and he will not put Kalia or Dani up. Dani says if it's 3/3 and she evicts Shelly she basically screws herself with Kalia, Adam and POrsche. rachel points out that she gains BR. Dani knows but still thinks their is a bond with Brendon and JJ. Dani: "I want to help you guys out I'll talk to Porsche and Kalia.. but in the end they will do what they want"
Dani: "I promise promise promise you if brendon goes I will have your back 100%… If Kalia gets another HOH I will convince her to not put you up"
Dani: "This does not leave this room I tell you this if brendon leaves I have your back 100% as long as you have mine"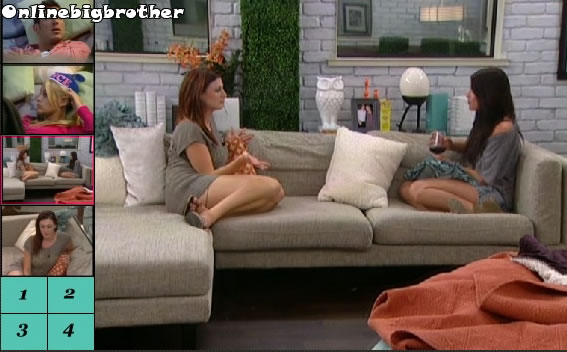 Rachel: "I Believe you.. I trust you and I have your back"
Dani: "I'm not telling Kalia i'm not telling you anything"
Dani: "you will have my vote and I will try and influence Kalia to benefit us three"
Rachel: "If JJ vote against brendon it'll be clear as day.. I promise you I will not hold it against you.. If you vote Brenodn out I'm going to be pissed but I'm not going to let that affect my game"
Dani I prmise you with my life as long as you have my Back I have yours (dani repeats this a lot)
Rachel: "if brendon leaves you are the only one I can count on"
Rachel says she was all alone last week because it was JJSA and her. She said int he the DR "Nobody wants to work with me I've won all theses comps I feel lilke the black fish". Dani says they are so close to making it to the end, her and rachel can make it they have to think positive because the second you
The past is the past and we'll leave it in the past..
rachel: "I believe yo and I have your back to"
Dani: "I seriously had trouble believing you guys at first during the nominations ceremony I spent 2 hours trying to decide who to put up"
Rachel: "I promise you as long as you don't BLANK me I'm team Dani"
Dani says nobody needs to know about their arrangement, if word gets out that Dani and Rachel are both in "the crapper". Rachel swears she won't say anything, IF she wins HOH Dani doesn't have to worry she'll make something up about Backdooring her then they will win the POV.
Rachel says there is 3 people in this hose who are worthless but are also the most dangerous because they cannot control their votes. Rachel points out that Porshe is in the best position in the game. Rachel thinks Porsche will make a deal with Shelly for her vote. Rachel thinks they should let Kalia win HOH this week so going into double eviction there is both her a dani competing.
Big Brother 13 Spoilers POLL CAST your VOTE!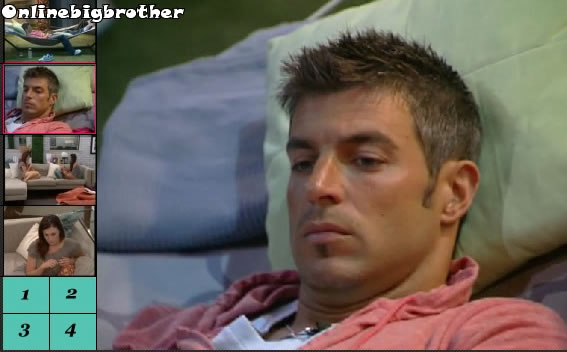 9:55pm JJ hammock Their starting to get paranoid about Rachel having a deal, Shelly having a deal, Adam having a deal. Jordan is starting to think that Shelly is moving to the other side. Jeff fells like they need to talk to Shelly and ask her straight up whats going on. Jordan has heard soo many lies originating from Shelly, Shelly has trouble keeping them all straight. Jordan points out that Shelly is hanging out with DP lately. Jordan thinks it's going to be JJR in the game. Jeff thinks they have Adam to. Jordan is sure Shelly still has an alliance with them but only them and it doesn't include ADAM.
Jordan: "I've been trying to talk to Porsche because I know if she wins HOH it's JJ up on the block"
Jeff: "Adam said he's putting up Dani and Kalia.. Adam is good with us.. Shelly has been avoiding me though.. we need to talk to her"
Jordan says they need to get Dani out next week. Jeff thinks it's odd that Shelly has been sayign she's going to put up Rachel, "Why doesn't she win something for once"
Jeff is positive they don't have the votes to save Brendon they may need to try and get Shelly back in the fold. Jeff feels like they need to talk to Shelly and find out if she's gone tot he other side.
Jeff says Rachel is cutting deals with everyone telling them they will go after JJ id they keep Brendon. Jordan: "With BR throwing us under teh bus it's not a good idea to keep them"
Jordan: "If brendon leaves we have Rachel, Adam and Shelly" Jeff: "Dude if I win HOH everyone will be with us" Jordan: "we're fine as long as KP doesn't win HOH" Jeff thinks the HOh comp will be physical and he's going to fight like hell for it. Jrodan hopes it's not questions she'll be sick if it is.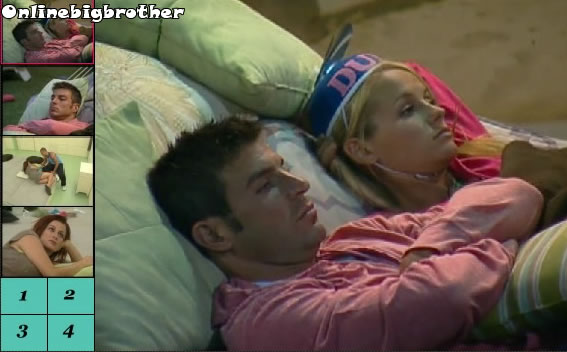 11:03pm Adam saying they don't have to worry he will never trust BR. As much as he would love to be able to trust them he knows they will do whatever it takes to further their game. Adam: "Oh I figured out why Dani is so nice to Shelly.. it's just in case She wins HOH" Brendon starts walking to the hammock. Jordan: "Dammit why can't we every be left alone"
Follow: @BigBspoilers and @Dawgsbigbrother on Twitter for recent crazed out spoilers. Theres also our Facebook page.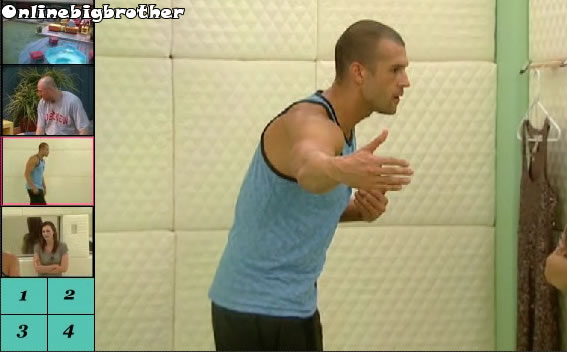 10:25pm havenots BR Rachel is saying their only hope is Kalia. Dani will not keep BRendon, she was tlaking a lot about what happens after Brendon leaves the house. Rachel starts saying she's going to give up. They move to the havenots and fight for a hour.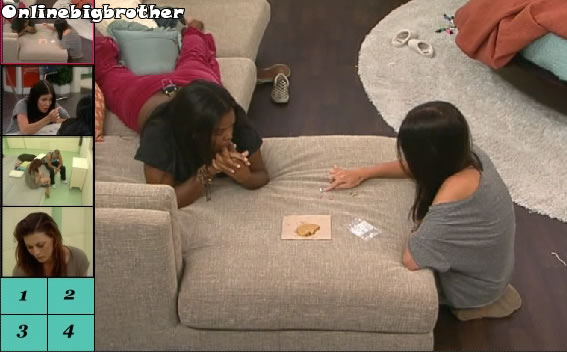 10:50pm HOH DK Dani is laying out the DK alliance long term strategy. She says if Kalia wins HOH she has to put up JJ. They need to split JJ up asap otherwise they won't have the numbers. Dani explains that the biggest risk they have now is JJS, After Jordan gave Shelly that phone call the JJS alliance is very strong
Dani is going over all the scenarios Some key points are
a) Jeff and Jordan must get split up, Kalia must be prepared to put jordan up (She really stresses this)
b) Shelly is close to Jeff and Jordan
c) If Rachel wins HOH Adam and Porsche go up, if POV is used JJ may go up
d) If Jeff and Jordan vote to evict Brendon Rachel is threw with JJ
e) They need Rachel
Kalia isn't sure Jeff and Jordan will vote to keep Shelly. Dani says she's 100% sure they will and once that happens they have Rachel. Dani really stresses they need to split up JJ to get the numbers. Kalia says if she does that it will make her look bad in front of the house. Kalia thinks she'll lose too many votes in Jury. Dani: "I'm telling you Right now.. How do you get Jury vote.. By getting to the top 2 and how do you get to the top 2 by doing what you have to do"
kalia says she will put up JJJ if she gets the HOH. Dani stresses again they need to get the HOH and she's confident they will get it. (DKPR)
Dani tells Kalia from here on in they really need to watch what they tell people. Give Shelly just a Tiny bit of info and Porsche a bit more than that. They Need both of them and Rachel to make this all work.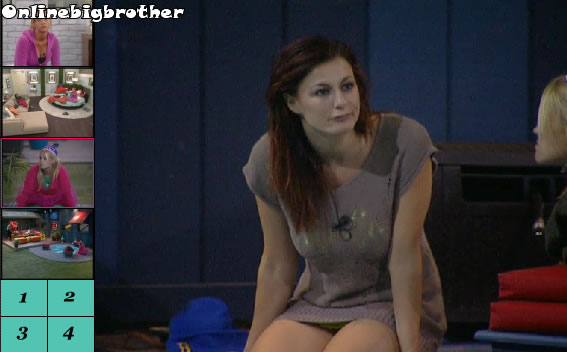 11:40pm Rachel and Jordan hottub Rachel tossing Shelly and Porsche under the bus. Tells Jordan that Prosche won't vote to keep Brendon. Jordan tells rachel shes ays she made Shelly promise to not put Rachel up if she wins HOH. Rachel says Porsche is planning on making a deal with Shelly. Rachel says she doesn't like dani she can't stand her but she dislikes Porsch and Shelly more. Jordan brings up that Kalia and Porsche have been working out a lot because they think the next comp will be physical. She doesn't think it'll help them.
Jordan tells Rachel that She made Shelly promise to not put R up if she wins HOH because R is part of their alliance and Shelly owes Jeff and Jordan because Jeff and Jordan are voting to keep her this week.

Share it YO!!
Tweet