Big Brother 13 Live Feed Image Gallery
6:45 Rachel and Brendon Por leaves to grab some weight sand Rachel calls Brendon over. She says that Lawon has been working out every day he's getting ready for the comp. Brendon: "What i'm suppose to be scared, he can work out all he wants I'm not scared" (If lawon last longer than Brendon in the endurance comp it'll be comedy gold) Rachel calls him such a boy, Brendon: "Ask me if I'm scared….." Por comes back.
6:51pm Bedroom dani and DOm Dom thought for sure his alliance was going to work.. He can't believe everyone in his alliance spilled their guts to BR. Dani says she didn't. Dom: "we'll Shelly and Kalia did". Dom talks about how all the newbs would get together and huddle around in the have nots and dom would lay out the plan to them, Dom thought it wasn't go be so bad they had a huge numbers advantage. Dani: "didn't you hate how I always showed up" Dom: "we didn't care we knew you hated them"
Dom wonders what screwed him more, The fact dani didn't tell him shelly was the rat before he went to talk to her in the have nots or was it going to the current HOH and tell him to backdoor my worst enemy.
Dom reminiscing about his failed alliances says they had a cool name it was named after a song "The regulators " Dani: "thats so stupid" Dom: "Yeah it was". He explains how the newbs were so sutpid for not sticking with the plan porsche would be gone. HE laughs because when Keith and Porsche went up on the block they were all excited Kieth started dancing, He notes that Shelly gave him the thumbs up. Dani says the vets had their ways. Dani tells him not to lay around and do nothing he needs to become more sociable. Dom isn't going to be running around kissing his (brendon) ass. Dani instructs him that is how it's done, Dom has 2 days to sell his sole in the game. Dom would rather lay down and Sleep then go out there and be fake.
7:24pm Backyard Lawon still working out, Adam, Jeff, Shelly, Jordan, Dom they are all enjoying it alot all giving Shelly praise.
Jeff praises Shelly for making great sauce and he's usually picky when it comes to sauce, "I really do like it i'm not just saying it I'm shooting you straight" (this is funny because Shelly is always talking about Shooting straight in the bb game and how she only likes people that shoot straight)
Jordan asks him how longs he's been on the elliptical he says
7:30pm adam and Dom hot tub Adam talking about the twist this year and how the commercials said "Crash My party" he explains that that is kinda what happened the vets crashed our party. They start gong over everything that went wrong. Dom was pretty sure cassi and shelly threw the first HOH. Adam is shocked that Keith threw the first HOH… "right out of the gates we could of made a difference.. when there was a comp Kieth could win". dom: "it just pisses me off that they can walk around here on their high horse like it's nothing".. Dom says that if his 4 (Regulators) were on Season 12 they would of ran the house. (yo those are some MAD grenades yo)
Adam points out every POV it's been 4 vets Vs. 2 Newbs.
Dom has thought about campaigning but it's a waste of time, "at the end of the day it's really up the rachel and Brendon you need 5 votes"
Adam says regardless of what happens to Dom and Adam he knows they both have interesting lives to go back to. He's glad he starting changing his lifestyle to get on the show he doesn't want to lose that. (wow didn;t knwo he did it for BB) Dom: "what i'm thinking the person that stay between us two is screwed unless a newb wins HOH cause they will keep picking us off until they get to the 4″ Adam agrees is sure it's going to be a tough one to survive. Dom :"you know that coming out of this week it's lawon Kalia, Shelly, and the Other one (Por) and you know 2 of them are with JJBR so it's going to be 2 on 4". Adam: "Yeah this doesn't sound very positive for the survivor" . Adam says he doesn't really trust Shelly.. "I love the lady but… honestly who can I trust .. no one". Dom tells adam there is a lot of red flag for Shelly.. ever since cassi left she's become a different person, "she's doing what she thinks she needs to win".
Adam brings up how CBS employs twist to shake things up to help when the ratings dip. Adam says that there's a bunch of possibilities and they usually involve the public's vote. Dom thinks it would be cool if one of the evicted people was brought back. Dom: "I would walk right in be all AAAGGRGHHGRHGH go right to yo Adam and say lets do this man" (LOL the dream team)
Adam thinks it might of been better if production had teamed them up based on their strengths. Dom completely agrees. Adam thinks about it for a second then says no if that was the case he would of been paired with Kalia. Dom: "well we collectively did it to ourselves" Adam: "we came in here with numbers and now we're walking out one by one."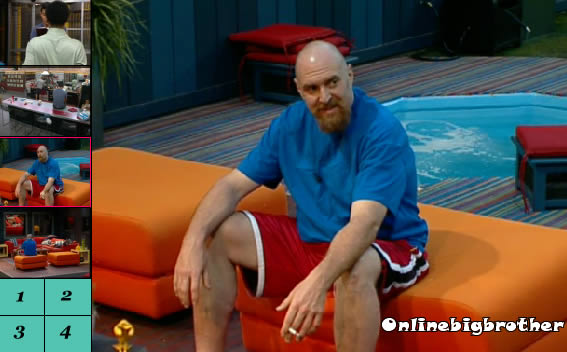 8:07pm adam starts to "exercise his lungs" before he starts to work out.
If you like this site and want to help us keep it running please consider donating, Your donations go directly to paying the server and bandwidth fees. Donate Link
Share it YO!!
Tweet