10:10am Jordan and Rachel are in the havenot room, Jordan is telling Rahcel that its not over yet. Rachel says that she wanted to win so bad. Shelly joins them. Rachel says she is sorry for kicking her ball. Shelly says that its okay. Rachel asks Shelly if Jeff comes off and Porsche goes up do you think I would stay? Shelly says yeah. Jordan says that she thinks she will be going up. Rachel says that she doesn't think so.. They continue to talk about the competition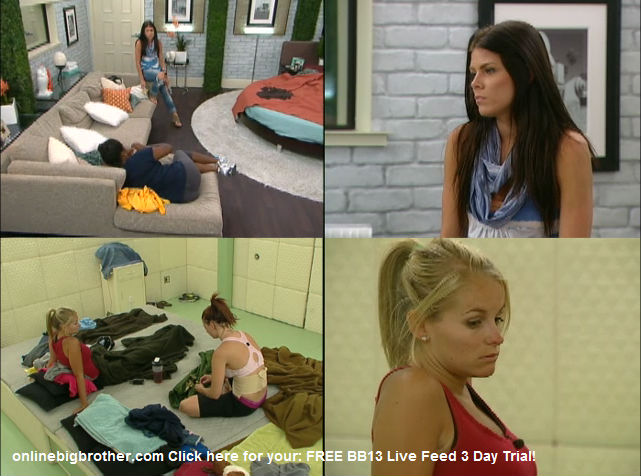 10:25am Dani and Kalia are up in the HOH room. Kalia is telling Kalia all about her plan of why she wanted Jeff up on the block and that he was never the target …and that now he is taking himself off and she doesn't get the chance to show him that he wasn't the target. Kalia says that maybe she should have just won the POV so that she could have taken Jeff off and proved he wasn't the target. Dani and Kalia talk about how useless Rachel is in the game without Brendon. Kalia and Dani talk about how they still think they are in a good position in the house. Dani tells Kalia to please be careful about what she says and does around and to Jeff and Jordan because clearly they hold grudges. Kalia says that she will and that she was trying to plant some seeds.. Kalia says that she is going to give Rachel the same gift as last year …the first person in the jury house. Dani says yeah thats weird isn't it. Dani says that she fully supports Kalia's decision and that if she had a problem with anything she would tell her. Dani does say that she doesn't think she would put up Adam. Kalia says that she just doesn't think she could put up Porsche. Dani says that she would want to talk to him first to let him know that he'll be going up on the block. Dani says there is just something about Adam that she likes and that she could see going to the end with him. Kalia says that she is still thinking about it and for Dani not to tell him yet because she isn't sure yet.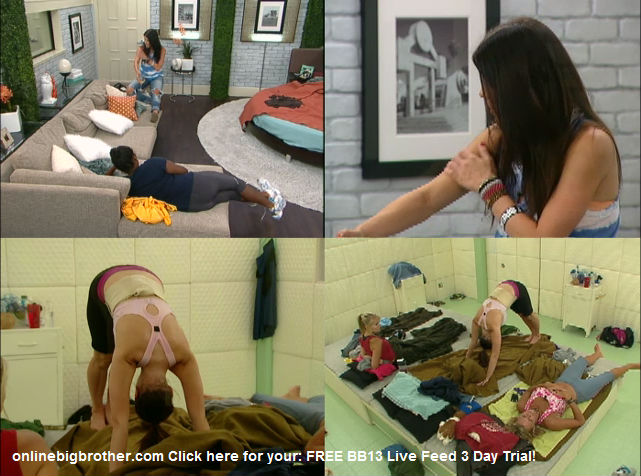 10:40am Porsche and Dani are talking in the candy room. Porshe says she was "told" no one took anything. Dani says do you think Brendon took them? Porshe telling everything that is missing. Dani says that is weird and stupid like super stupid. Dani tells Porsche that she is safe …that she just needs to wait and see.. Dani says that she loves Adam and she really wanted him to win. Dani asks what she would do if she won. Porsche says that she would make a big enemy and put up Jeff and Jordan. Porsche says that only problem with that is no one will ever vote out Jordan. Dani agrees. Porsche says even though she just won two years ago. Dani says that its getting down in people …and people that I don't want to put up too. Dani talks about how much she likes Adam. Dani says she has been thinking about putting up Shelly. Dani says she would rather her in jury because she does play fair. Dani says if Shelly does come back though theres an easy nomination. Dani says now that Brendons not here Rachel is garbage. They talk about how nice and relaxing it was in the house last night, and how much they liked that. Adam and Lawon join them in the candy room. Meanwhile Jeff is in the kitchen eating a bowl of cereal. They all talk about the competition. Kalia comes in and asks what they are doing? Adam says they're planning her demise. Adam mentions that Kalia did really well. Kalia says that she was just trying to make sure one person (Rachel) didn't win. Adam says and apparently she was trying to make sure others didn't too. Kalia says thats what I heard. jeff comes in and Adam asks him if he wants to lay down… Jeff says no thanks ..smiles and leaves.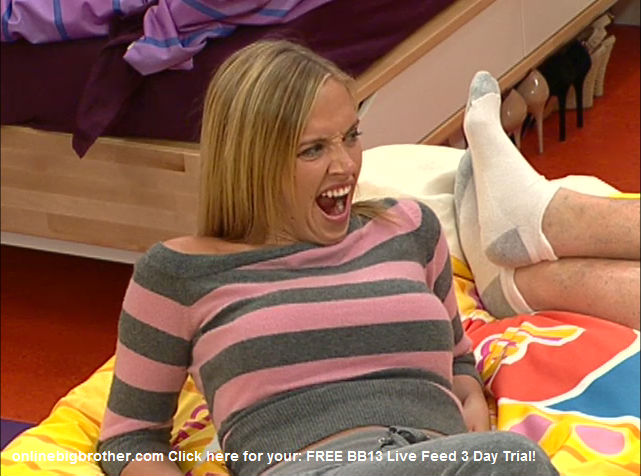 11am Kalia and Lawon head up to the HOH room. Kalia tells Lawon that she needs him to tell her that …no matter what she does … wait I got to pee. Kalia then runs to the bathroom and pees. Kalia says that her goal was never to get Jeff out of the house ..and that she told him that. She says that she needed him to play because she knew it was going to be a physical challenge and so she needed him to win it. Kalia says that Jeff doesn't trust her and he didn't before either. Kalia says that is why yesterday it took her so long in the diary room because she was sitting there crying. Kalia says that she has people that would bend over backwards to protect him. Kalia says that they all still think that Dani is the mastermind behind them all. Kalia says that Dani has 5 people to protect her now. Lawon says that he and Adam are really trying to step up and be players.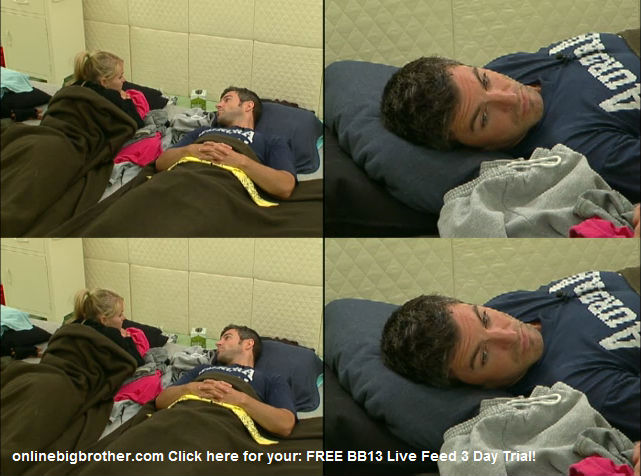 11:10am In the havenot room Jeff and Jordan talk about the competition and how Jordan really helped up in the competition. Jordan says she can't go upstairs she will lose it. Jeff says fine I'll go up there. Jeff rehashes what he said to Kalia last night. Jordan tells Jeff Kalia was trying to sugar coat it. Jeff said he just wanted to win so bad. Jordan says he did good. Jordan says she feels good because she actually contributed. Jordan tells Jeff that Kalia came up and said good luck to her before the veto. He says that she helped him win by telling him where the others were at. Jeff says that he told them he was going to win it …and now they made 3 people mad! Jeff says that if she puts you up …she is a huge idiot!!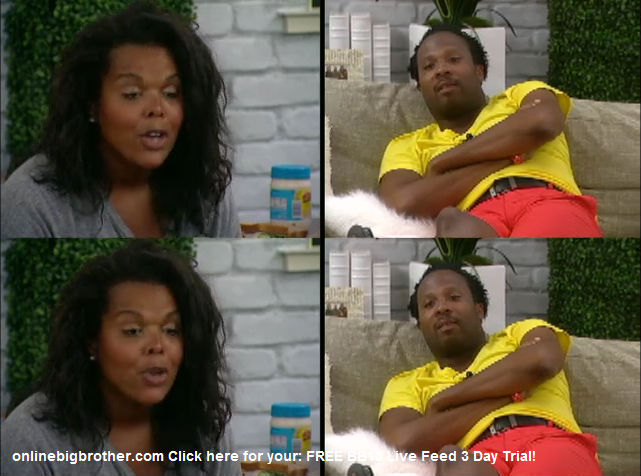 Share it YO!!
Tweet