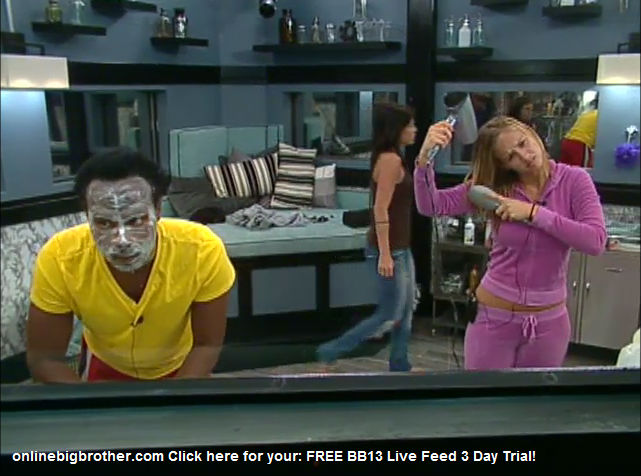 7am – 8am Big Brother wakes up the houseguests. All the houseguests are up and getting ready, it looks like there will be an early POV competition. Adam complains about having a rumble in the junjle.. an upset stomach from drinking milk. Meanwhile, Kalia is up in the HOH room giving herself a pep talk. She tells herself to go out there and give it all she's got! Kalia starts praying saying that she needs this …she needs to win to keep her nominations the same ..so that Jeff can see that he is not the target and Rachel will go home… Jeff is not the target I need him in this game… please lord let me go out and be victorious.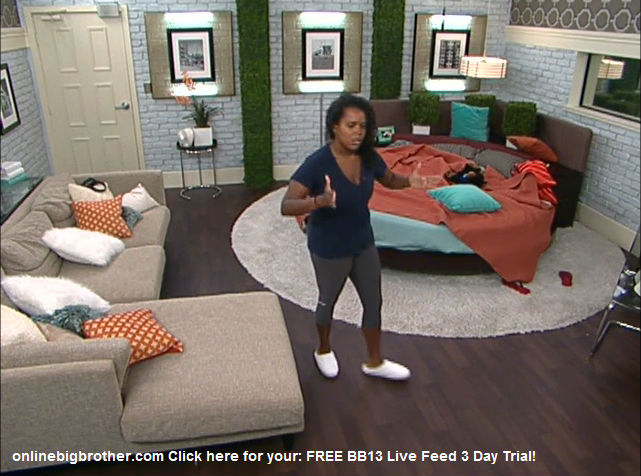 In the candy room Dani and Adam are talking, Adam says that he doesn't know anything about girls but where their notty bits are. Adam asks if he should poop first. Dani says yes, the last thing you want to have to need to do is that during. Adam says you would be surprised how hard I can clench my butt cheeks! Dani says for some strange reason I believe you. Jeff is still in bed, while the others are getting ready. Jordan and Rachel are in the kitchen talking about their best case scenarios. Rachel says that she is doing this to get out Dani and all the floaters that flock to her. Jordan asks Rachel if she ate anything. Rachel says yeah she had slop and a fibre pill so that she can poop …but doesn't think she will be able to because she is so nervous… Jordan wonders why they are doing it so early.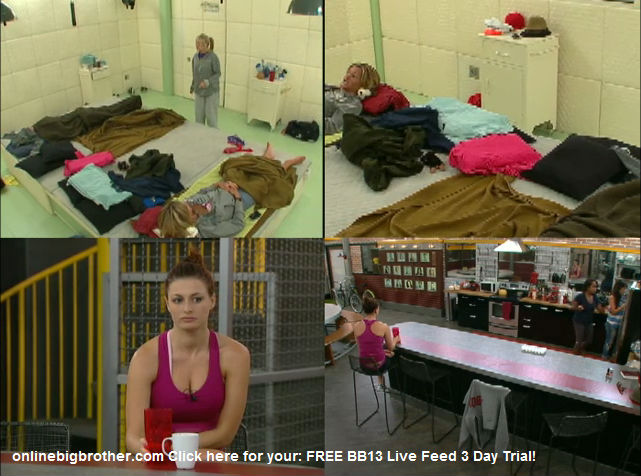 8:15am Jordan heads into the havenot room. Jordan and Shelly talk about how crazy Rachel is … Jordan says that she already had four cups of coffee and said that she took a fibre pill and wants to poop. the camera switch to the HOH where Kalia and Dani are talking. Dani says that she is happy she isn't playing because she wants to stay the BLANK away from her. Kalia says that she is getting her out of this house if it kills her ..Kalia says that she is confident she will win this … and if she doesn't ..someone else other than Rachel will. Kalia says that last night she talked to Adam about the POV and he said ….. Right then big brother switches the live feeds to the TRIVIA screen…
9:50am Still TRIVIA..
Share it YO!!
Tweet