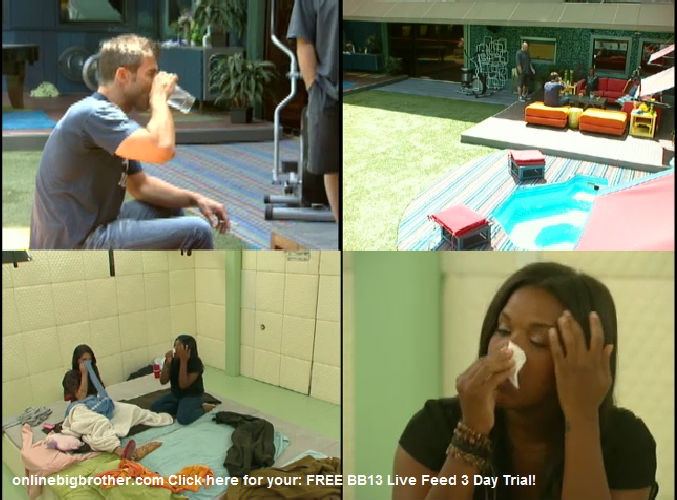 10:45am – 11:35am Big Brother cut the live feeds to the TRIVIA screen to block the Power of Veto Ceremony. When the live feeds come back, Dani and Kalia are in the HaveNot room talking and crying. Dani says that it is the worst birthday week ever. Kalia says what was with that speech? Kalia says he always give people the chance. Kalia says that he told her to that they can still talk. Kalia says F him. Kalia says that she is worried about Porsche going over to their side if Dani leaves. Dani says no I don't think so. Kalia says that she can't win this game by playing with people that wont say or do anything. Kalia says I am not going to say or do anything all week, I am not going to campaign against you.. Dani says stop Kalia you dont need to campaign against me …you can campaign to save yourself. Kalia says that Shelly hugged her and said that they can talk later. Kalia says F you I don't want to talk to you. Kalia asks Dani what she is thinking. Dani says nothing.. Dani says that she wants the king and queen for the chess table back for her speech on thrusday.. Kalia says that they are in the storage room in the bottom drawer.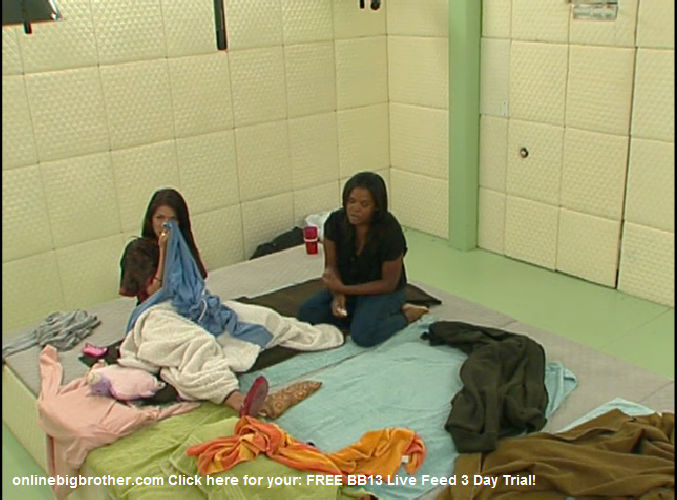 11:40am – 12pmDani heads out into the backyard. Shelly says how are you doing super star? Dani says I am good. Shelly asks where Kalia is … Dani says I don't know ..she's laying down. Dani says that she knew Jeff was going to do it anyways ….so.. Shelly asks what Dani is thinking. Dani says that she is thinking about what people have said and done that make them hypocritical. Dani says that it is totally person what he did …she put him up three weeks ago and that was such a long time ago … he has been telling me that we are good and that I was safe. Dani says that maybe I have been playing this game to personally ..and that maybe I shouldn't. Shelly asks what Dani is going to do now. Dani says well I am not going to just roll over. Dani says that according to Rachel you think I am a disgusting human being and you would never vote for me. Shelly says well you know that is not true … I think the world of you … I would never say that about you. Dani says worst birthday week ever!! Dani says that she knows it was going to happen. Shelly tells Dani that she wants her to fight to stay. Dani asks Shelly if her vote is locked to get Dani out. Shelly says no, her only conern is if Dani will put her up if she stays. Dani says that you have my word if you vote to keep me that I will never come after you, my targets are Jeff, Jordan and Rahcel. Shelly say you don't need to do that. Dani says that everyone will take Rachel to the final two because everyone knows she will only get Brendons vote. Shelly says and she will win $50 Grand and she doesn't deserve it. Dani says that is what solidifies the three of them… they will take her over anyone else.. even you. Shelly says that she knows that. Kalia and Adam come out. Adam is working out on the elliptical. Dani asks if she should use the pregnancy in her speech on thursday? Dani says if you want to keep a pregnant woman in the house to compete in competitions …that disgusts me!!!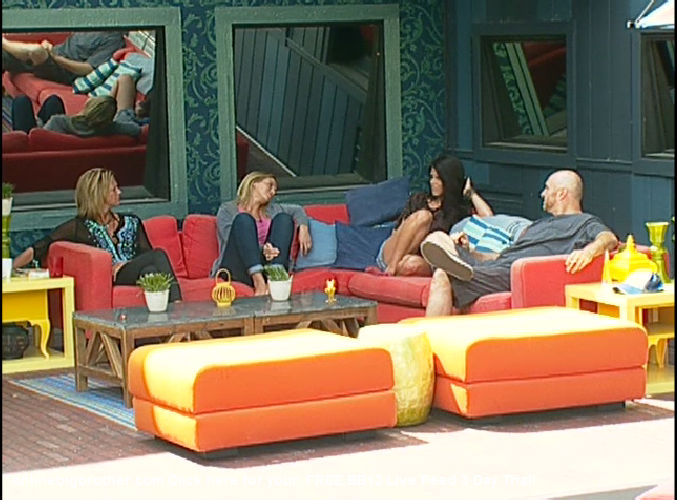 11:40am – 12pm Meanwhile,Jeff, Rachel and Jordan are hiding out in the HOH room. Rachel says that Brendon is going to clap when he sees Dani walk through the door. Jordan says don't say that …you don't want to jinx us. They talk about how Dani will be campaigning to stay and they need to make sure Porsche, Adam and Shelly vote her out. Jeff joins them on the bed and asks when they all shook hands with Porsche .. Rachel says that she knows what she is talking about and explains the situation. Jeff goes on about how he doesn't ever know what the hell Porsche is thinking. Rach says that Porsche told her she doesnt like to talk game because it gives her a headache. They all laugh and say you're in Big Brother!! Rachel says that she remembers Porsche saying that if there were a competition with prizes that she would take them and wouldnt care if she went out after that because at least she got something. Jordan says I don't think thats true. Jordan wonders if Porsche is closer to Dani than Kalia is. Rachel says no Kalia is way closer to Dani than Porsche is. Jeff says what if we got out of here and Porsche said that she was playing us the whole time … Jeff says I would be like good one!! If I could come in here and do that I would. Jeff says Michael Jackson is white because of soap … that would be genius if she thought that up. Rachel says Porsche knows Janelle … Jeff says who the F cares …she worked with her .. she wasn't her best friend …or sister. They talk about how they need to confirm they have the votes. Jeff says that we need to be downstairs. They all head downstairs.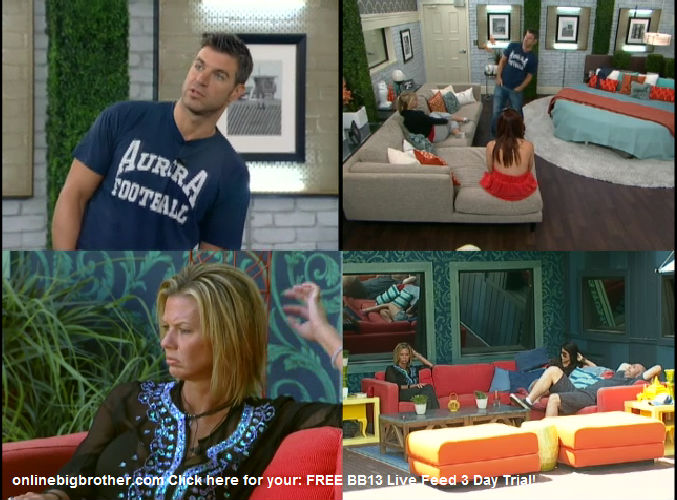 12pm – 12:20pm Jeff and Jordan are eating at the kitchen table. Porsche is making something to eat in the kitchen. Jeff asks Porsche if she was surprised.. Porsche says yeah ..and says that she was proud of her speech. Jeff and Jordan head up to the HOH room and lay down in the HOH bed. Jordan asks Jeff about his speech. Jeff explains that he was meaning that when Dani walks out he hopes she regrets what she did. Jordan says that his speech was good and it wasn't mean. Jeff talks about how he wishes what happened never happened ..that she wanted to get out from her fathers coat tails and she didn't. Jeff says that everyone else benefits from me doing this …and now I just hope they stick to their word. Jeff talks about how Adam is already on the elliptical and he hasn't been on it all season. Jordan wonders why? Jeff says that he thinks that he can get in shape in a week. Jeff says that he gave Dani his word and she wanted more …she wanted to see if the grass was greener on the other side. Jeff says and now we find out she had deals with Kalia week one. Jeff says that it is just not in his bones to let her come back and forget. They talk about how they need to talk to Shelly and Adam more. They are worried about Adam. Jordan says that she thinks Shelly will tell them if Adam or them try and team up. Jordan says that she thinks if Adam is going to do anything it will be during the double eviction. Jeff says that it was the right move ..he wishes it didn't need to happen ..but he just couldn't roll with someone who did that to him. Jeff calls Adam the captain of the floaters.. the floater with the most social game. Meanwhile Kalia is telling stories and talking about New York and 9/11 out in the backyard to Adam, Rachel and Dani.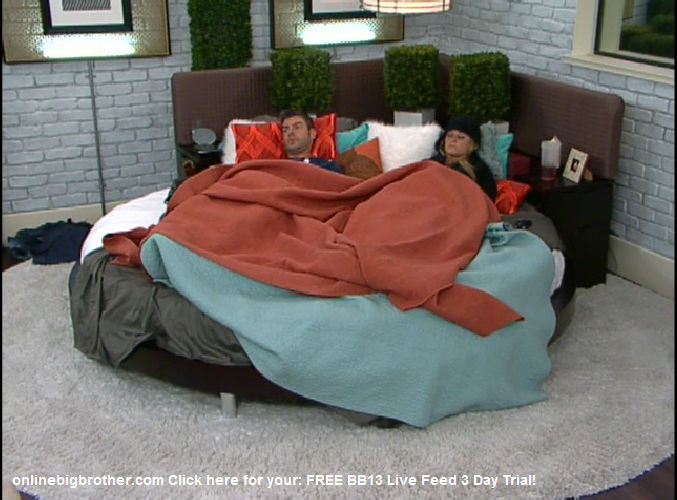 Share it YO!!
Tweet