Watch the Big Brother 13 live feeds on your Android and iOS devices. Sign-up for the 3 Day Free Trial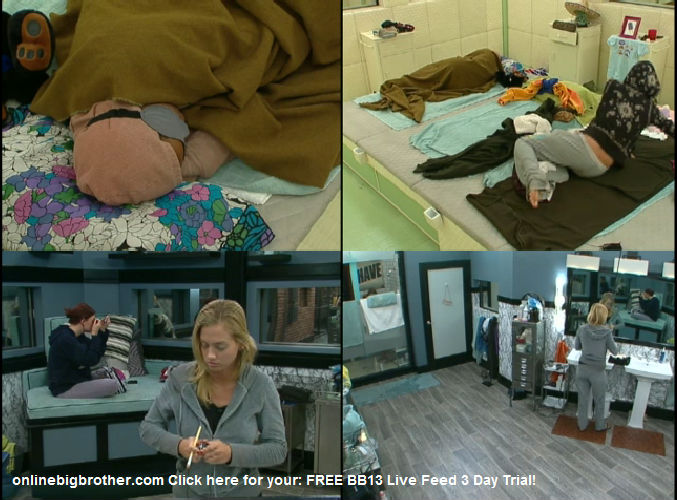 If you like this site and want to help us keep it running please consider donating, Your donations go directly to paying the server and bandwidth fees. Donate Link
WATCH the houseguests LIVE on SuperPass!
Click here for your: FREE 3 Day TRIAL!
7am – 10:15am Shelly wakes up, goes into the kitchen and then heads outside to sit in silence as she smokes. 9:10am Big Brother wakes up the houseguests. When the live feeds come back Rachel and Porsche are in the bathroom putting on their makeup. Shelly is in the shower. They talk about the wakeup song and then about Rachels hair. Meanwhile, Adam tells Dani how he slept horribly last night. Dani says shutup! Dani talks about how horrible it is to sleep in the have not room and that she can't stand it, her life is horrible. Dani heads into the bathroom and Shelly is surprised to hear they went to sleep at 5am ..and Dani says that she barely slept. Porsche, Dani, Kalia and Shelly continue to get ready in the bathroom. Dani complains about how much her face is breaking out. Rachel heads out into the backyard to sit on the couch staring off into the distance. Jordan joins her outside. Jordan talks about how she likes that Jeff isn't telling anyone what he is doing …she says its suspenseful. Jordan and Rachel talk about studying the events of the house later. Jordan says we will see what happens today ..it will either be fireworks or … Jordan says that Dani isn't going to go down without a fight… and Jeff already told everyone to come straight to him if she tries saying anything. Rachel says she knows and agrees. Jordan tells Rachel to just walk away if Dani starts anything with her. Rachel suggests that every night they should just go up and study at night in the HOH room to not be involved in the drama. Rachel says that they might do a Big Brother says …where the day before Big Brother says to dance ..or touch your toes.. Rachel says that then in the HOH competition it's a true / false asking if Big Brother said to … Jordan and Rachel agree to go up to the HOH if that happens so that they can listen without getting confused by other people talking.. Rachel and Jordan start studying by going through HOH competitions and reciting the order of when everyone fell out. Jordan heads inside to change.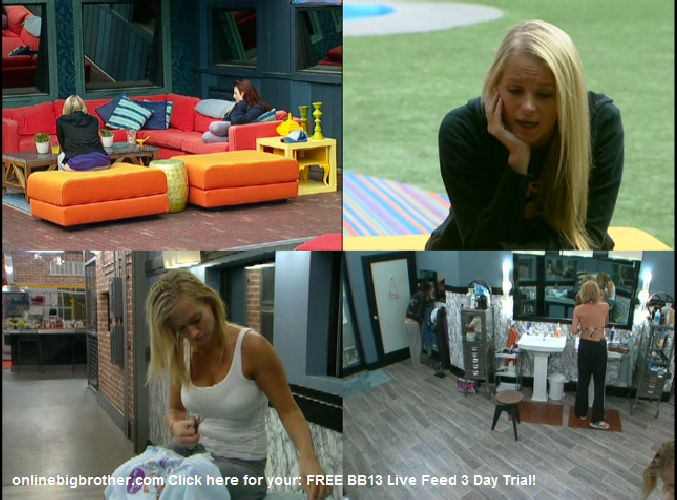 10:15am – 10:30am Kalia and Dani are in the bathroom getting ready. Big Brother gets mad at them for not having their mics on. Kalia says that it scares her that… (can't hear) Dani says that she feels like all her shirts are pregnancy shirts. Porsche says there can be only one ….and you're not it! Dani laughs. All four camera switch to the backyard where Rachel and Shelly are talking about how there will be fireworks today. Shelly says that its good for her ..unlike last week. The conversation changes to talking about their hair.
WATCH all DRAMA unfold LIVE on SuperPass! FREE 3 Day TRIAL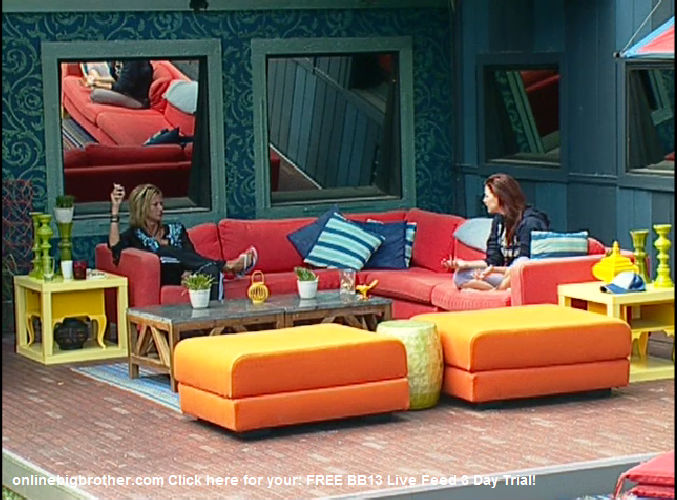 10:40am -10:45am In the kitchen Adam, Kalia, Jordan and Dani are making and eating breakfast. Jeff, Shelly and Rachel are out in the backyard talking about random stuff. Kalia, Jordan and Porsche join them out in the backyard. They are all talking about the wake up songs. Jordan asks what songs take them back to high school. Biig Brother keeps cutting the live feeds in and out.
10:45am Big Brother cuts the live feeds to the TRIVIA screen… looks like the Power of Veto Ceremony is happening NOW!!
Follow: @BigBspoilers and @Dawgsbigbrother on Twitter for recent crazed out spoilers. Theres also our Facebook page.
Big Brother 13 Spoilers POLL CAST your VOTE!


Share it YO!!
Tweet