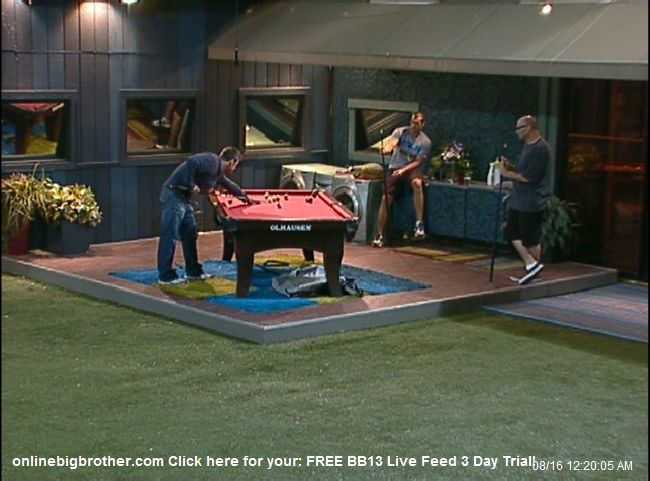 12am – 1:30am In the backyard Brendon, Adam and Jeff are playing pool. Jordan joins them and tells Jeff that she is going to bed because she need to take off her costume. Jeff gives her a kiss and she heads inside. The guys continue playing pool. Brendon tells Adam that he has beautiful balls down there set up on the end of the table. The guys all laugh. Jeff comments that Adam is all turned on now. Porsche, Shelly, Kalia and Dani head inside from the backyard couches. Shelly starts cleaning. Porsche and Kalia head to the bathroom. Kalia then grabs some food and heads back outside. Kalia and Dani are sitting on the backyard couches talking about how Dani just doesn't talk with Jordan and how Jordan seems miserable in the house. Porsche joins them. Kalia starts talking about how she thinks Shelly and her husband Tony have a great life. Brendon, Rachel, and Adam join the girls after they finish up their pool game. They all talk about random stuff like Franklin the turtle, and their sleeping patterns in the house. They talk about how everyone sleeps all day. Dani asks how boring is this cast? Dani says that at least we can admit it, we don't do anything.. we don't even make up any games. They talk about having a hot dog eating contest tomorrow. Rachel asks Adam if the viewer complained about their season. Adam says no because there was lots of drama but that at the end it was boring because nothing was going on. Rachel asks if it was just the people that get the live feeds that were complaining. Adam says yeah. Rachel comments that the live feeds people only pay $15 a month ..thats not much. Adam mentions that you can now get the live feeds on your iphone. The others are surprised. Jeff doesn't think he would watch the feeds enough to warrant paying 15 a month. He mentions that after the Big Brother Casting was over for BB11 and he got the call back he started to do a little research on the show but nothing major. They all start playing the celebrity guessing game …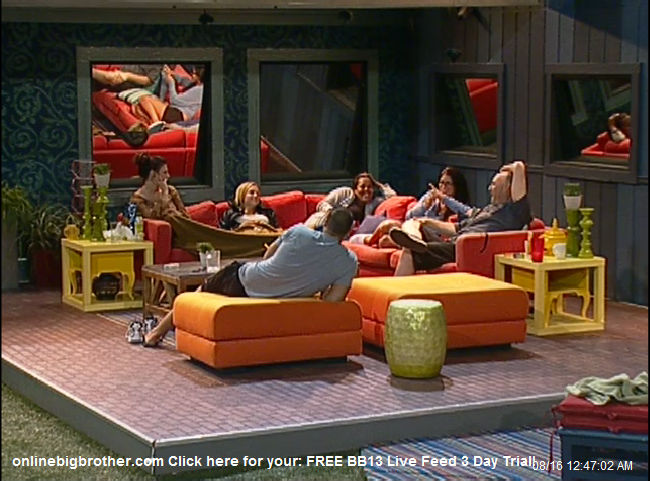 1:30am Rachel and Brendon head inside to go to bed. Brendon is surprised to see Shelly in the bathroom cleaning at this time of night. Adam and Jeff decide to play another game of pool. Kalia and Dani sitting on the couches talking. Kalia asks Dani if she can believe that the next person evicted is in the jury. Kalia then says that she is so itchy. Dani tells her that she doesn't want to hear it. Kalia yells over to Jeff that the girls have been lacking a real man since being in the house so the girls in the house have been using Jeff as their eye candy. Kalia says that all the girls.. even the older one have been checking Jeff out when while he works out with his shirt off. Jeff says wow watching Big Jeff work out… it is late in the game. They all laugh! Jeff laughs and says that they could have a Chippendale dance off. Dani heads inside and tells Brendon and Rachel that Brendon has Jeff and Jordans vote. Dani tells Brendon that he is safe. Dani then heads back outside. Brendon and Rachel go to the havenot room and they talk about whether Dani was telling them the truth. Rachel says that they don't have any choice but to trust her. Rachel changes and they go to the candy room to go to sleep. Rachel and Brendon make out for a bit then she gives him a HJ and BJ.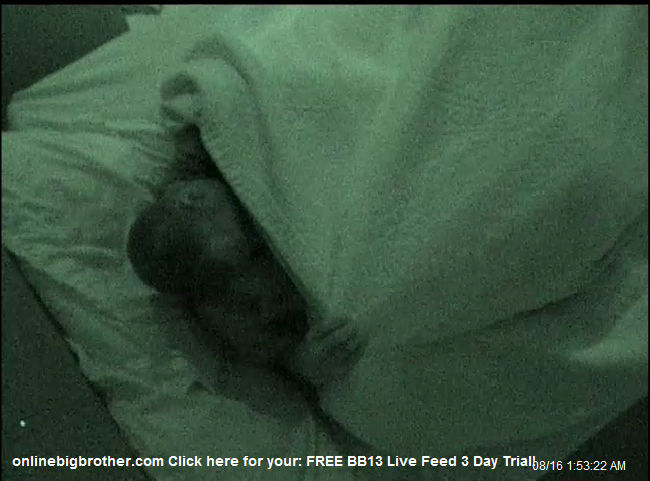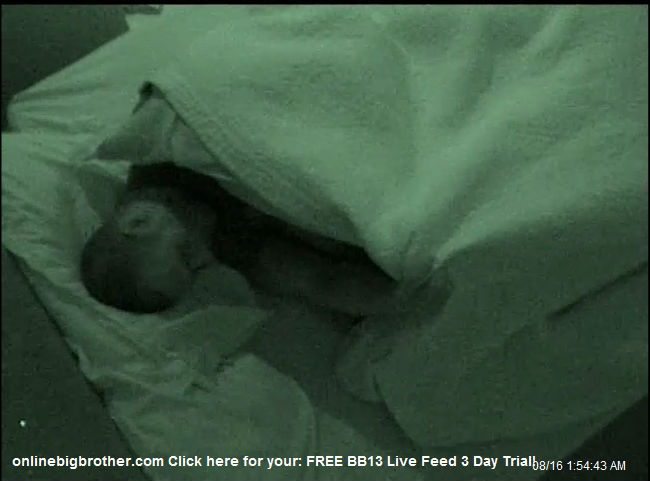 2am – 2:45am Dani, Shelly, Kalia and Porsche are talking on the backyard couches. Dani starts talking about how there are condoms in the storage room and if she found a used condom in her bed she would flip her lid. They all laugh. Kalia says that there are no magnum condoms in the house because they aren't needed. Dani says that it would be so funny if you had to put a request into the diary room for magnum condoms. They laugh. The conversation changes to talking about their pets. Porsche then heads inside to go to bed. Then Shelly heads to bed. Dani and Kalia start talking about the votes. Dani says that this one is going to be way different vote because last time it was Jordan who was up on the block. Dani then says taht she doesn't want to talk about this now. Dani says that she hopes he stays dead this time. Dani says that she thinks they should go to bed so they can get up at a decent time tomorrow. Kalia and Dani say goodnight to Adam and Jeff and head inside to go to bed.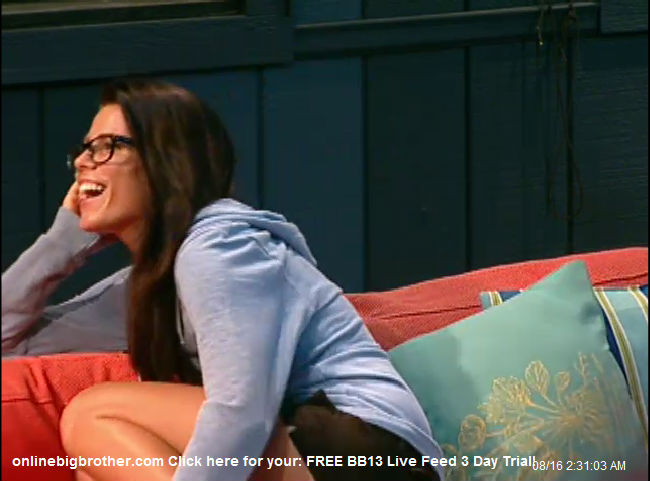 2:45am Jeff and Adam are in the backyard talking. Adam says Dani is the person we gotta get out. Adan says that they need to cut the head off the snake and Porsche and Kalia will be BLANK bricks. Adam says that he doesn't want to see either of them win the game. Jeff asks Adam if he thinks Brendon has to be voted out. Adam says that he thinks Brendon will be able to win any POV down the road so they should just get him out. Jeff says that the pros to keeping Brendon are that he is a target and you control Rachel then. Adam says that he thinks that Brendon abd Rachel will do or say anything to save themselves. Jeff says he knows that is a con. Adam says that he is worried about Brendon and Rachel cutting deals with Dani. Adam says that the reason he voted out Lawon was because he couldn't help protect him and he was worthless. Jeff says that if their side wins it will be him and Rachel going up there will be no big target like Brendon to hide behind. Adam says that they would have the votes to save him over Rachel. Jeff says that it is not an option they have to win next week. Jeff says you have to put up Dani and Kalia to start with because Dani is already playing in the Veto regardless and if she wins and isn't on the block then Dani will pull Kalia off the block. Jeff says that down the line Shelly is a vote but he just wishes she could win something. Adam says that he thinks her game play might improve after getting the phone call home and having been put on the block.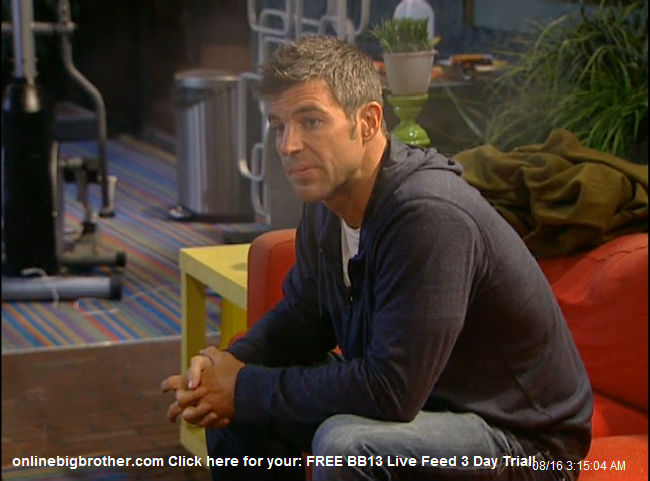 3:15am – 3:45am Jeff says that he doesn't get why the BLANK are Dani and Shelly so close all of a sudden. Jeff says that Dani was eating outside the door and hanging out with Shelly when she was in solitary. Jeff thinks that Shelly is cutting deals with Dani. Adam says that's why we have to cut the head off the snack next week. Jeff say dude if we don't win HOH it's BLANK over, I'll throw up! Adam says that Brendon and Rachel are tough together. Jeff says that it might be too soon to get rid of them. Adam says that Rachel has to know Brendon is going home again. Jeff says they think there is still a chance but they know that it is coming down to Adam's vote. Adam says that it has been hard the last two weeks because he has been the deciding vote and no matter what he does one of the sides will be mad at him. Jeff says that this is the week and the decision that will affect the rest of the game for them. Adam says that he knows it is only a matter of time until Brendon and Rachel stab them in the back and they should just get rid of Brendon now to try and avoid that. Jeff says that Shelly says she would put Daniele up and I think we could convince her too. Adam says that he thinks Shelly realizes it is in her best interest to get Dani out. Adam says Dani has already tried to work him for deals. Jeff says that she has come to him too, but he isn't cutting BLANK deals. Jeff tells Adam that he has been BLANK solid and that he appreciates it. Jeff says that we have to win HOH. Adam says that even if Brendon was here it doesn't guarantee HOH. Jeff says that if it's something physical then he's got it, whatever Brendon can win I can win too. Jeff says that he thinks if Porsche won HOH she would put him and Jordan on the block. Jeff says that can't BLANK happen. The conversation changes to talking about being on big brother. Adam talks about how he hopes others see him on the show and see that it is possible. Jeff tells Adam that it is an honour to be on Big Brother. They decide it's time to go to bed.
6:25am All the houseguests are still sleeping..
If you like this site and want to help us keep it running please consider donating, Your donations go directly to paying the server and bandwidth fees. Donate Link
Follow: @BigBspoilers and @Dawgsbigbrother on Twitter for recent crazed out spoilers. Theres also our Facebook page.
Share it YO!!
Tweet