Big Brother 13 Live Feeds Can be watched on your iPhone and Android Mobile devices sign up -> Watch Big Brother 13 on Your iPhone or Android Phone
9:30pm JJA Jeff asks Adam who he will put up. Adam says Rachel and either Dani or Kalia. Jordan thinks they should keep Rachel around for another couple weeks. Jordan thinks thanks Dani and KAlia ware best and maybe Porsche if the POV is used. Jordan thinks they need to focus on getting Dani out. Jeff Agres thinks they should keep her around for 2 weeks.
Adam is stressing they need to get Brendon out this week. Jordan: "If Rachel would have won (POV) then Jeff would have been the one to leave this week"
Shelly joins them Adam goes to check for booze.
Jeff tells her they are all going to vote Brendon out so Shelly should just play nice to everyone.
Shelly says her gut tells her that Dani wants JJ to trust her. Jordan is nervous about DK because they put Jeff up last week. Jeff knows Dani has to go he's sure that once Brendon is gone Dani will come after him not Rachel. Jeff says that everyone in the house will discount Rachel once Brendon leaves the other side might not think of her as a threat which is bad for him. Jeff wants Shelly to know that they need to keep Rachel around for at least 2 weeks. He doesn't want Shelly to get any ideas about putting her up if She wins HOH.
Shelly: "She will get nothing from me that lie she told JOrdan is unforgivable…"
Jeff: "Dude if you win HOH you can't put Rachel up…" Shelly understands but she's really made at Rachel (For exposing some of her Straight shooting)
Shelly: "I'm 1 billion percent with you guys (JJ)… I'm putting up Dani and POrsche… dani put me up i'll use that excuse"
Jordan: "We'll I'm sure rachel and all them are really nice outside the house"
Shelly: "I will never like Rachel she's a liar"
Jordan: "we just need a couple more weeks"
Shelly: "Rachel screwed me"
JEff : "From who?

Shelly: "You 2 and everyone else… Rachel made up stuff to make me look bad"
Jeff: "I don't care your fine with us"
JJ say they are sure Rachel is throwing them under the bus to Dani and they both can't stand being around her but they are needing to put that all aside to keep rachel on good terms with them. Jordan says she won't be baby sitting Rachel this time. Shelly "god love you jordan, but what she (rachel) did to me was horrible.. Her her vile little smile and her evil eye drive me crazy"
Jordan agrees .. she says if they keep rachel around then Jeff won't be the target because everyone will be wanting to get her out so JJSA need to all agree that when the time comes they will get Rachel out. Jeff says JJSA have to start winning comps and they need to start knocking down their (DKP) numbers..
Shelly goes on and on about how she's done with he said she said, She went out of her way to protect rachel and this is what happens rachel tells lies. Shelly is also done dealing with the other side from now on she's only talking to JJ.
If you like this site and want to help us keep it running please consider donating, Your donations go directly to paying the server and bandwidth fees. Donate Link
10:00pm kitchen DKP Kalia is explaining the reason why she decided to not be a vegetarian in the Big Brother house. She didn't like all the vegetarian products they had they were all breaded. Dani: "Your not a real vegetarian then"
10:05pm backyard JJRS Rachel is telling them about popping pimples and how she thinks a camera shot her doing it. Bot RJ talk about having to get over the cameras when it comes down to things like that. Shelly says these 2 (BR) have had sex on Camera she doesn't think that her poking a zit makes a big difference.
Rachel: "uhh We haven't had sex on camera"
Shelly: "under the blankets on camera"
Rachel: "well uhh it's not noticeable"
Shelly: "Ya RIGHT"
Jeff: "Ohh man did you make a fort?"
Rachel: "We don't make noise.. "
Jeff: "So your fine with your zit.."
Shelly: "that should be the least of her worries"
Rachel doesn't say anything .. subject changes
(Shelly is seriously hating on Rachel.. she better tone it down or JJSA will push Rachel over to DKP, which I think has already happened)
10:10pm Rachel gets dared to eat a tablespoon of cinnamon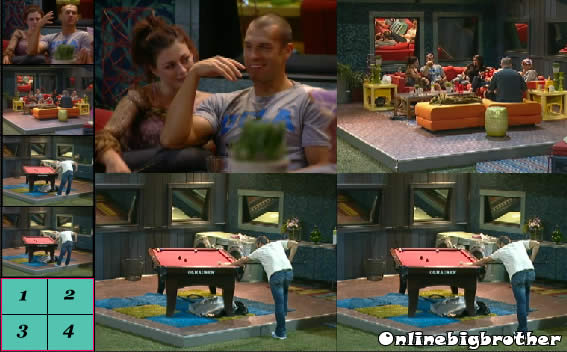 10:30pm They are talking about how much money to eat a cockroach.
Prosche says 25Grand
Adam 10 grand
kalia 500K
Rachel 10-20 grand
Shelly 2500bucks
Brendon 500 bucks
Jeff says if it doesn't make him sick and the money is on the table them 1K
11:25pm Rachel asks Brendon if he heard what Shelly is saying out there.. Brendon says no. Rachel: "She saying.. ohhh i'm going to win HOH and show them… well maybe not the show them part"
11:45pm Backyard Girls are on the couch BRendon and Jeff playing pool. JEff tells BRendon there too many women in this house..
Check out the Big Brother 13 Polls
Share it YO!!
Tweet