Get the BB13 live feeds on your Android and iOS devices. Sign-up for the 3 Day Free Trial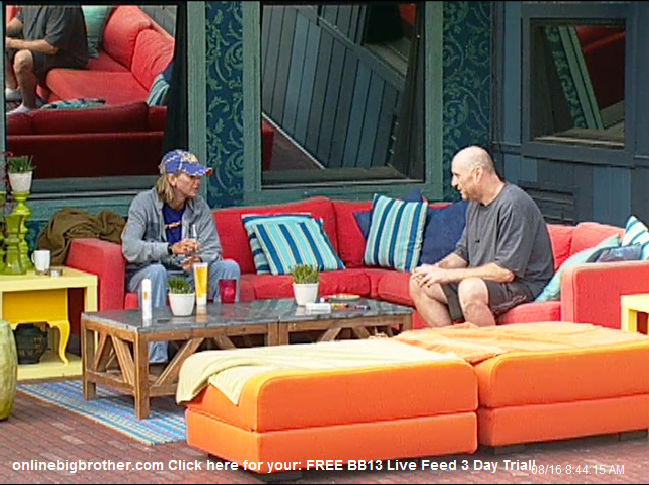 If you like this site and want to help us keep it running please consider donating, Your donations go directly to paying the server and bandwidth fees. Donate Link
7:30am – 9:20am Shelly is awake and out in the backyard already cleaning and doing laundry. 8:45am Big Brother wakes up the houseguests. Adam and Shelly are out in the backyard talking. Adam tells Shelly all about how Jeff was talking to him last night going through all the scenarios and trying to keeping Brendon instead of Shelly. Adam says that obviously you've got to go through the scenarios. Adam says that he kept telling Jeff that we aren't going to get many other chances to do this. Shelly says that Jeff already told me they are voting for me. Adam says and he said that he just hopes they're doing the right thing. Adam says that he told Jeff that we are doing the right thing. Adam says that he said he knows why he's nervous because he is next on their chopping block. Shelly says that keeping Brendon is not going to keep him in the game .. Rachel and Brendon will throw anyone under the bus. Adam says right. Shelly says that they have already chucked him ten times under the bus. Adam says and he knows that ..he is just afraid that… Shelly says that they're afraid I'm going to vote Rachel out because they know I don't want her here. Adam says right. Shelly says that they need her. Adam says right. Shelly says that she understand that but I will not like Rachel. I will… I'm a team player..I'll look out for the team 100%, but if anybody thinks that this next time I'm going to babysit Rachel… Adam says no. Shelly says and give her pep talks and outwardly protect her? …that it isn't going to happen!! Adam says that's what he's afraid of and it makes perfect sense is if.. Shelly says it does me no good if he goes. Adam asks who? Shelly says Jeff. Adam says oh, yeah, that's why it's all coming down to one of needing to win HOH this week. Shelly says absolutely, no matter what there's no excuse, you have to win or you're going home… if I don't win a competition I'm going to be out the door soon. Adam says that's basically what it comes down to. Brendon comes out to join them and the conversation ends… They talk about life and other random things. Adam then heads back to bed. Rachel joins them. Shelly, Brendon and Rachel talk about universities and tuition.. and then Shelly starts asking Rachel about working in Vegas.
WATCH the houseguests LIVE on SuperPass!
Click here for your: FREE 3 Day TRIAL!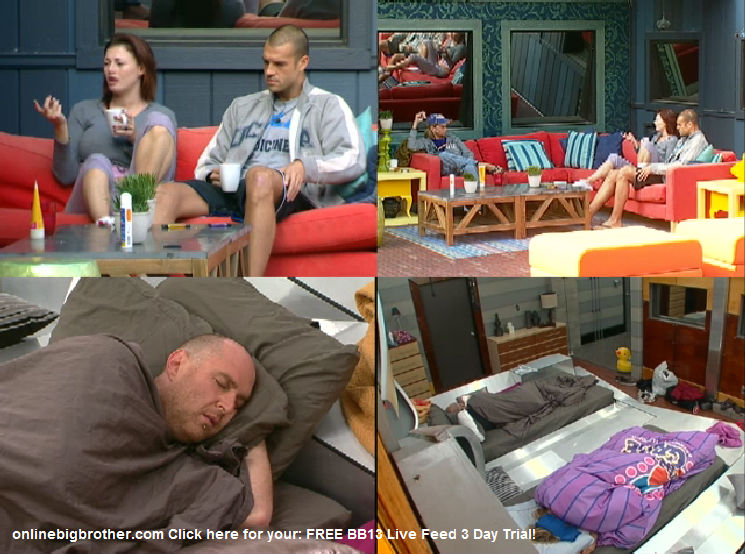 10am Shelly heads inside. Brendon asks Rachel what she wants to do today. Rachel says relax for a bit then work out later.. Rachel mentions that Jeff and Adam were out here till late last night. Rachel says too bad he's not working on your vote. Brendon says yeah right .. I would never have Adam's vote. Rachel asks what do you think about what Dani said. Brendon says I don't know… we'll talk to her and we need to talk to Porsche. Rachel says that we need to make a little bit of a deal as possible and make it as positive and personal as possible. Rachel says that she operates more on a personal basis… and doesn't think about game. Brendon says we'll tell her that I have her back. Rachel says that we'll convince her that she will need a strong physical guy to take on another guy … and that Adam can't do that for her. Shelly comes back out and they continue to talk about Vegas cocktail waitresses.
WATCH all DRAMA unfold LIVE on SuperPass! FREE 3 Day TRIAL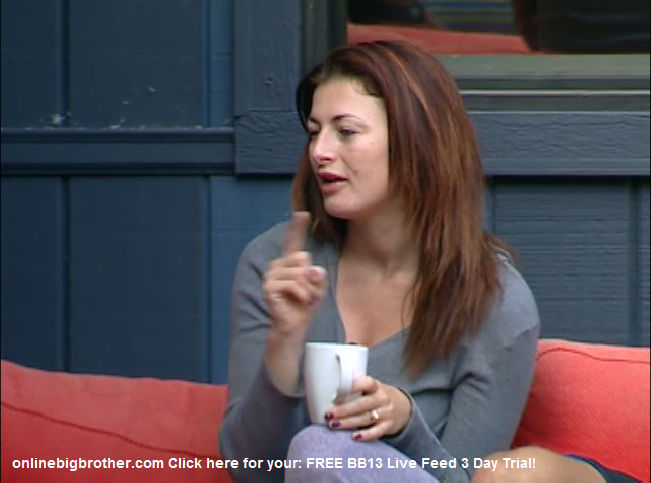 10:15am – 11:05am Brendon is working out on the elliptical. Shelly heads inside. Brendon tells Rachel that he still thinks that he has a decent shot at staying. Rachel says oh for sure.. what do you thing Dani will do if it's a tie. Brendon says that she sure as hell better vote for me. Rachel says well yeah .. she won't get very far if she doesn't… because I won't work with her then! Big Brother tells Brendon to put on his mic. Rachel grabs it for him but he says no I will get too sweaty. Rachel says fine ..I won't talk to you then. Rachel heads inside to make breakfast. Rachel then heads into the bathroom and starts putting on her makeup. Shelly goes out into the backyard and starts cleaning and sweeping. Brendon finishes up on the elliptical and heads inside. Rachel and Shelly talk about how everyone just sleeps in the house. Shelly says that the birds sure do like hanging out over here by the pool table. Rachel says that a bird pooped on her the other day. Rachel talks about how there were cockroaches in the house last summer. Shelly says if thats true ..it's because it wasn't clean ..and I won't let that happen this year.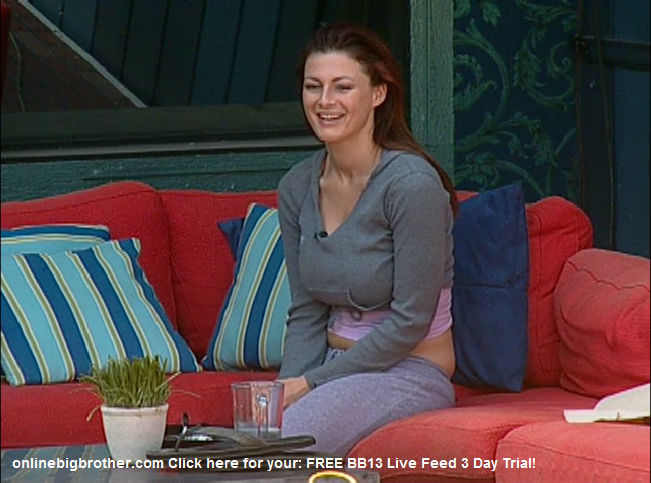 Brendon starts running around the backyard and Rachel tells him that he should take his shirt off. Rachel then asks Shelly if Brendon should take off his shirt. Shelly says absolutely. Brendon finishes his run and goes to the bathroom to shower. Shelly is in the backyard killing ants. Rachel brings out their laundry and starts reading the bible on the backyard couch. All the other houseguests are still sleeping.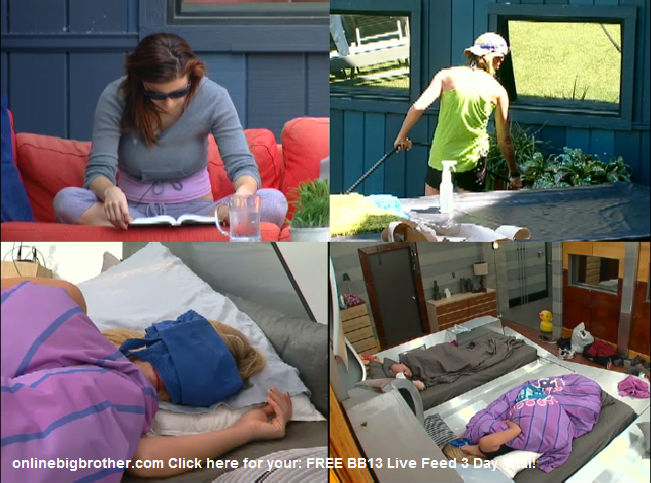 11:30am – 12pm Shelly continues to clean the backyard. Rachel and Jordan are in the bathroom talking. Rachel is telling Jordan how Jeff was up late talking to Adam. Jordan asks really?! Big Brother yells are Jordan for not having her mic on. Jordan is all confused and doesn't remember where her mic is. Rachel heads back outside and starts stretching. Shelly is laying out on the lounger. Adam is up and sitting on the backyard couch by himself, Jordan is in the pool and Brendon is making something to eat in the kitchen. Adam tells Shelly about his dreams. Shelly and Adam start talking about sports.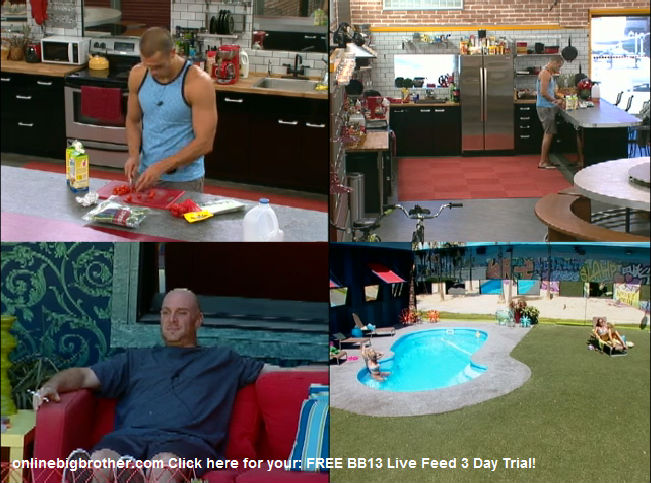 Big Brother 13 Spoilers POLL CAST your VOTE!

Big Brother 13 Live Feed Image Gallery
Follow: @BigBspoilers and @Dawgsbigbrother on Twitter for recent crazed out spoilers. Theres also our Facebook page.
Share it YO!!
Tweet