Get the BB13 live feeds on your Android and iOS devices. Sign-up for the 3 Day Free Trial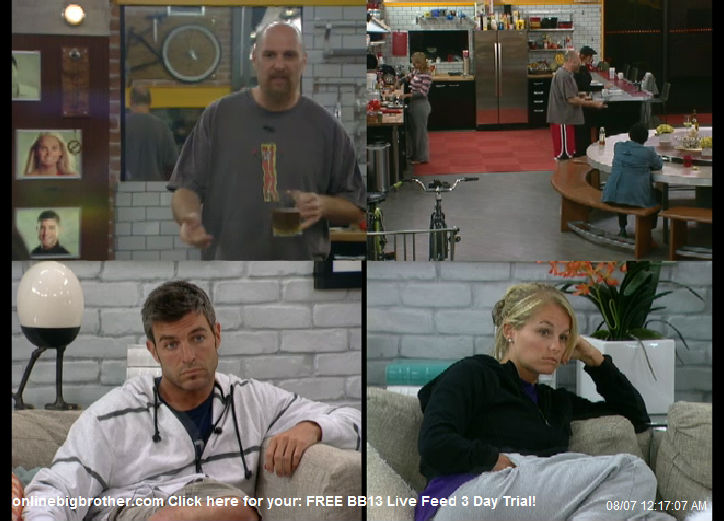 If you like this site and want to help us keep it running please consider donating, Your donations go directly to paying the server and bandwidth fees. Donate Link
12:15am UP in the HOH room are Jeff, Jordan and Kalia. Jordan is apologizing for how she acted the other day. Jordan saying that she isn't normally like that. Kalia says that she really wanted to talk to Kalia way before nominations because she knew what her plan was and she didn't want her to think that she was trying to backdoor her or get her out. Kalia says that she knew she was taking a risk but she needed Jeff to play for the veto and win. Kalia says that she wants Rachel out. Kalia says that she was scared if you won you would take her off. Kalia says that she never intended to and won't put up Jordon, and I won't backdoor you or use you as a pawn. Jeff says but if Rachel had won, I would've been out, give me that. Kalia says I'll give you that but Rachel was my target. I knew she would be so out of it this week so I needed to get her out this week, next week she'd be gunning and I needed strong people to play in the veto. Kalia says that she completely understands them being mad at her. Kalia says that she knew of the six people in the veto everyone was against Rachel.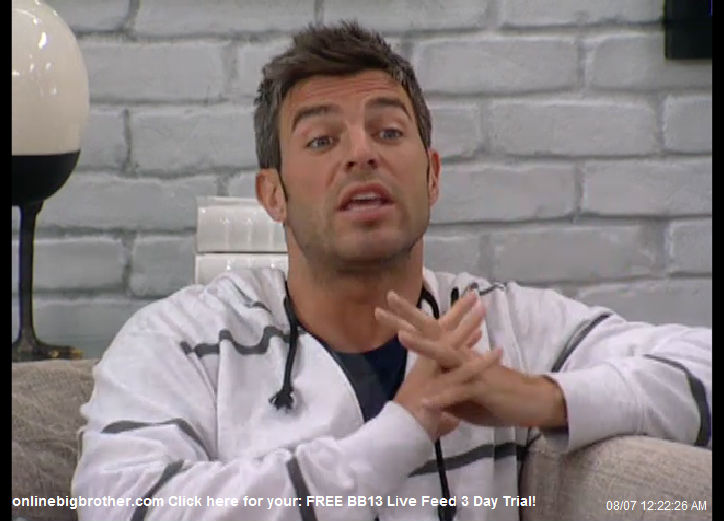 Click here for your: Live Feed 3 DAY Trial!
Kalia says that she tried to show in the veto that I know we're in different alliances but I want to keep you safe. Jeff asks was it worth upsetting people though? Kalia says that she didn't realize how upset you would be. I guess I didn't see the bigger picture. Jeff says well what does your picture look like now? ..because you know Rachel is coming back. Jeff says well you did the opposite of what you were suppose to do, you put up two strong players and I told you I was getting myself off the block. Jeff says you made me dance for my dinner.. so expect next week for Big Jeff to make you dance as well. Kalia says no, I know.. I just want to protect Jordan. Jordan says well we had already talked to Dani about a one week deal… so we knew we were safe. Kalia says I know, but I was trying to do what I could do, but in the past two HOH's it was obvious the other side of the house doesn't want me here. Jeff asks how many times have I put you up? Zero. Kalia says that was week two, I'm talking about the last two weeks. Jordan tells Kalia that she should have just asked us. Jeff says that he told Dani that he is tired of this BLANK. He is tired of people skating by. Jeff says if he gets kicked out because of this battle… he doesn't even play this game …everyone is running all around playing telephone. Kalia says well I want to stay to my word and will not put Jordan up. Jordan says well I'm sorry for yelling at you and you have to do what's best for you and…do that. Jeff and Jordan leave the HOH room.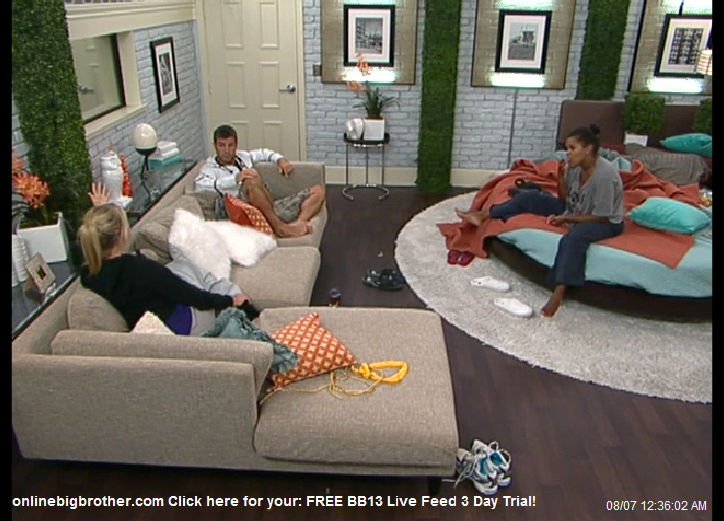 1:10am In the HaveNot room, Jeff and Jordan are talking about the next HOH. They talk about whether it will be a skill game or not. Jeff says that production might tell them on Wednesday. Jordan says the only people she doesn't want to win HOH is Dani, and Lawon. Jeff and Jordan start talking about the twist. Jeff says that the wording might be a trick… someone's coming back, it's as simple as that. Jordan says that she just can't see them not bringing Rachel back, because people are going to want to see that battle. Jeff says we'll know more Thursday though. Jordan says that everyone is going to feel stupid if they keep speculating, and nothing happens. Jeff says that he hate the way Dani competes like she thinks she's so cool. Jeff says that he hated the way she chugged the drink in the food competition, like she was a gladiator. Jeff says that he doesn't want to see that BLANK face this week. Jordan says she thinks that if Adam won, he'd be persuaded. Jordan and Jeff are confused about how Production didn't tell them they were in Jury yet. Jordan says well maybe we're not in jury yet. Shelly comes in and they talk about Rachel crying and her nervous breakdowns. Rachel comes in to join them. Jeff asks Rachel what she was you doing in there? ..Just venting? Rachel says pretty much, I just wanted someone to talk to, I felt like I didn't have anyone to talk to. Rachel says that she said to Kalia that she promises you are not my target if you keep me in this house. Rachel talks about telling Kalia that she has to nominate someone that will keep Rachel in the house. Rachel says that if Kalia nominates Adam, Rachel will be evicted. Rachel told Kalia not to nominate Jordan. Rachel says that she doesn't know …I don't know what she's going to do. Jeff says she is going to get three people mad, and not get anyone out at the end of the week. Rachel says she told Kalia that she promises she is coming back.
24/7 UNCENSORED Big Brother 13 Live Feeds!
Click here for your: FREE 3 Day TRIAL!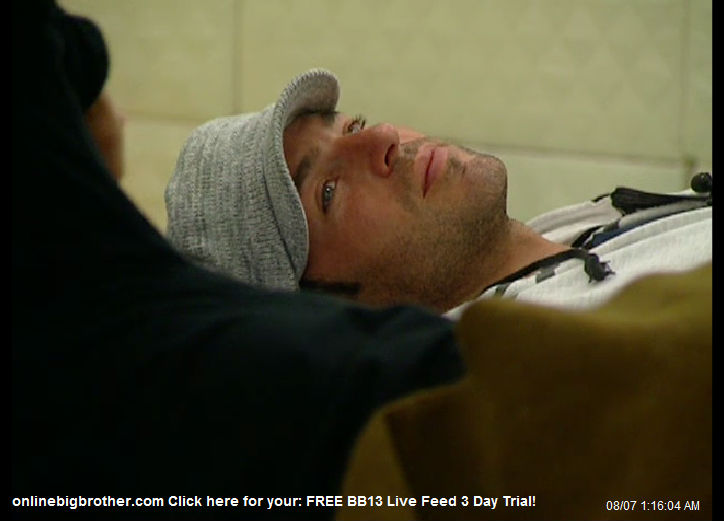 2:30am Jordan tells Rachel not to beat herself up about the decisions they made as a group. Jordan says that she is confident Rachel is coming back. Rachel asks Jordan if she trusts Shelly. Jordan says that you have to trust somebody but her and Jeff arent telling her everything. Rachel says that she sees Shelly running to everyone.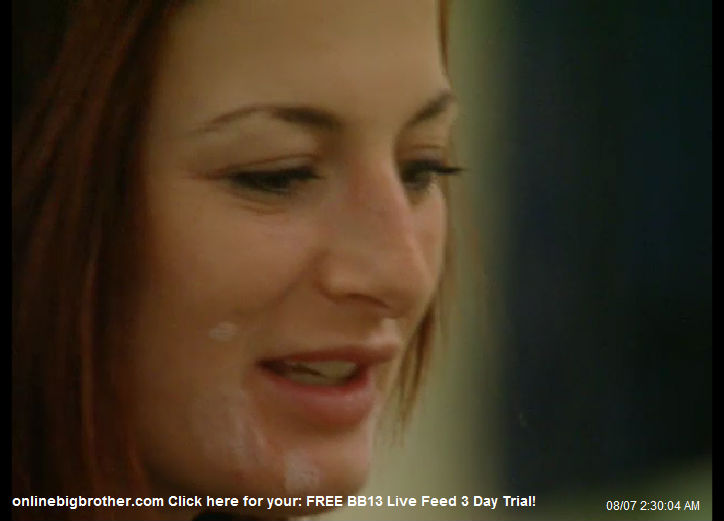 3:20am In the backyard Jeff and Jordan are talking to Adam. Adam asks Jeff if they got any idea from Kalia whats she's going to do? Jeff says that he doesn't know and that he told her she made a big mistake, she's going to upset three people. Jeff says that Kalia thinks the person returning will only be back in the house for only 24 hrs. Adam says that he hopes she doesn't do something crazy and put him up and Jordan assures him even if she did he would have the votes to stay. Jeff says that she wants to get Rachel out. Adam asks Jordan if he thinks Kalia would put her up again as a pawn and Jordan says she could totally see Kalia doing that. Jeff says Jordan wouldn't be going anywhere. Jordan says that she doesn't think Kalia will put up Porsche because she could go home instead of Rachel. Jeff asks who they think Porsche would put up if she was HOH. Jordan says probably me and you. Adam says he doesn't know she doesn't talk game to him. Adam says that she just lives to BLANK …I don't even think she knows what she'd do, she would probably let someone influence her. Jeff says yeah she would. Jordan says she hopes Rachel does come back for at least a couple more weeks to get some of these people out. Jeff says that he wonders if Porsche would vote Rachel out now. Adam doesn't think she would but Jordan thought she might vote with the house if they were voting Rachel out. Jordan says that she thinks if Rachel did come back and win HOH Porsche would come running back to her. Jeff says that he thinks Porsche could be influenced. Jordan says she is going to bed. Adam hugs Jordan and he thanks her for spending the first part of his forties with him.
Sign-up for your: Live Feed 3 DAY Trial!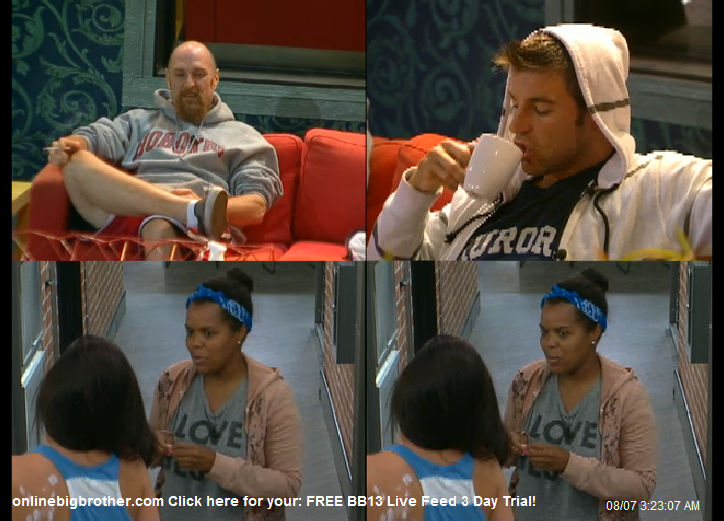 4:15am – 5am Porsche, Kalia, Dani, Adam and Lowan talking about sex in the bedroom. Dani says the worst thing she ever said to a guy was during sex when she told him that she didn't want anything serious. Adam says no one ever said anything bad to him, and that he satisfied everyone! Lowan says he asked what is that?! They laugh. Adam explains to them what a dirty sanchez is…. Adam saying that it's when you stick your finger up a girls ass or your ass and wipe your finger under her nose. The continue to talk about random stuff and then decide to go to sleep…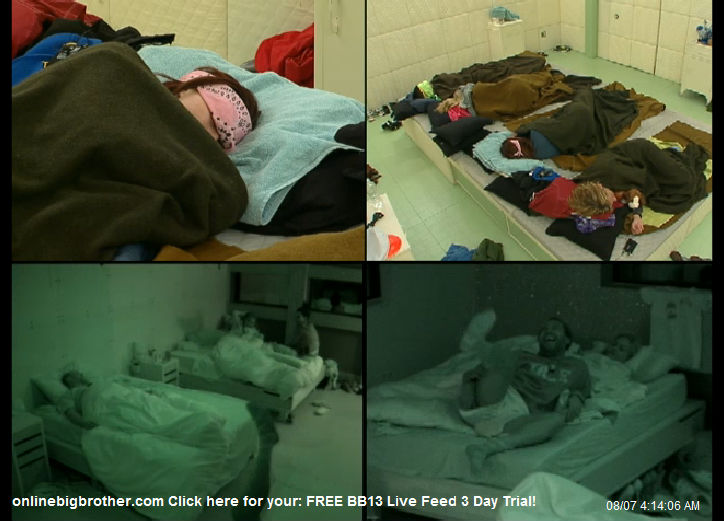 5:50am Shelly is up and now out in the backyard having a smoke and a coffee.. all the other houseguests are still sleeping..
6am Shelly goes back to bed… Everyone is asleep…
8:15am All the houseguests are still sleeping..
9:40amAll the houseguests are still sleeping …
10:35am Big Brother cuts the live feeds to wake up the houseguests…
Big Brother 13 Spoilers POLL CAST your VOTE!

Big Brother 13 Live Feed Image Gallery
Follow: @BigBspoilers and @Dawgsbigbrother on Twitter for recent crazed out spoilers. Theres also our Facebook page.
This is not the official CBS Poll, go to this link https://www.cbs.com/shows/big_brother/americas_vote to vote for a evicted houseguest to have a chance at coming back into the house

Share it YO!!
Tweet