Big Brother 13 Live Feeds Can be watched on your iPhone and Android Mobile devices sign up -> Watch Big Brother 13 on Your iPhone or Android Phone
9:21pm Kitchen dam, Lawon, Rachel, Jordan. Shelly and Jeff Adam is all over 4:20pm saying he was born on the east coast at 4:18pm just in time for his first 4:20pm (Team Bacon yo) Shelly doesn't know what that means. They whisper to her "It's smoking the reefer" Jordan wonders why they picked 4:30. Adam explains it was this high school and te students use to get together and get high near a statue.
9:42pm Adam saying that he wants Jordan to shave his beard. he needs to find out if production will let him. the reason is Adam wants jordan to is because she works at a hair salon. jordan: "I only work the work the front desk" Adam: "Doesn't matter you're still the most qualified..
9:45pm purple Room Rachel Just staring at the wall by herself. She can listen to JJSA talking in the kitchen having a fun time. (rachel should be cluing in right now that these 4 are tight..)
10:13pm Havenots Jeff and Jordan Jordan asks him if he knows who Kalia is putting up. Jeff isn't sure he hasn't talked to them, he says they need to cut a deal with that side so their safe next week. Jeff: "if I win HOH i'll stab them all right in the back.. Sorry". Jordan tells him she's is just really made at the people that since day one haven't done anything or been on slop. Jeff: "hey your really mad about it"
Jeff: "you're talking about porsche right"?
Jordan: "Porsche and Lawon.. Porsche gets on my nerves.. I can't wait until HOH and i'll put her up"
Jeff: "you're getting cutthroat.. I like it"
Jordan: "I'm not having fun anymore.. I want to tell them all to you know what themselves".
Jeff tells her to calm down, they know what the sides are now she they can be as fake as they want and have no regrets. Jeff says they wronged him once and now he won't care what he does to them the second he wins HOH he's taking them out. Jordan: "I guess I really just want dani and Kalia our".
Rachel joins them.. starts talking to the camera.
If you like this site and want to help us keep it running please consider donating, Your donations go directly to paying the server and bandwidth fees. Donate Link
10:24pm All cams houseguests talking to the cameras, Adam about tory spelling and Rachel to Brendon
10:43pm Jeff telling Jordan she needs to stop being "joe cool" she needs to bite her tongue, she'll never see these people again so just play it quiet. He doesn't want to run the risk of him getting knocked out and Jordan has burnt all her bridges and is screwed. JEff: "Put on a fake smile we're half way there then we never have to see these people again" . He instructs her to start talking to Kalia because what she's doing right now isn't helping them , He comments on something she said during the Nomination ceremony( Forgot what it was but DPS were talking about it earlier today), says she got it all out but now needs to keep it under control.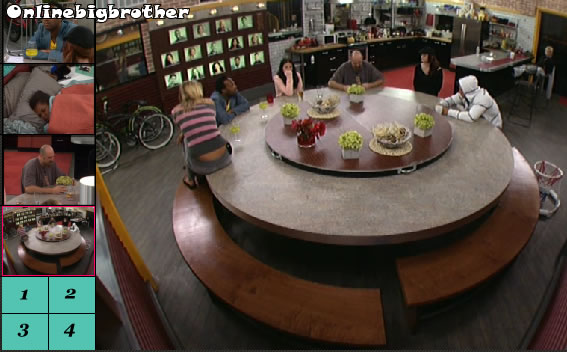 11:10pm Dani, Lawon, Rachel, POrsche, Jeff, Jordan, Shelly Adam and Rachel are trying to figure out what games they can play. they list threw a bunch but nobody feels too excited about it. Jeff gets up to leave "Can we have some tranquilizer Big Brother".. Rachel being really friendly and normal. Jordan isn't saying much just looking pissed. Jeff comes back and Rachel thinks they should make a twister game.. They start constructing the board. Rachel asks Jeff if he wants to play he say no it's stupid. rachel continue to make the twister board with Adam. Jordan sneaks some glares at Dani. (Jordan not saying much at all)
11:26pm Still random chit chat.. everyone but Jordan is talking. Jordan is giving some death star into space.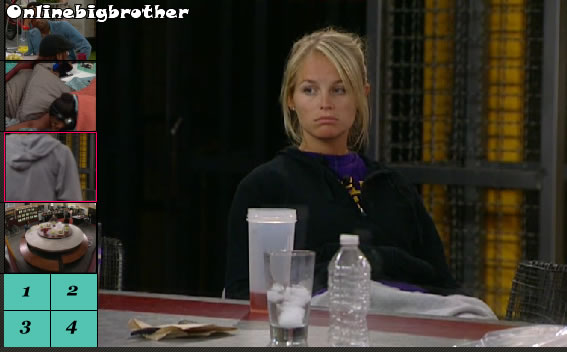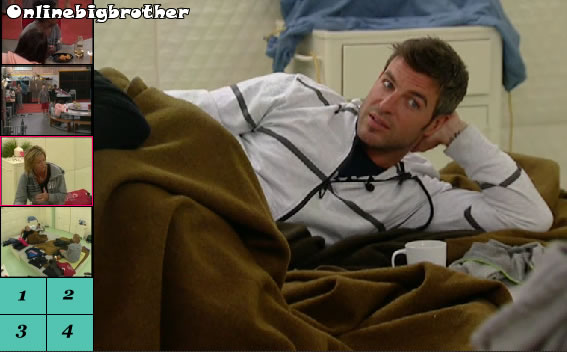 11:40pm havenots, Shelly, Jeff and Jordan Shelly saying that Kalia is freaking out she's so cared right now. Shelly also adds that Dani is freaking out to and she doesn't think they are as close. Jeff expected that, he says there is no way those 2 would be friends outside this house.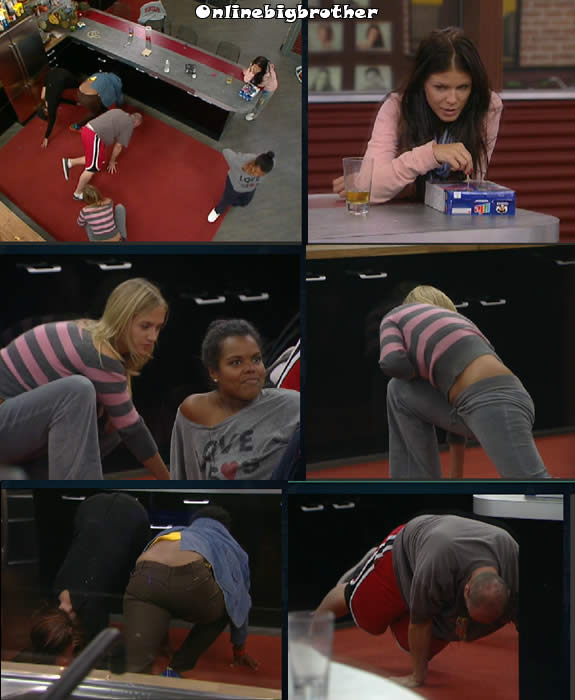 12:01AM Adam, Dani, Kalia, lawon, Porsche Playing Twister and celebrating Adam's birthday. everyone is having a decent time. (rachel is doing a good job of improving her social position in the house) . Shelly is in the havenots with JJ, she's shooting Straight. they are talking about the twist and Jeff thinks it's funny Kalia isn't factoring that in with her nominations.
This is not the official CBS Poll, go to this link to vote for a evicted houseguest to have a chance at coming back into the house


Big Brother 13 Spoilers POLL CAST your VOTE!

Big Brother 13 Live Feed Image Gallery
Follow: @BigBspoilers and @Dawgsbigbrother on Twitter for recent crazed out spoilers. Theres also our Facebook page.
Share it YO!!
Tweet