Get the BB13 live feeds on your Android and iOS devices. Sign-up for the 3 Day Free Trial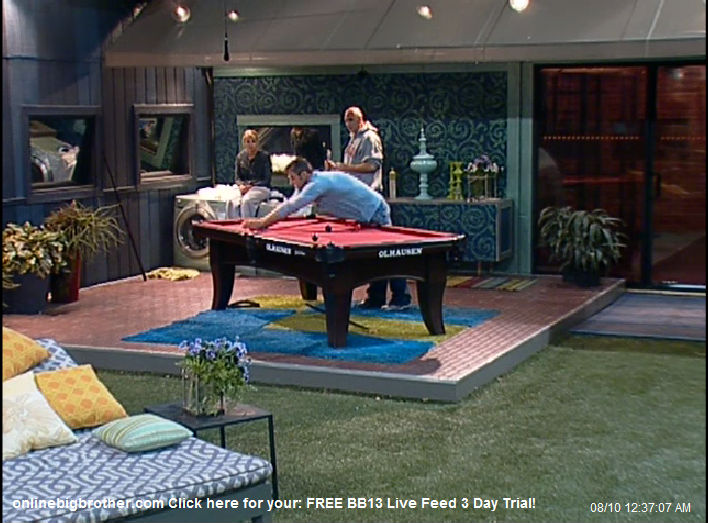 If you like this site and want to help us keep it running please consider donating, Your donations go directly to paying the server and bandwidth fees. Donate Link
12:30am In the backyard, Jeff is playing pool with Adam while Rachel is talking to him. Jeff says that he wants to know what's going on. Rachel tells him over and over again that she thinks they are trying to frazzle her. Rachel tells Jeff that they didn't try and make deal with me. Jeff says that she should have told them to throw themselves over the balcony. Rachel says they were trying to bully her. Adam told him to keep talking game because he does better when Jeff talks game. Jeff and Jordan are talking. Jeff tells Jordan that Rachel is a loser. Jeff says that she was acting like a four year old. Jordan tells Jeff that he needs to start talking to her nicely. Jordan says she should go to Porsche and talk to her and get her own votes. Jeff says he's tired of dealing with her. Jordan is telling Jeff that Porsche is up there trying to find out what's going on and that she told Rachel that Shelly worked hard trying to get her to stay. Jeff is really annoyed. Jeff says can they get some BLANK medicine down here. Jordan says they should give Rachel some nerve medicine. Adam says Jeff needs to take some too. Jordan says again that it will be so cool when the votes come out… they'll be so surprised. Adam says that she tries to turn the emotions off and she can't. Jordan says that she told her not to listen to them and she won't. Jeff says they can't tell her she has the votes because she'll walk around all cocky and tell them, but they don't want them to know. Jeff says that it's like he has to eat 500 pounds of BLANK and he can't give her one spoonful. Jeff says that she can't comprehend. Jordan says that she's used to being babied. Jordan says that it's the way he talks to her. Jordan says that Porsche should give Rachel a vote because she would be gone.. Jordan says that she will tell Porsche to her face that she is a liar, so go get in your bathing suit and start cooking somthing! They laugh. Adam says that he's going to be outted this week because they think he's with Kalia and Dani and the votes will show that he's not. Jeff, Jordan and Adam are planning to pin the four to two vote on Porsche. Jordan says that they should get Adam to vote for Lawon and put it on Porsche so they can get Kalia and Dani to turn against her. Jordan says that Porsche is a liar anyway, so it would work.
TRY the Live Feeds for FREE!
Click here for your: SUPERPASS – 3 DAY Trial!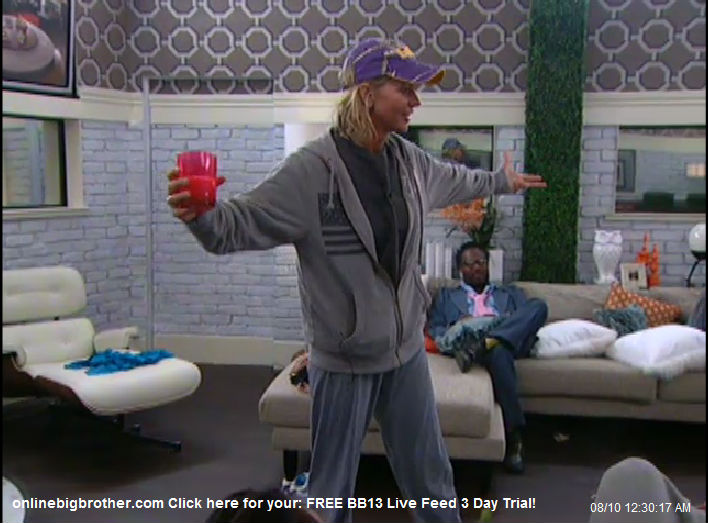 Meanwhile, Shelly heads up to the HOH room and confronts Kalia, Lawon and Dani asking them to tell her what is really going on. Shelly confronts Lawon saying that just yesterday he was mad at them freaking out and now he is up here laughing and joking around. Shelly says that they don't tell her anything. Shelly says that they are up here scheming and trying to mees her up. Shelly says spill the beans. Shelly says that she is a mom ..she can see through BLANK. Shelly says that she's a Mom and can tell they're lying by looking at their pupils. Lawon tells Shelly that he isn't lying. Shelly then starts getting in closer to check each of their eyes. Shelly says that Lawons pupils are pencil thin … you're lying to me! Shelly starts yelling telling them that they are all lying to her! Shelly is yelling a lot and pointing at each one of them calling them liars. Shelly start to go up to Dani and Dani heads into the bathroom. Dani tells Shelly that she will talk to her tomorrow. Shelly says that she is not as dumb as she looks. Shelly says that she heard laughing and wanted to come check it out! Dani asks her if she found the grill and the chess pieces yet? Shelly says that they are trying to change the subject. Shelly says that she isn't scared to come up here. Shelly heads back down stairs.

Shelly tells Jordan and Adam what just happened in the HOH room and that Dani told her that she will tell her whats going on tomorrow. Shelly says that they are all a bunch of BLANK liars up there! Shelly says that she could hear Lawon laughing up in the HOH so thats why she went up there to see what was going on. Shelly tells them that she called them out. Shelly says that she hates to be played for a fool. Shelly tells Adam that Lawon is playing him. Shelly says that she thinks it was Lawon that hid the things in the house. Shelly says that they are up to something… she knows it! Adam starts talking about what he will say when the votes comes out four to two. Shelly says Adam says that Lawon still hasn't asked him for a vote. Shelly acts out how Lawon was acting the day he was nominated. Shelly says that she asked Lawon what was going on and why was he was all angry. Shelly says that she could tell he was lying from the size of his pupils. Shelly says that Lawon told her it was because of his glasses. Shelly says that she told Lawon he was lying and his pupils were the size of a pencil. Shelly says that Kalia and Dani think they have Adam. Adam says he wants to keep it that way and let Rachel sit in a corner. Jordan tells Adam to continue to get information from them. Shelly says that she looked Rachel in the eye and told her that if she goes upstairs again, she is voting her out. Shelly says that Rachel needs to get some balls!! Jordan says that Jeff, Adam, Shelly and I have all been honest about everything.. they are the liars up there!
FLASHBACK – Don't miss all the drama!
Superpass – 3 Day FREE Trial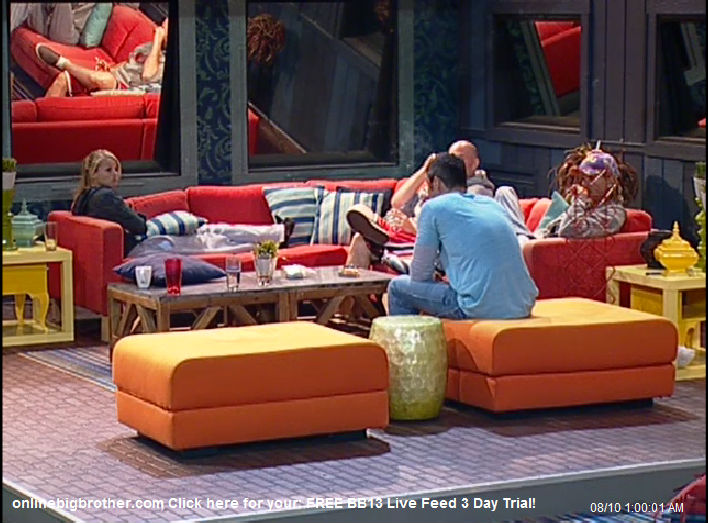 1am Lawon and Porsche are talking about how Shelly has been acting really shady. They talk about how she sits around saying she never lies in this game. Lawon tells Porsche that Shelly is crazy! Porsche says that Shelly is always cleaning and saying that she doesn't know why she is in this game. Lawon says that Shelly has always been nothing but honest in this game and that anyone who says things like that makes his radar go up. Lawon says they should be careful what they say to him while he's on the block because they have no idea what the twist is. Lawon says that it could be that they send him to sequester until three weeks before finale and give him a tape and then send him back into the house to tell everything. Lawon says that they need to be careful. Lawon says that Shelly said in front of Jordan that he had said that he would put up Kalia and Dani. Lawon says that Jordan said she didn't believe it, because they are his people. The conversation ends and they start talking about random stuff. Shelly heads to bed.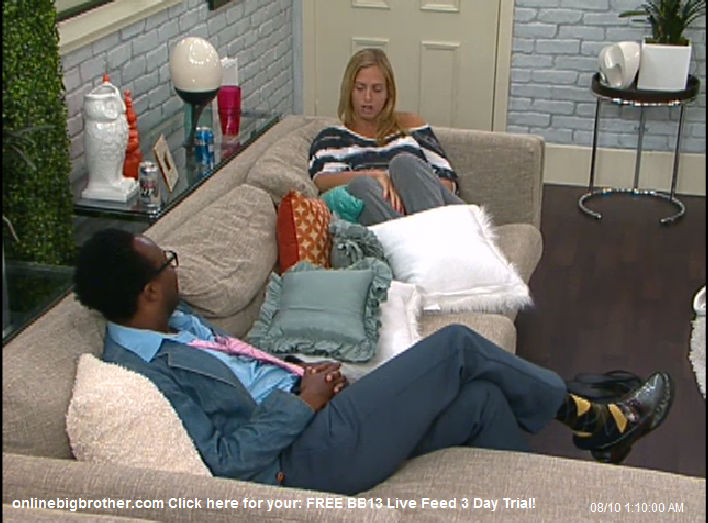 2:50am Jeff and Jordan are in the lounge room talking about what they should do this Thursday. Jordan says that she thinks they should talk to Lawon. Jordan says that she thinks they should tell Lawon that they like him but that Rachel has been in their alliance since day one. Jordan says that they just need to be nice to Lawon just in case he ends up coming back. Jordan says that they don't want him to be mad at them and up them up if he won HOH. Jeff agrees. Jordan starts talking about how hard it is to keep Rachel under control. Jeff agrees and says that her and Brendon are meant for each other. Jordan says that maybe he's a little crazy too. Jeff says that he was thinking about talking to Dani and telling her that she's not his target ..that he is going after the floaters like Porsche and Kalia. Jeff says that Dani would take a deal with them if they offered her one. Jeff says that he wants Rachel fight Porsche because I feel like she is coming after us because I said we were going after the floaters. Jeff says that Porsche has to know that she is a floater. Jordan says that she is going to start some drama between them tomorrow.
See What They Can't Show You On TV! SUPERPASS – 3 DAY Trial!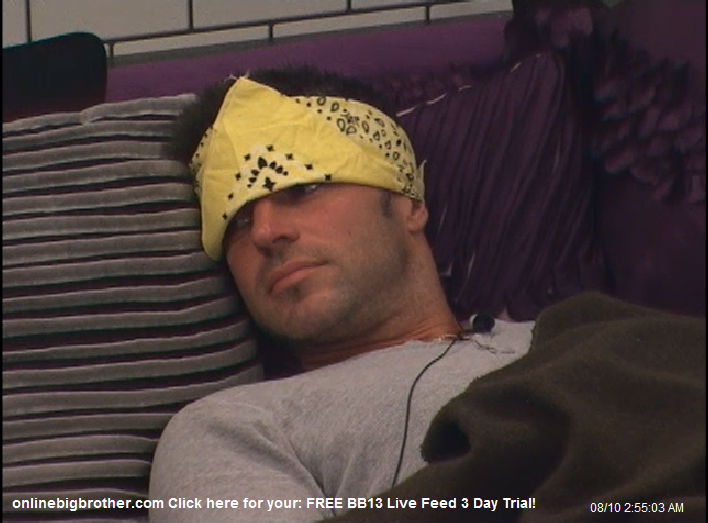 Jeff and Jordan talk about being targets because they are the only couple left in the house. Jeff tells Jordan trust me if we wanted to cut a deal with Dani …she would take it. Jeff says that Dani doesn't want to be working with Kalia. Jeff says that he wants to shoot himself whenever he talks to Kalia. Jeff says that Dani wants out of there… that's not her type of person. Jordan tells Jeff to tell her that we if win we'll back door her and that we will tell her that before the HOH competition. Jeff says yeah, I'm going too.. I think it's a good idea, I don't think we are getting screwed. Jeff says that the votes will come out the way we want them too. Jeff says that he doesn't think Adam or Shelly will flip.. Jordan says that if Dani hadn't turned on them ..we would be coasting. Jeff wonders if she is America's Player. Jordan says for her to have turned on us …it was ballsy …maybe she has some type of power.. Jeff says maybe ..I just don't see why she would target us if she wanted me out so bad. Adam comes in and joins them. They talk about what they others are doing right now … Adam tells them that they are playing games. They all decide to go to bed…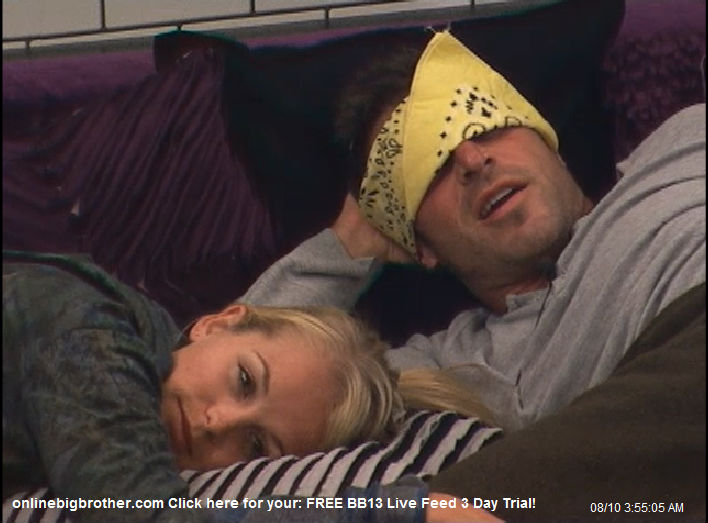 4:25am All the houseguests are now asleep…
6:30am All the houseguests are still sleeping..
7:25am – 9am Shelly is up, does her morning routine, then starts cleaning the backyard…
Big Brother 13 Spoilers POLL CAST your VOTE!

Big Brother 13 Live Feed Image Gallery
Follow: @BigBspoilers and @Dawgsbigbrother on Twitter for recent crazed out spoilers. Theres also our Facebook page.
Share it YO!!
Tweet