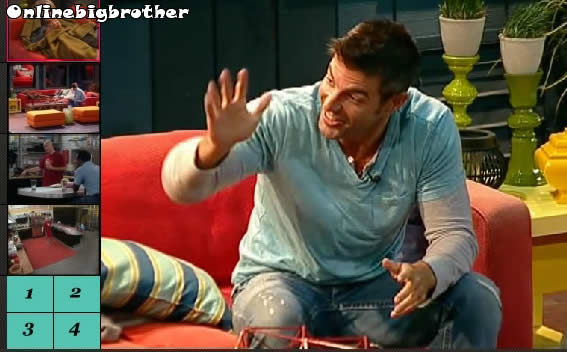 Big Brother 13 Live Feeds Can be watched on your iPhone and Android Mobile devices sign up -> Watch Big Brother 13 on Your iPhone or Android Phone
8:59pm Backyard Jordan, Jeff and Jordan says she has no problem putting certain people in the house on slop
She's going to make a super big meal right in front of them and say you can eat this. Jeff and Rachel say he's not going to do that. jordan says she just
jokesing. Jeff adds that it doesn't even feel like he's on slop. He warns Shelly that she better not
get on slop next week because she's losing too much weight , "Your shivering look at you"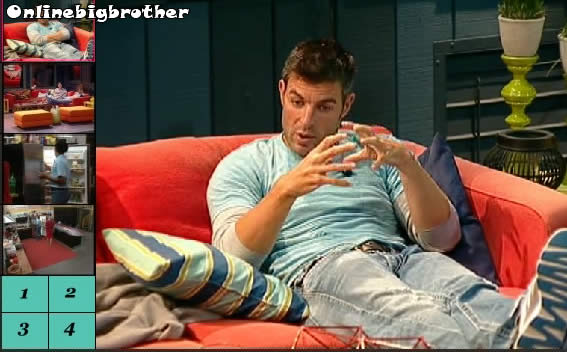 9:10pm Rachel, Jeff and Jordan talking about how they need to get the power this week (actually at this rate the DKPL alliance's biggest enemy is themselves if another one of them win HOH they'll likely put their own up. )
Rachel tells them she promises them if she gets evicted this week she's coming back. Jeff tells her she's not going home this week. rachel comments about how stupid the other side is, Jeff: "For being GAME players they sure make all the wrong moves"
They all agree that they need to talk Porsche into thinking she's safe with them so she doesn't try for HOH. Jeff: "It'll all of us Vs. Dani on Thursday". They start bashing Porsche for putting Jeff and Shelly up last week in comp last week.
Jordan says Kalia will be all over her again if she wins HOH, "I'm going to work it to get everything I can out of her". They all laugh.. Jordan: "I think Dani is going to be really hard to get out" rachel and Jeff agrees. Rachel: "Buut with this twist they'll not do it again so we'll just need to get her out once" Jordan wonders if the person that comes back will be given some power. Rachel: "No way that's too much power"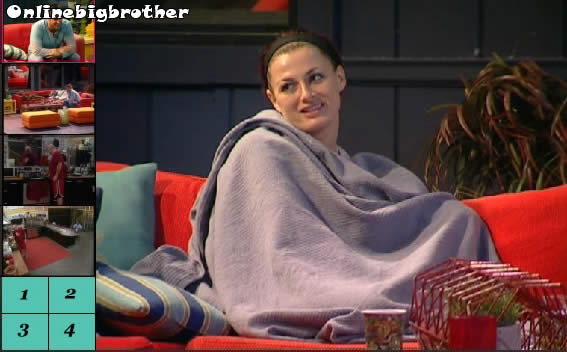 They all start bouncing ideas off each other about the twist. Jeff now has completely figured out the twist and he explains that because production hasn't brought up sequester house there all the past evicted houseguests may all compete with this weeks evicted houseguest
They start laughing about what would happen if BRendon comes back this week, Jeff: "Dude he would walk in be like I had to arm wrestle lawon". Jordan: "If Brendon came back he would have to sit out in HOH". rachel: "Ohh of course". Rachel: "I wouold absolutely Die if Brendon comes back". Jordan says it would it be funny if brendon was in sequester the whole time while Rachel was talkign to him on the cameras.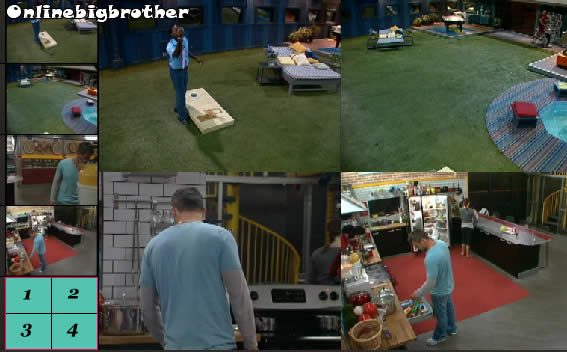 9:50pm random chit chat and games being played
10:38pm HOH Dani and Kalia Dani telling Kalia that she really needs to stop telling Shelly everything. Dani does not trust her. Kalia brings up how Shelly talks about how she doesn't lie and is a straight shooter.. She finds it disgusting that Shelly would lie but make such a big deal about not lying. Dani tells her that Shelly is the biggest liar in the house and she talks to everyone so every time Kalia opens her (BLANK) mouth in front of Shelly it goes to Rachel, JJ, and Adam. Dani really needs Kalia to stop telling Shelly anything.
11:10pm Dani and Porsche Kitchen Porsche says that Rachel wants to talk to her tonight.. Dani knows that Shelly has told her everything. Dani saying that Shelly is talking to the entire house it's completely obvious now. Porsche asks what did Kalia tell Shelly. Dani says Kalia told her the entire plan. Prosche: "I don't know this was dumb" (basically their plan to put lawon up) Dani: "what you have to know is if we want to vote her out we can vote her out…. Seriously…" (where are you getting 3 votes from, lawon's on the BLANK block.. 'seriously')
Dani says she cannot understand why Kalia did this. Adam comes in.. Dani and Porsche Agree they need to win HOH this week.
11:21pm HOH Rachel, dani and Kalia (This is pain to listen to)
they ask her where her head is at. Rachel says she has 2 votes for sure but she thinks she's going home but because of the twist she's coming back. rachel tells her she has no nobody in the house. They call Rachel out for going to Dani for a deal then going to Kalia the next day saying she's going to target Dani. Dani says she's thinking about making a huge change in the game and she wants to go out on a HUGE limb and not get screwed by Rachel in the end. Rachel tells them how screwed she is in the game since Brendon is gone she feels like she's the target every week
Dani asks where does that leave Rachel if she gets the votes she needs. Rachel says it means I need to restructure my game and make some deals. Kalia says they have the votes to keep rachel we have the votes to evict or keep you. Kalia offers her the deal they will keep rachel safe this week if Rachel doesn't come after Kalia and Dani next week, "I call a truce"
Dani says she had enough of the floater talk and no one in this room is a floater so if Rachel should follow through with everything she preaches and take out a real floater. rachel agrees says there is a lot of floaters to take out.
Rachel: "I'm going to target floaters I am not targeting you or Dani"
Kalia says if Rachel goes downstairs and tells anyone in the house the deal is off Rachel will go home.
Rachel asks Dani if she is coming after her now.. Dani says it's up for negotiations she just needs to know she can trust Rachel.
Rachel: "I do not go back in deals but if you evict me deal is off"
Dani asks her who she will put up if she wins HOH next week
Rachel: "I'll tell you on Thursday when I have the HOH"
Rachel: "you are saying you have Porsche, Adam and Shelly's vote"
dani: "Noooo all we're saying is we have enough votes to keep you"
Rachel: "What if Lawon comes back in the house what are you going to do"
Kalia: "I dunno nothing… "
Rachel: "Umm Dani do you still want people to think we hate each other"
Dani: "I think we've been cordial.. lets just keep it the same"
Dani: "I swear to you anything you do say i am not going to tell any one outside this room"
Rachel agrees 100%, "It's very difficult to do anything in this game with the people playing it"
Rachel: "I want to talk to you guys on Thursday after I win HOH" (hahaha to tell DK they are going up) Rachel says she really wants to win the HOH and prove to them that she honour her deals.
Rachel asks them if anyone else in the house knows this.. Kalia: "Nope it's 100% only in this room" Dani: "you look like you think we're lying" Rachel asks them what should she say when she goes downstairs.. they tell her to just say you were trying to convince Kalia to save you.
Rachel leaves
dani scolds her for talking to shelly..
12:00Am Rachel talking to Jordan about the conversation upstairs. She leaves one thing out.. She doesn't mention the deal. Jordan asks her if there was any deal offered. Rachel: "No.. all they told me was they control the votes this week" Jordan tell her they don't Rachel is safe this week. Rachel: "But Why would Shelly say they are trying to make a deal with me" Shelly comes in and rachel asks her what she was telling Kalia. Shelly says that Kalia told her they were going to team up with you get you to swear on Brendon. Rachel: "that is so weird they never told me that.. Ohh i'm so confused"
Shelly: "Kalia tells me everything.. dani probably told
Jordan keeps asking Rachel if they offered Rachel a deal (Jordan's asked her 3 times now) Rachel keeps telling them they were mean to her. Shelly says they are playing rachel.. Jordan: "they haven't offered you a deal they have just showed you they don't want you here". Rachel keeps saying they haven't mentioned anything about a deal. Jordan: "Stop talking to them.. just say your going home don't bother talking to them". Shelly you have the votes just ignore them.. "They are trying to make you go crazy.. every time you go up there it's making me nervous" Jordan: "Yeah i get nervous to". Both Shelly and Jordan tell her they want her to win HOH next week and put them up get the revenge..
Follow @BigBspoilers and @Dawgsbigbrother on Twitter for recent crazed out spoilers. There is also a Facebook page.
Share it YO!!
Tweet