Get the BB13 live feeds on your Android and iOS devices. Sign-up for the 3 Day Free Trial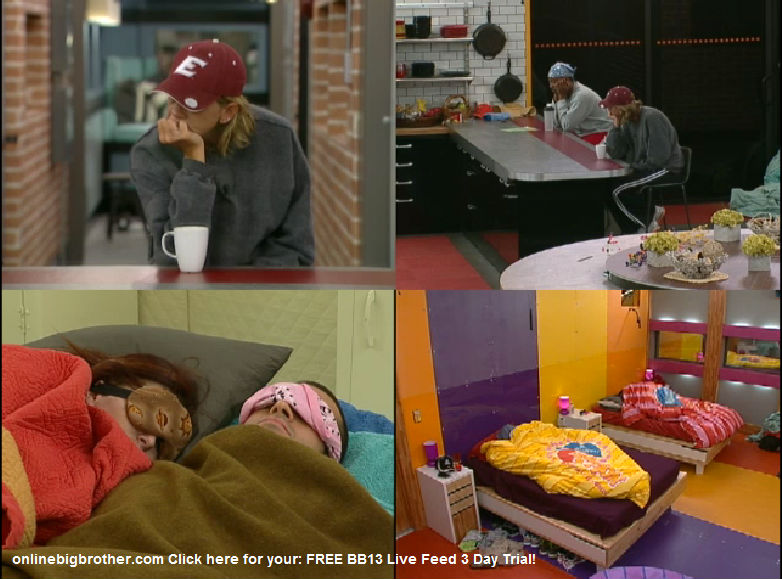 9am Big Brother wakes up the houseguests. Lawon and Shelly are sitting in the kitchen in silence, while all the other houseguests are still trying to sleep. Lawon says that he went to bed about 5am. Shelly says 4 or 5 hours of sleep ..max! Lawon says that it's the coffee that keeps him going. Lawon tells Shelly that he likes what she said last night… that she is playing a totally different game than anyone else. Lawon says ..and you know what's strange ..thats exactly how I am playing … not lying ..only telling people what I want to tell them. Shelly says that she should have been more creative with her story. Lawon says like a bounty hunter. Shelly says that's a good one … FBI. Lawon says yup like a bounty hunter. Lawon says cuz some of these stories I was like ..what ..girl?! Lawon says I think Keith though a good one… and you found him out. Shelly says Cassi had a good one too.. she got all that off the internet. Lawon says that when he found out about her family ..he knew that would be their connection .. that he and she love their family. Lawon says take away the game …everyone has something special to bring. Shelly says yup. They talk about how Adam will get to spend his birthday in the house and that it couldn't have happened to a better person. Shelly's says that she will have to look for something to make for him. The conversation changes to talking about Shelly and Lawon's families. Shelly and Lawon talk about the HOH competition last night. Lawon says that he liked it because it taught him that his upper body isn't that strong. ..then he says it it. Shelly says well at least you know and you can work out your upper body. Shelly says that Dani could have stayed on another 3 hours. They talk about how shocked they were that Kalia stayed on so long. Shelly says she was shocked that Kalia didnt't go for the money.. and wonders if maybe her life story isn't the truth. They talk about how proud they were of Adam.. saying that he was hyper ventilating.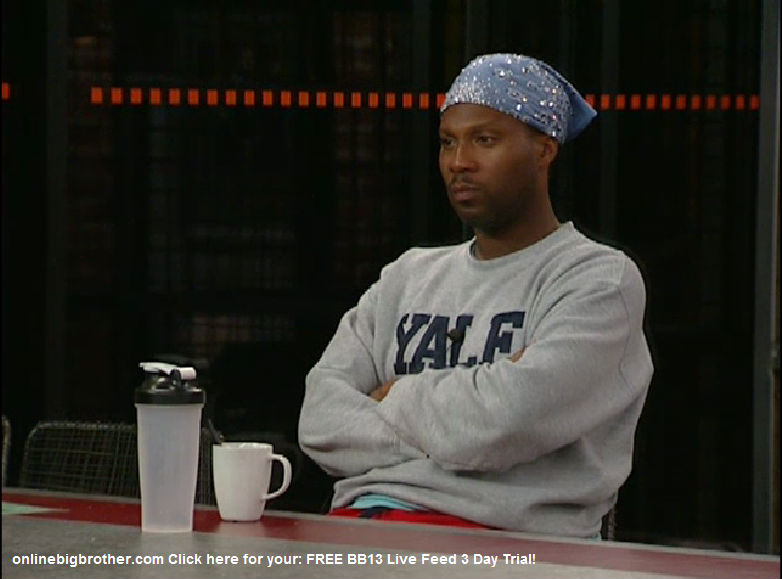 TRY the Live Feeds for FREE!
Click here for your: SUPERPASS – 3 DAY Trial!
9:45am – 10:30am Lawon and Shelly talk about the live feeds. Lawon says that Shelly schooled him about the live feeds …that he didn't know about them until she told him. They talk about how the nominations are today …and that usually the havenot competition is today but ..they did it last night during the HOH competition. They talk about how the Nominations are today, POV saturday, POV ceremony on Monday and that Tuesday, Wednesday they do nothing. They talk about how it is 10am and they are still taking down the HOH competition in the backyard. Shelly says that she might as well quit smoking. Shelly and Lawon look at the memory wall and talk about the other houseguests. Lawon says that its just crazy of all the years he has tried out for the show .. 80% of the people trying out were the same people every year ..yet no of them got into the house. Shelly and Lawon discuss what they will do when they get out of the house…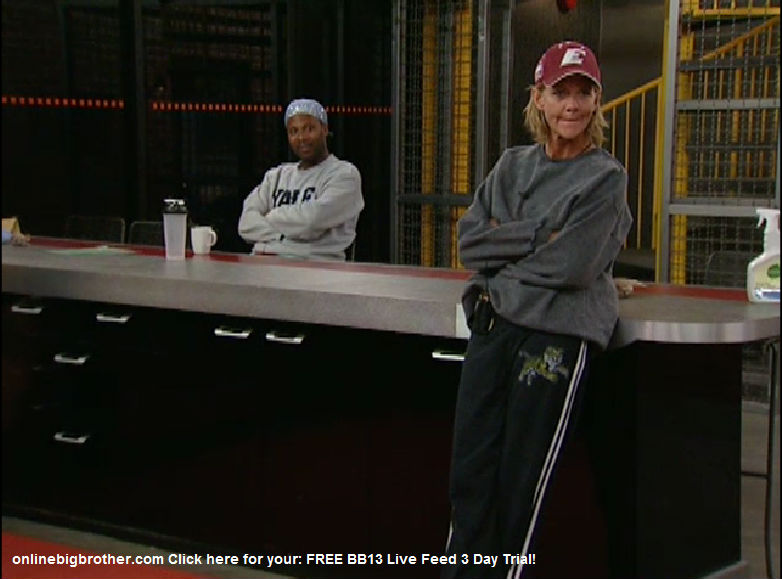 10:30am – 10:55am Big Brother cuts the live feeds for a few minutes. Adam comes out through the kitchen, goes to the wash room and then straight back to bed. Shelly and Lawon talk about their past competitions. Brendon joins them in the kitchen. They all talk about how much the want to get into the backyard. They ask Brendon how it was sleeping on the havenot bed. He says that it wasn't that bad… and that he had to use his bandanna to cover his eyes. Brendon comments on how Lawon must be running on 4 hours of sleep. Shelly mentions that the producers told her that they can have up to 48 hours of lock down. Brendon says oh really?! Right then big brother cuts the live feeds..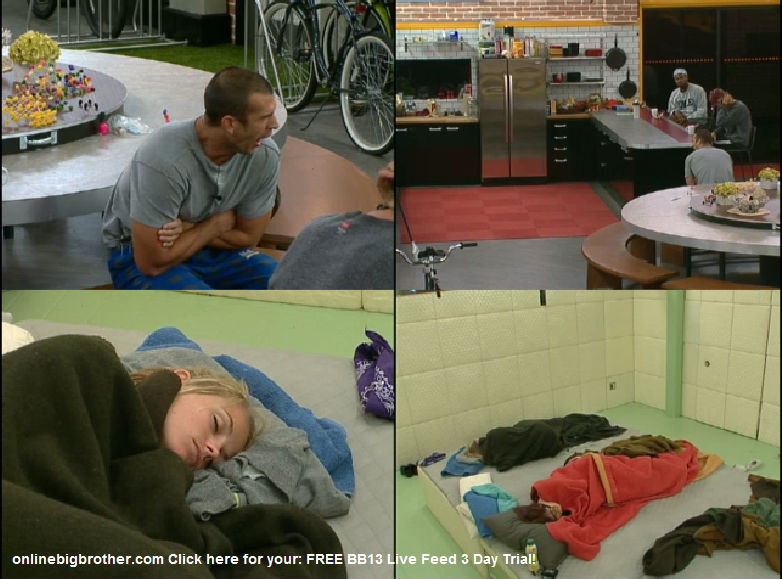 If you like this site and want to help us keep it running please consider donating, Your donations go directly to paying the server and bandwidth fees. Donate Link
Big Brother 13 Spoilers POLL CAST your VOTE!

Big Brother 13 Live Feed Image Gallery
Follow: @BigBspoilers and @Dawgsbigbrother on Twitter for recent crazed out spoilers. Theres also our Facebook page.
Share it YO!!
Tweet