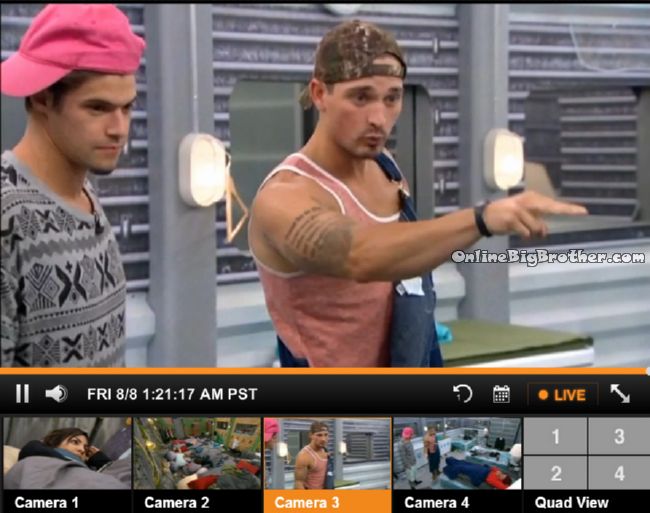 1:15AM Have nots
Zach says Frankie is Nicoles target this week.. "She has two targets one of them is Christine the other one is Frankie"
Cody- I don't think so She flipped on them"
Caleb comes in Zack says Nicole's target is frankie.
Caleb – you put me up I'm going to beast mode through this and you are my target..
Caleb – You put me up i'm coming after you it's simple.. I put you up with Hayden because it was good TV I knew Hayden was going home I knew it..
Caleb – Sit next to your boyfriend you know you aren't going anywhere..
Caleb – thats a fact you put me up i'm not going to win that BOB unless it's who can put your tampon on the fastest.
Frankie – I'll win that..I san win any shovelling competition.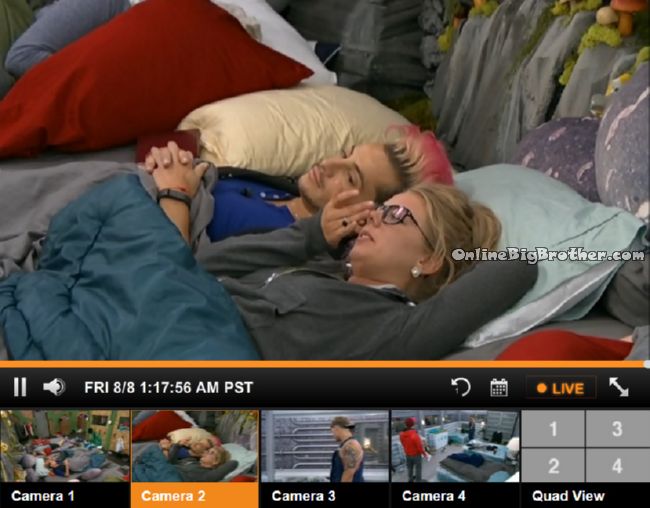 1:17AM Nicole and Frankie
Nicole says she use to feel so confident with her people but now she feels alone
Frankie knows how she feels.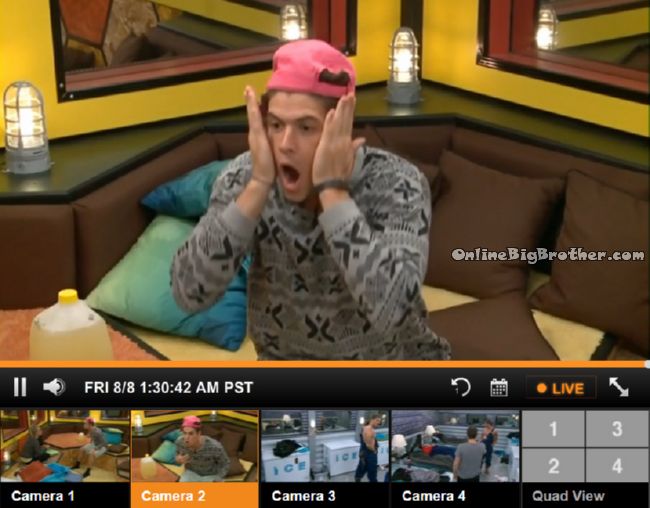 1:24AM BEEHIVE Zach and Nicole
Zach – What are you thinking
Nicole – I don't know
Zach – Frankie and Christine are two liars.. are they your target
Nicole l – no they are not.. No .. I don't' know who my targets are it's not you.
Zach says Frankie has been lieing to Zach all along. "He needs to go this week"
Nicole – ya right
Zach – no you don't think so
Nicole knows Zach is going to run off and tell them everything they talk about.
Zach – Lets put it on the table
Nicole – two people you trust convinced Hayden to vote you out they said you wanted to backdoor hayden
Zach says Christine is playing the entire house. .. Frankie is dead to me
Nicole says Christine and Zach approached her with an alliance
Zach – they approached you.. I HATE CHRISTINE I HATE HER
Nicole says everyone was onboard to vote Zach out as of last night… Something happened because they wanted to make Hayden look bad.
Nicole – Christine had to convince HAyden to vote you out.
Zach – he got f***
Nicole – for being honest
Zach – Christine and Frankie are the ones that told me Hayden was wanting me out
Nicole brings up the Alliance called the detonators adds that Christine and Frankie came to her about.
Nicole brings up Christine telling her that Zach said Hayden and Victoria made out
Zach says Christine told him that Victoria and made out. he's flabbergasted by what Christine said.
Zach is laying out his entire Big Brother Life for her
They formed the bomb squad after that Cody, Derrick and Zach became really close. They had a final 3 deal and Zach had a final 2 deal with Frankie
Zach told Frankie about the final 3 deal. Frankie had a deal with Christine so they brought the two alliance together and formed the detonators.
Nicole – They told me you tried to make it two days ago.. It all makes sense now..
Zach – Derrick, Cody and Me.. we were so confident..
Nicole oh my god they told me it was 3 days ago you were scratching for survival.
Zach is laughing.

Zach – it was before Cody became HOH .. 3 weeks ago
Nicole – OHH that's why she's not worried ever
Zach – Me Cody and Derick Christine and Frankie the detonators..
Zach – the whole time I was in the final three with cody and derick I would run back to frankie and tell him..
Zach says last night he was awoken at 11:30 by Christine and Frankie they were telling him Nicole and HAYden masterminded this whole plan.
Nicole -who came up with this
Zach – frankie.
Nicole – ohh wow Hayden took a hit for no reason..
Nicole is worried if she's dethroned Christine will backdoor her.
Zach – you have my vote to stay.. I'm still in a final 3 with COdy and Derrick.. no idea how that happened.
Nicole says Frankie wants Cody/Derrick and Zach/Caleb nominated
Zach – now we have to work together.
Nicole tells him about the alliance with Hayden, Cody and Derrick it was legit.
Zach – really.. what are we going to do about this
Nicole I have to trust you
Zach – I have to trust you
Nicole – we have to work together..
Zach says he was going to pick Frankie and Christine over Cody and Derrick then the Detonators got to final 5
Zach and Nicole hug it out .. He thanks her for telling him about the alliance she had with Hayden, Derrick and Cody.
With a live feed subscription you can go back and watch any event that has been shown. Use our site as an index and watch only the parts worth watching.
Try It Free! Subscribe now to the official BB16 Live Feeds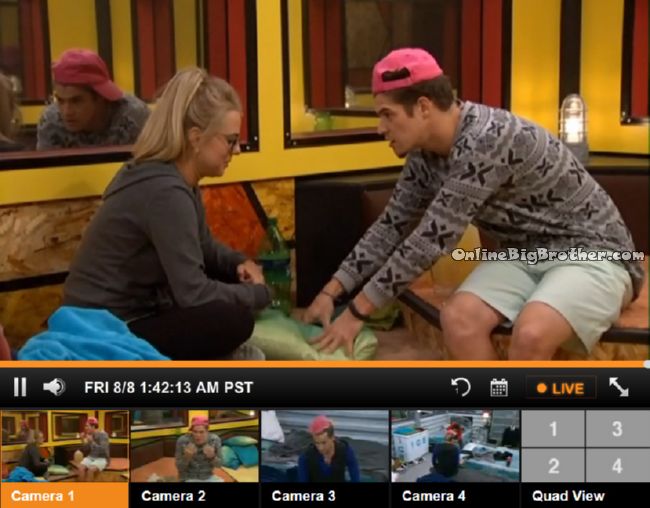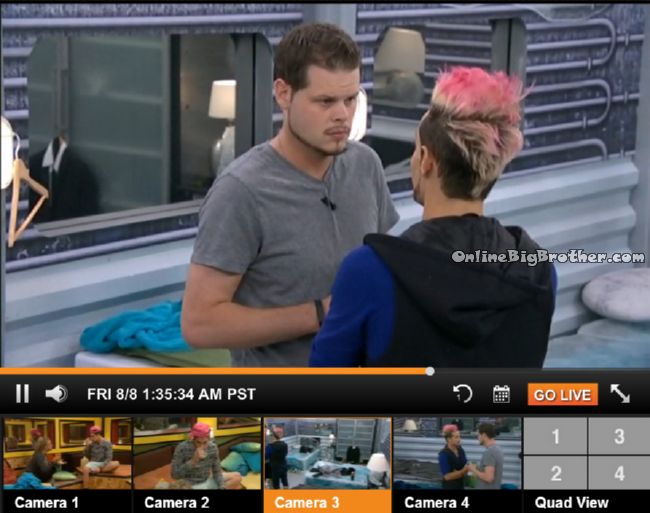 1:36Am Team America
We have to convince someone to go up on the block as a pawn and get them evicted.. all three of us have to play a part..
Derrick – OK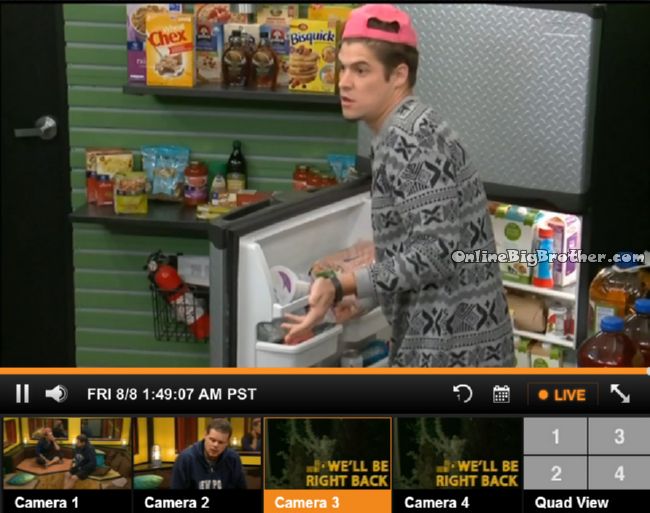 1:48AM COdy and Zach storage room
Frankie told Nicole tonight she needed to put up Cody, Zach, Caleb and Derrick..
Zach – I F***g hate Frankie.. i'm going to backstab Frankie tonight.. "
Zach says he just talked to Nicole and he's going to be talking to her all night to get Frankie nominated. .. Zach adds that Christine and Frankie told NIcole and hayden about the detonators said He tried to form it 3 days ago.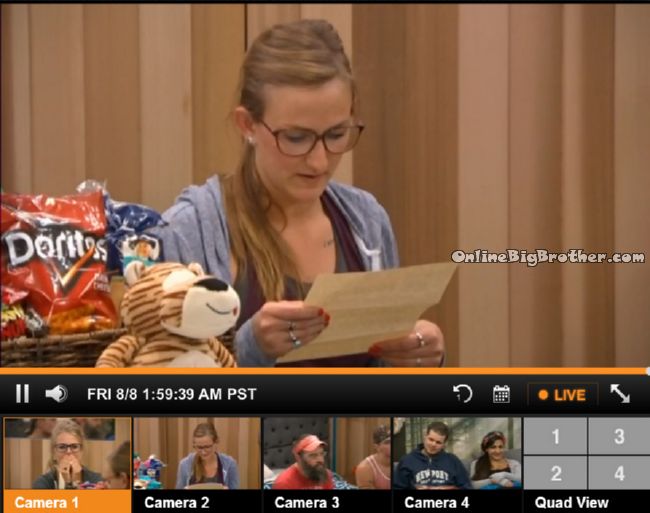 1:55AM HOh Rooms Chrsinte's letter from Tim
Dear steaners,
I want you to know that I am so incredibly proud of you. You're the love of my life and my best friend. I am the most blessed man on earth that I get to call you mine. You've been in that house for a while now and every time I think I can't miss you anymore you always find something cute to do or say that makes my heart swell. I'm counting down the days until I get to kiss you again. Just remember that whenever you feel stressed out or sad that I am out here sending my best wishes and praying for you ever. You are my best friend and the love of my life you are the most beautiful girl I've ever seen and I miss hearing your laugh in real life. Win us some money and don't forget about me okay… I love you…. Your loving husband – Tim aka Sweetpea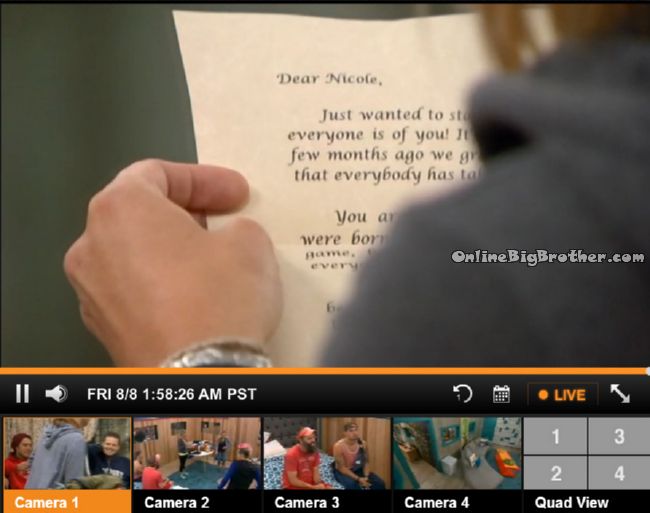 Nicole's letter from her friend kaitlin.
Dear nicole just wanted to start out by saying how proud everyone is of you. It's crazy to think that just a few months ago we graduated Nursing school and everyone has taken such different paths. You're such a strong competitor and you were born for this game. just remember it's a game but still try to remain the nicole everyone loves
Nicole – Oh great am i not
You're such a fun loving smart and beautiful friend with a heart of gold and who ever meets you on the show is lucky we're all rooting for you and know you will do great can't wait to see you soon love you lots kaitlin
Alliances 
?Zankie = Frankie/Zach
The Detonators = Derrick, Frankie, Zach, Christine, Cody
"The HITMEN" – Cody & Derrick
Team America = Donny, Derrick, Frankie
Nicotine = Christine/Nicole
More polls here https://www.onlinebigbrother.com/big-brother-compendium/big-brother-16-polls/
[polldaddy poll=8233586]
Share it YO!
Tweet