POV Holder:
Hayden
Next POV
Aug 2nd
POV Used
YES
POV Ceremony
July 28th
HOH Winner 1:
Frankie
HOH Winner 2:
 Zach
Battle of the Block Winner
 Nicole/Christine
Next HOH/ Next BOB
July 31/Aug 1
Original Nominations:
ZACH's Noms (Christine & Nicole) Frankie's Noms (JOcasta & Victoria)
Final Nominations:
Amber & Jocasta
Have Nots
Nicole, Caleb, Christine, Derrick
POV Players
Frankie, Victoria, Jocasta, Donny, Hayden & Christine
12:25am Christine and Caleb are on the backyard couch. He asks if she and Nicole have decided who you want to keep. Christine says we hashed things out in the bee hive room yesterday. Caleb asks so you feel pretty confident she will vote to keep Amber? Christine says yeah, yeah, yeah. Caleb says I am thinking of offering Victoria a deal to vote to keep Amber. Christine says I think she will be okay. Caleb says I did my goodbye message to Amber and I was balling. I felt like such a big baby. Its just I have done everything to keep her safe and then now with me having a hand in her going up just kills me. Caleb says I don't know some thing is just really awkward. Christine asks what? Caleb says Nicole said nothing was said between her and Amber and then after Frankie called her in Nicole said there were things said. In a way I feel like Frankie is trying to set Amber up. He's put her up two times in a row. I'm not an idiot. And Nicole isn't dumb either. When you say something and then change your mind the next .. something is up. Christine says maybe she was just scared the first time. Caleb says yeah maybe she just didn't want to be a part of the he said, she said. I feel bad because it wasn't supposed to go this way. Something's not right, something's not sitting well with me. Someone in the alliance isn't .. I feel like its Frankie because he put her up twice. Caleb says Amber said she just talked about being put up but Nicole said Amber wanted to rally the girls to get the guys out. Part of me wants to ask Nicole to see what her answer is. Like I am going to ask you some questions that I already know the answer to I will know if you're lying to me. Christine says oh that's good, that's good! You should do that! Caleb says and I would tell her if she is honest with me I would protect her. Is that blowing up the alliance.. in a way but not really because an alliance does not do that thing.. Big Brother blocks the feeds. Caleb says I think we have 5 votes. Christine says I don't think we have anything to worry about.
Big Brother 16 Live Feed FREE TRIAL – Use the FLASHBACK feature to watch everything you've missed!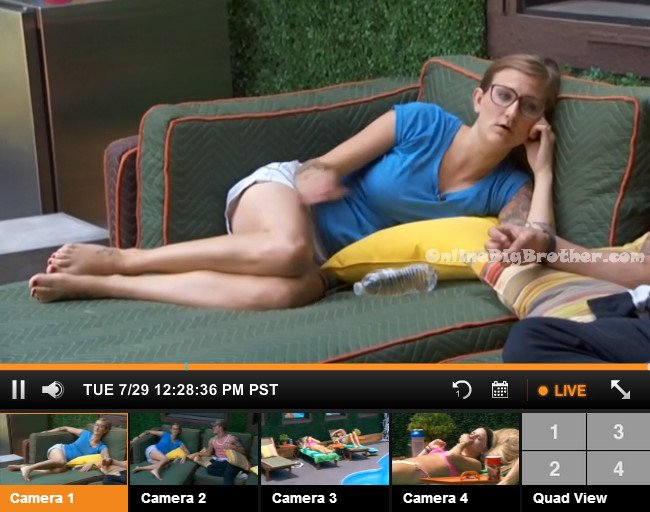 Amber and Nicole are talking by the pool. Amber says I feel like I have what it takes to win an HOH. I could throw it to another girl. A girl needs to win this Thursday. Nicole says I will feel sad if all the girls go. When we get out we will see what was really going on. Amber says oh I know. Amber says I told them, i cant wait until they see how hard I worked my butt off to keep everyone safe. Amber says all I can offer is .. Nicole says you don't have to promise me… I just wouldn't want you to put me up if you won HOH. Amber asks why would I put you up? Nicole says I'm just saying.. Amber says its frustrating to be up for no reason. Amber says Donny seems like he's around more people all the time now. Nicole says MmHmm. Amber asks do you not think I have your back? Nicole says I do as of yesterday. Amber says I was more hurt than upset. Nicole says I was hurt too, I didn't know if you were going to confront me. Amber says I didn't want to blow up everyone's game. Amber says apparently Frankie is the one that told you.. Nicole says I don't know I was just confused.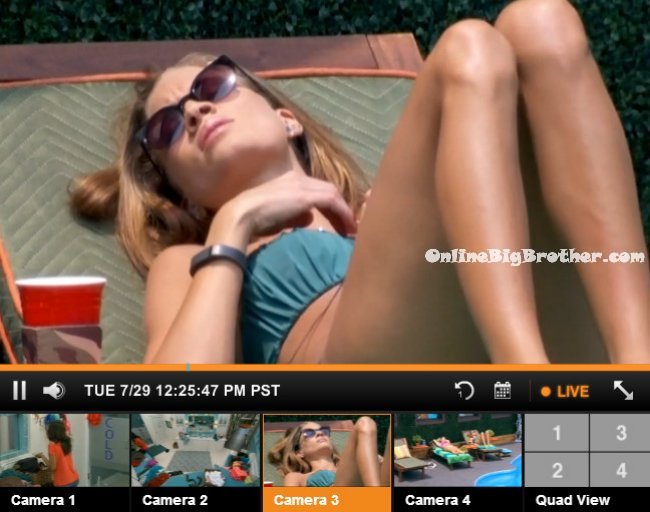 12:50pm – 1pm Frankie comes out with the HOH camera.

1pm – 1:10pm Caleb says two hardest goodbye messages I've ever had to give. Do you have any idea who you want to keep? Victoria doesn't answer. Caleb says its a rough one. Caleb says we're all so close. You just need to vote for who's best for your game is honestly how you should roll with it. Victoria says yeah. Caleb asks did Hayden tell you why he used the veto on you? Victoria says he said it in his speech, so I think it was pretty self explanatory. Caleb says yeah. I think it will be hardest for you girls because you all connect differently. At the end up the day I think it will be okay. Victoria says yup and leaves the room.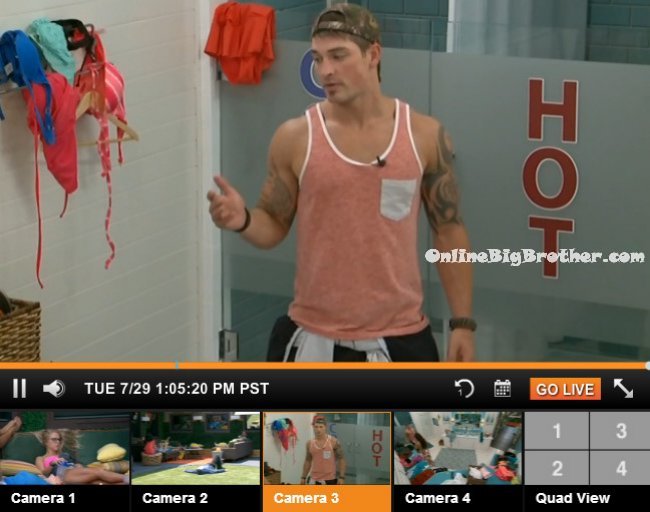 In the bathroom – Nicole and Victoria are in the bathroom. Victoria says Caleb just basically said to me why would Hayden use the veto on me. They leave the bathroom.
1:15pm – 1:25pm Out on the backyard couch – Derrick apologizes to Frankie for saying that the gay word. Last night I said that was a gay shot and I immediately felt bad. Frankie says its okay I know you didn't mean it. Derrick says I am eliminating that word from my vocabulary. I know you don't care but I feel better just acknowledging it.
1:30pm – 1:55pm Big Brother calls for an indoor lock down. The house guests are confused as to why they're being put on a lock down. In the living room – Derrick says day 40, feels like more people should be gone. Makes you realize theres a couple of double evictions coming soon. As long as its not us. Christine says exactly because its going to get scary.
Frankie says his HOH questions were:
How hard has been without your family?
What would it mean to you to win BB16?
What BB16 outfit has been your favorite to wear?
2:10pm The house guests are sitting on the living room couches talking about random things. Frankie comes out of the diary room and says he's going to lay off the advil today. I took 9 yesterday. Jocasta says that's a lot I wouldn't take that many. Frankie says I have a high tolerance for medicines. He says he's taking them for his pulled groin.

2:20pm – 2:40pm
Hayden joins Donny by the pool. Donny points out the new cables strung up in the backyard. Hayden wonders what they're for. Donny thinks it might be for a day time competition where they hang tarps over the cables to block the sun. Hayden goes to talk to Victoria by the laundry machines. Victoria says that Caleb thinks I am clueless to everything. Hayden says its perfect that all the blame is on him for Amber going up. Victoria says he thinks Amber is staying. Hayden says Amber is going to go home to a 9-1 vote. Caleb is going to be the only vote for her. Victoria says I have to ask you something personal but it has to stay between us… I don't know if you've noticed but mine and yours relationship has been like this lately. They only people I can confide in ..in this house are you and Derrick. Victoria says that Nicole and I talked and she said she is letting her emotions get involved in the game. Victoria brings up how Nicole commented on how I said I wouldn't sleep with guys and then we slept in the bed together. I wouldn't sleep in the bed with you if I thought something would happen. I think of you as a brother. Victoria says that Nicole thought I was intentionally flirting with you to hurt her. Hayden says oh! Victoria says I would never do that. Hayden says I am just a flirty person. Nothing should change, it will be fine. Victoria says that Nicole does it with Cody and Zach. Hayden says I know I think its good. Hayden tells Victoria about how he told Caleb 2 seconds before going into the diary room about using the veto on her instead of Jocasta. Everyone else was on board with it though.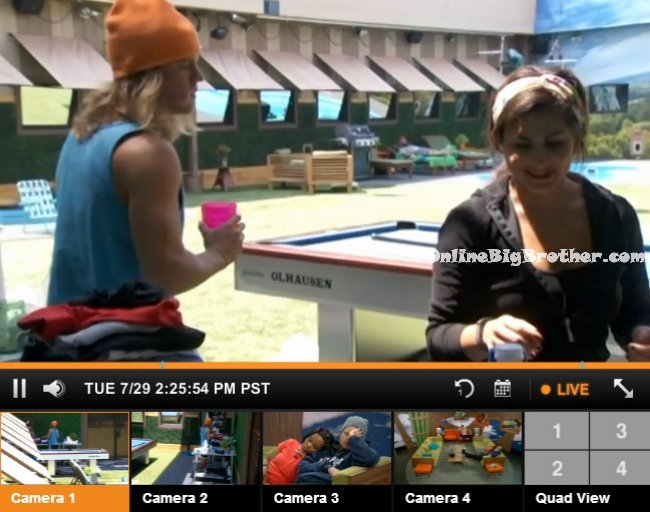 2:40pm – 3:15pm Donny and Nicole talk by the pool. Nicole says that Amber thinks she's staying but she's not. Nicole thinks Caleb will be mad. Big Brother puts them on another outdoor lock down. They wonder why they keep getting locked in and out. Cody and Christine join them.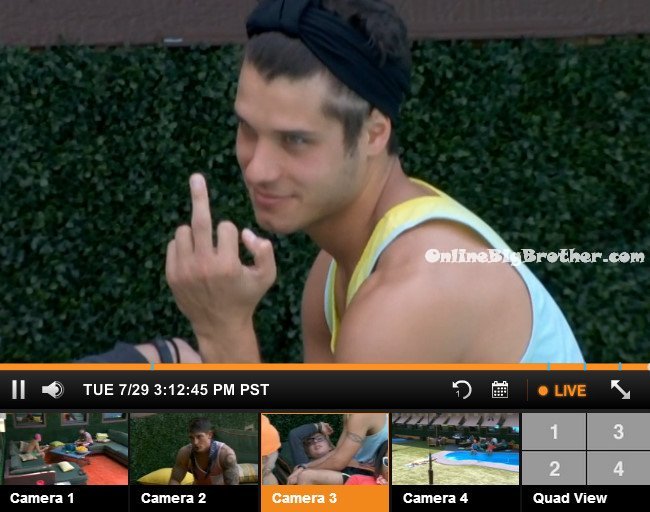 Amber joins Hayden on the couch. She tells him that she talked to Caleb for 3-4 hours yesterday. Hayden says so obviously he told you the whole plan of how it all went down. Amber says yeah. I am not going to go blow up, I don't know what they thought I was going to do. It just doesn't make sense why I'm on the block. I am just going to be myself. Amber says anyone that put me up wouldn't be my target. Caleb joins them and then conversation ends. Caleb starts talking about his Harley he wants to finish when he gets our. Zach and Caleb are alone. Caleb tells him Christine said we have Nicole's vote to keep Amber. Zach says that's great that's all we need. Caleb says keeping Jocasta here is a threat to our game because she's a vote for their side. Zach says I just wish Victoria was going. Caleb and Zach agree they didn't really think it through. Caleb says that Amber said when she comes off, its a clean slate and that she trusts all of us. Caleb continue to relay the conversation he had with Amber last night. Zach agreeing with everything Calebs saying and with how Amber deserves to make it to jury.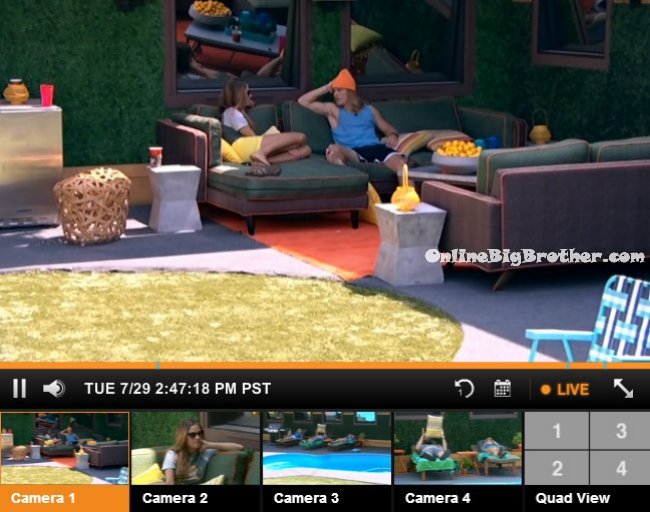 Alliances
Zankie = Frankie/Zach
The Detonators = Derrick, Frankie, Zach, Christine, Cody
Final 2 Deal "The HITMEN" – Cody & Derrick
Trilogy = Nicole, Christine & Hayden
Team America = Donny, Derrick, Frankie
Old timers = Jocasta/Donny
Nicotine = Christine/Nicole
(Defunct or unknown status)
Bomb squad = Caleb, Amber, Frankie, Derrick, Cody, Christine, Zach, Hayden
Not a showmance= Hayden/Nicole
Los Tres Amigos = Derrick, Cody, Zach
The bottom Feeders = Derrick/Nicole
We hate Devin = Christine and Zach
Outsiders = Brittany, Victoria, Jocasta, Donny
Stalker = Caleb/Amber
Quad Kings = Derrick, Zach, Cody and Hayden (still being built)
More polls here https://www.onlinebigbrother.com/big-brother-compendium/big-brother-16-polls/
[polldaddy poll=8207784]