POV Holder:
?
Next POV
?
POV Used
?
POV Ceremony
March 17
HOH Winner:
IKA
Next HOH:
March 20
Original Nominations:
?
Current Nominations:
?
Last Evicted Houseguest
Kyle, Anick
Have Nots
Jon, Allison, Paul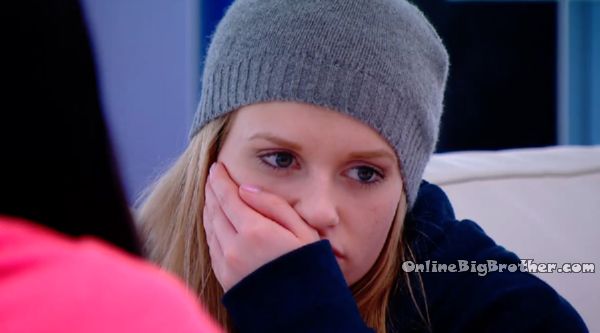 10:43pm HOH Heather and IKA IKA is trying to talk Heather into being the pawn. Saying things like she is so sweet.
IKA – "I don't want girls to hold a grudge and I don't think you will hold a grudge"
IKA continues to say she thinks Heather is really smart and logical and she will see her going up as a pawn as a logical step.
IKA – "It would be dumb for me to put you up and have you go home this week.. I think you are smart.. I think you are smart you are logical"
IKA says that Heather and her are not "IN" with the girls so if the girl
Heather – what bothers me is we sore to each other we would never put each other up.. thats the part that scare me cause I wouldn't do that to you.
IKA says she is close to Heather. Heather asks her if she's closer to Sabrina or closer to her. IKA says she does like Sabrina and would rather keep Sabrina on her good side than her bad side
Heather wants Rachelle to go up.
Heather – The only way Sabrina will ever go home in this game is to be backdoored"
IKA says that Sabrina will go around and tell every secret she has.
Heather wants all girls in the finals it's never been done before. She brings up the new girl and nobody knows what is going on with her.
Heather says she's not going to volunteer to be a pawn, she'll leave IKa up to nominating someone. Heather will not hold it against IKA though.
Heather – It's hard to say anything because I know I am going to be nominated.
Heather points out that Rachelle is too close to Sabrina and all the girls are under F**** Sabrina all the girls have a little posse going on.
IKA tells her she will tell everyone during her speech that Heather is simply a pawn. IKa promises up and down that Heather will not go home.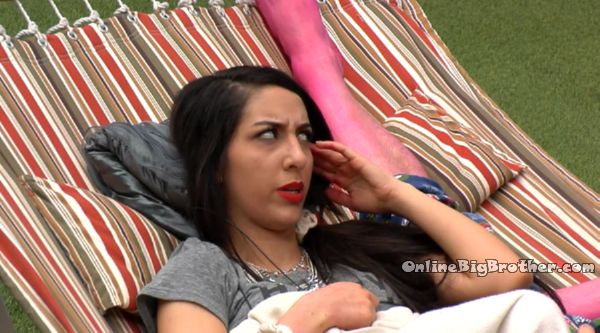 11:00am Neda and Jon
Neda finds it odd that Andrew cannot hold his liqour when all he talks about is how much of a drinker he is.
Neda says that everyone thinks that Kenny is going to win the game. Jon – "We better start stirring sh!t up"
Neda asks him if he's been playing hard for the HOH. Jon says he is kinda trying for HOH a bit. Neda says she tried for the first HOH and the last one. Neda says she's pissed off at Heather because she's told all the girls she's not planning on winning HOH until 1/2 way through the game.
Neda – 'She's said so many lies"
Neda says if she was a fan watching the show she would like Kenny because he different and cool and she would hate Andrew.
Jon says a few people are finding Arlie annoying mainly Andrew. She asks him what their alliance name is. Jon says they don't have one.
11:20pm Hammock Kenny, Allison and Andrew
Andrew says even when he's "Chill" he's aggressive. Andrew tells them that his plan is for Paul or Adel to go home this week.
Kenny says he's download 8 season of big brother put them on his "Play Book" and they all had 30 episodes. Allison thought it was 26. (A playbook was a tablet computer mad by Blackberry aka RIM it was a massive flop. Whatever stock was left in stores was liquidated = super cheap tablets for the masses)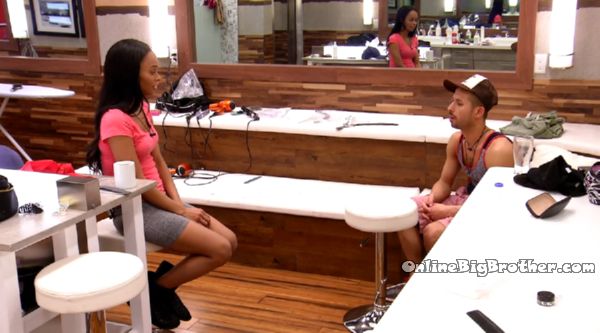 11:20pm bathroom Adel and IKA (The feeds flip to this conv near it's end)
IKA – Right now I'm trying to bring you in becuase Paul is leaving and they think you are alone.. you better win HOH next week.
Adel – "Right now the new girl is sitting with Kenny and Andrew in the hammock"
IKA – I know..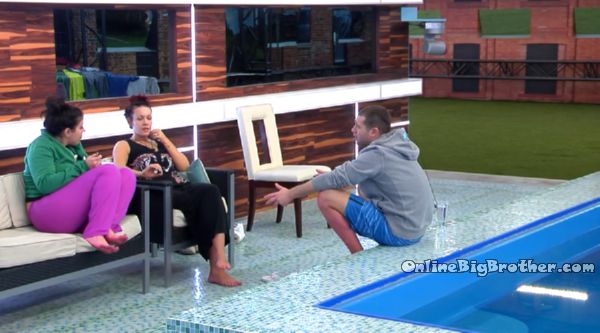 11:20pm Poolside Arlie and Sarah
Sarah is telling him it took so much talking to convince IKA not to make a big move.
Sarah says as long as their first of 5 alliance keep this up one of them will win this game. Sabrina rolls in.
Rachelle joins them and they start chatting about the new girl being a mole.
Sarah says if you are thinking from a game side Allison is not being very smart she's spending all her time with Andrew and Kenny.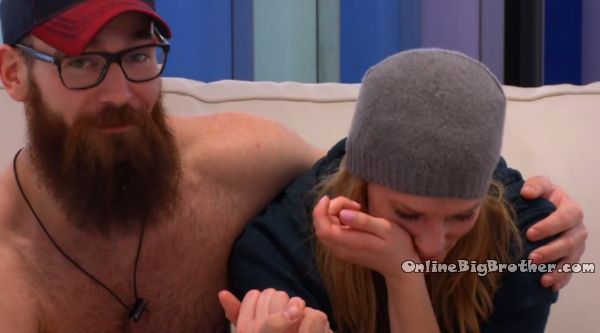 11:50pm HOH Heather, Arlie and Kenny
Kenny says this is the same setup as when Neda went up on the block
Kenny – "I promise I will not vote for you"
Arlie – "Me to"
Kenny – "it's just a think someone has to go up against him"
Arlie – "it's part of the game and it sucks I know"
Alrie – "I will not vote for you to go home"
Heather – "this isn't a Anick thing is it?"
Kenny – "absolutely not"
Arlie – "Paul's a prick we want him gone you are a beautiful angel"
Arlie says they do understand it's tough but 1 million percent she is not going home. Arlie and Kenny both tell her she is safe there is no way she will be going home. Heather cries. Arlie says it's OK to cry. Kenny says he would be crying to when he was on the block. They leave to get Andrew. Andrew comes up and comforts her tells her he HATES Paul he'll be voting Paul out.
Andrew tells her multiple times she is safe.
Heather – This bites Donkey a$$"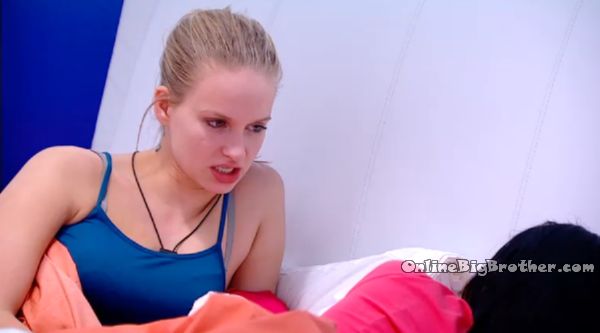 12:15AM HOH Heather and IKA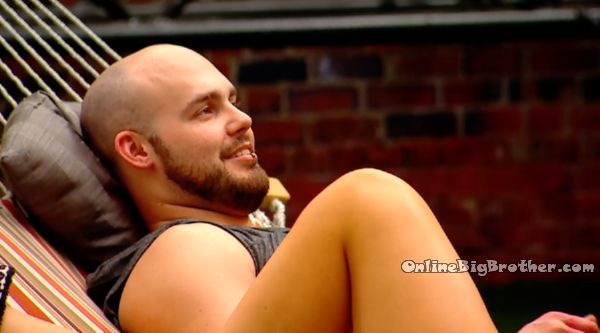 12:30AM Allison and Andrew
Chatting about family. Allison talks about graduating Nursing school and coming home to see her grandmother slowly die from lung cancer. She says that the experience of seeing her writing in pain like someone possessed was horrifying.
Sarah joins them and they start talking about past seasons. Allison tells them she knows all the past winners, She rattles them off.
Sarah asks if she thinks more people are coming in? Allison has no idea.
Sarah is thinking that they put together 3 bios and allow Canada vote on who they want to come back in the house. Sarah adds that maybe every thursday from now on they will bring someone into the game. Allison sin't sure they would do that it would mean a lot of double evictions.
1:08am Hammock Andrew and Allison
Allison says she thinks the other girls hate her. Andrew doesn;t think they do he says she's super chill and new that is why the guys like her. Andrew doesn't think the girls are weirded out by her or are upset. He says he's close to Sarah and Sabrina and they like her. He hasn't spoken to the other girls but he knows Heather is shaken. Allison says she can tell.
Allison hopes she can stay past the one week immunity she has. Andrew thinks she has a good choice tells her she's made the right moves.
(I tweeted this out Allison "Jon's handzy, not to me but to himself")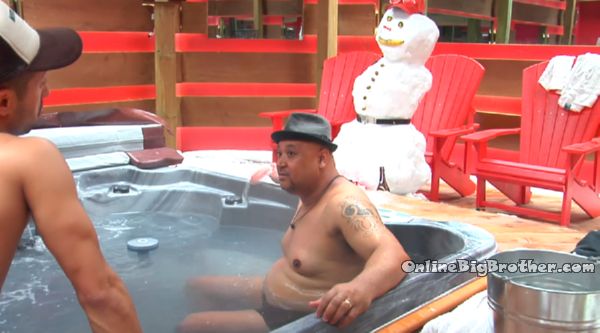 One last picture of the Arlie Snowman.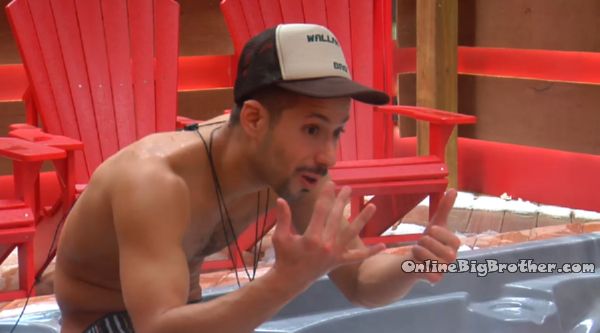 12:30AM Adel and Paul in the hottub (Not as much fun without Kyle but an interesting Conv between two players in the shiter)
Adel – Sarah and Sabrina are a package no matter what they are going to work together. Adel adds whatever they tell the girls will go back to "them" (andrew/Kenny)
Adel says that Sabrina controls much of the game she controls the girls and she's got the boys. He doesn't think the odds are anywhere on their side but if Heather gets nominated they have a fighting chance of keeping Paul. Adel – "you're against IKA you're against Heather you're and if I pull a straw see how much better odds we have"
Adel thinks Arlie will jump ship if Andrew or Kenny get evicted. Paul I saw Arlie talking to Jon talking he wonders if they have a deal.
Adel thinks Jon is getting scared that Andrew and kenny are getting too close, "He needs a super backup.. but I think he's just playing Arlie"
Adel thinks he can get to Arlie and if Kenny goes he can get to Jon.
Adel says the one thing he's worried about is the Power of Veto getting played and he goes up. Paul says he'll be nominated every week until he wins head of Household. Paul thinks the house like him but Andrew dislikes him so much and is running the house influencing everyone. Paul calls Andrew the "Bullet"
Paul – "If I can kill that bullet than the gun isn't loaded anymore.. it's not that people don't like me"
Paul says Neda and Arlie have come up to him.
Adel says the only person he's trusted since day one is Paul. Adel calls Paul out for turning on him and Kyle says he's done it twice.
Paul dodges says they have to think about what comes next, Paul confirms IKA came up to him and told him he's going up tomorrow.
Paul mentions how Allison has gone straight to Andrew and has isolated the all the other girls.
Adel says that is what they want.
Paul is going to self evict if Adel leaves. Paul thinks Andrew still has something for Adel like Adel is hit little brother. Pauls suggests Adel plays on that and strokes his ego. Paul suggests Adel not challenge Andrew. Paul starts explaining why his game is shit…
Adel – "In this game you have zero skill" Adel adds that all of Paul's skills outside of the house didn't help him worth sh1t.
2:00am PJ and Adel
Paul says he misses his kids and family he doesn't want to go to the jury. Adel tells him if he's had enough of the game he should just leave and give Adel a chance.
Adel tells PAul if IKA doesn't put him up he's got her back for the rest of the game.
Adel – "Whoever goes beside you has to be the pawn… you know that right… you know that right"
Adel – "You're in shit creek no matter what I think"
2:50AM Andrew and Allison have been hanging out on the hammock all night.
[polldaddy poll=7877882]