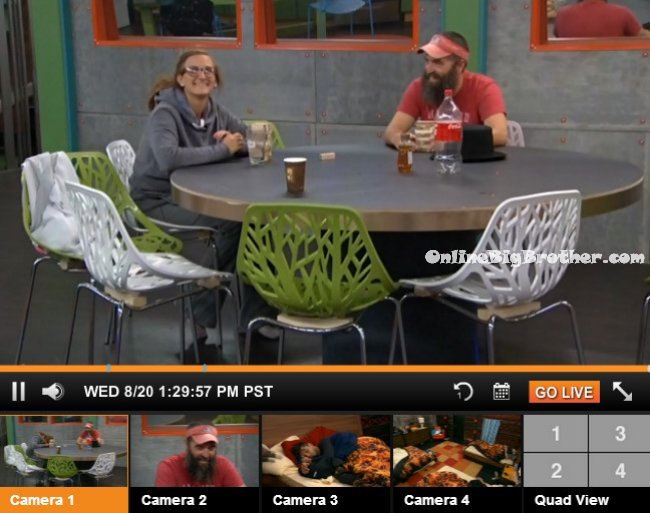 1:15pm – 1:40pm
Donny says the fact that they're sleeping and its 1 o'clock ..its very telling as to how comfortable they feel. Donny says I would rather get beat by someone better than me. I would rather get beat by Frankie than win against Victoria. Donny says please don't make me feel sorry that I talked to you. Christine says ditto. I have a lot to think about. Donny says tomorrow is fast approaching and tomorrow we're always together. Christine says I am probably going to hang out with them a lot today but don't worry. Donny says talk to them, feel them out. Christine says I hope you know the only reason that I have been coming after you is because you have been the only one that I heard was coming after me specifically. Donny says well that was a lie. Donny talks about how he has been left out of all the decisions. I am not working with anyone. Like I said I will walk out with my head held high but if you walk out one or two after me then we will always wonder what if… I trust my gut and it hasn't been wrong yet. Donny brings up again how Derrick and Cody whisper late at night in bed. Christine asks if they whisper in the same bed or across the room. Donny says both. Donny says never mention my name good or bad. Donny tells her to just watch them today. Christine says I don't want to be played like a fiddle. Donny says if it has to ..if we win HOH we'll get a bag of M&M's. And we'll pick names. Christine says I didn't even get to pick my colour. Donny and Christine laugh. Donny says I had to listen to them tell that story over and over again how a bag of M&M's decided my fate. Christine says I have to say thank you by the way. It would be a super long shot to get 500K, it would be a long shot to get 50K and Frankie would need to be in jury for me to get 25K. Donny says for the jury members to find out we worked together they would be ecstatic. Christine says I want to play it, I don't want to get pushed around. Donny and Christine end their conversation. Christine says that drained me. Donny agrees. At least if I go out I can say that I tried everything. And if you come up with anything please know you can share it with me and I won't tell anyone. Christine says I wish you could see that episode .. there are things I just can't say. Donny says I don't hold it against you. Christine says I swear on my life that Caleb took my bone and I tried to take it back. And then he threw it because they (production) told him to. Donny says if you happen to be up there and you were the target ..and I won veto I could use it on you ..I've done it before. It would be nice if they turned on each other and we could sit back. There are some people that are sitting very comfortable. Christine says and it ain't you and it ain't me.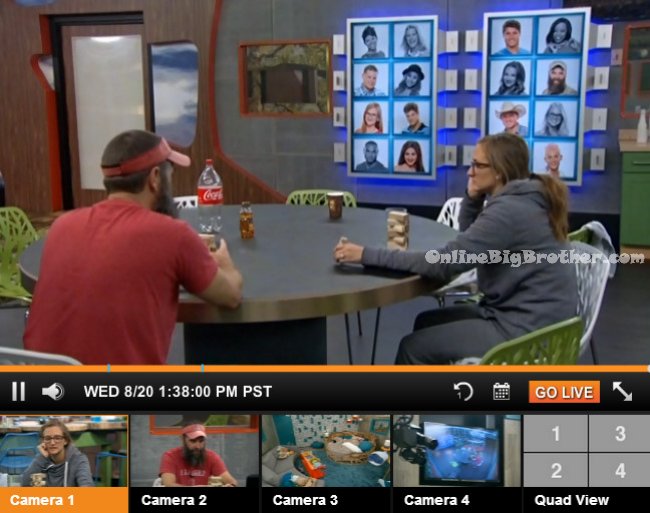 1:55pm Christine heads into the bathroom and says to herself "God!" Big Brother then calls her to the diary room.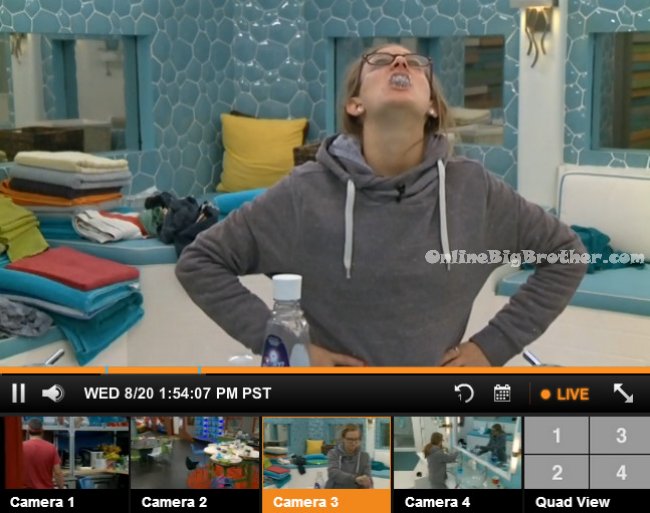 Alliances
"The HITMEN" – Cody & Derrick
Team America = Donny, Derrick, Frankie
More polls here https://www.onlinebigbrother.com/big-brother-compendium/big-brother-16-polls/
[polldaddy poll=8255055]
Share it YO!!
Tweet