POV Holder:
?
Next POV
Aug 23rd
POV Used
?
POV Ceremony
Aug 25th
HOH Winner 1:
Cody
Next HOH
Aug 28th
Nominations:
 ?
Have Nots
Donny and Nicole
POV Players
?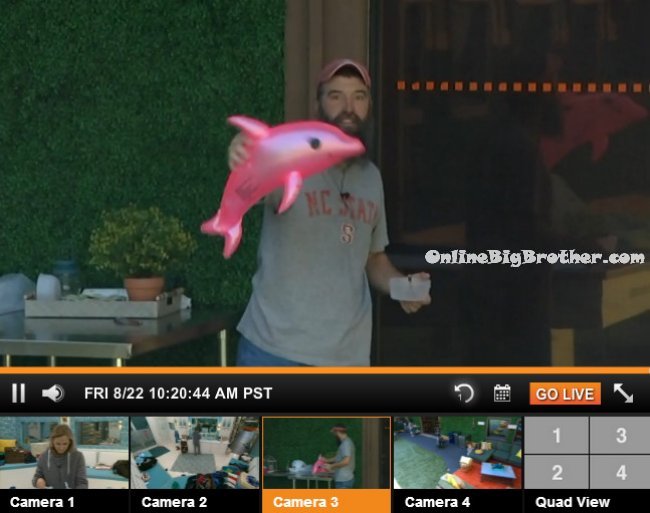 Take Advantage of the FREE 2 day Trial to watch all the drama!
10am Big Brother wakes up the house guests. When the live feeds return – Donny is in the backyard eating his cereal. Donny picks up the dolphin pool toy and makes it swim throgh the air. He then heads inside. Christine and Victoria are also awake and in the bathroom. Christine wonders what other people from other season think of this season. Victoria says its been a completely different season.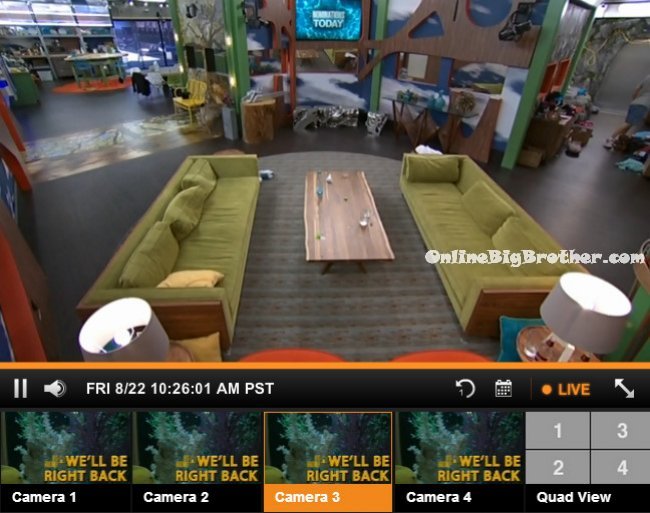 10:34am – 10:45am Donny heads up to the HOH room and wakes COdy up. Donny says I hate to wake you up. I would like to take to you today at some point. It says nominations today on the tv screen. Should I expect to go on the block today? Cody says I think everyone has a chance right now. Donny says I remember a few weeks ago when me, you and Hayden were in the bee hive room and we were talking about how its about time someone else went up and felt the pressure. You have the opportunity! When I'm gone I can't watch your back. If you put 2 powerful people on their side up.. 1 of them will go home this week. Christine will still go after Nicole. Derrick will still come after me. You will be in the middle as they dwindle down. Just think about it because the other day I had talked to Christine about how Zach had said she was the next to go. I let her know to see how she feels. Her, Derrick and Frankie are the final 3. They're going to get rid of the 3 of ya'll real quick. If I am sitting in jury and you're final 2 I am going to vote for you. But you're not going to get there because they're not going to let you. You'll have to do a lot of winning to get there. They're coming after you. I expect to be on the block and if I do then I know if I don't win the veto I am going out the door. Nicole will be next. They're going to keep Victoria because she can't win anything. Donny says I won't hold it against you because I know they've played you. Your family is watching, what would they tell you? I've never done nothing to nobody. To have 6 people after me .. that's pathetic. They're laughing at you. They've thought this thing out and they've played you. Imagine if Hayden was here, what would he tell you? We're going to have to give 500K to one of them. Its them three and they're using ya'll to get to the end. Just think about it. Me and Nicole haven't done anything to hurt nobody. If they've gotten in your head, then I won't hold it against you. We'll make it right in the jury. Please think about it. Cody keeps saying MMMmmHmmm. I've definitely been thinking a lot about it. Donny says Derrick has never sat on the block. Do think about it, there's me and Nicole. They're going to come after me and Nicole not you. If you do then it would be a level field, 3 vs 3. Think about what your brother would say. Out of the power thing that you put up, the other one is going to kiss your butt. Think about it. Get some sleep. Cody says thanks Donny. Donny leaves.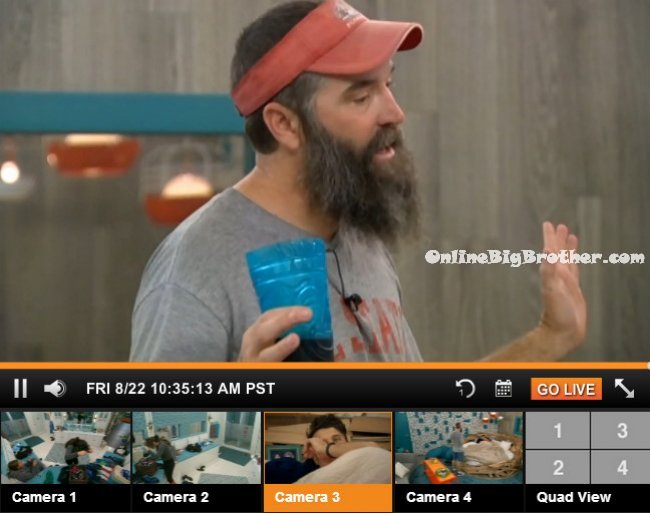 10:45am – 11:30am Donny's working out on the elliptical. Christine and Victoria are getting ready for the day in the bathroom. Christine heads out to the hammock with to read the bible. Donny starts working out with the weights. Donny comments to Christine that last week nominations would have already happened by now. Christine says that Victoria asked when nominations were going to be and they wouldn't tell her. Christine heads inside and tells Victoria she's going to nap. She says that Donny kept trying to talk to her. I was closing my eyes and he wouldn't stop talking to me. I was praying.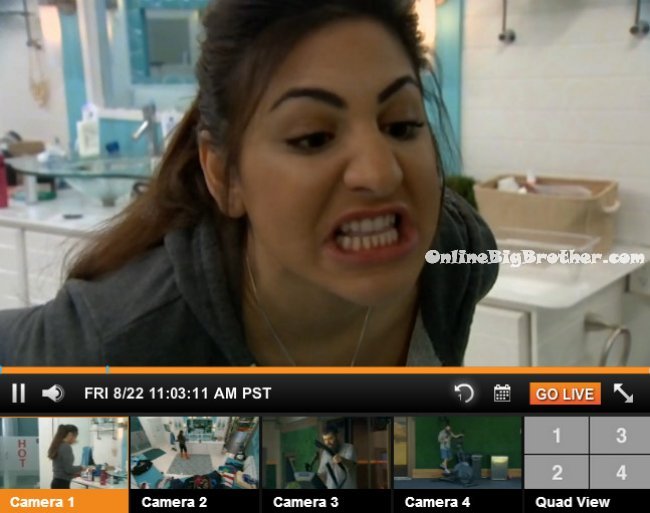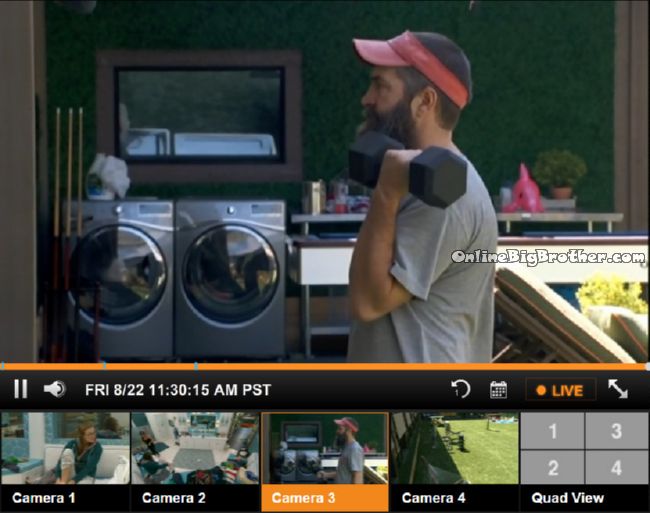 11:35AM Donny working out everyone. Most of the house is sleeping.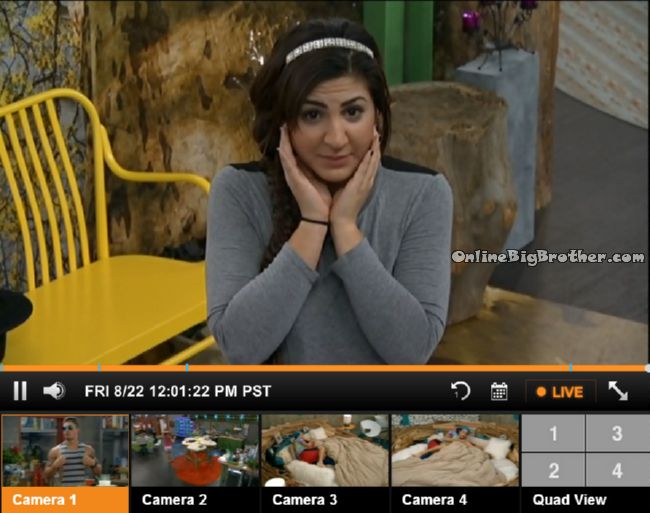 11:53pm Backyard Victoria and Derrick
Derrick says they are going to be in outdoor Lockdown for awhile
Victoria says she couldn't sleep at all last night. Victoria wonders why they are going to be in outdoor lockdown. Derrick says they are changing things up because there's no BOB anymore. He's looking forward to the new format. In the Kitchen all house guests scrambling around getting coffee and food, "We got to be outside in 10 minutes"
Victoria now in the house is asking the DR for medication her wisdom teeth are coming in. the camera zooms in on her. (See image)
12:03AM Frankie in the HOH with Cody. Whispering saying Donny and Nicole have only been a have nots once. Frankie hopes they let Cody pick the have nots. Adds with Donny and Nicole on slop is lessens their chances of winning the POV.
12:15pm
Donny saying Victoria's cheeks looks swollen.
Victoria can feel the wisdom teeth are breaking threw her skin.
Caleb starts talking about Army doctors and dentists. He had a friend that went into seeing the army dentist for wisdom teeth work and they f***d it all up. "home slice his grill was jacked up"
Caleb adds they wanted him to see the same dentist but he refused.. almost got reprimanded for it.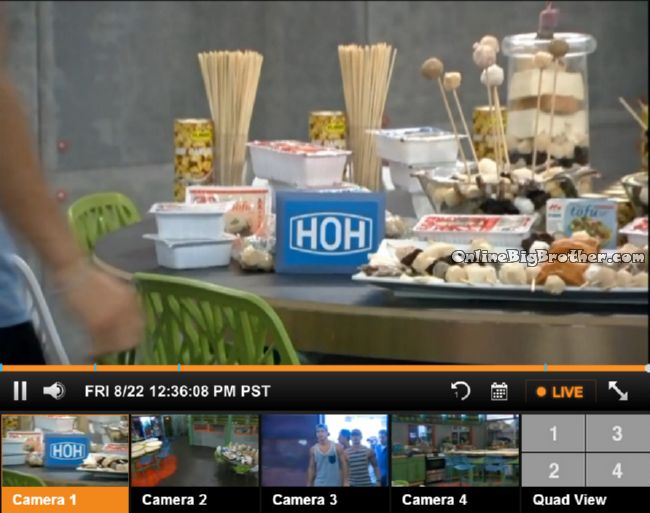 12:37AM Have nots
Cody reads the HOH card.. the have nots get to eat Squish kabobs a combination of compressed fish meat, Clams and bean curd.
Cody jokes Christine and Victoria you are have nots.
Clabe – no one is going to volunteer.. Shoot..
Nicole volunteers
Caleb – Don sorry man.. you good
Alliances
"The HITMEN" – Cody & Derrick
More polls here https://www.onlinebigbrother.com/big-brother-compendium/big-brother-16-polls/
[polldaddy poll=8260325]
[polldaddy poll=8261457]