POV Holder:
?
Next POV
Aug 23rd
POV Used
?
POV Ceremony
Aug 25th
HOH Winner 1:
Cody
Next HOH
Aug 28th
Nominations:
 ?
Have Nots
?
POV Players
?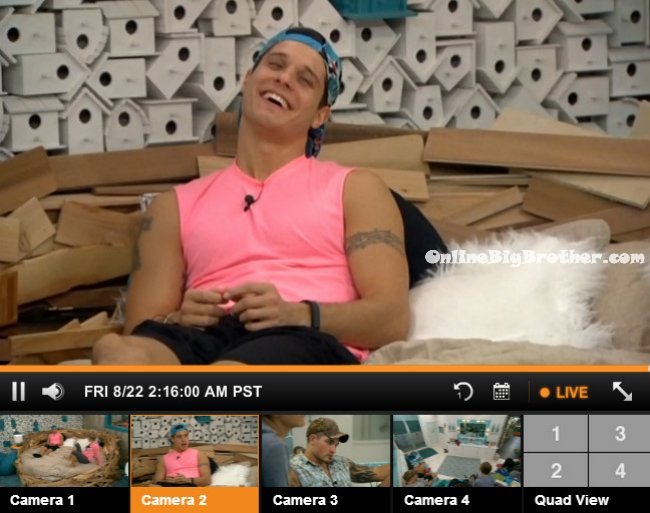 Take Advantage of the FREE 2 day Trial to watch all the drama!
2:10am Up in the HOH room Nicole says I am not going to talk any game or say anything I am not that stupid. Cody says I think its awesome that you came back. I want Donny to go and so if he goes on the block I want him to go. If he stays on the block that's what I want. That would give you another chance to stay longer. Nicole says keep me safe so that if there's a double eviction. You'll know that I won't put you up. You could easily be someone elses target if the chance presented itself. Keep people around that are going to keep you safe! Anyways thanks for talking to me Cody. Nicole leaves.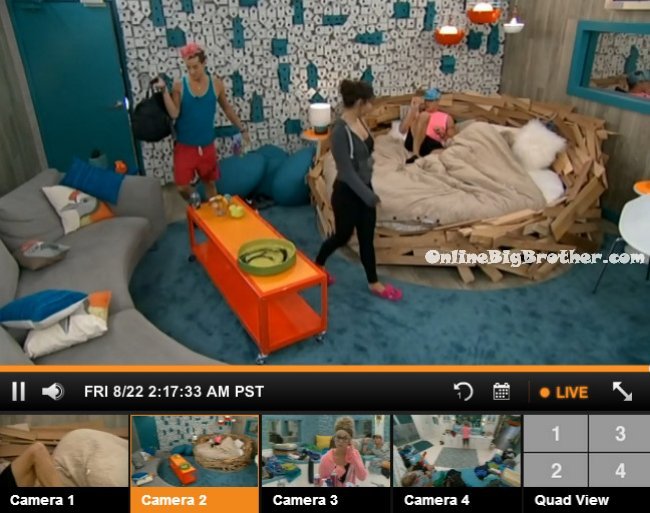 2:15am Christine heads up to the HOH room "To warm up in bed". Frankie comes up with his bag and says moving in!! Cody says can I just sleep alone for 1 night?! Cody hugs Frankie and says don't be mad. Are you going to be mad? Frankie says no. Cody talks about his conversation with Nicole. He says that she said she never lied. Cody says yeah Um, okay! I told her that there's a chance she could go up. Frankie asks does she know about the open door policy? Cody says I said that anything that gets said get brought out to everyone quickly. Cody says she knows its 6 vs 2. Cody says I am not looking forward to talking to Donny tomorrow. Frankie says that he heard that the jury people only had an hour or two to talk about game. Cody says that Nicole knows that if Donny comes off the block she is the one to go. Frankie grabs his bag downstairs. Christine says that she even told Frankie that you probably wanted to sleep alone and he didn't understand why. Christine looks at Cody's photos. She says You look so much like your dad! Cody says his brother is a f**king STUD! Christine says he is VERY attractive! Christine loves that his dad wore a zebra suit to his wedding. Victoria leaves.
Watch the last month of the live feeds for only $9.99!
– PLUS try it out first with the 2 day FREE trial! –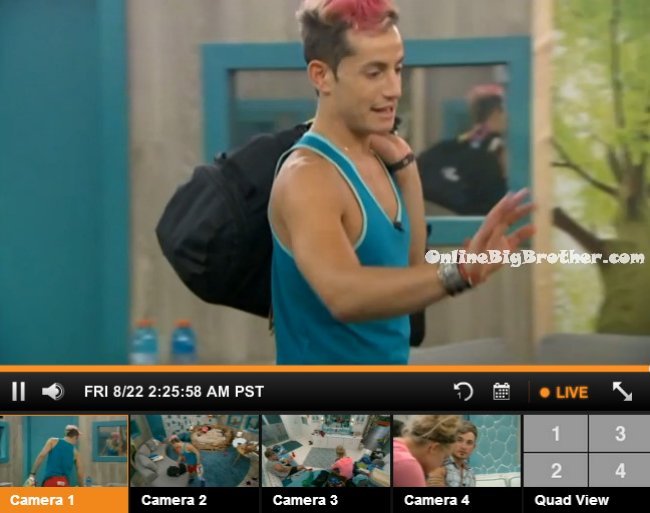 2:20am Caleb talks to Nicole in the bathroom about the NFL trip they got out of the house. He says that he was told if they heard anything about they game they would be kicked off the show. It was super stress full! I was like put something in my ears. How can I be kicked off for someone else yelling something!? Frankie joins them. They talk about how fast the money could go if they won. After taxes your already down to 3 hundred something thousand. Then pay off student loans and you'd be luck if it last you a year depending on how you spend it. Caleb starts talking about the million from survivor.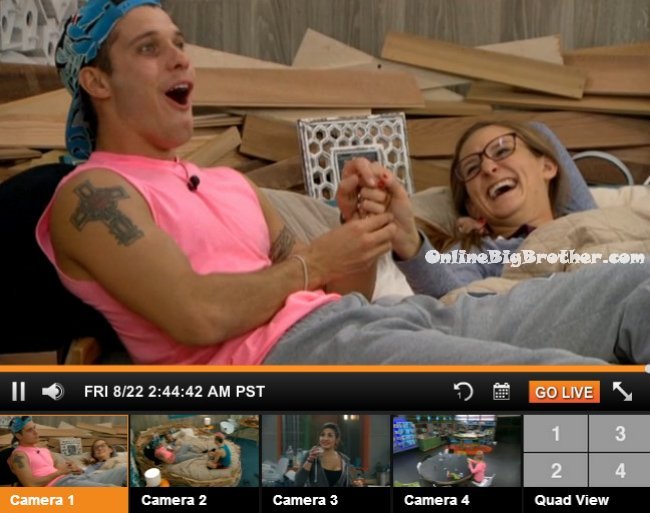 2:40am Frankie joins them up in the HOH room again. Christine asks can we just acknowledge that Julie Chen called me out on national television for throwing a competition?! What the HELL?! Seriously Julie I hate your guts! Cody pretends to be Christine responding to Julie saying the darkness. I was like oh my god Christine pull it back. Cody asks so should I call Donny out tomorrow? Frankie says no just yes him to death and send him on his way. Caleb joins them. He tells them about how Nicole said that Zach is really popular outside the house. She commented on how he and I are pretty well liked. Caleb asks about his conversation with Nicole. Cody tells him what he and Nicole talked about.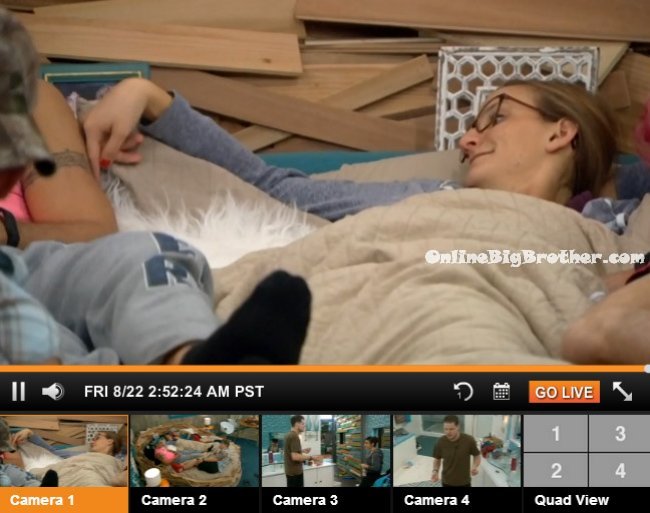 2:50am Victoria talks to Derrick in the bathroom. She says that she is just really sad about her Zing. Derrick says think about tonight you beat out Nicole. I even got asked about it in the diary room. I says my girl Victoria knocked out Nicole with a one two punch. Victoria says mine was game related?! Like I don't want to let down fans that are rooting for me. I am just not an entertainer. Derrick says that's not your role, that's not why you were cast. Beast Mode Cowboy, Zach-Attack and Frankie were cast to be the entertainers. I am not an entertainer and neither are you. You were cast for a particular reason and you're obviously doing something right because you're still here! You have nothing to worry about this week, just please be happy. Victoria says if people in the house don't want me here .. I don't want to be here! Derrick asks who doesn't want you here?! Victoria says no one. Derrick says you're being crazy. Stop! To be honest you're still here because people think you can't win competitions. Victoria says I don't want people to think that I am that stupid. Derrick says keep doing what you're doing and you are guaranteed to get to top 4. Victoria says I just don't want to let down the producers and people that cast me. Derrick says oh my god I can't even talk to you right now. If you win the show you're entertaining. Your naiveness is entertaining. Derrick says I need to go upstairs to here what they're saying. Victoria says I love you! Derrick leaves. Victoria says I said I love you! Derrick says I love you.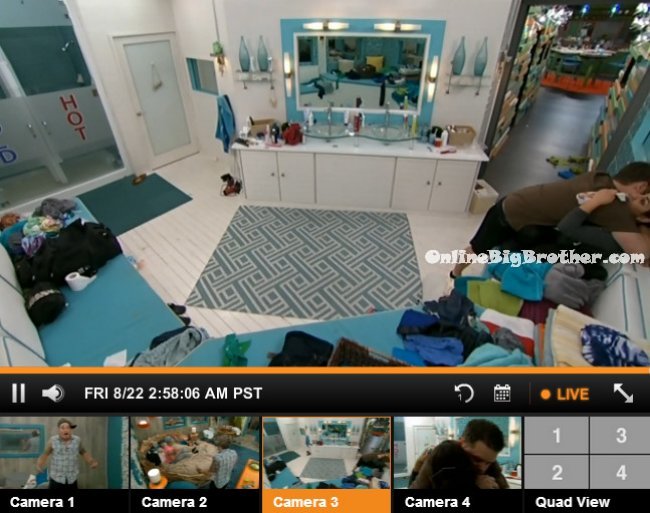 3am Derrick heads up to the HOH room – They all agree that they want Donny out this week. Cody then reiterates the conversation he had with Nicole. If Donny doesn't win the POV he is done. He's going home. Derrick says this week we have no reason to deviate from the plan. Frankie starts counting the bird houses. They talk about how Donny's brother has an IQ of 142. He is a genius. Derrick says Donny also said he took the test too but didn't say his score. Caleb says he said that his brother who has no arms took apart a computer and put it back together. He is literally a genius. Frankie says he is apparently magic too. Derrick says if Donny wins the veto I am literally going to bow down to him. Cody says f**k that noise. I hate you! Christine says I hate your guts so much! Derrick says in the diary room I was blowing you over you winning the HOH. Frankie says yeah I was blowing the camera. Derrick tells Cody in his nomination speech he should say "I know you didn't like the skittles thing last week, so I thought I would switch it up… your M&M got pulled! Take a seat." Cody asks is that an a$$hole move? Frankie says we are a$$holes! That's who we are! Derrick says I don't hate Donny, I actually like him. Christine asks you like him?! I hate him!! Cody says he called me stupid today and I graduated from one of the top business schools in the country. I am literally pissed about that. Victoria joins them. Derrick grills her on who she was talking to because BB had called her out for talking about her diary room session. Victoria says I was telling Nicole about the pink hat. Cody and the others want to see the hat so Victoria goes to get it. They all tell her its awesome. Cody says we should put it on the grill. Victoria says no, I want to frame it.