POV Holder:
?
Next POV
Aug 23rd
POV Used
?
POV Ceremony
Aug 25th
HOH Winner 1:
Cody
Next HOH
Aug 28th
Nominations:
 ?
Have Nots
Donny and Nicole
POV Players
?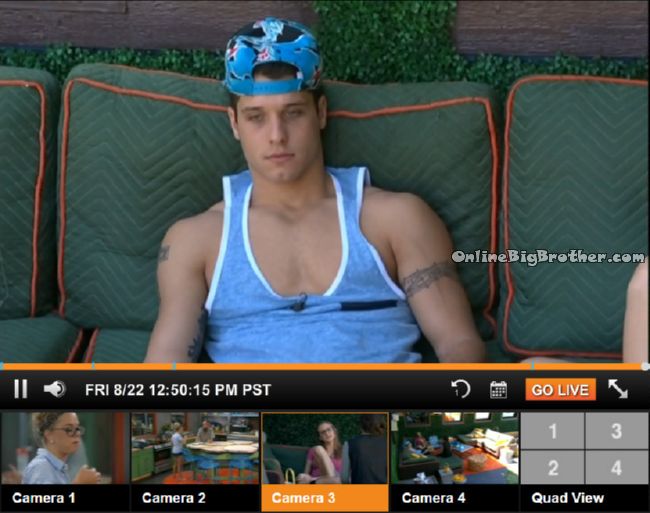 12:51AM Cody and the his girls
Cody saying Donny wants him out of the house so putting him up is strictly game.
Cody says Donny started a social game at day 60.
About DOnny attempts to stay in this game, Christine "at this point it's like C'Mon bro"
Christine says DOnny does nothing but lies.
Cody – I'm not even going to call him out on his lies..
Cody is going to say "You don't have to have any intelligence to learn a lot about respect and that is something I don't think you have shown me
Christine – Wow
Victoria – WOW
Cody – I feel that you are my elder i'm going to continue to show you respect but.. ummm with that being said purely game related.. not on a personal level a little something you find out when you play a social game starting at day 1 not day 60 because when people are targeting you behind your back so I figured I wanted to switch it up like you wanted to do this HOH and hand you your piece of Chocolate
victoria – Love that
Christine – DAmn Cody.. you're parents are going to be very proud of you you kept your mouth shut at everything he said
Cody – he always brings up my family he said What you your brother say
CHristine wow
Victoria -wow
Cody – I'm not smart but I graduated with a 3.0
Christine – He literally called you stupid
Cody – I do curse a lot
Christine explains that cursing does not show intelligence she thinks it's Hilarious
Feeds cut to Derrick and Frankie in the Living room.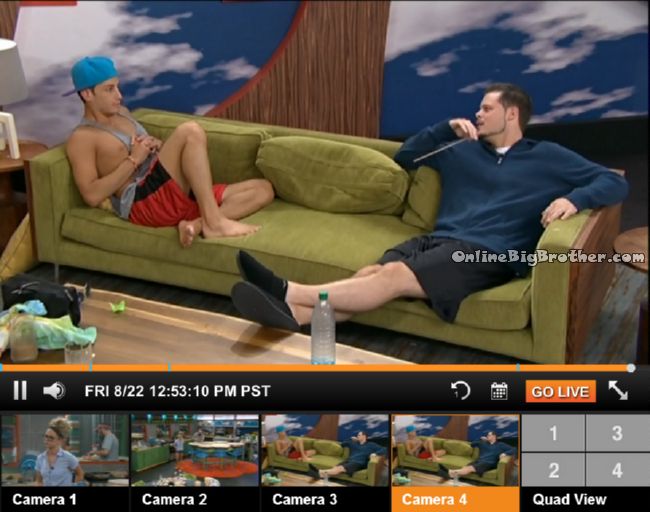 12:53AM Living room Derrick and Frankie
Derick says there was zero percent chance of him being a have tnos
Derrick you can't be on it this week
Frankie I can't my fingers
Camera Back to the backyard..
Christine is saying that Donny has no clue about what is going on in the house. Cody says he's just speculating..
Feeds cut.. when they are back Derrick and Caleb are with them.
THey go on mocking DOnny's attempts at breaking them up. Caleb says if Donny was around his age he would have crushed him but Caleb see him as a elder.
Derrick Chimes in and say every week Donny is secretly targeting him and after POV is donny doesn't have it Derrick is going to tell Donny straight up what he did.
1:17PM Derick trying to sleep in the HOH room Caleb messing around with the HOH Television can't seem to get it to work. (Checks himself out in the mirror as he troubleshoot See image above) He eventually leave.. Victoria sticks around for a bit then leaves because Derrick wants to sleep.
The Live Feeds are archived. You can go back and watch everything that happens
Try It Free! Subscribe now to the official BB16 Live Feeds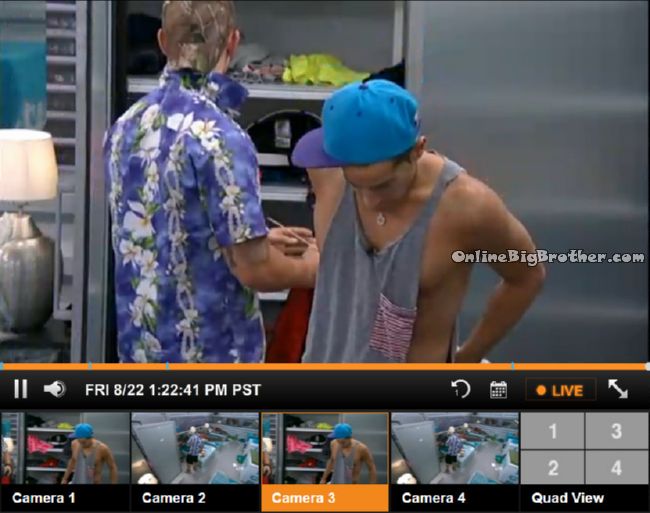 1:25pm have nots Caleb and Frankie
Caleb saying he almost volunteered to be a have not because he feels so fat right now.
Frankie loves tofu but the game is more important. says it's important for them to stay strong and not be a have nto.
1:27pm Donny and Nicole
Donny lays out what he think is the house Alliance structure .
Final is is locked Caleb, Christine, Cody, Frankie, Derrick and
Frankie has caleb
Derrick has Victoria
Christine has Cody
Nicole comments that Christine and Cody is the most deadly duo.
Donny says the final 3 is Derrick, Frankie and Christine .. "they are just snowing the other people using them as decoys.. in the beginning when there was enough good people they would pawn COdy and Caleb out as their bad guy"
Donny – would have been nice to be in their numbers.. but I wouldn't have wanted that.. gang up on some old man week after week and… I never did wrong to nobody .
Nicole says everyone knows he's a good person.. when Julie Chen asked her who she liked in the house she only said DOnny.
Donny says once Zach was gone he was going to make friends with Caleb because these are some long days.
Donny – we have to fight in veto for our lives.. it's horrible feeling..
Nicole says she felt sick after going out the first in the HOH.
Donny says during the hOH he was like ahh I got to beat 3 people.. ohh I gotta beat 2 people ohh I only have one person to beat
NIcole says she was praying hard for him.
Frankie -we're going up together for sure..
Nicole – it's deja vu 2 weeks ago
Donny says it'll be great when the 3 paris go after each other too bad they won't be around to watch it.
Donny – I'm pulling for beast mode I like him I really do
Nicole – I do to
Donny – bless his heart.. he's got the capability he could.. they'll snow him.. he'll get into a power situation and they'll use his power against him.
Donny – Victoria bless her heart..
Nicole – She's going to ride it out until the end
Donny – it's not her doing it's their doing
Nicole – it's not a horrible game if it gets you so far
Donny – she has no clue she really don't
Donny – when they start duking it out they are not going to waste it on her
Nicole – she's going to be final 2 for sure
Nicole says Cody isn't going to sawy
Donny knows says Cody is going to stick with the crowd
Donny – At least I have you to talk to .. last week Zach slept all the time.
Derrick joins them..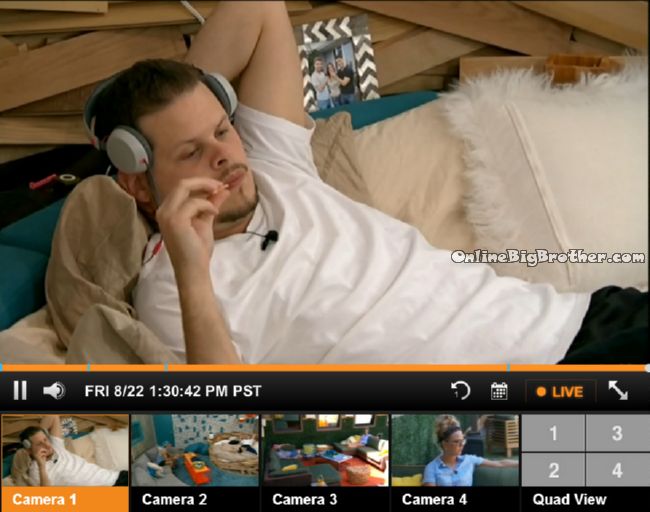 1:31pm HOh Derrick and Cody
Cody saying getting rid of hayden was a wrong move they should have taken Donny out.
Cody fills him in on what Donny is saying. Highlights that Donny is pushing that Derrick, Frankie and Christine are workings together. Derrick – "You know in your heart hat isn't true.. I'll be the first one to vote Frankie out" Derrick says Donny has got to go. Cody brings up he was on the block last week and Donny was campaigning to get him out that is reason enough for him to nominate DOnny.
Cody wants them to use Christine to take out Frankie and Nicole.
Frankie comes into teh HOH
Alliances
"The HITMEN" – Cody & Derrick
More polls here https://www.onlinebigbrother.com/big-brother-compendium/big-brother-16-polls/
[polldaddy poll=8260325]