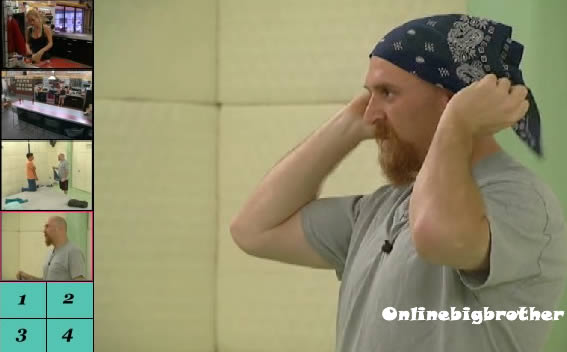 Big Brother 13 Live Feed Image Gallery
3:29pm Havenots Adam and Dom Dom is telling him that Adam is safe and he's on the way out. Adam: "I know this game and it's only Tuesday… Anything can happen" Dom points out that nobody is talking to him Adam says the same for him and that is why they are both nervous. Adam: "I think we are both right that the decision has been made" dom agrees reiterates they already know what they are going to do they are just not telling any one. Dom says he's going to talk to JJBR tonight and get everything cleared up maybe he'll know more after that. Dom says he's pretty sure he's going home. adam says he's not going to do say much he doesn't want to pull a "Kieth" dom thinks that is a good idea. Adam: "whatever happens we're Yankees fans" They agree to keep in touch after the show.
3:34pm Jeff and Brendon HOH talking about how awkeard the house is right now. Brendon starts talking about how stupid the other group is, "I just want to win to get these people out.. they don't deserve to be in this house". Jeff agrees they call Kalia and Dani stupid a couple dozen times (standard for these guys everyone is a idiot but themselves). Dom joins them, Jeff: "What are you going to do jam a pool que up our asses" Dom laughs says that was last night he came up to talk (Last night Dom played a perfect game of pool) Dom says he knows he's going home he just wants to clear things up before he goes, "Hands down I never said to backdoor Jeff". Brendon: "I'll admit I don't remember everything perfectly so I don't know what I heard exactly". Jeff says it doesn't matter if Dom said it or not he was all part of it. Jeff thought it was a little suspicious that after the veto was won Dom was acting a bit too relaxed for someone to be on the block. Jeff explains that he wanted to keep Dom 100% but then he started hearing about backdooring Jeff, Dani started to act funny and then Jeff heard that Dom threw the veto and that got him thinking that maybe Something was up. Jeff says they all know who started the backdoor thing, Jeff: "You knew about that plan to backdoor me… why didn't you say something to me at the time… it easy say hey look Jeff's my buddy lets not backdoor him"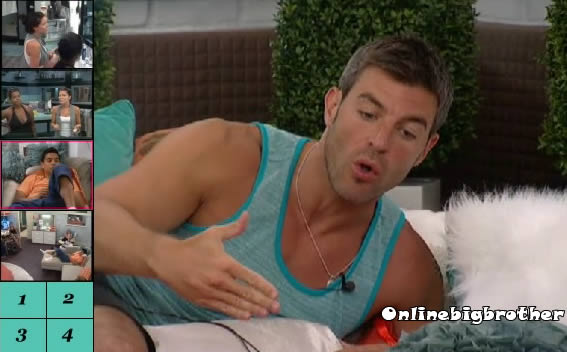 Dom says he never thought that the backdoor plan would work he just disregarded it.. Dom tries to explain how difficult it would be for Dom to go up and tell Jeff that the house is trying to get him backdoored, "hey Jeff someone is going to backdoor your.. You didn't trust me if I would of told you that you would of said go BLANK off you're going home". Dom states that there is no way anyone will get into the final for this year, "You 4 will not crack so the other players are trying to figure it out"
Jeff: "Dude what are the chances that the 4 of us making to the final 4"
Dom: "it's very good"
Jeff: "Dude Jordan won in our season this is big brother anything can happen"
Dom: "How can you guys tell me that you would pick me over your pairs it's not going to happen"
Brendon: "You guys all think we're going to make it to the end"
Dom: "YES you are"
Dom: "Let me get this straight i'm going home because you heard from someone that they wanted to backdoor you and I was friends with that person"
Jeff: "You an accessory to backdooring me…. you should of put a stop to it when Dani suggested it"
Brendon: "What did she tell you.. did she tell you that she was going to get us turn on each other"
Dom: "I'm not going to through her under the bus"
Brendon: "She screwied you over you know that right"
Brendon: "Dani has no chance in this game anymore… if she was such a smart player she should of gotten you all to shut your mouths about backdooring jeff"
Dom: "Last week I would of been gone if I had not won the Veto… I was alone playign a game.. Shelly and Casi were making deals with everyone adam I can't trust… and you guys didn't trust me so I needed Dani"
Jeff: "You could of picked us"
Dom: "You guys never trusted me.. Dani was my only way in, I had to get with her so you guys would trust me." He tries to remind them that he was on the block last week and was suppose to go home because of them.
rachel joins them.
Brendon tells him he should of just gone up to BRJJ as soon as Dani started talking about Backdooring Jeff then we would of taken Dani's spot in the group. Brendon: "She screwed you man". Dom sticks to his story says he never thought the plan to Backdoor Jeff was going to happen he thought it was too stupid to actually become a reality.. Dom: "I never said to backdoor Jeff I wanted Lawon gone" Rachel blurts in says that she never heard DOm say that. Dom says he said it on the bed.. Brendon agrees he heard it.
Dom : "Is there any shot in hell that I can mend this"
Brendon and Jeff say they can't trust Dani anymore nor can they trust dom. Jeff: "dani made the biggest dumbest move in the game and she prides herself to be this great big brother player … she did the stupidest move.. we would be the on the same sheet of paper for dumb moves if we kept you it would go Dani and then us" Dom says that he never thought the whole backdooring thing would come back to him because it was all dani's idea. Jeff says there's no way Dom is staying unless he can magically change spaces with Dani which isn't going to happen… "you gone"
4:20pm Havenots Kalia and LAwon Kalia is saying that she knows there has been talked from both of them about getting the other out but now they need a reboot. She says that if they want to get farther we need to work together. She explains the BRJJ will pick off all the newbs one by one and the best you can get is final 6. Kalia: "We need to work together from this point on and have to agree 100% we have each other back"
Lawon: "baby i'll be honest to you I never trusted you after the Keith thing but I never said anything bad about yout". Lawon understands things have been said and now that she's cleared it up its all good.
kalia suggests they should carry on like they are but they need still act the same way.
Kalia says at first she just wanted to get to Jury becuase that way finacially this show was worth it but now seeing what happened "A part of me wants to smack that smirk off that look on their face because they thinks have it in the bag" (BIAM Newbs are solidifying now that they lost the numbers LOL)
kalia starts to cry says that last week her and Jordan were very close she considered them friends and now it's not like that, Kalia says that Jordan used her just like Rachel used Porsche and they are going to use Shelly. She says they played her for a fool, "Jeff called me a traitor this morning.. when it was them that stopped talking to me once they didn't need my vote" Kalia reiterate that unless they start talking sbout BRJJ they will get to final 6
dani joins them says Dom is up in the HOH wasting his time.. They start talking about Jordan being left out of all BB + Jeff talks it's almost like she just a walking eating vote. Kalia: "Why doesn't JOrdan care that JEff, Brendon and rachel think she's a idiot" Dani: "She won 1/2 a million dollars playing that game why should she try anything else" They talk about maybe going up stairs and getting Dom out because he's only diggin himself deeper..
Dani leaves..
Lawon and Kalia agree to keep up the act that they can't stand each other.. kalia warns Dom not to trust Shelly one bit "She's playing this game SOO hard we cannot trust a word she says" lawon says he knows just needed confirmation.
Dani joins them..
lawon thanks Dani for bringing him and Lawon back together. They start talking about Shelly and how BR and JJ are in a tug of war for her..
Kalia: "We gotta get the newbies to get their mouths off the vet's Dick"
(WOW the newbs are rallying around Dani.. if they can win comps then this might get awesome.. if they can't win comps then they go home one at a time.. oh and EVERYONE knows about Shelly lol hope she goes home)
5:10pm Brendon and Rachel Before dom leaves he plants the seed that Shelly is a snake she was telling the newbs the other day that their only hope is to band together…. After Dom leaves rachel asks BRendon if they are going to keep Dom, Brendon: "BLANK NO… this is why you are not allowed to talk game by yourself.. don't think for one minute that he won't back stab us with Dani's help"
Rachel brings up Prosche telling her that Shelly has been saying things to the newbs to get them to band together. Brendon isn't worried about Shelly, rachel: "I'm the one shelly doesn't like i'm the one out of us 4 she'll target" brendon says he'll talk to her tomorrow morning..
Share it YO!!
Tweet