Get the BB13 live feeds on your Android and iOS devices. Sign-up for the 3 Day Free Trial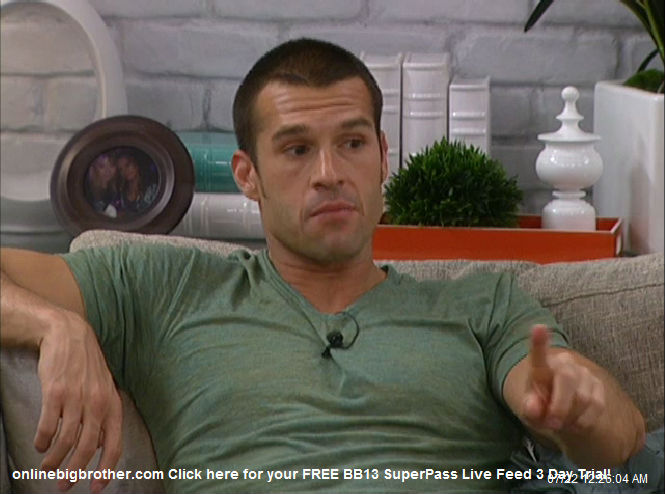 12:20am – 12:45am Up in the HOH room are Brendon and Rachel. Brendon complains to Rachel that he gave up so much to be here and that her your sister didn't write anything about his family. Brendon says that he gave up HOH so she could eat! Brendon says that he purposely lost to give her the win. Rachel sighs. Brendon tells Rachel to just let him feel bad for a little while. Dani comes up to the HOH to join them. Brendon now complains that there are no pictures of him and Rachel. Dani makes fun of him and then tells him that they see him every day. Brendon says that he won't stop complaining and says he is just sad. Rachel goes downstairs and then comes back up to the HOH room. When Rachel comes back she complains about how everyone is talking to Jeff and Jordan. Dani and Brendon tell Rachel to cut it out. Rachel keeps that people should be up in the HOH talking to her and Brendon. Dani tells Rachel that everyone is hungry from being on slop or that they already have golden keys. Brendon tells Rachel to please, please, please do not talk game with anyone if he isn't with her. Rachel says okay …who do we nominate? Brendon says that's not an issue. Rachel asks if it should be Dominic and Adam. Brendon says I am so glad you guys got food okay you are nominated ..again! Dani says that the saddest part is when Adam goes home on Thursday and doesn't make jury, his dreams will come crashing down. Rachel says that if Adam would have won HOH he would have put up Brendon and Rachel or backdoor them.
24/7 UNCENSORED Big Brother 13 Live Feeds!
Click here for your: FREE 3 Day TRIAL!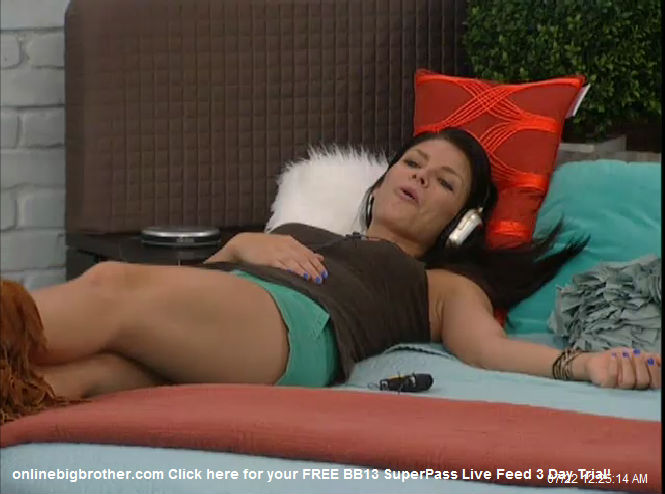 Brendon says that he likes the idea of working with Dominic more than Adam. Rachel says that she is not sure about trusting him because he talks about screwing over his friends so why not them for a half a million dollars. Brendon says that Dominic had a deep relationship with Cassi and that they might have had a relationship before the game. Dani tells Brendon that he is being paranoid. Dani says that if someone is in a twist it's Adam. Dani promises that Dominic isn't and that they can trust him. Brendon says that thinks he may be lying to her. Dani says that you trust Jordan when she says she wasn't going backdoor you when three other people have said that they were thinking about it. Rachel says that they have to nominate Adam and Dominic even though all had said Lawon. They talk about how they need to see who is coming after them more. Dani says that we already have a deal with Dominic so quit asking him if he is with you. Brendon says that he can read people but he has a hard time telling with Dominic. Dani tells them not to set themselves up against the whole house. Rachel asks why is everyone outside talking to Jeff and Jordan when I won HOH. Dani says cause they want to eat. Dani says take him as far as you can and drop him off when you want to. Brendon tells Dani not to get too attached to him like a puppy. Brendon thinks it will be harder to convince Jeff over Jordan. Brendon tells Rachel not to talk game to anyone without him.



12:45am Kalia joins Rachel and Dani up in the HOH room. Kalia is trying to convince Rachel to get Lawon out this week. Kalia says that Dominic and Adam can be sent packing next week or the following week. Kalia says there's a smaller chance of her and Lawon winning the power of veto than Adam and Dom. They talk about how there are only two more people to go that won't be on the jury. Kalia says that she wouldn't want Lawon on the jury or Adam. Rachel agrees. They think Lawon will vote for personal reasons and not game play. Kalia says that since day two she hasn't trusted Lawon. Kalia says that she is 100% with the veterans because thats where her genuine friendships fell. Kalia says that five minutes after Keith was evicted ..Lawon was telling Porsche that he voted to keep her.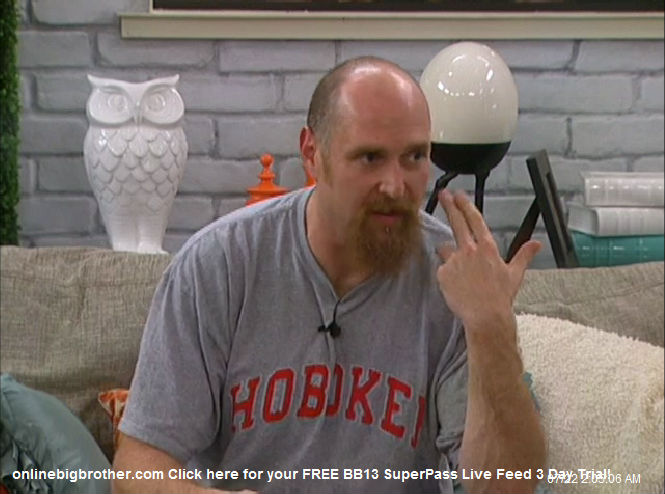 2am Adam is now up in the HoH room talking to Brendon and Rachel about why he was trying to keep Keith in the game. Adam says that he was to keep the target off of him. Brendon and Rachel starts talking about what if scenarios with Adam. Rachel and Brendon question Adam about how close his bond is with Dominic. Meanwhile, Dani and Kalia go outside to talk about how it's good to look weak and that this week it's either Dominic, Adam or Lawon being evicted. They says that it doesn't matter because Kalia is safe from eviction. Brendon says that he thinks Adam will side with Jeff and Jordan because they are the weaker couple. Brendon says that he thinks putting Lawon and Kalia up is the stupidest decision. Brendon says that it's a no brainer to nominate Dominic and Adam. Rachel says that she doesn't like Lawon because he's a floater. Brendon says that he thinks Dominic will turn on them. Brendon says that he thinks Shelly would nominate him and Rachel. Rachel says that she talked to Shelly earlier and that she said she wouldn't put her up.
See What They Can't Show You On TV! SUPERPASS – 3 DAY Trial!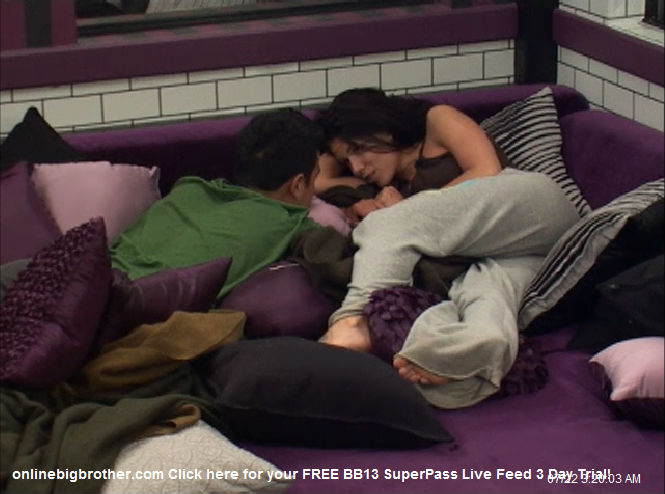 3am In the lounge room Dominic and Dani are talking. Dom says that was fun. Dani says that it just wasn't the same crew. Dominic asks her what is wrong and she says she is just really tired. Dominic says that he is not looking forward to the food competition tomorrow. Dani says that she thinks he'll win but tells him to eat a lot before just in case he becomes a havenot. Dani tells Dominic that he should talk to Brendon and Rachel tomorrow because he makes them nervous. Dani says that he goes around whispering to everyone and he denies that he does that. Dani says that it is fine but that she just won't tell him anything anymore, she's just relaying what she hears. Dani tells Dominic that Shelly told Rachel that Cassi said that Dominic was planning on joining up with Dani and some others to take out Brendon and Rachel. Dominic says oh great! Dominic says that he doesn't get why Shelly would say that. Dani says that she isn't totally sure that Shelly was the one that told Rachel that but someone did. Dani tells Dominic that people are scared of you, they see you as a threat. Dominic says that he doesn't understand why the focus is always on him it's BLANK. Dominic says that if Jeff and Jordan realize that I am working with you and Brendon and Rachel then I'm going to be Jeff's target. Dani says that they won't know. Dani says that she thinks that the two of them should talk to Rachel and Brendon tomorrow. Dani asks Dominic if he threw the HOH competition tonight. Dominic says that he didn't. Dani thinks he should tell Brendon and Rachel he did to try to get in their good graces. Dominic says that he wouldn't mind having Adam on the jury. Dani says that she thinks Adam is skating by until jury then he is going to start playing hard. Dani asks Dominic if he can imagine Adam being sent home before jury and having to sit home watching the rest of the season on TV? Dominic says that he doesn't understand why he is getting a bad rap like Cassi. Dani tells Dominic that he obviously doesn't watch the show because the people who make alliances in the first two days are always the ones to go home first. Dom says he did what anybody would have done in that situation. Dani tells him she understands that but don't tell Brendon and Rachel that because that will make them look at him as a threat. Dani tells Dominic that Brendon and Rachel are so paranoid about everything…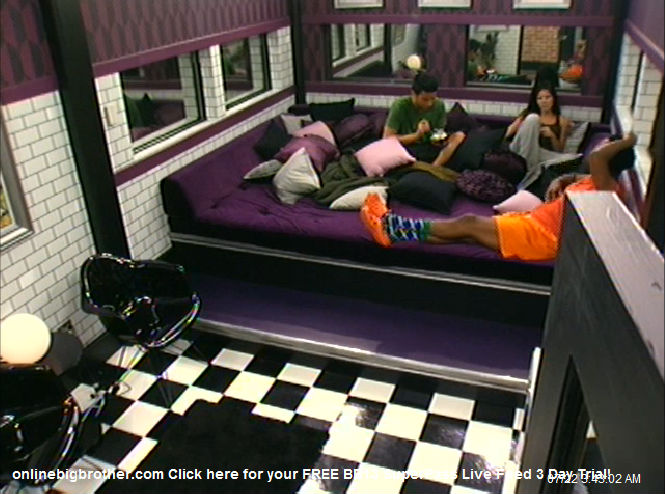 3:35am Lawon joins Dani and Dominic in the lounge room. Dominic goes to the kitchen to grab some milk and cookies. Dani whispers and tells Lawon that if he does get nominated, she's not saying he is but if he does she says not to go crazy right away. Dani tells Lawon to stay calm until after the veto. Dani tells him that she doesn't want him to mess up his game by going off. Dani asks who farted? ..and asks whats with this house? Dominic says that he did and says he just ate ice cream and that he is lactose intolerant. Dani tells him that he smells like Rachel ..and then says that was a low blow and that she didn't meant it. Dominic tells them that he never had any attraction for Cassi. Lawon says that he knows that but from the outside it looked like he was attracted to her. Dominic tells them that he told Cassi that she was way too skinny and needed to eat a burger. Dominic says that Cassi was scary skinny, model skinny. Dominic says that Cassi got offended by his comments. Dominic says that super skinny is not his type of girl.
ReWatch BB13 on FLASHBACK! FREE 3 Days TRIAL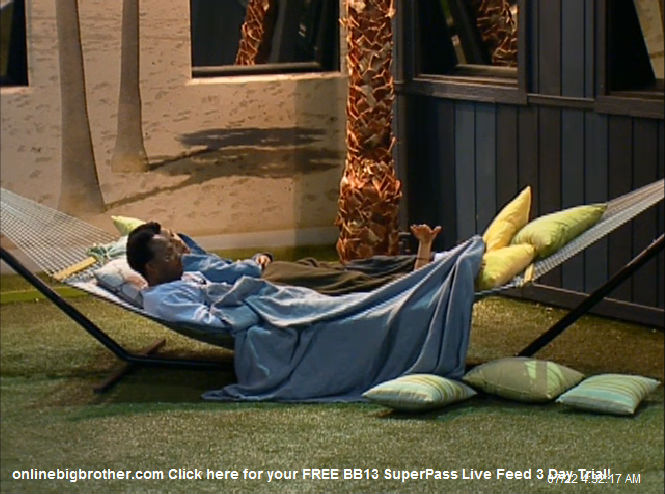 4am – 5:30am Lawon, Dominic, and Dani talk about random stuff like their jobs outside of the Big Brother house and about school. After awhile they head out into the backyard and lay out in the hammock. They talk about how they relieve stress outside of the game. They talk about the food competition tomorrow. They say that they think it will be fun. Dani yells PT! Dani says that he farted again and it stinks! She tells him not to drink milk anymore. Dani says oh my God it smells like Rachel …you make me sick! Dani says oh it's still lingering, it's in my mouth! Dominic says that he won't eat vanilla ice cream anymore. They talk about Adam and then about dressing up for the live shows. Lawon tells Dani that when she dresses it up she makes him want to go straight. Dani says thank you! They talk about how Porsche was angry about the bikini question during the HOH competition. Dani says that Porsche was really upset that people voted that they would prefer to see Dani in a bikini over her. Dominic says that Porsche's looks are her identity. Lawon says that she is a sweet girl but that she just tries too hard. Dani says that Porsche also got really offended that she was voted most likely to steal your man. Lawon calls Dominic out for farting again. Dani says that Dominic is so gross, you did it again. Dani tells Dominic to go poop or something!! Dominic says that he doesn't have to poop! Dani says I think ya do! Lawon asks if Dominic just farted again? Dominic says no! Lawon says that it must be the BLANK pillow then.. They all laugh. Dominic farts again and says that it smells like rotten eggs. Dani asks him whats wrong with him?! Lawon, Dominic and Dani all head inside and go to bed. All the houseguests are now sleeping..
TRY the Live Feeds for FREE!
Click here for your: SUPERPASS – 3 DAY Trial!
Big Brother 13 Spoilers POLL CAST your VOTE!
BB13 Live Feed Screen Captures , These are being updated every 10 minutes all 4 Cams 24/7
Follow: @BigBspoilers and @Dawgsbigbrother on Twitter for recent crazed out spoilers. Theres also our Facebook page.
If you like this site and want to help us keep it running please consider donating, Your donations go directly to paying the server and bandwidth fees. Donate Link
Share it YO!!
Tweet