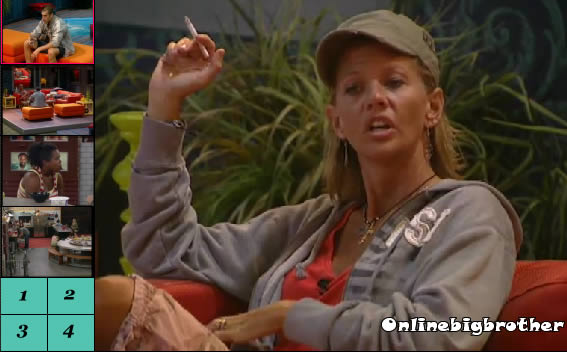 Big Brother 13 Live Feed Image Gallery
8:45pm Backyard Brendon, Jordan and Shelly She's talking about China and how different it is over there. She points out that the respect from elders is HUGE the elders raise the children and the parents work. She adds that the first time she was in China she saw all the women holding hands, "I thought… is everyone Gay here… But there just friends that's the way they do it". Brendon asks about the schoole. Shelly tells them that all the children wear uniforms, take 10 hours of classes and rid the subway when their 8, "The parents don't pick them up". Shelly tells them about how a family of 5 all ride on one moped. Jordan asks if it's overpopulated in china (oh man) Brendon says yes so much in fact that they instituted a law that you're only allowed one child. Shelly: "Yeah you had them aborting a lot of little girls"..
Shelly starts talking about how awesome a slingbox is for her tv/computer. She talks about being able to watch Fox news while in CHina.. she goes on and on about watching fox news using her slingbox.
9:20pm Lawon, Shelly and Jordan Shelly asking them if you can have one what would you pick "Power" "Money" "influence" Lawon says influence. Shelly: "You know if you get 2 of those you get the third".. .. Shelly asks them if you could get Time or Money what would you want. Jordan asks her to elaborate..
9:15pm Kitchen POr and Kalia playing a game in near silence
Dani joins them and they start talking about how much they dislike their memory wall pictures. Adam walks in says he has the best memory wall picture. Dani: "Umm lets not get carried away" Adam asks her who has better.. She says Crazy James, "He had his hands in it and everything looked really cool.
9:30pm Dom and Jeff playing Pool no talking
9:50PM Lawon wearing the most outrages outfits Jordan asks him if he wears that in the real world. Lawon says of course he goes to the clubs like this, everyone buys him drinks.
Jeff, rachel and Jeff start playing pool, Jeff gets called into the DR after he just got back from it. When he comes back he jokes that he forgot his card. Rachel: "You mean America's player" Jeff laughs "No it's different this time.. called the Fortune teller" Brendon: "Ohhhh I'm glad you are on my side" Rachel: "thats what you think"
Rachel wants to play the dating game everyone seems to be taking their time to get ready.
10:48pm They play a guessing game "If POrsche was any other car what would she be" everyone names of other exotic supercars… Shelly guesses Hummer, the right answer from Porsche is "PACER" no just kidding it was Porsche: "Volvo… you know like vulva"

10:01pm Dating Game Starts
the guys are not really enjoying the game.. Jeff asks: "You know what would make this game Fun" Adam: "Not playing"..
The game is played with 2 teams, the guys team is Brendon, Jeff, Adam and Dom and the girls are jordo, rachel, Pacer, Kala. One team is blind folded while the other team says phrases and the blind folded team tries to guess who it is. Lawon is playing the announcer he says phrases for the one team.
The guys get blind folded and the girls tell Lawon what to ask them.. Kalia gets Lawon to ask: "they like Mudslides because they like the rear end" (WTF) The guys are all guessing Kalia..
The girls get blindfolded and Kalia is the announcer for the guys.
One of the phrases is "Like Little shop of horrors when your done it's scary" (WTF) the girls guess Adam but it was Dom. Dom tells them it was brendon's saying he couldn't think of one.
11:01pm Jeff and Jordan in the bedroom Jordan says jeff is acting like there's something wrong. Jeff says he doesn't feel like playing Cute fun games with people that want him out. Jeff: "I want to stay close to my peoples" Jordan: "Like me"
11:35pm Havenots Lawon and Dani Dani is saying she's super sad because "PT" is going home because Jeff hates him. Dani wishes there was a way to save him, they need 5 votes and theirs no way they can convince JJBR to break they are too scared to make a move. Dom enters the room bouncing off the walls.. He just had the best game of pool in his life. He explains that Jeff started but missed a shot after which Dom got every ball in, "Nobody else made a BLANK".. Dom notices they are in teh PJ's talking "Oh you're having a pajama party" He whips his pants down in front of them (Still weaing his boxers) Dani screams, HEY Dom: "What i'm not getting naked"
11:47pm HOH repeats back again (kinda) JJBR are trying to make it sound like the group is back together Brendon is doing most of the talking. Saying that they feel like a dysfunctional family and he thinks they need to all make decisions as a group. Brendon thinks that the newbies are getting between them. Rachel says If we don't work together than a floater newbie like Lawon will win Big Brother 13. Jeff says they've had a bump in the road and they fought a bit but there over it there all friends and he was under the impression that they were working to the final 5.
Jeff: "Where you at Dani I want to hear where you at.."
Dani: "it's obvious i'm the odd man in the group… you guys think becuase I stay up late with Lawon and Dom that i'm with them but i'm not.. I swear on my grandmothers live that I don't talk game with them".
Dani: "I'm 100% into the final 5 like we had planned in the beginning"
Jeff: "So you're still into the final 5.. cause this is what I've noticed a week ago you stopped talking to me.. and I see you on the other side of the house whispering with them"
Jeff: "The odds are we're not all going to make it to the final 5.. so whoever doesn't knocked out pairs up with you"
Dani: "I don't want you guys want me to say because last week you guys told me to get close to Dom and pull him in.. I dunno"
Jeff: "I dunno either… I've been hearing weird things about me and I want you to tell me where these things are coming from"
Rachel: "I agree 100% that we need to work together we would be stupid to not"
(There trying to make Dani think they are still a group so she doesn't fight for her life in the HOH, from where it stand now if BJJ win HOH dani will go up with a pawn)
Dani: "If you want to vote out Dom or Adam I don't care because it's final 5 with you but I think you can trust him" brendon: "If anyone wins HOH I want one of us to be up here making the decisions.. I want us to be making decisions based on what benefits us as a team".
Dani says that that it's obvious that JJ are a couple and BR are a couple but when I hang out with Kalia or dom everyone gets sketchy. JEff mentions the same thing happened to Jordan when she got close to Cassi, he asks Dani straight up "you want this you want to have a final 5" dani: "Yes of course"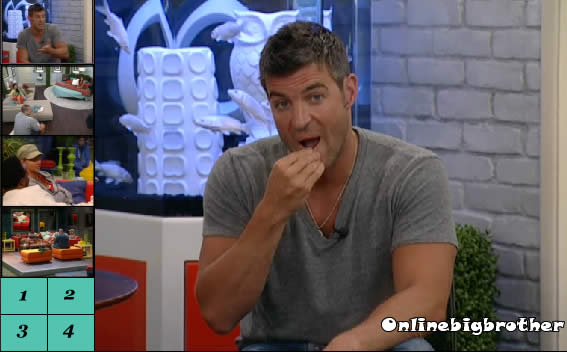 12:11AM Brendon saying BLANK every second word. Saying that the second they start to turn on each other is when the newbs start picking them off one by one (yeah I don't really see the newbs winning much) Jeff says he's willing to "take his crazy pill" and imagine that he never heard people were going to back door him.
Dani tries again to save dom saying he's not against any of their final 5, "I'm not going to be bitter or anything if Dom goes but I won't be ecstatic" Jeff says if she's not cool with the final 5 thing then lay it all out on the table because he doesn't care if someone wants to take him out but he wants to know straight on and doesn't want people making sneaking deals and not giving him the chance to at least save himself.
Dani goes on a bit of a offensive brings up that Jeff has a final 6 deal or at least tried to get a final 6 deal with everyone in the house. Jeff denies it. Rachel says that if the newbs win a HOH they'res a real good chance of one of them going home. Jeff says it's tough having to fight for your life every week. Dani: "trust me I've been trough this before I've fought every week with my dad to get to final 2 and i did it the first time around not the second time"
Rachel: "No way"
dani: "YES WAY rachel"
rachel: "you said yesterday that everyone hated me and wanted you out of the house"
Dani: "no i said that nobody wanted to be in the final 2 with you"
rachel: "No you didn't"
Dani: "WHAT… That is verbatim what I said"
Jeff and Brendon start giving speeches trying to make dani think that they are still a final 5.
12:35Am they hug it out.. everyone leaves Rachel and BRendon alone. Rachel asks him does jeff trust Dani.. Brendon: "BLANK it" Rachel is confused : "what are we doing" Jeff: "What needs to be done to win" brendon explains that they are telling Dani what she needs to hear.
Share it YO!!
Tweet