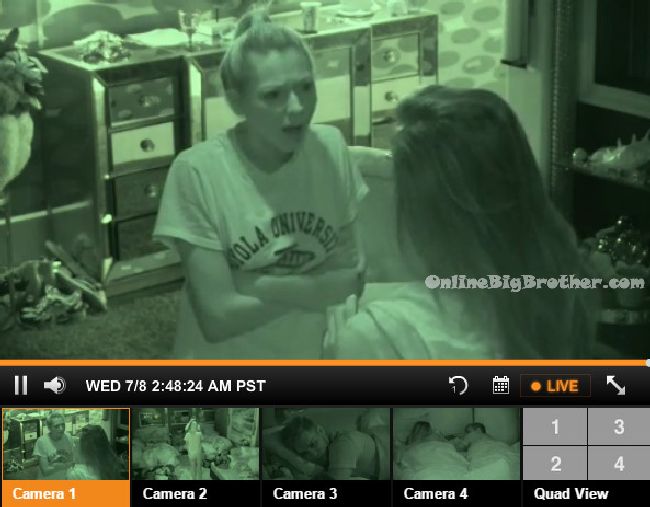 In the bedroom –
Liz and Audrey are talking. Liz says they called me up and I didn't want to talk. It was weird. Audrey asks did Day say anything about having the votes. Liz says no. I told her she had my vote because she gave me the fast forward. Audrey asks so you're going to vote to keep her? Liz says I don't know, its not definite. Audrey says she is telling people she has the votes. Liz says honestly I just need to think about it. They hear Steve in the storage room and break up their conversation. Audrey heads outside and talks to Jeff. Audrey tells him that there is definitely a plan. Liz just told me that she is voting for Day because Day gave her the fast forward. They she started to deflect. Jeff asks did she say anything else? Audrey says no. Jeff says weird. What about Austin? Audrey says I don't know. Well I would rather have Meg here than Day. Audrey then tells Meg you need to work on Johnny. Meg says I just talked to him tonight. Meg says I talked to him about that and he said he and Steve have been saying Day has their vote but she doesn't. Audrey says okay good.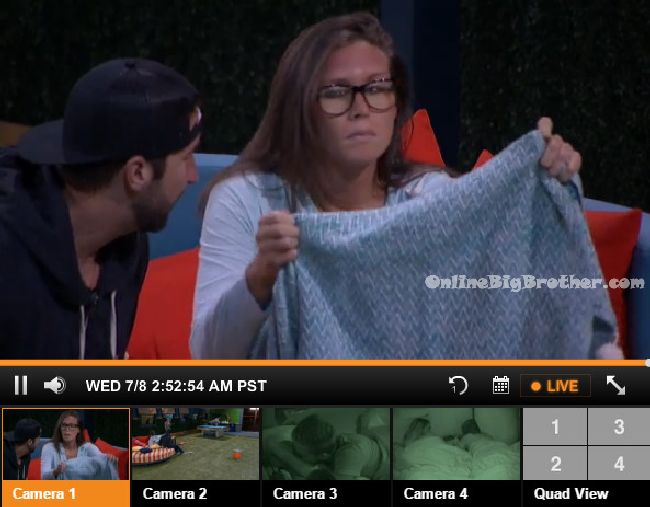 3:10am Meg is stressing out because Audrey got her freaked out about Day possibly having the votes. Meg tells Jason that Audrey told her that Day and you were talking about how Day has the votes to stay. Jason says I am going to knock that b*tch out. If that Liz thing is true, why don't you just go ask her too. Meg says I plan on it and talking to everyone else tomorrow. Meg says that Johnny Mac .. but he came up to me today. Jason says Johnny Mac would not vote for Day to stay. Meg says you know what she said to me "Meg you need to step up your social game!" Jackie asks why does she do this. She needs to go home right now! Meg says I am freaking out. Jeff joins them. Meg asks why did Audrey come up to you and whisper to you first. Jeff says I don't know why either. Maybe because if she saw me talking to her it would seem more credible. Jason says I am so pissed that she said my name about anything. Jeff says that Liz, Austin and Vanessa are working together and will vote together. Jason says that Vanessa is working with Clay and SHelli she wouldn't go against them. Jason says that they're the human centipede .. Clay is the head, Shelli is the middle and Vanessa is the a$$. Jason says maybe these people are just saying to Day what she wants to hear. Meg says Audrey is just trying to mind f**k me.

3:15am – 3:20am In the bed room –
Day talks to Audrey. Day says I genuinely thought that you and I were going to be friends after when and why did you flip on me. Audrey says I got insecure when you and Jason got close. Day says we were never going to flip on you. Day says moving forward we can probably reconnect. Audrey says the thing that I fear is it becoming personal. During the podcast – I wanted to cry when you were rolling your eyes. Day says I started to laugh when you said you don't like liars. Audrey says in people I am dating. Day says what blew up was permanent for me and temporary for you. Day says that she doesn't want to talk game and only wanted to clear that up. When this is over we can probably reconnect. Audrey says I descending and people were running around with paranoia. Whether you stay or you go I will probably be the next one out. They hug and end the conversation.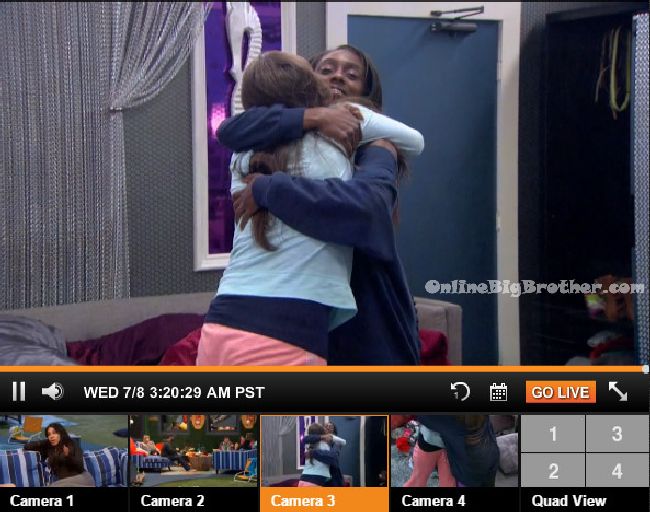 3:30am – 4:50am Backyard couches – Jason, Meg, Jeff, Jackie and Becky continue to talk about how Audrey is starting all her old tricks again. Jason says I wish I didn't give my word to Day because I want Meg to stay. Jason says let Audrey talk to Day because tomorrow Day will tell me the whole conversation. Meg says that Shelli is going to be pissed about this. Jason fills Becky in on the Liz twins. (Steve had already told Becky) Becky asks can we just scrap her with a fork accidentally. Jeff says one touches my butt and the other doesn't. Jason says every time Liz gets called to the diary room I park it in the living room waiting for biggems to come out. Becky asks how did this all start. Jason says Day brought it to me and we stared at that bit*h for 24 hours. Becky asks how do we end it? Jason says we get her out. Jason tells Becky about how Liz called herself helga pataki and then two days later I called her helga pataki and she asked me who the hell is that? Steve joins them. They tell him they just filled Becky in on the twins. Steve asks how confident are you? Jason says 100% I would put my stipend on it. Steve comments that she (Julia) is very strong for doing what she's doing. I can imagine it would be very difficult to hide who you are. Jason says she has to go out before the 5th week. Next week we have a different agenda because we've got others going around acting a damn fool. Steve asks who doesn't know about the twins. Jason says Audrey, Vanessa, Austin and Johnny Mac don't know. They agree that Johnny could be told. Jason and Steve agree that if the twin doesn't come in then someone will come back in pre-jury or during jury assuming there are 2 double evictions.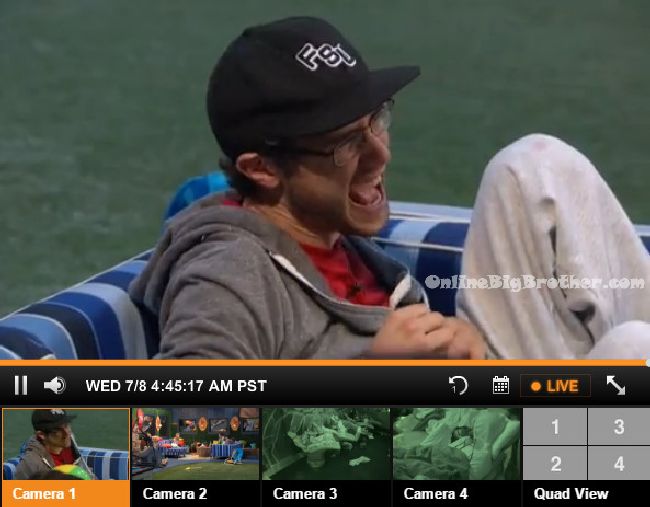 Live Feed subscription gives you CBS All Access thousands of archived shows. Live Shows like Big Brother, all the Big Brother Seasons, and 24/7 coverage of what is happening inside the Big Brother House. Plus there's flashback that lets you go back to any second of the feeds and rewatch what happened. Simon and Dawg will index the season just watch the parts worth watching. All this for $5.99 a month try it out 1 week free. Support our efforts and get your feeds via a link on this site. Live feed subscription Sign up
[polldaddy poll=8961340]
Share it YO!
Tweet