POV Holder:
Jenn
Next POV:
Sept 1 (Saturday)
POV Used
YES
POV Ceremony
Aug 27 (Monday)
HOH Winner:
Frank
Next HOH:
Aug 30 (Thursday)
Original Nominations:
Dan And Danielle
Current Nominations:
Danielle And Britney
Have Nots
Dan
Last Evicted Houseguest
Boogie and Ashley
Pandora's Box POwer
Ian did NOT use his veto power
***POV Results
1) Dan in solitary dance party for 24 hours
2) Carrot top wears a carrot suit for 1 week
3) Danielle and Britney are handcuffed for 24 hours
4) Jenn has POV, Burns clothes and is on slop for the rest of the game
5) Frank gets "chum" bath 24 hours (Frank was also Disqualified from the competition)
6) Shane took no punishments
9:19pm cam 1-2 Britney and Danielle
Britney is crying saying she doesn't want to take this opportunity away from Danielle. Britney says she had her chance to play and she blew it. She thinks that at this point there is no point she's not getting the votes to stay.
Danielle: "I just want us to have a good time.. tomorrow and the next day"
Britney : "I feel like my fate is sealed"
Britney: "I just don't want you to ever trust Dan again"
Danielle: "OK.."
Britney points out that Danielle cannot trust Jenn. Jenn promised Danielle that she wouldn't use the veto and she did, "I thought she liked you or something". Danielle needs to to bring someone she can beat in the final 3, someone who is weak at comps.
Danielle whimpers says she wants to take Shane because he deserves the money. Britney: "Then take Shane and Joe and write shane a cheque for 50 thousands"
Britney says she would vote for Danielle in the final 2 but Frank, Dan and Ashley won't. Britney thinks she can talk Ian into it.
Britney warns Danielle about Dan says he might be a nice guy in the real world but he's not a nice guy in this game.
9:41pm Cam 1-3 Britney and Dan
Britney tells dan that the house is so strange right now after all that has gone down the last 2 days it's very quiet. She says it was so strange for her to see Jenn use the veto. Britney explains that after the funeral Jenn was visibly so disgusted in Dan she was marching around the house saying you are a terrible person.
Britney says she had a long talk with Danielle that she has accepted her fate she knows she got played but one of the best players in the game. Britney: 'I've lost this game before.. it's not difficult to accept that.. I'll move on with life.. I'm not mad at Frank"
She points out to Dan that Frank is saying everyone is going after you.. What he did was a smart move he shifted the heat right onto you.
Britney says that last time she was mad at herself for not trying harder to stay but this time it's doesn't matter she'll accept it and move on.
Dan: "Frank is running around thinking he's safe next week"
Britney: "Ian was in the backyard saying to Frank.. hey Frank you got Duped.. you got duped .. you told everyone Dan was going home and look Dan isn't going home.. "
Britney: "You can see Frank just starting to boil.. he frank yelled back I didn't get dupe I made a smart move because everyone wants Dan out not me now…. Frank was like yelling at Ian.. "
Britney: "I told them It doesn't matter it's fine Frank I understand.. Ian relax"
Britney: "Frank told me last week you have an inflated ego in this game"
Dan: "Look.. if you end up going home.. I'm going to try and get Frank out right after you.. it's my only chance to go back to some of the people I use to work with"
10:01pm Cam 1-2 Arcade Room Danielle, Frank and Dan
Dan tells them that he told Britney that he's going after Frank next .. Dan laughs. He explains that Britney thinks he, Jenn and Frank have a deal.
Frank: "I think we got Joe and Shane's Vote"
Danielle: "Are you sure of JOe's Vote.. He's acting weird"
Frank: "Joe has a man crush on shane.. Now i've been telling him that"
Danielle tells them Ian is trying to start a bandwagon against Frank.
Frank doesn't care.. nobody trusts Ian in the house anymore. Dan needs to talk to Ian.
Frank leaves..
Dan: "What has Shane told you about his Vote"
Danielle: 'He said I have it.. but that I'm scared"
Dan: "He doesn't have it in him to lie to your face.. he will tell Britney by wednesday that she doesn't have her vote"
Danielle: "I'm worried about Joe"
Dan: "You don't need him"
Dan: 'What's Wrong… "
Daneille: "This day has been tough"
Danielle: "I trusted you Dan.. you hurt me so much with what you said.. You cannot understand how much you hurt me"
Dan: "you've now become the number 8 target in this house no matter what.. they will never put you and I up.. If that means you being mad at me I would rather that any day of the week"
(10:15pm cam 1.. hard to hear this conversation because of the low volume)
Danielle asks him how far will they take Frank. Dan: "until we can guarantee we can get rid of him.. we can backdoor him with 100% certainty"
Dan: "Then Ian, Jenn and Joe are gone"
Dan says that he just going to hang out in the Arcade room all day long until Thursday.
10:32pm Cam 3-4 Joe, Frank and Shane Backyard
Frank is really playing up that they needs to send Ian home next week.
Frank: "I tell ya if a little "PR***" like that wins this game he'll be pissed"
Shane: "Who Dan"
Frank: 'No Ian"
Joe tells them that 20 minutes ago Ian was running around the back yard screaming.. Get on the Bus i'm winning every competition.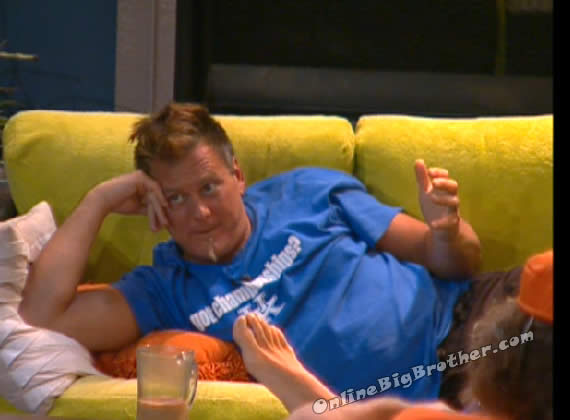 10:44pm Cam 1-4 Frank, Shane and Joe
Frank: "If Ian wins HOH he'll put up me and Dan and I think i'll have the votes"
Shane tells him he's in a tough situation he's 50/50. Shane says that Britney has been saying she's played this game twice and Danielle has only played once so she's cool about leaving.
Frank: "I have nothing against Britney i'm against Dan"
Frank: "I just want that Lil F***** going into the HOH feeling completely alone"
Frank tells them they need to put up Dan and Ian if they wins HOH
Danielle joins them.
10:56pm Cam 1-2 Arcade Room Dan and Britney
Britney tells him it's pretty obvious thru conversation that Dan is voting her out.
Dan: "I'm always up to hear a pitch"
Britney says "no no" you wanted me out from the beginning, "Your angle could be JOe .. you want me out."
Britney: "you're voting for Frank it's obvious you've made a deal with Frank and Jenn.. you are working with them"
Dan: "He wants me to take out Ian next week since he saved me this week.. doesn't mean I have to do it.. O do what I want in this game"
Britney: "So you made a deal with Frank and Jenn that you would keep them safe next week"
Dan explains that Frank will keep him safe this week if he takes Ian out it has nothing to do with Jenn. Britney is shocked by what Jenn did.. frank must have offered Jenn the world. Britney points out Frank was talking about getting Dan out for awhile and it was pretty obvious that Jenn hated him for a hot minute. Dan thinks it's because with the house all split up she keeps big targets in the game to so the heat isn't on her. Britney doesn't buy it she doesn't think Jenn was high on many people's list. She may be now but not before.
Britney tells him he's up to something she's going to "crack the code".
Britney: "You are working with Frank"
Dan: "Why because I can beat him in everything.. If I don't get him out in the next 2 weeks he wins the game"
Britney: "I knew I had a very fragile house of cards built that if one whisper got out it would start crashing down.. and it did.. I knew Frank didn't trust me upstair. "
Britney: "Clearly you are misting people.. but you are voting for Danielle which doesn't make sense.. so there is something else going on.. "
Danielle: "I feel like Joe arvyn right now.. I figure this out"
Dan tells her he's open to a deal with her he just doesn't want to be number 2 because that outs him. Britney says he could just vote for her and if the vote comes out 3-2 for her he can say Joe was the one.
Ian joins them says he was a 5 out of 10 on the drunkenness scale today.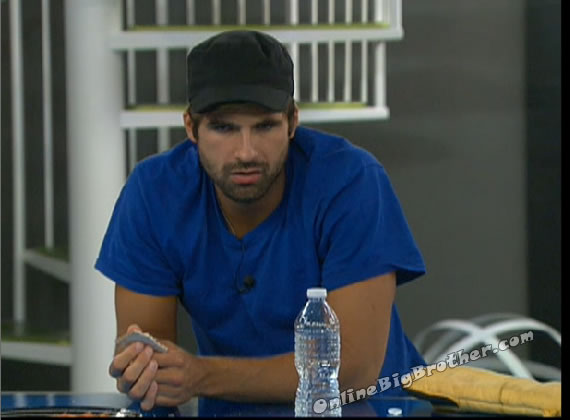 11:41pm Cam 1-2 Britney and Shane
Britney: "have you talked to Joe"
Shane: 'It's obvious he wants you to stay.. He told me it's up to me the way I vote will be the way he votes"
Britney: "Ohh "
Shane: "My mind isn't made up yet"
britney: 'I hate putting you in a bad position"
Shane: 'It's OK I understand.. the thing is Danielle is so emotional.. you've been with me since day one and she;s been with me since week 2"
Britney: "She's been holding it better than me.. you have to
Britney: 'Obvious Dan has a deal with them"
Shane: 'Yup I know.. they are going to put me up with Ian"
Britney: "You have to still get Frank out"
Britney: "I know this is tight spot for you.. it's not going to be personal"
Shane: 'I gotta do what's best for me"
Britney: "Do you think there is a possibility of Danielle going back to Dan"
Shane: "God I hope not.. i'm starting to think she will"
Britney: 'I feel like we don't need to talk game.. you know where I stand weather I stay or go I hope you win this game"
Shane :'thank you.. you've been with me since the beginning and your guidance has really helped me"
Shane knows he has to start winning competitions, he can't do anything until then.
Shane: "I will never forget what Dan did to us.. regardless if you stay or leave I will never forget.. "
Britney points out that Danielle is outside having a blast and Britney is inside upset.. Shane says he noticed that. "Maybe that is how she deals with hit" Britney: "maybe thats how she's trying to get votes."
Shane is a bit worried that Danielle might go back to Dan because of all the laughing going on outside (You can actually hear Danielle, Dan, Frank, Jenn and Powerhouse outside laughing) Shane: 'It really comes down to who will fight for it more you or her and right now i'm going to say you"
12:20AM cam 1-2 Britney, Joe and Shane
Joe is very suspicious about Dan right now he points out that Dan is outside right now laughing with Danielle, Frank, Jenn and Dan.
Joe: 'is there any possibility of dan and Danielle coming back together"
Shane: "I think he can wishy washy her"
Joe: "I can't stand the dude"
Joe says Dan is still Frank's target. Britney says it just seems odd that Dan would call Danielle out say she betrayed him and she's dead to him than vote Britney out.
Shane: "Frank told us he would hold it against me if we go against him"
Britney: "He cannot play in the next 2 HOH's how much can he hold it against you"
Joe: "I think he'll want to hold it against me regardless.. this is why I want to keep BRitney.. but I want to draw a line in the sand.. "
Joe doesn't want everyone to go be buddy buddy with Frank after he sticks his neck out.
Britney: "There is something up.. I can't figure it out yet "
Shane: "I'll talk to Dan tomorrow.. but how can I trust him he could be lying to my face"
Joe: "Straight Up I want Britney here"
Joe: "I will go to the death with you guys.. I've told you that. We ride it out.. we have to.. we have the numbers"
Britney: "The next HOH is critical.."
Joe: "We have Ian, you, me , Britney in endurance we will Kill"
Britney tells them even if she leaves this week they have to use their numbers now it's their only chance. Joe tells them they know where he is at and he knows Shane is in a tough situation so he understands.
Shane: "Right now it's 50/50 being straight up"
(LOL wow imagine the blindside if Danielle goes home.. )
(2nd place if she's lucky.. Image Link )
Share it YO!!
Tweet