POV Holder:
Jenn
Next POV:
Sept 1 (Saturday)
POV Used
YES
POV Ceremony
Aug 27 (Monday)
HOH Winner:
Frank
Next HOH:
Aug 30 (Thursday)
Original Nominations:
Dan And Danielle
Current Nominations:
Danielle And Britney
Have Nots
Dan
Last Evicted Houseguest
Boogie and Ashley
Pandora's Box POwer
Ian did NOT use his veto power
***POV Results
1) Dan in solitary dance party for 24 hours
2) Carrot top wears a carrot suit for 1 week
3) Danielle and Britney are handcuffed for 24 hours
4) Jenn has POV, Burns clothes and is on slop for the rest of the game
5) Frank gets "chum" bath 24 hours (Frank was also Disqualified from the competition)
6) Shane took no punishments
5:32pm Cam 1-4 Frank, Shane, Danielle, Ian and Britney
Britney really plays up how Dan will go down in history for the best player in the game. Britney says right now everyone watching this game knows that dan is the mastermind behind this game. She points out that he has sweet talked every single person in the house to make it this fall, "We've all fallen pray to him" Britney adds that CBS will not even have to edit this Dan is the greatest player this year and everyone knows it. (You can tell this is getting under FranK) Frank starts to raise his voice says that everyone was targeting him next week he had to go ahead and pull him off. Britney fully understands it was a logical move for Frank.
Frank and Ian freaking out on each other. Frank is doing the yelling Ian keeping more or less calm. Ian tries to tell Frank that he wasn't necessarily the target and Frank was "Probably" safe if Ian had won it. Frank raises his voice.. PROBABLY … PROBABLY you were going to put me up and take me out you all said you had 2 weeks to do it. Ian says you never know what will happen with Pandora's box..
They tell Frank they have all duped by Dan. Frank defends his actions says 24 hours ago he was the number one target now Dan is. Ian points out that Frank can't play in the next 2 HOH's and that Ian better watch out because Ian might be going home next week. Ian tells him there is a lot of people in the house still and not one of them has a chance to win the money as long as Frank is in the house. (Ohh the banter is awesome… fucking love the feeds tonight)
Frank: "If Dan had stayed in the game I was the next one out of the house and all you peoples know that" Britney and IAn agree they understand what Frank did they are not mad at Frank. They are just saying everyone has been duped by Dan.
Britney: "At least if i'm being duped .. I'm being duped by the greatest player of all time"
Shane brings up when Jeff left he was taken out by Kevin. Britney: "Kevin who?" (LOL)
Frank: "Maybe we should have a funeral tonight"
They all laugh..
Ian: "Maybe Pandora's Box will spring a third veto will come into F**** play"
Ian and Frank leave..
Britney: "You guys notice how mad Frank gets when you talk about how great of a player dan is.. Frank thinks he's the greatest player that has every played… He told me he thought dan was one of the most overestimated palyers"
Superpass Live Feeds FREE 3 Day Trial then:
Watch the last month of Big Brother 14 for ONLY 50 Cents a DAY!
6:06pm Cam 1-2 Frank and Danielle
Frank tells danielle there is nothing to worry about he's sure they have Shane's vote. Frank is a bit nervous about Shane because Shane has lied to him in the past. Frnak tells her that they need to have Shane close to her and Frank, Danielle, Shane, Dan and Jenn move forward but the common thread is Her and HIm. Frank wants to fo to the end with Danielle more than the other players.
Power house joins them.
6:05pm Cam 3-4 Arcade Room
BRitney tells him she understands what happens she should have known dan would do whatever it takes to stay in the game she's cool with it. She points out that Frank is outside telling everyone he's accomplished what he wants the target off him and onto you. britney adds that Dan saw the quack pack being OK with him going home and he reacted.. she understands now, she has said things about him today that she doesn't mean it.
Dan: "It would have been been different if one of you had won the veto"
Britney agrees she knows that. dan tells her he really wanted to make it in the quack pack but his ass was about to be sent out the door he loves this game too much to go down like that. Dan know everyone thinks he's a monster but it does hurt him when he makes people sad.
Britney knows she was in a dangerous position talking to Frank yet planning something else out. dan tells her not to be hard on herself she's a very good player she got the entire house to like her that isn't easy to do.
Dan explains to her that all the personal conversations they had were real he doesn't mess around with that.
Britney says she will never campaigning for votes against Danielle or talk bad about her. Britney isn't going to take Danielle only chance in the game away from her. Britney thinks Danielle is the sweetest girl in the world and she knows Danielle would never do anything to hurt her personally and in the game.
Dan says he's done things in this game that he's not proud of.. but in the end it's a gam. Britney: "If I go home on tuesday i'm going in a cute dress with a smile on my face.. i'm going in 8th place… it's kind of embarrassing"
Dan :'Don't be embarrassed.. look who you have beat.. Mike Boogie and Janelle those are some of the best players."
Britney tells him Frank cannot stand it when people say Dan is the best player or that he got duped by Dan. Britney: "You should see how steamed he gets"
6:25pm Cam 3-4 Ian and Britney
Ian lays out the strategy
They need to get Joes vote tell him his choice is this.. Stick with Jenn, Dan and Frank, Frank cannot play in the next 2 HOH's and there is no chance we will trust Dan again. Ian think they still have a very good chance to get the votes..
6:38pm Cam 1-2 Backyard Powerhouse, Britney and Shane
Britney tell them she wants to know before the vote if she's going or staying. She knows that her time in this game is dependent on Joe and Shane's vote she the ball is in their court. Joe doesn't know who is the more dangerous player Frank or Dan. He likes Frank as a person but it's hard denying he's dangerous just look at the competitions he's won. Joe knows Frank will win against anyone in the house joe isn't writing Frank a cheque. Shane and Britney point out that they have a chance to beat dan in the final 2 but not Frank.
Joe: "I just keep thinking about one thing he told me.. If Dan goes to keep Danielle and Britney safe..: "I want to F******* Kill him.. you already have half a million"
Britney: "He's not 100% a human being.. hes a least 50% Robot"
7:27pm everyone sleeping but my main POwerhouse .. about 20 minutes ago Frank offered Power House a final 2
7:32pm Cam 3 Eagle Eye talking to the camera
Joe says the mood in the house is pretty somber He doesn't know what to do he doesn't know who is lying and who is telling the truth. He wishes the live feeders would tell him what to do.. "Joe: "I need to think about it.. I'll just keep grilling"
Ian is up in the hammock talking to JOE..
7:40pm Cam 1 Hammock PowerHouse and junior powerhouse
Joe: "we got dan in there Chanting Prayers.. one minute he's cutting someones throat the next minute he's praying"
Joe: "I just hope it's a HOH we can win"
Ian: "One quick question .. I will fully support either way but who will you vote for"
Joe: "I want Brit to stay.. but I won't unless Shane does"
Ian: "the main reason to keep Brit is Danielle is much more likely to go back to Dan than Britney.. both of them are powerhouses for endurance.. either way I support it I'm voting Brit and I'll make that known"
Joe: "I'm going to be campaigning for Brit.. I know her deeper I trust her deeper"
Ian: "I figure Britney going is what Frank wants.. we don't want that to happen"
JOe: "We need to get with Shane on a meeting.. I know Frank is going to pull him in to get rid of Brit"
Ian: 'Frank wants my head.. but he's not going to get it"
Joe: "we need BRit"
(Been saying it for Weeks TPH4L.. toss some comments down show your support)
8:06pm Cam 4 Powerhouse, Jr Powerhouse, Shane and Britney Dinner
Ian: "Matt Hoffman was so wrong about you.. He said Britney is a succubus".
Joe: "What's that?"
Ian: "some type of demon women"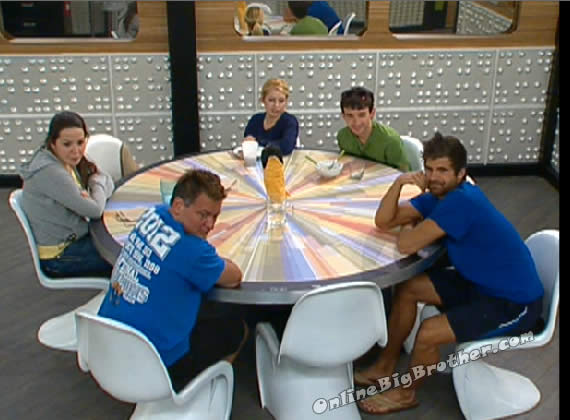 8:41pm Cam 4 Kitchen Shane, Danielle. Joe, Britney, Ian eating Dinner.. Chit Chat..
Dan is sleeping in the arcade after reading verses in the bible, Frank is sleeping after drinking 8 beers and ? is sleeping from using the veto
Danielle leaves to go out side. Ian: "we were super DUPED today"
8:47pm Cam 1-2 Danielle all alone (Image Link) (How many of you think she's going home this week?)
8:51pm Kitchen Britney, Joe and Ian
Britney asks Joe where his vote is.
Joe: "My Vote is 100% Britney.. Straight up.. This all hinges on him"
Ian tells them his Vote will be for Britney regardless of what the vote is.
Britney says it all depends on Shane.
Joe and Shane (Cam 4)
Joe tells him straight up there are 2 ways they can go but before he pitches it he wants Shane to know "I really want Britney to Stay"
Shane: 'I know.. But you told Frank you would do whatever he wants. there's a lot I have to think about"
Joe smirks: "I will not do what frank says"
Joe: "If you are not going to vote for Britney than I want you to tell me becuase then I think we should try and roll with frank"
joe basically says to Shane that there is 2 paths Powerhouse+1 can take, both with their negatives. Path 1 is keeping Britney. This is the route powerhouse wants to take it means Joe, Shane, Ian, Britney take out Frank and Dan. If they take this route it will be 4 on 2 for the next HOH then 4 on 1 the one after that. If they keep danielle they will form up a final 4 with Frank and Jenn and make a run. Joe: "nothing can stop us"
Joe: "I talked to Frank and he's really pulling for the 4 deal.. "
Shane: "I'm in the worst situation ever do I vote my best friend out or my coach out"
Joe: "If we keep Britney I'll Tell Frank no No Deal.. Me you Britney and Ian go after him take him out as long as doesn't win the next 2 POV's He's going home"
Joe: "Just know 1000% I want to go to the end with you we started this together I want to finish it with you"
Joe: "If we keep Britney strategically we both need to tell frank we are doing what he wants this week"
Joe: "If we make this commitment with Frank I just want you to know I'm going to be as loyal and true to Frank as U am to you"
9:02pm
Joe: "one other thing I prefer not to say anything to Ian unless we take the Brit route then we tell him.. "
Shane: "ya ya keep it on the down low"
(Powerhouse)
Share it YO!!
Tweet