Bring together all the onlinebigbrother.com spoilers right to your browser using our BB13Spoilers ToolBar
6:00pm HOH Dani and Rachel Dani is saying that shelly is thinking they are in a final 6,
She demands that Rachel swears not to tell Anyone beside Brendon what she is about to say, "don't repeat this to anyone i will kill you" early today Dani was talking to Shelly and Shelly told her that in this game there are a few "huge Bumps" that every one of them need to get over in order to get to the end. Shelly also told Dani that JJ are strong competitors and she doesn't think she can get any father unless Jeff leaves, "Basically she wants JEff out of the house" Rachel doesn't believe her at all, "she's butt buddies with JJ". dani adds that Shelly said about JJ "I like them as people and their super nice but you have to make a big move in the game… I didn't get to were I was in business by not making moves". dani trys to tell rachel that her and Brendon would be shocked at the number of newbs that would be behind them if they took Jeff out. Rachel: "I don't understand why we would want to take out Jeff it's final 5 with him". Dani: "you think think one minute that they are not plotting against you to take you out.. what do you think will happen when you get to final 5.. they'll be coming for you and stacking the house with floaters they can easily beat". Rachel still isn't sure she says if they get Jeff out of the house everyone will be coming after BR. Dani "swears to God" that shelly wants Jeff out. Rachel thinks if they take Jeff out then Dom will be gunning for BR. Dani starts getting pissed says "you guys told me to make deals with him and to gain his trust and now you're still sayign no we don't trust him… you told me to get close"
Rachel: "it's not a good idea to get rid of jeff right now "
Dani : "Fine OK i'll drop it"
Dani: "You know he's asksing everyone who's side are you on.. I just don't get it why you won't take the strongest player in the house out." dani repeatedly stresses that Jeff was trying to
Rachel: "If jeff goes home I think that we'll be the target"
Dani: "Jeff and jordan have not talked game to me for a week and a half they told Kalia not to talk to me anymore.", Rachel : "OMG they said that" Dani: "YEah OMG they are targeting you guys"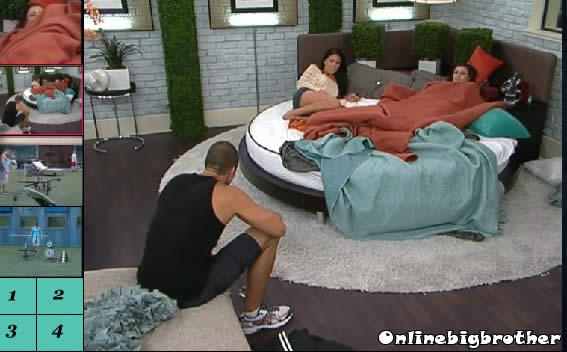 Brendon comes in
Rachel tells her to recap what she just told Rachel. Dani says she's getting annoyed because BR told her to make some deals with dom and now that cassi is gone they still don't trust dom and she's feeling shafted. Rachel tells Dani to tell Brendon what Shelly told her. Dani gets Brendon to sear he won't tell anybody. Dani starts again explaining that shelly wants to get JEff out and that most the house is with them because Jeff is such a strong competitor. Dani adds that Shelly said she's going to win HOH and she's not afraid to use put Jeff up. dani: "She said something to the effect , I didn't get this far in my company if I laid back I take maters in my own hand".. "you all realize OMG that JJ are only care about spendign the summer together".. "Shelly's saying all this i'm not saying this..Dani tells them that Shelly is betting on getting to the final 2 with Either BR becuase she thinks she can beat them. Rachel gets iritated: "why!". Dani: "no that's a good thing because that means they want to take you to the end.. and will push you to the end to meet their own agenda".
brendon tells Dani she should relax BR are the targets not dani, he doesn't think using the POV is in his best interest makes too many enemies. Dani getting pissed.. "when i'm HOH i'll do whatever I want them..People in this house don't like Rachel.. if people don't like you they take you to the final.." rachel: "Wait why don't they like me" dani quickly back pedals says it's the little things Rachel says it annoys them. Brendon leaves..
Rachel: "I don't think we can convince Brendon to use the POV"..
Dani: "I just know he's going to coast the entire way and nobody will have the balls to get him out"
Rachel: "you mean Jeff"
Dani: "Hey.. you see what is happening here they are turning it all on me because they are scared BLANK they are going to get backdoored".
Dani trys to make it clear to Rachel that JEff is going to win America's favorite and any america vote twist so why wouldn't they take him out. Rachel does agree that he'll win whatever vote in poll they have. Dani says she feels like they are so cared to make a big move they are throwing away the game, "If I win HOH I'm putting JEff up cause it needs to be done" Dani reminds Rachel that she would never turn her back on them it was never Dani and Dom the only reason she went to dom was because BR asked her so they could further their position in the game. She will drop Dom in a heart beat for BR, but right now they have a chance to take out the strongest player and everyone is too scared to make the move.
DANI LEAVES SHE IS PISSED
6:55pm Brendon working out Telling Jordan and Adam abotu the bank of America bail otu and how TOP bank CEO's got huge bonuses even thought he government of the United States gave the 60 Billion + dollars. Jordan adds to the conversation: "I'm glad my mom works at the bank because it helped my brother get a car loan"
7:10pm HOH JJ, BR Jeff asks them what happened because when dani left the HOH she looked pissed. Rachel says she told Dani the HOH will probably not be used. Rache: "Did yo tell Kalia not to talk to Dani". JEff: "no thats a lie" Jordan says Kalia, Dani and Adam are in the back yard. Brendon is going to call Adam up into the HOH and Grill him, "If he doesn't spill his gust i'll say FINE your not with us YOUR gong home"
Brendon starts to rehash the conversation they had with dani. Rachel says that dani told her if dom goes home then she'll do whatever she wants when she wins HOH".
Jeff: "She's BLANK".
Brendon: "These BLANK gloves are off .. was she threatening you?" rachel: "no"
Rachel: 'She's trying to tell us that Shelly is after jeff"
Jeff: "She done.. and this is just the beginning she's going to come up here and tell us loads of BLANK.. She'll tell us that she knows about a power.. "
Brendon isn't worried because even if Shelly is after them it doesn't mater they're too strong. They all start talking about dani showing her cards too early and making a huge mistake. brendon Tries to explain that all 5 of them were planning to go to final 5, but Dani is worried that once they get to 5 we'll cut her loose. brendon see's this as flawed and he thinks it's too optimistic that all for them will make it to the end and once one of them 4 (BRJJ) get sent home then Dani is in the inner 4.
Brendon: "She's stupid she should of waited" (they all starts talking in circles about how stupid Dani is..)
Share it YO!!
Tweet